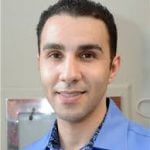 Dr. Yusupov
Practices at: Amazing Smiles Orthodontics, Forest Hills, New York
Orthodontist and Contributing Expert
Dr. Yusupov earned his Doctor of Dental Surgery degree from the SUNY Stonybrook School of Medicine and now is a member of Amazing Smiles Orthodontics in New York. 
He has completed a three-year post-doctoral training in advanced orthodontics, including temporary anchorage devices, Invisalign, Innovation clear braces, and Damon and Speed systems. 
Dr. Yusupov, along with the rest of the Amazing Smiles team, believes that every patient deserves personalized, affordable orthodontic care, and they treat TMJ issues in addition to more typical orthodontic problems.