If you'd like a brighter smile but you don't have the time or budget to visit a dentist, teeth whitening kits are a great alternative. Home kits are becoming an increasingly popular way to conveniently and affordably whiten teeth. There's just one problem: how do you choose between the dozens of whitening kits available on the market?
In this article we're presenting and reviewing a product that has recently launched in the UK: Very Good Smile Teeth Whitening Kit. We'll cover:
What do you get in the Very Good Smile teeth whitening kit?
Which ingredients are in the gel?
Is it safe?
How easy is it to use?
What are the results like?
We've included some reviews of Very Good Smile's whitening kit from other users so you can see what they thought of it.
An overview of the Very Good Smile teeth whitening kit
The Very Good Smile whitening kit is made in France, where it has been on sale for some time. So although it's quite new to the UK market, the product itself has a well established reputation.
This basic starter kit has everything you need to whiten your teeth at home for the first time. It's easy to use, and the recommended treatment time of 20-30 minutes per day should make your teeth 2-3 shades brighter in 7-10 days.
The highlights of the Very Good Smile kit are:
Manufactured in France
Conforms to the relevant EU regulations (whitening gel contains less than 0.1% hydrogen peroxide)
Easy to use
Visible results within a few days
Gel refills are available to buy separately
Convenient treatment: 20-30 minutes per day for 7-10 days
Good value
100% money back guarantee
Our overall rating: ★★★★★ (5/5 stars)
Very Good Smile teeth whitening kit reviews and features
Below we explain the different aspects of this whitening kit and why it's one of our top choices for 2021.
Kit contents ★★★★☆ (4/5 stars)
Very Good Smile teeth whitening kit is a good 'no-frills' starter kit. You get everything you need for a complete course of teeth whitening:
10ml syringe of whitening gel, mint flavoured
A fixed-shape mouth tray
LED light to accelerate whitening results
A shade guide so you can check your progress
It doesn't include some of the extras you'll find in other kits, but the price reflects this. 10ml of gel is enough for a single course of treatment, and after that you can buy gel refills without having to purchase the entire kit again. If you want to buy extra gel refills now, find them here:
1 x 10ml whitening gel (£1.30 per daily application)
2 x 10ml whitening gel (£0.90 per daily application)
As you can see, after making the initial investment in the kit, subsequent treatment courses are extremely affordable.
Ingredients ★★★★★ (5/5 stars)
Before choosing a teeth whitening kit, you should always check where it's made and which ingredients it uses. One of the main risks of teeth whitening at home is using a gel that contains a dangerous concentration of certain chemicals. In some countries, cosmetic products are not closely regulated.
However, we're happy to recommend the Very Good Smile brand because all their products are manufactured in France in conformity with strict EU regulations. Specifically in relation to oral products, EC regulation 1223/2009 states that no more than 0.1% hydrogen peroxide (the ingredient normally used in professional whitening) may be present or released.
The ingredients in Very Good Smile's whitening gel are: Propylene glycol, Glycerin, Carbomer, Azelaic acid, Urea peroxide, Aqua, Mentha piperita oil, Hydrogen peroxide (0.095%).
This gentle formula means the product is safe to use yet effective. You shouldn't experience any sensitivity or gum inflammation, but note that you shouldn't use it if you have certain oral problems (full details on the product listing and packaging).
Ease of use ★★★★★ (5/5 stars)
One of the things we really love about this kit is how easy it is to use, even if you're completely new to home whitening: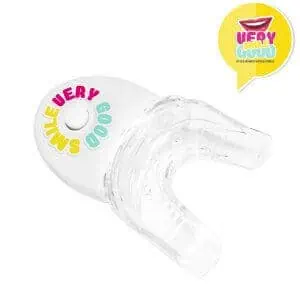 Brush your teeth as normal.
Connect the LED light to the mouth tray and apply 0.5ml of whitening gel to each side of the tray in contact with the teeth.
Place the mouth tray in your mouth and turn on the light.
After 20-30 minutes, remove mouth tray and rinse your mouth thoroughly.
Continue treatment for 7-10 days (there is enough gel for 10 applications).
Because the light clips directly onto the mouth tray, you don't have to hold it in place and your hands remain free. This makes it really easy to fit the daily treatment into your normal schedule at home. It's recommended you do your treatment after eating and brushing your teeth at night, so no more food or drink gets onto your teeth for the rest of the night.
"Super easy to use, just stay 20 minutes with the mouth tray in the mouth."
Some kits come with a mouldable mouth tray which has to be placed in boiling water before you fit it to the shape of your teeth. For us, the fixed shape style is much easier to use and you can get started straight away.
Results ★★★★★ (5/5 stars)
Although the recommended treatment course is 7-10 days, most people start to see a difference in just a few days. Even teeth stained yellow by tobacco, tea and coffee can become 2-3 shades whiter from this treatment – which is great considering the price!
Here are some comments from reviewers on Amazon.fr:
"I chose this kit because the gel is made in France. I read a lot of articles about kits being too aggressive from countries outside Europe. It arrived quickly at my home (3 days). I have used it for a week now and I'm happy with the result."

"I bought this kit without really knowing what to expect but after 1 week of use, I'm already happy with the result."
One UK reviewer says the kit only made their teeth one shade whiter, but adds, "…my teeth were quite white to begin with according to the colour guide. It didn't aggravate my sensitive teeth. It was easy to use."
Alternatives to this kit
Another teeth whitening kit we recommend for 2021 is this one from Smile Avenue. It comes with 30ml of whitening gel and an extra teeth cleaning solution so it's a more complete whitening solution – and it only costs slightly more than Very Good Smile. You can read our full review of Smile Avenue here.
If you'd prefer to try a natural whitening treatment, Very Good Smile's activated charcoal powder can also be used for teeth whitening. You can apply it directly to teeth or mix it into a toothpaste first. Find out more about using activated charcoal for teeth whitening here.
You might also consider a more up-market whitening kit like Snow. This brand has gained great popularity in the US and is now available in the UK too. Their premium wireless kit comes with a self-sanitizing docking station and it's completely waterproof so you can even whiten your teeth in the shower. Read our full Snow whitening review for more details.
Conclusion
Very Good Smile's teeth whitening kit is a great choice if you're after a basic kit with all the components you need to whiten your teeth at home.
We love the fact that you can see results after just a few days, and you can buy extra gel refills to make your next treatment even more affordable. Plus, because this kit is made in France, you have the reassurance of high quality ingredients that adhere to EU regulations.