If you want straighter teeth but don't want it to be too obvious that you're wearing braces, Invisalign clear aligners could be the solution for you. This well-known brand of "invisible braces" offers several different treatment types, but this article is all about Invisalign Express.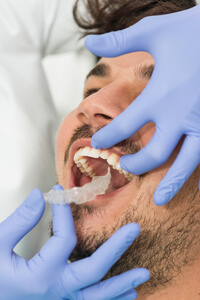 Key features of Invisalign Express treatment:
Best for correcting minor tooth alignment issues
Clear trays that fit tightly over teeth
Trays are removed for eating and drinking
New trays provided every two weeks
Two treatment options lasting either 10 or 20 weeks
Are you wondering whether Invisalign Express is right for you or your child? Keep reading to find out what the treatment entails and how much it costs in the US. We've included some real patient reviews as well as some information on alternative treatment options.
How do Invisalign braces work?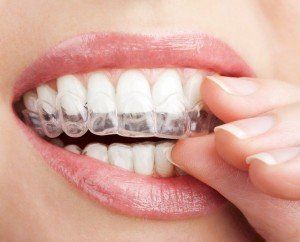 Unlike most types of braces, Invisalign invisible aligners don't require any metal wires, brackets, or anything fixed to the teeth. Instead, the aligner trays fit over your teeth and apply pressure in the right places to move them into position.
Your dentist will give you a new set of aligners every two weeks, so you'll see your smile changing step by step. Every 4-6 weeks you'll need a checkup to see how your treatment is progressing.
Treatment begins with dental impressions, x-rays, and/or scans. The results are fed into a computer program which then creates a detailed treatment plan and shows you what your smile should look like at the end. The 3D printing technology used to create the aligners allows for precise movement of each tooth as required.
Many people opt for invisible braces because they don't want their treatment to be too noticeable. The flexibility to remove aligners can come in handy for people who need to attend important events or speaking engagements.
Another benefit of removable aligners is you can eat, drink, clean your teeth and floss as normal – as long as you still wear them for at least 20-22 hours per day. A slight inconvenience is that the aligners must be removed when you eat or drink anything except water, and you must clean both your teeth and the aligners before putting them back in your mouth.
Our full article about invisible braces contains a lot more information about Invisalign and other popular brands.
If you're interested in clear braces treatment, did you know you can complete our Smile Test in just two minutes? This free online service from Dentaly lets you discover whether you're a suitable candidate for this type of treatment, without you needing to visit a dentist. Fill out the form below to get started.
Types of Invisalign braces
There are four types of Invisalign treatment available to patients in the US:
Full: The most comprehensive treatment which can treat a variety of moderate problems using 20-30 aligners
Teen: Essentially the same as the Full treatment but with several special features to make them more suitable for teenagers
Express 10: A shorter treatment consisting of 10 aligners for milder cases
Express 5: For very minor adjustments, this uses just five aligners
If your teeth are not badly misaligned then you may be eligible for one of the Express options. Not only do these offer quicker treatment; they are also cheaper than most other types of braces.
With any of these braces, your dentist may need to fit 'attachments' or 'buttons' to your teeth to aid treatment. These are small, tooth-colored blobs placed on certain teeth to help the aligners fit better. Although they are designed to blend in with your natural tooth color, they become more noticeable once your aligners are in place.
Invisalign Express vs. Full
Only your dentist can decide which type of treatment you need, according to the problem you wish to address. The main differences between Invisalign Full and Express are:
The results that can be achieved
Treatment duration
Cost
Flexibility to extend treatment if needed
The number of aligners used for Express 5 and Express 10 treatment is set in stone, so if you don't get the results you want in that time, you are out of luck. With Invisalign Full, however, your dentist can extend your treatment and order more aligners if your teeth don't respond exactly as planned.
The reduced treatment time for Express means that the braces can treat a limited range of problems. These include:
Slight overcrowding or spacing (up to 2mm per arch)
Mild crookedness of front teeth
Early relapse from previous orthodontic work
The cost also reduces since fewer aligners are needed. In the table below you can see a summary of the differences between Invisalign Full and Express:
| Type of Invisalign treatment | Full | Express 10 | Express 5 |
| --- | --- | --- | --- |
| Approximate cost | $3,000 - $8,000 | $2,500 - $5,000 | $1,500 - $3,000 |
| Number of aligners | 20-30 | 10 | 5 |
| Treatment duration | 12-18 months | 20 weeks | 10 weeks |
| Suitable for | Mild to moderate problems | Mild cases | Minor adjustments |
How much does Invisalign Express cost in the US?
You can see from the table above that costs vary for each type of treatment. This is mainly because different dentists charge different amounts according to their expertise, costs, and business overheads.
Generally speaking, Express 5 is about half the price of Full while Express 10 is about 25% less.
You can also ask about payment plans to spread the cost, and see if your insurance will cover a portion of the fee.
Remember to factor in the cost of retainers when working out if you can afford braces. Since Express treatment is so quick and involves minor tooth movement, there is not much chance for the teeth to settle into their new positions. This means a greater risk of relapse if you don't wear retainers as directed.
Invisalign Vivera retainers cost around $500 per year for three sets of retainers, but other cheaper options are available.
Invisalign Express reviews
People choose to use invisible braces for a number of reasons – including the benefits to gum health. One professional who has a client-facing role said he was worried that having metal braces would make people take him less seriously at work.
Many Invisalign Express users need minor re-adjustments because they didn't continue to wear retainers following previous orthodontic work. If you have your teeth straightened as a teen (or at any time) but don't keep wearing your retainers as directed, your teeth will eventually shift back to their original position – you have been warned!
Other users started having tooth trouble after their wisdom teeth came through or were removed.
In this review video you can hear about one user's experience as she reaches the end of her Express treatment. She lists some pros and cons, including the practicalities of eating and drinking when you have to keep the aligners in for 22 hours a day.
Downsides and alternatives
As with most orthodontic treatments, there is likely to be some pain from your teeth moving. With Invisalign, this typically occurs in the first day or two after fitting new aligners. Some users report no pain at all, whereas for others it is more uncomfortable. An over-the-counter painkiller is usually enough to keep the pain at bay.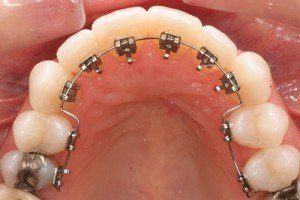 There is also the issue of speech as it can take some time to adjust to having the aligners over your teeth. Some people speak with a lisp at first, although they themselves are often more conscious of this than anyone they talk to!
Some dentists don't recommend using Express 10 because it is a lot less flexible than Full treatment but isn't that much cheaper. Click here to take our Smile Test to see what you may be eligible for.
If you discover you are not eligible for invisible braces like Invisalign, or you decide against invisible braces for some other reason, there are still other ways you can straighten your teeth discreetly.
Clear and ceramic braces use wires and brackets fixed to your teeth, but the material is colored to be less noticeable. There is also the option of lingual braces, which are hidden behind your teeth instead of on the front surface. Speak to your orthodontist to find out more about your dental treatment choices.
Conclusion
Invisalign Express is a quick and discreet way to correct minor to moderate tooth misalignment. The clear aligners are hard for other people to notice, plus they can be removed easily for eating and cleaning.
As long as you have the willpower to keep your aligners in for 20-22 hours a day, Invisalign is an effective, less obvious alternative to fixed braces – even ceramic braces.
To find out if you're a suitable candidate for invisible braces, take a quick Smile Test by clicking here.