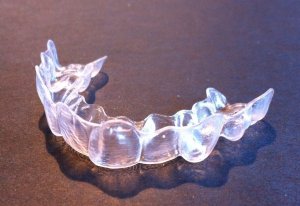 Invisalign's "invisible braces" system uses removable clear aligner trays so you can straighten your teeth in a discreet way. Invisalign Full is the original system from Invisalign, suitable for treating a wide range of teeth alignment problems.
Here you can read about the benefits, drawbacks, and cost of Invisalign Full so you can decide whether it's the right type of brace for you or your teen.
How do Invisalign Full braces work?
Invisalign braces are completely different than the traditional metal style of braces which are fixed to teeth using brackets. Instead, they use a series of clear plastic aligners to gradually shift the teeth into the correct position.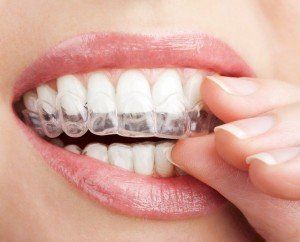 Each aligner is carefully shaped to apply pressure to certain teeth as treatment progresses. Usually, you'll need to switch to a new aligner every two weeks to keep your teeth moving into place.
Invisalign braces use state-of-the-art technology including mouth scanners and 3D printing to create an accurate treatment plan. Even before your treatment begins, you'll be able to see a computer-generated image of how your teeth should look at the end.
Treatment with Invisalign Full may take anywhere from 12 to 18 months. During this time, you'll need to visit your dentist every 4-8 weeks to check how your teeth are responding and to order your next sets of aligners.
Your dentist may fit small attachments to some of your teeth as part of your treatment. These help the braces adjust your teeth faster and more efficiently. For some people, the attachments are the most noticeable part of the braces.
The video below shows one patient's experience with her Invisalign Full treatment, which she has now completed. She talks about the discomfort she experienced and shares some tips for keeping trays clean.
Not everyone is a suitable candidate for clear aligners but up to 90% of orthodontic patients can benefit from this style of braces. Are you one of that 90%? Find out with our free Smile Test below. Just fill in a few details to get an instant result:
Benefits of using clear aligner braces
The biggest advantage for many Invisalign patients is that these braces are much more discreet than traditional metal braces. Most casual observers won't notice you are wearing braces at all.
The aligners are also removable, which can be useful for people who have a big event or meeting to attend. You may just want to remove your braces for a minute while someone takes a photo. You can't do that when you have metal brackets glued to your teeth!
Aligners still need to be kept in for 20-22 hours per day for successful treatment. They must be removed for cleaning, eating, and drinking anything except water. It's simple to clean the trays with a toothbrush, and you're free to brush and floss your teeth as you normally would.
Finally, many wearers find removable braces more comfortable than traditional braces. Metal wires and brackets have the tendency to cause mouth sores, especially when they are first fitted. Periodic adjustments can also leave teeth sore for a few days.
Invisalign treatment is a suitable solution for 90% of orthodontic cases. However, keep in mind that another type of brace may be needed for:
Moving teeth vertically
Rotating teeth
Correcting severe malocclusions
Patients who lack the willpower to keep aligners in for the required 20-22 hours per day
Here is a summary of the advantages and disadvantages of using Invisalign Full to straighten your smile:
| Advantages | Disadvantages |
| --- | --- |
| Almost impossible to notice | Requires willpower |
| Comfortable, smooth surface | Could be more expensive than traditional braces |
| Removable - no eating restrictions | May affect speech at first |
| Works for 90% of cases | Need to check your eligibility first |
| No pain from tightening and adjustments | |
| Easy to clean teeth as normal | |
Other types of Invisalign braces
Invisalign has several other treatment systems to suit different types of patient. These include:
Teen: Similar to Full but with certain features to encourage teenagers to complete their treatment
Express: Patients requiring mild correction can opt for a 3- or 6-month treatment plan
i7: Aimed at treating milder cases of misalignment, this system uses just seven aligners over the course of about three months
You should speak to your dentist to find out which type of invisible brace is best for you.
How much does Invisalign Full cost in the US?
In the US, Invisalign Full costs between $3,000 and $8,000 on average. The cost quoted to you will depend on the complexity of your treatment since more work means a longer treatment course and therefore more aligners.
If you have dental insurance, check whether there is any provision for orthodontic work. However, don't count on your insurance to cover the full cost of treatment since there may be restrictions on the type of braces covered and the maximum payout.
It's a good idea to get quotes from several dentists in your area. It might be worth traveling a little further from home if it means saving several hundred dollars overall.
Alternatives to Invisalign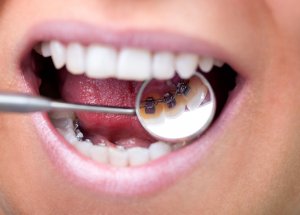 If you're worried about the cost of Invisalign, there are other types of invisible brace available at lower prices. You can find details in our complete guide to invisible braces.
There may be other reasons why Invisalign Full isn't right for you or your teen. Perhaps your teeth are too badly misaligned, or you're worried that your child will be tempted to keep their braces out for too long.
Other types of inconspicuous braces include clear braces (with brackets made from a clear material) and lingual braces (hidden behind the teeth). Our full article on adult orthodontics has more information about what other types of braces cost.
Whichever option suits you, we hope the dental information we provide helps you make a confident decision!
Conclusion
Invisalign Full is an excellent solution for adults who want straighter teeth without the 'train tracks' usually associated with braces. As long as you have the willpower to keep your aligners in, you'll benefit from the convenience of being able to remove them to eat and brush your teeth.
Many adults are surprised to find that invisible braces costs are comparable to other orthodontic solutions. These braces can treat 90% of orthodontic cases so why not check now to see if you're eligible?