So, you're interested in plastic-free dental floss? Great! It may not seem like much, but every little helps when it comes to reducing waste and living a more environmentally-friendly lifestyle. And if you're flossing correctly (i.e. at least once a day), all those little bits of thread do add up.
Fortunately, there are already several kinds of biodegradable dental floss available in the UK, ranging from dental lace to corn floss to eco-friendly floss picks. So however you prefer to clean between your teeth, you should be able to find a plastic-free floss option that suits you.
We've picked out some of the best and most popular dental floss alternatives that will take you that bit closer to a plastic-free oral hygiene routine. Take a look and see what you think!
Best Biodegradable and Eco Floss

Georganics Silk Dental Floss

Spearmint, orange and cardamom flavours

Kliara Bamboo Dental Floss

Zero Waste World Bamboo Floss Multipack

Includes glass dispenser and 3 spools of floss

Better Eco Corn Starch Vegan Floss

Biodegradable vegan floss

Eco-friendly packaging
Peppermint flavour

Made primarily from corn starch

Contains biodegradable plastic

Eco-friendly alternative to traditional picks
Is dental floss biodegradable?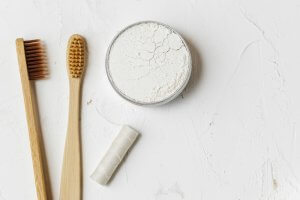 Materials commonly used in regular dental floss and tape include nylon, polyester, Teflon, or Gore-Tex. So no, your dental floss will not decompose naturally. Well, not unless you switch to an eco-friendly dental floss alternative.
Plus, you also need to think about the packaging. Commercial floss typically comes in a plastic box which may or may not be recyclable, but is probably not reusable. Most brands of eco dental floss provide glass jar dispensers or another sustainable packaging, and many offer the option to purchase refills of just the floss, without the container.
Watch the short clip below to see what this type of floss looks like and how easy it is to refill:
Is dental floss vegan?
Most commercial waxed flosses are coated with beeswax. So although they may be cruelty-free and suitable for vegetarians, they are not vegan. Any floss that contains silk is also not vegan.
To be safe, it's best to choose a product that uses plant-based wax and is clearly marked as vegan. We have listed a couple of great options further down.
Plastic-free dental floss materials
We've established that traditional dental floss contains plastic, so what are the plastic-free floss alternatives? Here are some of the options to consider: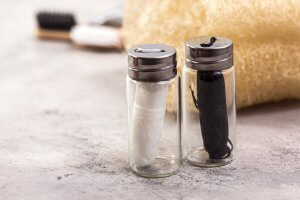 Bamboo: You might have already switched to a bamboo toothbrush, but now you can also get bamboo dental floss. It usually comes infused with charcoal, making it black. It's not as smooth as some other materials, but many people think the extra roughness helps give a better clean.
Silk: Commercial floss used to be made of silk before nylon started being used during World War II. It's a fairly strong, although not as strong as plastic materials, and completely natural. Although silk dental floss has the benefit of being biodegradable, there are some concerns over the welfare of the insects which produce the silk, and it is certainly not vegan.
Dental lace: Dental Lace is a brand of eco dental floss that's widely available in the US, but not so much in the UK. The term 'dental lace' has started to be used to refer to any kind of silk floss; not specifically that brand. If you're here looking for the brand Dental Lace in the UK, check out some of our other recommendations which are just as good environmentally and not as hard to get hold of.
Corn: Corn fibres can be used alone or combined with bamboo to make a vegan dental floss. This is one of the newest materials to be used, so choice is limited.
Essential oils: As well as traditional mint flavours, natural dental floss can be infused with oils like cardamom and tea tree which are naturally antibacterial and can help neutralise bad breath.
One note of caution: do check carefully to make sure that the product you're buying is truly eco-friendly floss. Some sellers throw natural-sounding words into their product descriptions to attract environmentally-minded buyers, when in fact their products are a little better than the standard versions you can buy anywhere. For example, some products marketed as 'bamboo charcoal dental floss' are actually a mixture of bamboo and polyester fibres. This makes the floss stronger, but certainly not biodegradable.
Is biodegradable dental floss effective?
Eco floss is a new concept and as such, there is limited scientific research about it. But any kind of scraping motion along the tooth enamel will help to dislodge plaque.
Ask a hygienist!
Flossing should be an important part of your oral hygiene routine, but you probably want to know why that is.
Even though there are many toothbrushes on the market that claim to clean the spaces in between your teeth, it is highly unlikely that they actually do the job due to their sheer size and shape.
There are many interdental aids that can be used to clean the spaces between your teeth ranging from dental floss, interdental brushes, oral irrigation devices or the water flosser. There is no one size fits all approach when using these interdental aids as there are differences in the shape of the teeth as well as their alignment within the mouth.
So, make sure you have an assortment of these aids to help you with flossing. As the saying goes, you don't have to floss all your teeth but just the ones that you want to keep!
Dr Asha Ramesh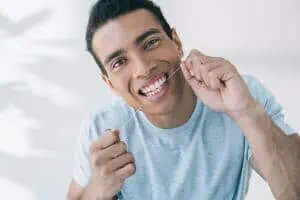 The more pertinent question may be whether eco floss is as easy to use. Traditional floss has, of course, been developed over the years to be strong and easy to slide between teeth. The variety of materials, shapes and sizes means there's something to suit pretty much everyone. The selection of eco dental flosses in the UK, although it is growing and improving all the time, is still relatively limited.
Generally speaking, bamboo and silk dental floss is not as strong as nylon or other plastic materials, nor is it as smooth (although it can be wax coated). Some people complain that it breaks more easily or shreds and gets stuck between their teeth. This is more likely to be a problem if your teeth are tightly spaced or crooked.
Ultimately, if you're trying to make your dental care plastic-free, you might want to try a couple of these options and see which works best for you. So now let's go through some of the best plastic-free dental floss products in the UK.
Silk dental floss / Dental lace
One of the best brands of silk dental floss in the UK is Georganics. It's available in cardamom, spearmint and orange flavours so there should be something to please the whole family. Refills of all flavours are also available; just click any of the flavours above and select the refill option instead.
Reviewers are generally very happy with this floss, and while a few complain about it getting stuck in tight gaps, others think it glides through more easily than other types they've tried.
The packaging is completely plastic-free and recyclable, which is great if you're aiming for a zero-waste life.
Georganics also sell an activated charcoal dental floss but at time of writing it's made from a bamboo and polyester mix.
Bamboo dental floss
Kliara bamboo dental floss is our next pick. It's plastic-free and should decompose in around six months. The company actually makes a silk floss and vegan corn floss too, so they have all their eco bases covered. All three are available as a starter kit (with the glass dispenser) or a refill with two new 30m spools of floss.
This floss is naturally a little thicker than you might be used to and also slightly uneven. "The floss itself is quite thick and though I haven't been able to use in areas that have tightly packed teeth for the normal gap areas it fits well and cleans thoroughly," says one user while another comments: "The slight abrasiveness leaves a cleaner feeling than most floss. It doesn't shred in normal use".
Another good option in this category is Zero Waste World Eco Dental Floss. This mint-flavoured product is vegan and – as you would expect from the name – produces zero waste. You can buy a single starter pack, a two-pack refill, or a multipack which includes one container and three spools of floss.
"I am really very impressed with this floss. Not only does it clean between my teeth better than plastic floss, I am no longer throwing away strips of plastic thread every time I floss. It doesn't taste minty like the plastic stuff, but it doesn't taste horrible either."
Before buying bamboo dental floss, do check carefully to make sure it's 100% plastic-free. Some bamboo floss products also contain polyester on the basis that it makes the floss stronger.
Vegan dental floss
Radius make a popular range of organic vegan flosses, but these are all made from nylon. They do also make two biodegradable lines, which are not vegan.
If you're looking for biodegradable vegan floss, the main ingredients to watch out for are silk and beeswax. Plant-based candelilla wax is most often used in vegan waxed floss, including the two bamboo floss options mentioned above.
You could also opt for a corn floss like this one from Better Eco. It's vegan and both the floss and the packaging are plastic-free. Users seem to like the peppermint taste, and it even gets a thumbs-up from people who have tried other kinds of eco floss. One reviewer says:
"Nice to use. Some other eco friendly flosses are really tough, and hard on your gums. This one was softer, and caused no bleeding."
Refills for this product aren't available on Amazon, but a similar vegan floss from Tevra comes highly rated and has the same eco credentials.
Biodegradable floss picks
If you prefer the convenience of floss picks but are dismayed at the amount of plastic waste they produce, there are some eco-friendly floss picks out there too. Well, kind of.
The closest thing to a natural floss pick in the UK right now comes from Swedish oral care company The Humble Co. They make two variants – one basic corn starch floss pick and another infused with charcoal.
On closer inspection, we find they "are made primarily from corn starch" but also contain a fair amount of PLA. This is a plastic that has been labelled 'biodegradable' but in fact, only decomposes under very specific conditions – and your garden compost heap isn't one of them.
If your main concern is to eliminate plastic waste then we'd recommend using one of the string flosses mentioned above. But some people have trouble with string floss because of limited dexterity, and in this case, these "eco-friendly" floss picks are at least a step in the right direction until a better product appears on the UK market.
Other dental floss alternatives
A different option altogether is to invest in a water flosser. These electronic devices shoot out a jet of water to clean between the teeth. They don't produce any waste at all on a daily basis, but then again they do use electricity and you will eventually have to dispose of the device when it stops working.
Another effective way to clean between teeth is with an interdental brush. These tiny brushes come in a range of sizes to fit almost every crevice in your mouth. Although there aren't any completely plastic-free options at present, there are some with bamboo handles and replaceable heads. Read all about these in our interdental brush guide.
Conclusion
If you're trying to go zero waste or at least reduce the amount of disposable plastic you use, the good news is that you can still keep flossing. Whether you opt for silk, bamboo or corn, there are plenty of plastic-free dental floss products you can try as part of a natural tooth care routine.
They might not feel quite the same as the traditional materials you're used to, but we hope you can find one that suits you so you can keep your mouth healthy without harming the environment.
Sign up to receive the latest news and offers from Dentaly.org