What does Invisalign cost in the UK? This can be a difficult question to answer since the short version is "it depends". But that's not much help to you if you're researching Invisalign prices to find out if you can afford the treatment. So, in this article we're going to dig a bit deeper into Invisalign UK costs in 2023 so you can understand your options better.
Affordable Invisalign alternatives
The short answer is that Invisalign costs between £2,000 and £5,500 on average, depending on the length of your treatment.
If you only need mild or moderate teeth movement, there are cheaper clear aligner options you may want to consider. Read about our top picks starting from £1,295.
Here we'll look in more detail at:
How these aligner braces work
Different levels of treatment
The average cost of Invisalign in the UK
Financing and monthly payment options
Pros and cons of Invisalign vs traditional braces
Even after explaining the different treatment options and how to get Invisalign on finance, we can't tell you exactly what Invisalign will cost for you. To find that out, you'll need to visit an Invisalign provider for a consultation.
But for now, let's look at what to expect with Invisalign treatment and the average cost in the UK.
What is Invisalign?
Invisalign is the world's best-known and most advanced brand of custom-made teeth aligners, with over 11 million patients treated, and counting. A popular alternative to traditional braces, clear aligners are removable and almost invisible.
Straightening teeth with Invisalign is therefore a great option for people who want to avoid the discomfort or appearance of fixed metal braces. It's also much easier to keep your teeth clean with removable aligners.
The company behind Invisalign, Align Technology, has been manufacturing clear aligners for over 20 years and places a strong emphasis on developing the most advanced technology in the market.
If you want to know a little more about what these aligners are, check out our article: What is Invisalign? You can also read our guide to braces for adults and teens for more information about Invisalign vs braces and other orthodontic treatments.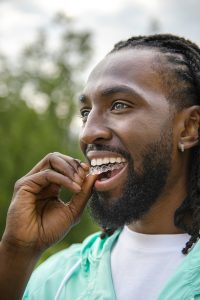 How does Invisalign work?
Both fixed traditional braces and the Invisalign system work by putting pressure on your teeth in a carefully planned way. Over time, they move your teeth into better alignment.
With Invisalign treatment, you have a series of custom-made plastic trays moulded to fit snugly over your teeth. You switch to a new tray every couple of weeks, and each one moves your teeth a little further towards your new smile.
You must wear your aligners for 20-22 hours a day for them to work effectively. The 2-4 free hours are for eating, drinking (except water), and cleaning your teeth and your aligners.
To begin your treatment, you'll need to visit a provider near you for a consultation. Here you can ask any questions you may have and you'll also get a 3D oral scan. This generates a computerised image of your mouth and teeth, from which your treatment plan is developed. You'll get to see a visualisation of how your teeth will move and your before and after smile images before you go ahead with treatment.
You may need to have attachments fixed to some teeth to help them move more efficiently. The video below gives a really interesting look at what to expect when you get your first set of aligners fitted.
You'll have regular checkups during your treatment to make sure your teeth are moving as planned, and to pick up your next few sets of aligners. Once you have completed your last aligner tray, your dentist will assess your teeth and see if you need any Invisalign refinements. Then, when you have achieved your perfect smile, you'll need to wear retainers after braces to keep your teeth nice and straight.
Invisalign treatment options in the UK
There are four types of treatment plans:
Your dentist will let you know which of these is best for you. The amount of tooth movement and the treatment duration will have a direct impact on the price of Invisalign; the more aligners you need and the more visits to your dentist, the more it will cost.
Switching from traditional braces to Invisalign is possible in some cases, but you'll need to cover the cost of your braces treatment and your Invisalign treatment. That said, if your teeth have already moved considerably with your braces, you may only need Invisalign Lite or Express to finish your treatment.
If you have had any dental restorations in the past, don't worry, you can still get Invisalign with crowns, bridges or veneers depending on your case. However, your treatment may take longer and cost more due to the fact that crowns and bridges can inhibit movement and increase treatment time.
How much does Invisalign cost in the UK?
Invisalign costs in the UK range from £2,000 to £5,500. The average cost for Invisalign Comprehensive, which most people use, is around £4,000. Lite and Express are cheaper options. The most suitable treatment for you will depend on how much movement is required for your teeth and jaw.
Here's a rough guide to Invisalign prices according to treatment type:
| | | | |
| --- | --- | --- | --- |
| | | | |
| | Mild, moderate and some complex cases | | |
| | | | |
| | | | |
Invisalign dentists and orthodontists run their own special offers from time to time, so it's a good idea to check for discounts with a few providers near you.
What is the cheapest Invisalign in the UK?
Invisalign Express is the cheapest Invisalign treatment, designed for mild tooth movement. It costs about £2,000 to £3,000. The next level up is Invisalign Lite, and then Comprehensive. You don't get to choose which one you want; this is determined based on the treatment you need.
Generally speaking, the longer your treatment, the higher the cost. Your location can also influence Invisalign prices; in London, for example, business overheads are likely to be higher and that is reflected in treatment costs.
Can you get Invisalign on the NHS?
No, you can't get any kind of invisible braces on the NHS. Children can get NHS braces where there is a medical need, and adults may also be eligible in some circumstances. So, no you can't get Invisalign on the NHS, the only braces offered on the NHS are traditional metal ones.
How much is Invisalign with financing?
Most dentists offer Invisalign finance options which let you pay monthly for your treatment. Invisalign payment plans vary from one dentist to another, so you should compare plans. When you have a consultation, you can check: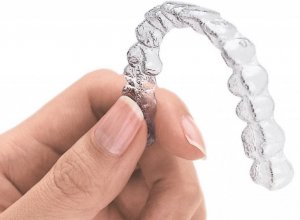 What will be your monthly payment for Invisalign?
Is there an up-front payment?
Is the finance interest-free?
What is the total cost of Invisalign braces with finance?
There are also other dental financing options you can consider, like a dental loan.
Are there any cheaper Invisalign alternatives?
Yes, there are many other brands offering clear aligner treatment in the UK. Invisalign costs tend to be the highest of all their competitors, and although you are paying for their high-end technology and research, the price can be unaffordable for some people.
One way to save money is to consider remote orthodontic treatment. This is a well-established method of aligner treatment whereby your dentist monitors your progress via an app rather than you having to visit them. It's only suitable for mild and some moderate cases, but can cost up to 60% less than Invisalign or other in-office braces.
You can read our full Invisalign alternatives article to learn more about your options, but here are a couple we recommend if you're looking for more affordable treatment:
Cheaper aligner treatment options
Are at-home clear aligners a good option for you? Learn more about our top picks.
Free scans
Free scans at 17 UK SmileShop locations
Nighttime aligners available
Lifetime Smile Guarantee™
£1,639 or £69.43/month + free teeth whitening
SmileDirectClub has been offering aligner treatment at home for over 8 years, making them one of the most experienced companies in this market.
Treatment takes 4-6 months on average, or 10 months for nighttime-only aligners. Their UK-based customer care is available 24/7 should you need to reach out at any time.
There are several ways you can get started:
Every aligner package comes with free bright on™ teeth whitening, so you can whiten your teeth while you straighten them!

Best value
Free retainers and whitening
Nighttime aligners available
0% interest finance options
£1,395 £1,295 or £83.33/month
NewSmile is a Canadian company that brought its clear aligners to the UK market in 2022. NewSmile aligners are made from the clearest material and the company offers excellent service at the best price.
They don't have any physical locations, so you'll need to purchase an aligner kit to get started. One of their Impression Specialists will guide you through the process on a video call when you're ready.
NewSmile aligners are very affordable, costing just £1,395 (currently discounted to £1,295). But even better, this price includes whitening foam to use in your aligners, plus your first set of retainers!
Choose their daytime package for treatment in 4-6 months, or nighttime aligners for a more discreet treatment that takes 8-10 months. Both options come with 0% interest payment plans available.
If you do decide to go down this route, we recommend you visit a dentist first for a general checkup. If you have any untreated cavities or gum problems, aligners may make them worse. It's best to get these issues treated before getting Invisalign or any other aligner treatment.
How do I find Invisalign near me?
Invisalign has a very large network in the UK, so you shouldn't have to travel too far. Visit their website and use their postcode search tool to find your nearest provider.
You'll be visiting them every four to six weeks, so we recommend choosing a location that's convenient to reach from your home or work. Some offer an initial free consultation whereas others might charge for it, so that could also influence your choice.
Ask a dentist: What are the benefits of Invisalign?
Straightening your teeth not only improves your appearance but also improves your oral health. Invisalign is a good option for those who want to straighten their smiles without having bulky metal braces in their mouths. Considering Invisalign's retainers are removable, they come with a number of benefits, including:
You can eat what you want. With clunky metal braces, it's tough to eat certain foods that can get caught easily in the brackets. These removable retainers are taken out each time you eat, which means you can eat your favourite foods.
The ability to engage in regular activities. Unlike traditional braces, Invisalign users don't have to worry about damaging the orthodontics in their mouths because they can be removed at a moment's notice.
Your teeth stay clean. Since you can remove Invisalign retainers so easily, you can still brush and floss like normal without obstruction or inconvenience.
Dr Brandon Murri
Conclusion
So, how much is Invisalign in the UK? Well, the exact price depends on your individual case but the overall cost should fall somewhere between £2,000 and £5,500. You'll need to visit an Invisalign provider to get a full treatment plan and price for Invisalign.
If you are looking for something a little cheaper at a fixed price then there is always the option of at-home aligners. These cut out time-consuming dentist visits and instead everything is handled remotely.
NewSmile is one such option to consider; their aligner package costs just £1,295 including whitening and your first set of retainers.
SmileDirectClub is another you may have heard of. They have physical locations around the UK, called SmileShops, which you can visit to get a free scan and ask any questions you have about treatment.
Not everyone is a good candidate for these aligners, but you can take their online assessment now to see if it's suitable for you.
We hope this guide has helped you learn more about the right treatment for your oral health care needs. Check out some Invisalign reviews to find out more about what it's like wearing aligners, and take a look at some Invisalign before and after results to see what great results these aligners can achieve.
You can also read about whether or not you can get Invisalign if you grind your teeth.
FAQs
What does Invisalign cost for top teeth only?
You may only care about having your top teeth straightened, hoping that it makes the price more affordable. You can get Invisalign for only top or bottom teeth, but don't expect it to halve the cost. A 20-25% discount is more realistic.
In any case, most orthodontists prefer to treat both arches. This is because tooth movement on one arch can affect the other arch if it is not being controlled.
Is Invisalign cheaper than traditional braces in the UK?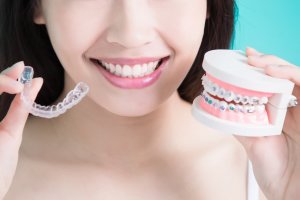 It will depend to some extent on how much correction is required to get your teeth into the ideal position. Some types of braces will work out cheaper than Invisalign while others are more expensive.
We can say that for many people, invisible aligners are a good balance between cost, aesthetics and convenience. We recommend you read our clear braces guide for a more detailed look at the different options.
What does Invisalign cost in the UK for students?
Invisalign doesn't offer any kind of student discount but you may find a dentist that offers a special deal. You'll need to check with your local providers to see what prices they have.
How long does Invisalign take to work?
Full Invisalign treatment takes 12-24 months, perhaps longer. But Express is around 3-6 months and Lite is 6-8 months. It all depends on what your teeth are like to begin with. But one of the nice things about clear aligners is you can see your progress all the way through. Your teeth should start looking straighter after just a month or two.
What can Invisalign not fix?
Invisalign can treat all types of malocclusion including overbite, underbite and crossbite. In fact, only 10% of orthodontic cases are not treatable with Invisalign. These generally involve significant bite correction and specific kinds of tooth movement. Check whether you're one of the 90% or the10% using Invisalign's Smile Assessment.
Sign up to receive the latest news and offers from Dentaly.org