What does Invisalign cost in the UK? This can be a difficult question to answer, since the short version is "it depends". But that's not much help to you if you're researching Invisalign prices to find out if you can afford the treatment. So, in this article we're going to dig a bit deeper into Invisalign UK costs in 2020 so you can understand your options better.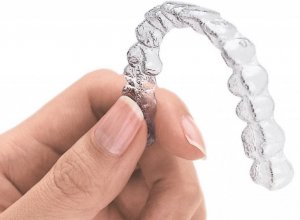 We'll look in more detail at:
How these aligner braces work
Different levels of treatment
The average cost of Invisalign in the UK
Financing and monthly payment options
Pros and cons of Invisalign vs traditional braces
Even after explaining the different treatment options and how to get Invisalign on finance, we can't tell you exactly what Invisalign will cost for you. To find that out, you'll need to visit an Invisalign dentist near you for a consultation. Checking for providers near you is easy; just visit Invisalign's website and enter your town, city or postcode. At your appointment, you can discuss the best treatment for you and exactly how much it will cost.
But for now, lets look at how Invisalign can transform your smile and the average cost in the UK.
What is Invisalign?
Invisalign is the worlds's best known brand of custom-made teeth aligners, with over 8 million patients treated, and counting. A popular alternative to traditional braces, clear aligners are removable and almost invisible. Straightening teeth with Invisalign is therefore a great option for people who want to avoid the discomfort or appearance of fixed metal braces. It's also much easier to keep your teeth clean with removable aligners.
About 90% of people who need braces are suitable candidates for Invisalign. To check whether you're eligible, you can take their simple Smile Assessment. Enter a few details and you'll have your answer within two minutes!
You can read our complete braces guide for more information about Invisalign vs braces and other orthodontic treatments.
How does Invisalign work?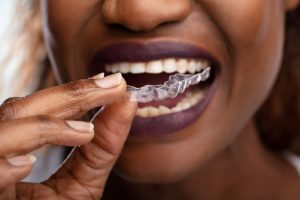 Both fixed traditional braces and Invisalign work by putting pressure on your teeth in a carefully planned way. Over time, they move your teeth into better alignment. With Invisalign treatment, you have a series of custom made plastic trays moulded to fit snugly over your teeth. You switch to a new tray every couple of weeks, and each one moves your teeth a little further towards your new smile.
You must wear your aligners for 20-22 hours a day. The 2-4 free hours are for eating, drinking (except water), and cleaning your teeth and your aligners.
To begin your treatment, you'll need to visit a provider near you for a consultation. Here you can ask any questions you may have and you'll also get a 3D oral scan. This generates a computerised image of your mouth and teeth, from which your treatment plan is developed. You'll get to see a visualisation of how your teeth will move and your before and after smile images before you go ahead with treatment.
But you don't have to visit a dentist to see what you'll look like with a straighter smile. Did you know you can use Invisalign's free SmileView tool to find out right now? Simply upload a selfie and see what a difference orthodontic treatment could make. You can use this SmileView even if you're not an Invisalign patient, so why not give it a go?
You may need to have attachments fixed to some teeth to help them move more efficiently. The video below gives a really interesting look at what to expect when you get your first set of aligners fitted.
You'll have regular checkups during your treatment to make sure your teeth are moving as planned, and to pick up your next few sets of aligners. Once you have achieved your perfect smile, you'll need to wear retainers to keep your teeth nice and straight.
Invisalign treatment options in the UK
There are four types of treatment plan:
Invisalign Full: The most common treatment, used for moderate and complex cases. It takes 12-18 months on average, but will continue until you're happy with the results.
Invisalign Teen: Specially designed for use at an age when the jaws are still developing. Similar to Full, but with special features to encourage compliance and allow the mouth to grow.
Invisalign Lite: For mild to moderate cases with fairly simple cosmetic movement. Treatment time is 6-8 months.
Invisalign i7: Best for very mild cases requiring minimal correction. Consists of 7 sets of aligners and takes around 3 months.
Your dentist will let you know which of these is best for you. The amount of tooth movement and the treatment duration will have a direct impact on the price of Invisalign; the more aligners you need and the more visits to your dentist, the more it will cost.
How much does Invisalign cost in the UK?
Invisalign costs in the UK range from £1,200 to £5,500. The average cost for Invisalign Full, which most people use, is around £4,000.
Here's a rough guide to Invisalign prices according to treatment type:
Invisalign dentists run their own special offers from time to time, so it's a good idea to check for discounts with a few providers near you.
The cheapest Invisalign in the UK
The cheapest Invisalign treatment is i7, but that's only suitable for people needing minor teeth straightening. Your location can also influence Invisalign prices; in London, for example, business overheads are likely to be higher and that is reflected in treatment costs.
As a cheaper alternative to Invisalign, you might consider at-home aligners from a company like Straight My Teeth. These cost just £999 and you can do everything from home or visit their London studio. However, they are not able to treat such a wide range of cases as Invisalign. Check whether you're eligible here or read a more detailed guide to Invisalign alternatives.
Can you get Invisalign on the NHS?
No, you can't get any kind of invisible braces on the NHS. Children can get NHS braces where there is a medical need, and adults may also be eligible in some circumstances. But the only braces offered on the NHS are traditional metal ones.
Invisalign financing
Most dentists offer Invisalign finance options which let you pay monthly for your treatment. Invisalign payment plans vary from one dentist to another. When you have a consultation, you can check:
What will be your monthly payment for Invisalign?
Is there an up-front payment?
Is the finance interest-free?
What is the total cost of Invisalign braces with finance?
There are also other financing options you can consider, like a dental loan.
How do I find Invisalign near me?
It's quick and easy to find an Invisalign provider near you. Click here to visit their website and just enter your postcode, town or city. You'll see all the dentists near you offering Invisalign, and you can choose one or more to contact for an appointment. They have a very large network in the UK, so you shouldn't have to travel too far.
You'll be visiting them every four to six weeks, so we recommend choosing a location that's convenient to reach from your home or work. Some offer an initial free consultation whereas others might charge for it, so that could also influence your choice.
Conclusion
So, how much is Invisalign in the UK? As we said at the beginning, it depends. But now you understand more about why prices for Invisalign range between £1,200 and £5,500.
If you haven't already checked whether you're eligible for Invisalign aligners, take their quick and free Smile Assessment here. You'll get your results back straight away. Then, you can check where your local Invisalign providers are and decide which one you'd like to visit for a free consultation and treatment plan. An in-person visit is the only way to find out your personalised price for Invisalign treatment.
Also, don't forget you can use Invisalign's SmileView for free to see what your teeth might look like after your treatment (even if you don't end up using Invisalign).
We hope this guide has helped you learn more about the right treatment for your oral health care needs. Check out some Invisalign reviews to find out more about what it's like wearing aligners and what kind of results to expect.
FAQs
What does Invisalign cost for top teeth only?
You may only care about having your top teeth straightened, hoping that it makes the price more affordable. While you can get Invisalign for only the top or bottom teeth, most orthodontists prefer to treat both arches. This is because tooth movement on one arch can affect the other arch if it is not being controlled.
Even if you do get approved for this, don't expect it to cut the cost in half. A 20-25% discount is more realistic.
Is Invisalign cheaper than traditional braces in the UK?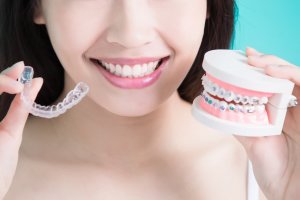 There are many types of orthodontic treatment. Some might work out cheaper than Invisalign whereas others will be more expensive. It will depend to some extent on how much correction is required to get your teeth into the ideal position.
We can say that for many people, invisible aligners are a good balance between cost, aesthetics and convenience. We recommend you read our clear braces guide for a more detailed look at the different options.
How long does Invisalign take to work?
Full treatment takes 12-18 months, perhaps longer. But i7 is around 3 months and Lite is 6-8 months. It all depends on what your teeth are like to begin with. But one of the nice things about clear aligners is you can see your progress all the way through. Your teeth should start looking straighter after just a month or two.