Invisalign clear aligner trays let you straighten your teeth without it being too obvious. This is why they have become known as "invisible braces". There are several types of Invisalign brace, but in this article we're focusing on Invisalign Lite.
Features of Invisalign Lite include: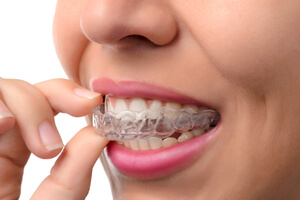 Almost invisible aligner trays which fit over the teeth
Aligners changed every two weeks
Total treatment time of around seven months
Suitable for mild and some moderate tooth alignment problems
Trays can be removed for eating and cleaning
But how do you know if these braces are suitable for you or your child? Here you can find out how much Invisalign Lite braces cost in the UK and what kind of results to expect. We also look at some real user reviews to discover what people thought of their Invisalign experience.
Invisible aligners for £999 with Straight My Teeth
If you're looking for a cheaper alternative to Invisalign Lite, consider at-home aligners from Straight My Teeth. They cost just £999 and you can complete the entire treatment without leaving your house because a dentist or orthodontists checks your progress remotely.
Read more about Straight My Teeth or see whether you're eligible for their treatment with a quick and free assessment.
How do Invisalign "invisible braces" work?
The removable aligner tray system from Invisalign offers a way to straighten teeth without the need for fixed brackets and wires. The aligners apply pressure to your teeth in a carefully planned way to move them into the desired position.
You'll need to change your aligners every two weeks, and step by step you'll notice a difference in your smile. You'll have an appointment every 4-8 weeks with your dentist so they can check your progress and provide you with your next sets of aligners. The total length of your treatment will depend on how much correction your teeth require.
Your dentist will plan your treatment after doing a detailed examination of your mouth, including x-rays and dental impressions. They use special software to show you what your teeth should look like following treatment, then the aligners are 3D-printed to precisely fit your teeth.
One big benefit of invisible braces is they can be removed for 2-4 hours per day. This is partly to allow time for eating and cleaning, but it also means you can take them out for important meetings or big events. Removable braces allow you to brush and floss your teeth just as you would normally.
Aligners must be removed for eating and drinking anything except water, and you need to clean your teeth and aligners before replacing them. So although you have the freedom to eat and drink what you like (which you don't get with fixed braces), the constant cleaning can be quite an inconvenience.
You can read more about Invisalign and other brands in our full article on invisible braces.
Types of Invisalign brace
Invisalign offers four different treatment types with its clear aligner trays for UK patients:
Full: The original Invisalign product which corrects a wide range of alignment problems and takes 12-18 months
Teen: Similar to the Full version but with several features suited specifically to teenagers
i7: A three-month treatment with just seven aligners to treat mild cases
Lite: A solution for relatively simple cases which takes around seven months
In this article we will focus on Invisalign Lite. Think of this as an in-between option for people whose problem is too complex for i7 but doesn't require the full 12-18 month treatment.
Whichever type of Invisalign treatment you're considering, you can use Invisalign's free Smile Assessment tool to check whether you're a suitable candidate. Around 90% of orthodontic cases can be treated with invisible braces. Just enter a few details and you can quickly find out whether you're one them.
Invisalign Lite vs. Full
The three main differences between Invisalign Full and Lite are the degree of correction that can be achieved, the required treatment time, and the cost. The aligners themselves are exactly the same.
Whereas Invisalign Full treatment takes 12-18 months on average, Invisalign Lite is usually complete in 6-8 months. This reduced treatment time reflects the limited range of problems that the braces can treat, including:
Crooked front teeth
Small gaps between teeth
Mild overcrowding
Slight relapse after previous orthodontic treatment
Because fewer aligners are needed for Invisalign Lite treatment, the cost is lower than the Full treatment.
With both types, your dentist may need to fit some small attachments to your teeth to help keep the aligners in place and move teeth more effectively. These are made from a tooth-coloured composite and designed to be as inconspicuous as possible.
Here is a summary of the differences between Invisalign Full, Lite and i7:
| Type of Invisalign brace | Full | Lite | i7 |
| --- | --- | --- | --- |
| Cost estimate | £2,500 - £5,500 | £1,800 - £3,500 | £1,200 - £3,000 |
| Treatment length | 12-18 months | 6-8 months | 3+ months |
| Suitable for | Mild to moderate cases | Mainly mild cases | Only mild cases |
How much does Invisalign Lite cost in the UK?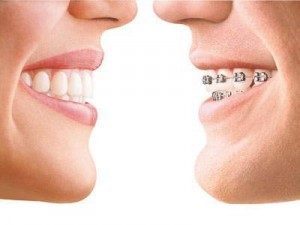 Treatment with Invisalign Lite costs between £1,800 and £3,500 with a UK dentist. This is compared to £2,500 to £5,500 for Invisalign Full. However, exact costs will vary according to a number of factors including the complexity of your treatment and your dentist's location and expertise.
We recommend getting quotes from several clinics whenever you're considering dental treatment. This will help you find a competitive price from a provider you're happy with. You can search here for Invisalign dentists in your area and book your first appointment online.
Also ask if it's possible to spread the cost of treatment with a payment plan – but don't get caught out with paying high interest rates.
Finally, find out exactly what is included with your treatment cost. Will you have to pay extra for any aftercare? What happens if you aren't happy with the final results? Also ask to see before and after photos from previous patients so you can check how effective their results are.
Invisalign Lite reviews
There are many reasons why people choose to use invisible braces to straighten their teeth.
One patient who has problems with teeth grinding said he chose Invisalign because traditional fixed braces would leave his teeth exposed at night.
Another had already worn fixed braces for several years but hadn't kept up with wearing a retainer at night. As a result her teeth were starting to return to their original position. She chose to use aligner braces this time around as she didn't want it to be obvious to her colleagues that she was wearing them.
In the following Invisalign Lite review video you can hear a detailed account of one user's experience. She shares before and after photos of her teeth and talks about the treatment process. She also has some tips for managing pain and cleaning the aligners.
If you want to know more about treatment with Invisalign or other types of braces you can read these Invisalign reviews. You'll also find lots of online reviews and videos from patients sharing their experiences.
It's common to have some speech problems while adjusting to wearing aligners. You should also expect some pain and/or discomfort for a day or two after switching to a new set. This is the time when your teeth are under most pressure from the braces. You can take an over-the-counter painkiller to help relieve this pain or try some home remedies.
Some wearers report that two hours a day is simply not long enough to eat, clean their aligners, and clean and floss their teeth. It's easy for bacteria to build up in the braces so careful cleaning is essential to avoid tooth decay and unpleasant smells.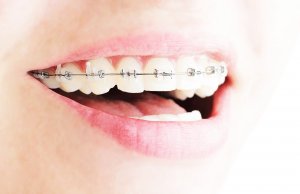 If you have a severe malocclusion you may not be a suitable candidate for invisible braces. Take advantage of Invisalign's Smile Assessment tool to check whether you're eligible for this treatment. Alternatively, book an appointment online to see your nearest Invisalign provider for a consultation.
Fixed braces must be used for the most complex of cases, but this doesn't mean your only option is a mouth gleaming with metal. Hidden lingual braces are one alternative, although they can be very expensive. A cheaper option is clear braces which are fitted to the front of the teeth but are made to match your natural tooth colour.
Alternatives to Invisalign Lite
Quick Straight Teeth is another brand of aligner tray brace available in the UK. This one focuses on straightening just the 6-8 teeth at the front of the mouth (those most visible when you smile). However, you'll probably find them slightly more expensive than Invisalign Lite if you need treatment on both arches.
"Mail-order" braces like Straight My Teeth are also becoming a more popular way to get mild teeth straightening, mainly because of the cost and convenience. With a fixed price of £999, they are quite a bit cheaper than Invisalign Lite and your aligners are sent to your home rather than you visiting a dentist for checkups. You can read more about these and other Invisalign alternatives in our separate guide or check out Straight My Teeth here.
If you decide that you would prefer a different style of brace altogether, Incognito Lite is a type of lingual brace fixed behind the front 6-8 teeth. This, again, is suitable for treating mild misalignment for people who want to feel more confident with their smile.
Note that whatever kind of orthodontic treatment you choose, you'll need to keep wearing a retainer at night for as long as you want your teeth to stay in their new, straighter position.
Conclusion
Invisalign Lite is a fast and inconspicuous way to treat minor and moderate teeth alignment issues. In just seven months you could have a straighter smile – without anyone even being aware you were wearing braces!
This orthodontic system has obvious appeal for adults who feel that metal braces would detract from their professional appearance or spoil an important event. To find out if Invisalign braces are suitable for you, start by taking a free Smile Assessment. You'll have an answer in just a couple of minutes. Then, search for an Invisalign provider near you so you can book an appointment and receive a quote for your treatment.
If you find that the cost of Invisalign Lite is too high, you could also consider at-home aligners. These cut out in-office dental visits and instead a dentist or orthodontist monitors your treatment remotely.
Straight My Teeth home aligners cost just £999, around half the price of Invisalign Lite, but they still give great results for cosmetic straightening on the front 6-8 teeth. Visit their website for more details and to see whether this is a suitable treatment for you.