Invisalign Lite is one of the treatment options with Invisalign clear aligners. It provides mild to moderate teeth straightening, meaning it costs a little less than the full treatment. But what exactly does Invisalign Lite cost in the UK, and what else makes it different to other types of aligner treatment?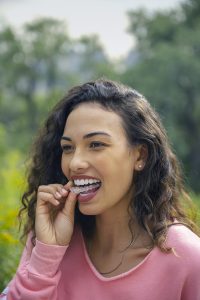 Features of Invisalign Lite include:
Almost invisible aligner trays which fit over the teeth
Aligners changed every two weeks
Total treatment time of around seven months
Suitable for mild and some moderate tooth alignment problems
Trays can be removed for eating and cleaning
Keep reading to find out more about prices and what kind of results to expect. We also look at some real user reviews to discover what people thought of their Invisalign Lite experience. We hope this helps you decide whether this treatment is right for you.
Invisalign Lite is a great choice if you need minor teeth straightening and you don't want fixed metal braces. Clear aligners are almost invisible and work just as well as traditional braces in the majority of cases.
Have you checked your eligibility yet? Invisalign's free Smile Assessment takes just 2 minutes to complete. Or, find out where your nearest Invisalign provider is and book an appointment online to discuss treatments and costs.
How do Invisalign "invisible braces" work?
The removable aligner tray system from Invisalign offers a way to straighten teeth without the need for fixed brackets and wires. The aligners apply pressure to your teeth in a carefully planned way to move them into the desired position.
You'll need to change your aligners every two weeks, and step by step you'll notice a difference in your smile. You'll have an appointment every 4-8 weeks with your dentist or orthodontist so they can check your progress and provide you with your next sets of aligners. The total length of your treatment will depend on how much correction your teeth require.
Your dentist will plan your treatment after doing a detailed examination of your mouth, including x-rays and mouth scans. They use special software to show you what your teeth should look like following treatment, then the aligners are 3D-printed to precisely fit your teeth.
Would you like to know what you'll look like with straighter teeth? With Invisalign's free SmileView tool, you can find out. Just upload a selfie and you'll have your result in one minute.
One big benefit of invisible braces is they can be removed for 2-4 hours per day. This is partly to allow time for eating and cleaning, but it also means you can take them out for important meetings or big events. Removable braces allow you to brush and floss your teeth just as you would normally.
Aligners must be removed for eating and drinking anything except water, and you need to clean your teeth and aligners before replacing them. So although you have the freedom to eat and drink what you like (which you don't get with fixed braces), constant cleaning can be quite an inconvenience. On the other hand, it may help you improve your oral hygiene habits for life!
You can read more about Invisalign and other aligner brands in our detailed guide.
What is Invisalign Lite?
Invisalign Lite is just one of four aligner treatment options available for UK patients:
First: This treatment focuses on early intervention for children aged 6-10 years old.
Express: Suitable for minor crowding or teeth gaps and purely aesthetic treatments. Also used for correction of minor relapse.
Lite: A solution for mild to moderate cases in adults and teenagers, taking 6-8 months on average.
Comprehensive: Corrects a wide range of alignment problems in adults and teens, and takes 12-18 months on average.
So, you can think of Invisalign Lite as an in-between option for people whose problem is too complex for the Express solution but doesn't require the full 12-18 month treatment.
Whichever type of Invisalign treatment you're considering, you can use Invisalign's free Smile Assessment tool to check whether you're a suitable candidate. Around 90% of orthodontic cases can be treated with invisible braces. Just enter a few details and you can quickly find out whether you're one them.
The only way to know for sure whether you can have Invisalign Lite or Express instead of Comprehensive is to find an Invisalign provider near you and book an appointment. They will carry out a full assessment, usually for free, and discuss your treatment plan and costs.
In the Invisalign Lite review video below you can see what this process was like for a patient named Charley. Her teeth had started going crooked because she didn't wear a retainer after her orthodontic treatment a few years before:
What's the difference between Invisalign Lite vs. Comprehensive?
The three main differences between Invisalign Comprehensive vs. Lite are: the degree of correction that can be achieved, the required treatment time, and the price. The aligners themselves are exactly the same.
If treatment timescale is an important factor in making your decision, you might be wondering, how long does Invisalign take? And how does that compare to Invisalign Lite? Lets, find out.
How long does Invisalign Lite take?
The typical Invisalign Lite treatment time is 6-8 months, compared to 12-18 months for Invisalign Comprehensive. This reduced treatment time reflects the limited range of treatable problems. Invisalign Lite is suitable for: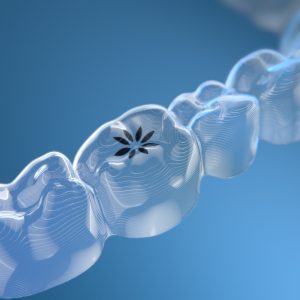 How many aligners are used for Invisalign Lite?
Invisalign Lite treatment usually involves 14 sets of aligners, changed every one to two weeks according to your treatment plan. Comprehensive Invisalign treatment can use a lot more than this.
Some people with very mild orthodontic issues may be eligible for single arch Invisalign depending on their case and how it may affect their overall bite. And, because fewer aligners are needed for the shorter Invisalign Lite treatment, the cost is lower than Comprehensive treatment.
Another difference between Invisalign Lite and Comprehensive is that with the Lite package there is less flexibility for Invisalign refinements and additional treatment if you aren't happy with the end results. Comprehensive treatment, on the other hand, includes any additional sets of aligners needed to get completely satisfactory results.
With both types, your dentist may need to fit some small attachments to your teeth to help keep the aligners in place and move teeth more effectively. These are made from a tooth-coloured composite and designed to be as inconspicuous as possible.
Here is a summary of the differences between Invisalign Comprehensive, Lite and Express:
| | | | |
| --- | --- | --- | --- |
| Type of Invisalign treatment | | | |
| | | | |
| | | | |
| | Moderate and complex cases | | |
How much does Invisalign Lite cost in the UK?
Typically, treatment with Invisalign Lite costs between £2,500 and £4,000 with a UK dentist. This is compared to £3,500 to £5,500 for Invisalign Comprehensive. However, exact costs will vary. Costs are based on a number of factors including the complexity of your treatment and your dentist's location and expertise.
We recommend getting quotes from several clinics whenever you're considering dental treatment. This will help you find a competitive price from a provider you're happy with. You can search for Invisalign providers in your area and book your first appointment online. Many of them offer a free initial consultation.
Unfortunatley, Invisalign aligners are not available with the NHS, but most providers offer payment plans and financing so you can spread the cost of Invisalign Lite into smaller payments over time. Do check what interest rate will apply and how it will affect your total treatment price.
Finally, find out exactly what is included with your treatment cost. Will you have to pay extra for any refinements, aftercare and Invisalign Vivera retainers? What happens if you aren't happy with the final results? Ask to see Invisalign Lite before and after photos from previous patients so you can check how effective their results are.
Invisalign Lite reviews
There are many reasons why people choose to use invisible braces to straighten their teeth. The following patient was a good candidate for Invisalign Lite because her teeth were just a little crooked. Although many people thought she had great teeth, she was conscious of them and wanted to get them straightened.
Her Invisalign Lite review goes into some detail about how the treatment works, including attachments, and why it took slightly longer than expected.
She had considered getting veneers, even looking at treatment abroad to cut the cost. But in the end, she decided against that because she didn't want to harm her natural teeth and the £2,800 cost of Invisalign Lite was much less than the lifetime cost of veneers. She did also get some teeth filing and composite bonding to straighten up some uneven teeth.
Another patient, Alice, gives a detailed account in her Invisalign Lite review video below. She shares before and after photos of her teeth and talks about the treatment process. She also has some tips for managing pain and cleaning the aligners.
"The process is so quick with Invisalign! My treatment was 28 weeks… that's just amazing in such a short space of time," comments Alice while listing her Invisalign Lite pros and cons. "I would definitely recommend this treatment," she concludes.
If you want to know more about treatment with Invisalign you can read these Invisalign reviews. You'll also find lots of online reviews and videos from patients sharing their experiences.
It's common to have some speech problems while adjusting to wearing aligners. You should also expect some pain and/or discomfort for a day or two after switching to a new set. This is the time when your teeth are under the most pressure from the braces. You can take an over-the-counter painkiller to help relieve this pain or try some toothache home remedies.
Some wearers report that two hours a day is simply not long enough to eat, clean their aligners, and clean and floss their teeth. It's easy for bacteria to build up in the braces so careful cleaning is essential to avoid tooth decay and unpleasant smells.
Don't forget, if you want an idea of what you'll look like after teeth straightening, you can use Invisalign's SmileView for free. You don't have to be an Invisalign patient, and it'll show you what your new smile could look like.
Alternatives to Invisalign Lite
SmileDirectClub is a very popular at-home aligner brand in the UK. Priced at £1,539, it's a cheaper alternative to Invisalign Lite and includes support from Customer Car and Dental teams through email, chat, and video call. If you prefer to pay in monthly instalments, you can opt for an initial payment of £70.10 and 23 monthly payments of £70.09. With this option, the total cost works out at £1,682.17 (excluding the impression kit and retainers).
Quick Straight Teeth is another brand of aligner tray brace available in the UK. This one focuses on straightening just the 6-8 teeth at the front of the mouth (those most visible when you smile). However, you'll probably find them slightly more expensive than Invisalign Lite if you need treatment on both arches.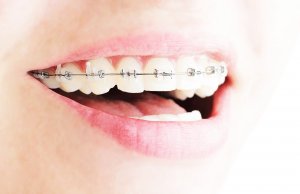 "Mail-order" braces are also becoming a more popular way to get mild teeth straightening, mainly because of the cost and convenience. However, you're missing ou-
t on face-to-face checkups which can be very important for ensuring your treatment progresses smoothly.
If you decide that you would prefer a different style of brace altogether, lingual braces are fixed behind the teeth, making them almost completely invisible. Clear aesthetic braces (pictured) are another way to straighten teeth inconspicuously and can be used for more severe cases too.
Note that whatever kind of orthodontic treatment you choose, you'll need to keep wearing a retainer at night for as long as you want your teeth to stay in their new, straighter position.
Conclusion
Invisalign Lite is a fast and inconspicuous way to treat minor and moderate teeth alignment issues. In just seven months you could have a straighter smile – without anyone even being aware you were wearing braces!
This orthodontic system has obvious appeal for adults who feel that metal braces would detract from their professional appearance or spoil an important event. Keep in mind that before you opt for any at-home treatment, visit your dentist for a general check-up to ensure there aren't any untreated cavities or gum disease before wearing aligners. Your dentist can also assess your overall suitability for any aligner treatment.
To find out if Invisalign braces are suitable for you, start by taking a free Smile Assessment. You'll have an answer in just a couple of minutes. Then, search for an Invisalign provider near you so you can book an appointment and receive a quote for your treatment.
With so many Invisalign providers in London and the rest of the UK, don't hesitate to book a free first appointment to discuss treatment.
Sign up to receive the latest news and offers from Dentaly.org