If you're missing any teeth, dentures are an affordable way to restore your smile. Modern false teeth should look natural and feel comfortable, but there are several things to think about before you get them.
If you're considering getting false teeth, you probably have a lot of questions such as:
Do I need a full or partial denture?
What's the best material for my false teeth?
What are flexible dentures?
What do fake teeth look like?
How much do dentures cost on the NHS and privately in the UK?
What are the alternative ways to replace missing teeth?
If you're worried about the cost of dentures and repairs, the good news is that they are one of the most affordable types of replacement teeth available. In the UK, some types of fake tooth are offered on the NHS. And if you have dental insurance, there may well be some cover for false teeth included in your policy.
In this article you can read about the different ways to fit artificial teeth and approximate denture costs in the UK. We also cover some of the practicalities of wearing them so you can decide whether they are the right option for you.
And if you already wear false teeth and want to know more about how to clean them, repair them and make them last as long as possible, you'll find all of that information here too.

What are dentures?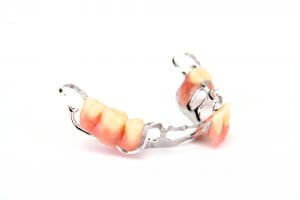 When you think of dentures, you might just imagine a set of teeth in a glass of water on the bedside table, but there's a lot more to them than that! Here is a simple definition:
Dentures, also known as 'false teeth' or 'fake teeth', are a type of dental prosthesis for people missing one, some, or all of their teeth.
Fitting a denture to replace missing teeth usually helps patients with their eating and speech. It can also protect the remaining teeth, prevent the face from sagging and improve the patient's self-confidence.
There are many different types of dentures, classed according to:
How many teeth they are replacing (one, several or all of them)
Whether they are fixed in place or removable
Whether they are supported by the gum or by implants inserted into the jaw bone
The materials they are made from
Keep reading to find out more about all of these false teeth options and the pros and cons of each one.
False teeth options and types of dentures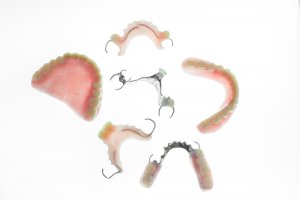 The term 'dentures' covers a whole range of false teeth options. It could be anything from one single replacement tooth hooked around neighbouring teeth, to a full set of fake teeth on an acrylic base.
You'll need to speak to your dentist to find out which type would be best suited to you, but below is some information on the main types of false teeth available so that you can understand the options and make an informed decision.
Complete / full dentures
If you are missing all your teeth – whether due to injury, tooth infection, periodontitis or another medical condition – you will need a complete set of replacement teeth.
With full dentures, the artificial teeth are fixed to a plate that sits snugly over your gums and – in the case of an upper denture – on the roof of your mouth. This plate is usually made from gum-coloured acrylic material, but the inner part can be made from metal. The 'gum' extends far enough away from the teeth that the edge is not visible when you smile.
When the base fits well, natural suction keeps it in place. But over time, your jaw bone changes shape and the plate will eventually become loose. False teeth glue can be used to keep it in place for a while, and a soft liner made from silicone can keep older appliances feeling comfortable for longer, but after five years or so you'll need to get a new set of teeth from your dentist or have your existing set relined.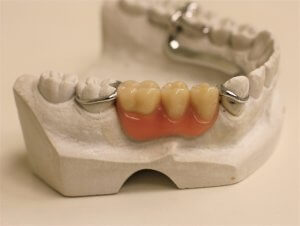 Partial dentures
Partial dentures are used when some healthy, natural teeth are still present. They are carefully shaped by a dental technician to fit around and clip onto any remaining teeth. Both the artificial teeth and gum are coloured to be a good match with your natural teeth and gums.
Depending on the placement of the false teeth, they may require metal clasps to keep them in place. Although the clasps are designed to be as inconspicuous as possible, they may still be visible when you talk.
Partial dentures are traditionally made from rigid materials like acrylic or metal. But more recently flexible materials have been introduced to the market, and you can read more about these below. We have a separate guide explaining what partial dentures cost in the UK and the different materials available.
Removable false teeth
Traditional dentures – both partial and full – are designed to be removable. Complete sets may have to be removed overnight for cleaning, whereas partial ones can often be worn for longer and brushed as normal. A dentist can advise on the exact cleaning procedure you should follow.
The fact that they are removable does mean they can slip out of place – particularly when eating foods that require a stronger biting force. For this reason, dentists often advise patients to avoid certain hard, sticky and chewy foods.
Patients may choose to use a dental adhesive which helps keep their artificial teeth more securely in place. This might allow access to more foods, but it can be messy and fiddly to deal with. This guide to the best denture adhesives in the UK looks at some of the options for people who find their dentures don't stay in place.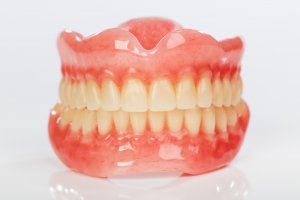 Permanent fixed dentures: implants
Dental implants are a permanent and versatile way to replace any number of missing teeth. A metal screw is inserted into the jawbone to provide the stability of a tooth root. An artificial crown, bridge or overdenture is then affixed to the implants.
Although implants are often used for single and multiple missing teeth, for now we will focus on how a full set of permanent dentures can be supported by implants.
Fixed dentures are held securely in place by dental implants inserted into the jaw. This eliminates one of the big concerns many people have about conventional full dentures – that they will slip out of place, particularly on the lower jaw where there is not much for them to hold onto.
It's possible to replace a full jaw of teeth with traditional teeth implants, but this technique typically requires 8-10 implants in the jaw. It is, therefore, the most expensive option.
Implant-supported dentures
An implant-supported denture uses the strength of dental implants to support and secure a full set of false teeth. They are permanently fixed in place, and any pressure from eating is transferred to the implants rather than the gums.
With an implant-supported denture between 4 and 6 implants are used in each jaw, making them a more affordable alternative to traditional implants. The overdenture is attached using either a metal bar which spans all the implants (as pictured) or individual ball attachments for each implant.
Implant-retained dentures
It is possible to affix a removable overdenture with as few as two implants, using an implant-retained denture. With this type of false teeth, the purpose of the implants is more to keep the teeth in place than to absorb the pressure from biting and chewing – the gums still take most of this pressure. This can be a good option for people who don't have the bone density for regular implants but who still want a more permanent solution.
Usually an implant-retained denture costs less than other types of full denture because it uses fewer implants. However, it won't have the same biting and chewing strength as one that uses four or more implants.
With this system the appliance can be removed for cleaning, as with regular false teeth.
Benefits of implants
Permanent dentures with implants are a good alternative to false teeth (as they are traditionally perceived), offering the following benefits: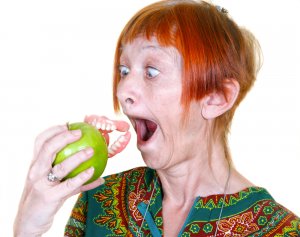 Teeth are stable and secure
No discomfort from friction with the gum
More hygienic due to less surface contact with gums
Natural-looking
Allow normal chewing and eating
No acrylic blocking the taste of food
The implants gradually fuse with the jaw bone and encourage it to maintain its shape. Usually, when a tooth is extracted, the bone eventually recedes because it doesn't have a root to hold on to, and over time, the face starts sagging. If you need teeth replaced at a relatively young age, implants are the best long-term solution for keeping the outward appearance of the face the same.
If bone loss has already occurred, the patient may have to undergo bone graft surgery before implants can be placed.
All-on-4 is a popular brand of full-mouth implant which allows the overdenture to be fitted on the same day the teeth are extracted.

Immediate (temporary) dentures
If you need to have an unhealthy tooth extracted, your dentist may wait a few weeks or months before measuring your mouth to create your false teeth. This allows the extraction site to heal and the gum to settle.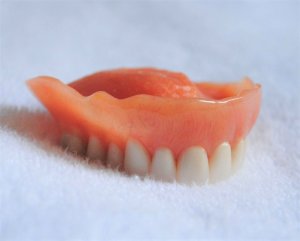 Patients who have had all or many of their teeth removed, or who are missing a tooth in a prominent position, may not want to walk around with a gappy smile for all this time. It's, therefore, possible to get temporary false teeth that are fitted straight after extraction – known as 'immediate dentures'.
A temporary denture for just one tooth is sometimes referred to as a flipper tooth or dental flipper. These are popular for people that have just lost one of their teeth through injury or decay that are self-conscious about their appearance while they wait for a more permanent solution.
Because of the way the gum and bone change shape after a tooth is extracted, it's likely that this appliance will soon become uncomfortable and will need to be relined or replaced.
Before commencing treatment, ask your dentist about the procedure involved. Be clear about whether your new teeth will be fitted immediately and when you'll be able to transition to a permanent set. The idea of immediate dentures may appeal to you, but remember they are intended to be used in addition to a regular set later on.
What are modern false teeth made from?
Replacement teeth can be made from acrylic resin, metal covered in acrylic, or porcelain. Acrylic is most commonly used these days because of its durability. Porcelain can look more natural but it's more expensive and not as lightweight as acrylic.
For the base plate there are several options, each with its own benefits.
Acrylic dentures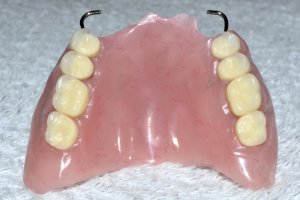 All of the gum-coloured parts of traditional false teeth are made from hard, acrylic material. Acrylic dentures may still have metal clasps to help keep them in place, and these may be visible when you speak or smile, depending on their placement.
Acrylic material is strong enough to hold the false teeth firmly in place. Not all acrylic is the same quality, though. If you get basic cheap dentures then the acrylic may not look so natural and can crack easily if dropped. More premium acrylic dentures are crafted to look more natural, and the material is more resistant to breakage.
This can be the most affordable type of denture available since the material is cheaper and easier to work with than other types. If you get a full or partial denture on the NHS, it will most likely be made from acrylic. Another benefit is that it's relatively easy to adjust this type of false teeth, and add extra teeth if needed.
Metal steel or chrome dentures
Metal such as steel and chrome can also be used in denture plates, particularly on the upper jaw. Metal dentures come with a number of benefits over all-acrylic dentures: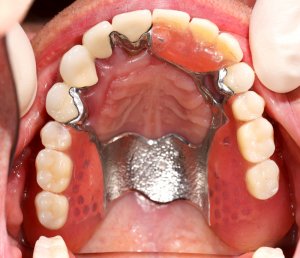 The metal makes the framework stronger and more durable
Chrome plates can be made thinner than acrylic, so are more comfortable and lightweight
They fit more precisely
As you can see from this photo, metal dentures still contain a fair amount of gum-coloured acrylic. The metal parts should be hidden on the roof of the mouth or behind the existing teeth, except for perhaps one or two metal clasps that fit around the existing teeth.
Because of the materials used and the time taken to craft them, chrome dentures are considerably more expensive than acrylic. You're less likely to be offered this style on the NHS, unless there is a clinical need for metal dentures rather than acrylic.
Flexible dentures
One popular alternative to conventional false teeth is flexible dentures such as Valplast flexible partials. These don't have the rigidity of acrylic and are also less bulky. This means they are more comfortable to wear and are less likely to cause difficulties with speech.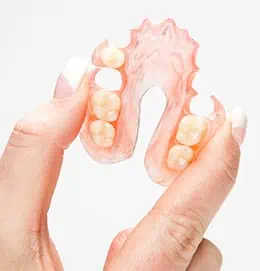 Advantages
Benefits of flexible dentures include:
Extremely durable material
Soft material which is gentler to gums
No unsightly metal clasps
No adhesive needed
Translucent resin material blends with natural gum colour
Thin and lightweight, less effect on speech
Disadvantages
This flexible material also has some drawbacks:
Costs more than some traditional materials
Usually not available on the NHS
Only for limited teeth replacement (not full dentures)
Overall, if you're looking for a modern alternative to traditional false teeth but don't want expensive implant surgery, Valplast partial dentures could be a good option.
How acrylic false teeth are made
This fascinating video shows how a full set of dentures is made to fit a patient's mouth:
NHS dentures are made in much the same way. Your dentist begins by taking a dental impression which is sent to a laboratory. They fit a trial version in your mouth to make sure you're happy with the shape and appearance. They may make slight adjustments, then will return it to the lab to have the final set cast in acrylic.
How much do false teeth cost in the UK?
Conventional false teeth prices are much lower than implant prices; in fact, they are the most affordable way to replace missing teeth. However, the cost of dentures still varies according to the material used and the number of teeth needing to be replaced.
As you saw in the video above, a dental technician follows a long series of steps to get the final product that fits snugly in your mouth. They have to place and position each tooth in the base by hand. Generally, the more teeth you need to replace, the more the dentures cost – unless you get NHS dentures in which case a fixed rate applies.
How much are dentures on the NHS?
The cost of false teeth on the NHS is the band 3 treatment charge, which is £282.80 for 2021/22 in England. Read more about NHS dental charges in the UK.
This fee applies whether you need full or partial, and includes any preparatory work like extractions. You'll have to pay this charge every time you need a new set, which may be around every five years.
If you get dentures on the NHS, they will probably be the traditional type made with a hard acrylic base. For the flexibility to choose other materials with better comfort or aesthetics, you'll need to pay for private treatment.
NHS dental implants are available to some people, but only in very specific cases.
If you're not eligible for NHS dentures for some reason or are struggling to find an NHS dentist accepting new patients, it's still possible to get affordable dentures as a private patient.
How much do dentures cost privately?
With a private dentist, most false teeth cost £250 to £1,000, but prices may be as much as £2,500 for premium materials and finishes. And, prices vary greatly between dentists and practices.
The exact cost for your dentures will depend on: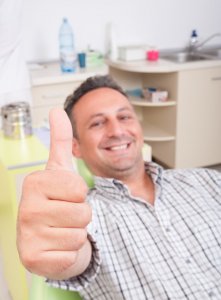 The number of fake teeth needed on the appliance
The materials you choose
How natural you want them to look
How well you want them to fit
Your dentist's location and charges
If you only need to replace one or two teeth, you might find that private denture prices are not too different to NHS prices – you might even get them slightly cheaper, with basic denture costs starting at around £250. However, using materials like porcelain and chrome can increase the price to as much as £2,500, especially if all or most of your teeth are missing.
With more premium options, the dental technician will spend longer ensuring that the fake teeth match your natural smile and that the fit is as comfortable as possible. If you choose a cheaper denture option, you may not get this same level of attention.
Flexible dentures cost between £450 and £1,500, again depending on the number of fake teeth needed.
As with any private dental treatment, it's a good idea to shop around since false teeth prices will vary from one dentist to another.
The video below gives some interesting insight into how dentures are made in a lab. It also explains why private dentures cost more than NHS dentures, and why it might be worth paying the extra for private treatment, if you can afford it.
What do implant-supported dentures cost in the UK?
If you want denture implants in the UK you'll have to pay for them privately since the NHS only provides traditional styles. The exact cost of fixed dentures will depend on many factors and you'll need to get a personalised quote from your dentist.
Typically, permanent implant dentures cost between £1,500 and £2,500 per implant, as well as the cost of the false teeth. Implant-retained dentures cost less than implant-supported ones since fewer implants are required. Systems like All-on-4 cost from £7,000 per jaw in the UK.
If you're interested in implant-supported or implant-retained teeth but are worried about the higher cost, consider getting treatment abroad in a country known for dental tourism. In places like Turkey, Hungary and Poland, you can get top-quality treatment in state-of-the-art clinics for less than half the price you'd pay in the UK.
To help you find a reputable dental clinic and plan your trip abroad, you can use a service like Dentaly Go. They will assign you an International Patient Coordinator to arrange free quotations and answer any questions you have.
You can request a quote right now by just filling in a few details in the form below:
Help paying your denture costs
Despite being the least expensive way to replace missing teeth, the cost of dentures is still significant – especially if you need a new set unexpectedly, for example if your old set gets damaged.
There are several ways you might be able to reduce the cost, or at least make payments more manageable.
Health/dental insurance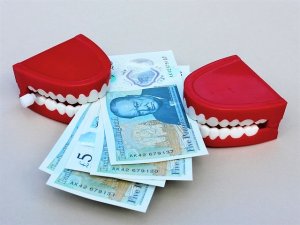 Most dental insurance policies in the UK make at least some provision to cover fake teeth costs.
If you are seen as an NHS patient, your insurance may well pay the full cost. For private care, your insurer might cover around 50-80% of the full cost. Each policy is different though, and any payout will be subject to annual limits and waiting periods.
Our guide to UK dental insurance has more information about what to look for in your dental cover.
Payment plans
Your dentist might offer a payment plan which lets you spread the cost of your treatment over several months. Just watch out for fees and interest charges which can add to the overall cost of your treatment.
A dental loan
Another option is to take out a personal loan for dental work so you can get your false teeth straight away and repay the loan in instalments. Although you'll have to pay more in the long run because of interest on the loan, you might decide this is better than having to live with missing teeth while you save up enough to pay for your dental care.
Comparison of tooth replacement options
The table below summarises the points discussed so far for the different types of replacement teeth:
| | | | | |
| --- | --- | --- | --- | --- |
| | | | | |
| | Acrylic, nylon or metal, rigid shape | Acrylic, nylon or metal, rigid shape | Titanium dental implant with overdenture | Nylon-based resin, soft and flexible |
| | | | | |
| | | | | At least as long as acrylic/metal lasts |
| | | £250 - £2,500 depending on material, quality and number of teeth | £7,000 - £14,000 for a full jaw depending on system used | £450 - £1,500 depending on number of teeth |
| | Gum changes shape over time, may become loose and uncomfortable; limited eating | Gum changes shape over time, may become loose and uncomfortable; limited eating | Secure but removable; more comfortable to wear; normal eating | Can damage supporting teeth in the same way as acrylic/metal |
Living with false teeth
74% of British adults are missing at least one of their natural teeth, and 6% have no natural teeth left. So, if you decide to get your missing tooth or teeth replaced, rest assured you won't be alone. Fortunately, advances in dentistry mean it's much harder than it used to be to spot whether someone's teeth are natural or artificial.
Are fake teeth comfortable?
False teeth are custom-made to fit your mouth, so they should be comfortable to wear. That said, it might take some time to get used to them, particularly when eating.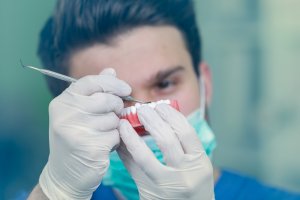 However, as previously mentioned, your gums and jaw change shape over time, particularly after you have had teeth removed. Since fake teeth are a fixed shape (unless you opt for a flexible material), the device will become uncomfortable over time.
If you have any concerns you should visit your dentist. It's better to get a new set made than to suffer in silence. If you wear a poorly-fitting appliance for long enough, you may start to develop mouth sores and even oral infections.
When your dental prosthesis stops fitting properly, it's sometimes possible to make adjustments to the plate to extend the life of the device – rather than having to get a new set of false teeth straight away. This process is know as 'relining'.
Reline materials can be hard (acrylic) or soft (silicone), and both have pros and cons. Read our separate guide to denture relining to discover more about these options and how much they cost.
Cleaning and maintenance: how to clean dentures?
Do you know why we have that stereotypical image of the teeth in a glass full of water at nighttime? It's not so much to clean them as to stop them drying out. Many people remove their false teeth overnight for comfort, and if not kept moist they can lose their shape.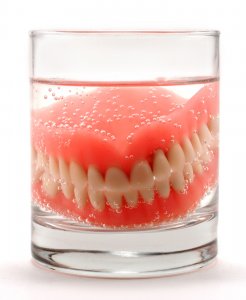 The Oral Health Foundation has recently issued new guidelines for cleaning dentures, after existing recommendations were deemed "confusing" and "unreliable".
If you don't clean your dental appliance properly, not only are you increasing your chances of gum disease and tooth decay, but you'll probably develop bad breath because of all the bacteria sticking to it. Plus, your teeth may start to taste funny. Cleaning also helps to reduce the chances of staining.
To prevent any oral health problems associated with incorrect maintenance, the advice is now to:
Brush your dentures daily with a non-abrasive cleaner (not toothpaste)
Soak them daily in a disinfecting denture cleanser (like Steradent tablets)
Keep them out at night, unless your dentist instructs you otherwise
Have regular dental checkups so your dentist can check your overall oral health
The following video animation shows what your cleaning routine might look like.
Your dentist will be glad to show you how to clean your dentures properly. They may provide a special brush or other tool to make this easier. You might not have to remove your appliance every time you brush your teeth, but it's easier to remove all traces of food if you can see what you're doing.
If you have soft lined dentures, always follow your dentist's advice for cleaning them since the soft material requires special treatment.
The best way to clean dentures naturally
If you prefer to avoid chemical cleaning products, there are several ways you can clean your dentures naturally at home.
Baking soda scrub
Baking soda is used in many toothpastes and whitening products. It's a natural abrasive that helps remove debris from teeth – and it works on false teeth too!
To clean dentures with baking soda, mix two teaspoons of the powder with enough warm water to form a paste. Then, using a soft-bristled toothbrush or a special denture toothbrush, thoroughly scrub the paste all over your appliance and rinse with water when finished. Repeated daily, this is an effective way to clean dentures naturally.
Vinegar soak to remove plaque
The high acidity of vinegar makes it effective at disinfecting and removing plaque from dentures. You can use regular white vinegar as a homemade denture cleaner, but it should be mixed with water according to how you want to use it.
For an overnight soak of up to eight hours, mix 1 part vinegar with 9 parts water (10% vinegar). For a more intense cleaning, mix 1 part vinegar with 1 part water (50% vinegar) and soak for 10-30 minutes.
It's best to brush your false teeth before soaking them. To remove stubborn denture stains, brush again after soaking. Rinse thoroughly in water before wearing your false teeth again.
Microwaving dentures
Did you know that microwaving your dentures can help kill harmful bacteria such as MRSA? Microwave them at 650 watts for three minutes once a week to help keep bacteria at bay. However, this should be combined with regular brushing and cleaning to be most effective, research has shown.
It's not safe to microwave your dentures if they contain any metal parts.
Other cleaning tips
Whatever routine you follow, one good tip is to clean your false teeth over a sink full of water or a folded towel. The reason for this is it makes them less likely to break if you drop them.
Meanwhile, you should maintain good oral hygiene practices to keep your remaining natural teeth clean. Brush twice a day with fluoride toothpaste and floss at least once a day.
How long do false teeth last?
There are three things that will mean you need to replace your appliance:
Cracks and breakages to the materials
General wear and tear (erosion, staining, etc.)
Changes to the shape of your mouth causing a poor fit
Barring point 3, the materials used in traditional and fixed dentures can be expected to last up to five years – maybe longer if cared for well.
But your mouth may naturally change shape before this. It's best to visit your dentist for a refinement or replacement before they become too loose or uncomfortable. Also see your dentist if you notice clicking when you talk or eat, or if your gums are bleeding.
If you have implant-supported dentures and the overdenture becomes damaged, this damaged part can be replaced without interfering with the implants.
Alternative treatments for replacing teeth
If you need to replace all or most of your natural teeth then your only choices are removable dentures or implants of some kind. Removable dentures cost a lot less than implants but aren't as durable and may be less comfortable.
If you just have one or two missing teeth then you might consider a dental bridge. This type of prosthesis is like a permanent false tooth, but without the need for an implant. A bridge is held in place by the neighbouring teeth, either with crowns or with bonded metal 'wings'.
The downside of a bridge attached with crowns is that it requires a layer of the healthy adjacent teeth to be removed in order for the crows to fit properly. If the patient ever wants to switch to a tooth implant, for example, the other teeth would need to be re-crowned individually. We have a separate guide about dental bridge vs implant treatment.
However, bridges are a natural-looking and long-lasting way to replace one – or even two – missing teeth. Bridges are also available on the NHS under the band 3 treatment charge. With a private dentist, denture prices are likely to be more affordable than bridges.
Dental implants are generally regarded as the best way to replace missing teeth long-term, as they mimic a natural tooth root and reduce the risk of bone loss. They are also preferable for most patients because they secure the false teeth firmly in place.
The cost of implants can be a barrier, but one way to make them more affordable is to look at getting dental implants abroad. Patients can save around 50-70% compared to UK dentist prices by travelling to places like Turkey or Hungary. To find out more and request a free quotation, just fill in a few details about the treatment you need.
Request a free quote for dental treatment abroad
Conclusion
Dentures may not be the ideal solution for everyone, and if worn long-term there is a risk of deterioration of the jaw bone. Still, they are an affordable way to fill a gap in your smile or replace all your teeth. Thanks to modern advances, they look more natural and feel more comfortable than ever before.
Because dentures are the most affordable kind of fake tooth option, you might choose them as a temporary measure while you save up for permanent tooth implants or implant-retained dentures.
If you're considering implants but are worried about the cost, check out our article on how to find cheaper dental implants. You may find a dental school offering cheap treatment, or you could look at the option of visiting a dentist overseas. We hope the information we provide helps you to find a solution you're happy with.
False Teeth FAQs
What are the best dentures?
The best dentures for you will depend on how much you're willing to spend versus what kind of aesthetics and comfort you want. Some people get on very well with traditional styles, while others find flexible dentures more comfortable.
Implant-supported dentures are worth considering if you want a long-lasting, permanent solution that functions like normal teeth. However, the obvious downside of these is the cost.
How long does it take to get used to dentures?
Having a foreign object in your mouth will feel strange at first, particularly if you get full dentures or had a lot of missing teeth. And, it will take some time to get used to speaking with them. Most people find their dental appliance starts to feel natural after 2-4 weeks of wearing it.
Even if you have been wearing false teeth for a while, switching to a different set might take some getting used to.
For the first week or two, try sticking to softer foods to minimise the chances of sores on your gums. If you're having real trouble talking or eating with false teeth, ask your dentist for advice.
How should dentures fit in your mouth?
Your false teeth should fit snugly over your gums, your saliva forming a seal that keeps them in place. Partial dentures usually have clasps that fit around the natural teeth to make them more secure.
Upper dentures fit over the roof of the mouth, whereas on the lower jaw there is only the gum for support. This reduced surface area means people more often experience problems with the fit of their lower dentures.
If your appliance seems slightly loose or you're worried about it falling out, a denture adhesive such as Fixodent Plus can help.
Are dentures painful?
Your gums might be sore in places while your mouth gets used to a new dental appliance. A denture pain relief gel can help ease any pain, which should only last for a couple of weeks.
Long term, wearing false teeth shouldn't be painful. If your dentures are hurting a month or more after you start wearing them, ask your dentist to take a look.
If you start experiencing pain from dentures after wearing them for a while, it could be a sign that they need to be adjusted, relined or replaced. An adhesive may help temporarily, but your mouth changes shape over time and the fit is likely to worsen.
Can dentures be repaired?
Over time, denture materials can fracture due to uneven stress or wear and tear. It's often possible to fix broken dentures, although it depends on the nature and extent of the damage. Acrylic is usually easier to repair than other materials.
If your false teeth are damaged, don't be tempted to fix them yourself. Even a slight change to the position of the teeth can lead to pain when eating and other problems further down the line. Take your broken appliance to your dentist so he or she can repair it properly.
The amount a fake tooth costs to repair will depend on the materials and the extent of the damage.
What's the best chewing gum for dentures?
If you like to chew gum, it can be frustrating to find that your favourite brand sticks to your false teeth. Wrigley's Freedent was released in the 1970s specifically to address this problem. However, it's hard to get hold of now in the UK (you may have some luck finding overseas suppliers on eBay or Amazon).
You might find that certain brands don't stick to your particular denture material, so it's worth trying a few different ones before you give up completely.
How do you clean denture stains?
Soaking your dentures in a cleaning solution daily will help prevent stains from things like tea, coffee and nicotine. But, if you notice your false teeth are still becoming discoloured, you might need to use a stronger product like Stain Away Professional Strength Denture Cleanser.
This powder cleanser is a little more expensive than some other popular brands, but reviewers say it makes a big difference – even on removing denture stains that had built up over several years. It also helps deal with any bad tastes and smells that have developed.
Sign up to receive the latest news and offers from Dentaly.org