If you're looking for affordable dental work, have you thought about visiting a dental clinic in Antalya? Dental implants and other dental work isn't cheap, but one way to get high-quality affordable treatments is to visit a dentist in Antalya.
Dental tourism in Turkey is becoming increasingly popular, with private care prices skyrocketing in the UK. And, not to mention the NHS waiting lists that will have you wondering if you'll ever get your treatment.
The idea of going abroad for your dental treatment may make you a little bit nervous. But don't worry, this article will answer all of your questions and more, including:
Why travel to Antalya for dental implants?
How much does dental treatment in Antalya cost?
How do I choose a dental clinic in Antalya?
Where should I stay?
What's the best way to prepare for my trip?
Keep reading to learn more about travelling to a dental centre in Antalya for dental work such as dental implants, crowns, veneers, teeth whitening and more.
If you're already ready to get a personalised quote for dental work in Turkey, click the button below to get started. It's completely free to request a no-obligation quote from carefully chosen dental clinics in Antalya using this service from Dentaly Go.
Get a free quote for your treatment
Why travel to Antalya for dental implants?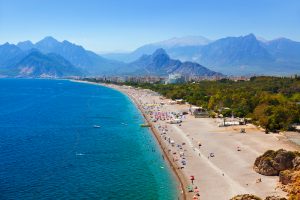 The main reason you would want to travel to Antalya for dental implants is because of the affordable prices. As we have already mentioned, dental work is becoming more and more expensive in the UK, and NHS waiting lists aren't getting any shorter.
You may be thinking, yes, cheaper prices are great but what about the cost of travel and accommodation? Well, even with these extra costs you could still be well within your budget compared to what it might cost you in the UK, and you get a holiday at the same time!
This brings us to the other reasons to travel to Antalya for dental work. Why not have a holiday while you get work done? You could enjoy the Mediterranean sunshine, relax on the beach or explore historical ruins in between dental appointments.
Let's take a look at the reasons to visit a dental centre in Antalya in greater detail.
How much does dental work in Antalya, Turkey cost?
If you are looking for affordable dental prices, Antalya, Turkey is a good bet. You may be able to get treatments such as dental implants, crowns, veneers and more for up to 70% less than in the UK. Check out our articles on getting All-on-6 or All-on-8 dental implants in Turkey for more information on savings.
Of course, dentist prices between dentists and from clinic to clinic will differ, but here is a general guide to dental prices that you can expect in Antalya.
When you look at the average prices for common dental treatments in Antalya you can see how much money you can save. Even when you take into consideration the added cost of flights, accommodation and other holiday expenses while you are there, you may still save money.
If you want to get a more accurate quotation of the dental work you want in Antalya, you can fill out the form below. One of Dentaly Go's International Patient Coordinators will contact you to discuss treatment prices and arrange estimates from carefully selected clinics that meet the highest quality standards.
What is the standard of care in Antalya?
Another reason to head to Antalya for your dental work is the high standard of care. Although dental prices are cheap in Turkey, that doesn't mean that the standard is any less than clinics in the UK.
In fact, it is the strong competition for dental tourism in Antalya between dental practices that keeps standards high and prices low. Not to mention lower overhead expenses and cost of living that makes the cheaper dental prices possible.
But you can't guarantee that every dentist will meet international standards so it's important to know what to look for.
All practising dentists in Turkey should be registered with the Turkish Dental Association, so check this first. They may also have other affiliations, but the TDA is the only mandatory one, so anything more is a sign of a good dentist.
You can also ask about their continuing professional development (CPD) and further education, as any good dentist will keep up to date with industry standards and progression.
Have a dental holiday in Antalya
You could just travel to Antalya for dentistry alone, but you would be missing out on all this seaside resort town has to offer. From relaxing and sunning yourself on the beach to hiking in the mountains or exploring old ruins from Roman times, there is something for everyone.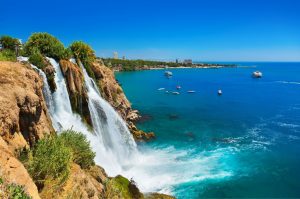 Antalya is most well known for its beautiful white-sand beaches and turquoise waters. But, if you are not so keen on sitting on a sandy beach all day, you can escape into nature and walk secluded trails to find waterfalls and ancient ruins.
There are many ancient ruins to explore in Antalya, as it is the 'gateway' to the Turkish Mediterranean coast. In the past, it was a major Roman port, and today there are still historical remnants remaining such as Hadrian's Gate, and the Hidirlik Tower.
Besides hiking, and exploring ancient ruins, you may enjoy a spot of golf, shopping, visiting a water park and even indulging in the extravagant nightlife.
Or, if you think all you will want to do between dental appointments is relax at your accommodation, you can even choose to stay at a fancy all-inclusive resort.
How do I choose a dental clinic in Antalya?
If you're sold on a dental holiday in Antalya then you are wondering how you choose the best dentist in Antalya for your needs. And, because Antalya is a popular dental tourism destination, there are a lot of clinics to choose from.
The first thing to know is that English-speaking dentists in Antalya will most likely advertise their service to an English-speaking market. So they should be fairly easy to find. And there are a few other tips that can make finding the right dentist for you a little less overwhelming.
If you are needing specific work, consider searching for a specialist in that area of dentistry, such as:
An implantologist – for dental implants
A prosthodontist – for crowns and veneers
An endodontist – for root canal work
Or if you need more than one treatment, look for bigger dental centres in Antalya that have multiple specialists. If you need several treatments it may be less stressful to get them all done in one place.
Questions to ask when choosing a dentist in Antalya
When you are searching for a dental centre in Antalya for your dental treatment, it may help you to prepare questions to ask before speaking with a dentist. We have compiled a list so you know what to ask before picking up the phone or composing an email.
Does the dentist speak good English? (Speaking to them directly will provide you with a good indication of this)
How much experience does the dentist have with the procedure(s) I need?
Is it possible to view before and after photos of past patients? (preferably ones that had the same procedure that you need)
What is the total cost, and what is included in the treatment fee?
Are there any guarantees?
What happens if something goes wrong after returning home to the UK?
Asking the right questions before choosing a dental clinic will go a long way to making you feel comfortable and prepared. Once you are happy with the dentist in Antalya that you have chosen, you can begin to prepare for your dental holiday!
If this all seems a bit overwhelming, we recommend using a service like Dentaly Go. They will help you find a suitable dentist for your treatment, and they have already done a lot of the work to ensure that the clinics they recommend are English-speaking and meet strict quality criteria.
Get a free quote from Dentaly Go
You can view our full guide on dental tourism for more information on choosing a dentist abroad. Or, keep reading to learn how to best prepare for your dental holiday in Antalya.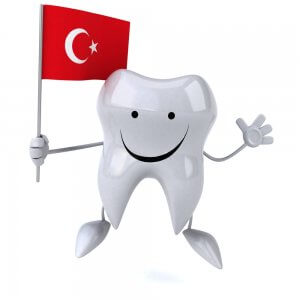 Preparing for a dental holiday in Antalya
Once you have chosen the best dental clinic in Antalya for your needs, you can relax and enjoy preparing for your holiday, including, most importantly, your flights to and from Antalya, Turkey.
Depending on the clinic you choose, certain parts of your holiday may already be provided for.
Some dental clinics arrange for transport from the airport to your accommodation and between your accommodation and the dental clinic. And some of the larger clinics can even provide their own accommodation on-site, or nearby.
But not all do, and you may need to organise your own accommodation and transport.
What is the holiday accommodation like in Antalya, Turkey?
When looking for accommodation for your dental holiday in Antalya, it's best to first know the location of your dental clinic. Staying close to your dental centre of choice can remove the stress of getting to and from appointments.
However, you may prefer to stay close to the beach, or in the mountains depending on what you want to do on your holiday.
Antalya does not lack choices in resorts, hotels and even cheap accommodation. There is everything from all-inclusive beach-side resorts, to mountain lodges and smaller boutique hotels.
And if you are looking for something cheap you should be able to find something that meets your budget easily.
Payments and Currency
The currency in Antalya is the Turkish lira (TL), and most clinics will happily take cash, card, bank transfer and in some cases PayPal. You may even be able to pay in your currency of choice and save money, but do check beforehand just in case that isn't an option.
When paying by card there may be some transaction fees, so check with your bank before paying so you aren't taken by surprise. And be sure to carry some small change in Turkish lira for paying for small items, like transportation and food.
Dental centre in Antalya reviews
When choosing a dentist it is a good idea to read the reviews from different dental centres in Turkey and more specifically Antalya. This will help you narrow down which clinic you want to attend, and help you find the best one in Antalya for your needs.
Many reviewers that make vlogs of their experience take you through their entire journey, so it can also help you prepare and know exactly what to expect.
In the following review, popular travel vlogger Jord explains his experience getting dental care in Antalya, and why he chose Turkey for his treatment.
If you want to see more reviews on dental tourism in Antalya and other places in Turkey such as Istanbul, Izmir and Marmaris, we have compiled more in our main guide.
Conclusion
Antalya is a popular and beautiful Mediterranean holiday destination, but if you add in the affordable dental care, you have the perfect location for a dental holiday.
If you're looking for cheap dental implants and other dental treatments, Antalya, Turkey may be the place for you. With savings of up to 70%, you can rest assured that you will be well within your budget to enjoy your holiday in between appointments.
Whether you want to relax by the pool, stroll along sunkissed beaches, explore mountain trails or ancient ruins, Antalya has it all.
If you're ready to explore your options and get a quotation for your dental work today, fill your details in here for a free quote.
Get started now with a free quote
The most important part of any holiday is the planning and preparation. We aim to make sure you have all the information to make this much less overwhelming, so you can make the best decisions for your dental care.
Make sure you read up on the treatment you need when choosing a dentist in Antalya and a specialist. The more you know about your treatment, the easier it will be to find the right dentist for you.
If you want to find more information to prepare for your treatment, keep browsing Dentaly.org to find what you need.
Sign up to receive the latest news and offers from Dentaly.org