Looking for the best teeth whitening strips in the UK? With so many options available, it can be tough to determine which whitening strips are right for you.
Our article features some of the top-rated whitening strips on the market, along with expert reviews, to help you make an informed decision. We'll also explore the benefits and drawbacks of whitening strips compared to other teeth whitening products like kits and pens.
Read on to discover the best at-home teeth whitening strips in the UK and take the first step towards a brighter smile.
The following table summarises all of the teeth whitening strips discussed in this article:
Best Teeth Whitening Strips

Hismile's PAP+ Whitening Strips

Main Whitening Ingredient: PAP+ whitening formula

Other ingredients: Nano-hydroxyapetite for remineralising enamel and potassium citrate to desensitise teeth

Treatment Time: 30 minutes

Treatments included: 14 - 28 whitening strip per pack

Good for: Strengthens and desensitises your teeth as you use them

SmileTime PAP Teeth Whitening Strips

Treatment Time: 15-30 minutes

Treatments included: 7 day course - 14 whitening strips per pack

Good for: Sensitive teeth

Main ingredient: Hydrogen peroxide

Main ingredient: Hydrogen peroxide

Treatment Time: 15 minutes

Treatments included: 14 - 28 whitening strips per pack

Good for: No mess because they dissolve as they whiten

Pro Teeth Whitening Co Charcoal Whitening Strips

Main feature: 100% naturally derived ingredients

Main Whitening Ingredient: Charcoal

Treatments included: 14 - 28 whitening strips per pack

Treatment Time: 30 minutes

Good for: Sensitive teeth
What are the best teeth whitening strips in the UK?
Alright! So we know what whitening strips are, and how they work, but which ones should you buy? To help you answer that, let's take a look at some of the best whitening strips for teeth available in the UK right now.
Do take the term 'best' with a pinch of salt, as none of these products get more than a 4-star review on Amazon. Aside from them being fiddly to use, the regulations mentioned above mean you're not going to get drastic results. If you're really set on using whitening strips then by all means give one of the products below a try. But we also recommend you consider a teeth whitening kit for better results.
Also, a note for any readers hoping to find Crest 3D White Whitestrips for sale in the UK… while they are incredibly popular in the US, over in the UK they are hard to find unless you know where to look. Keep reading to learn where you can find them.
Hismile's PAP+ Whitening Strips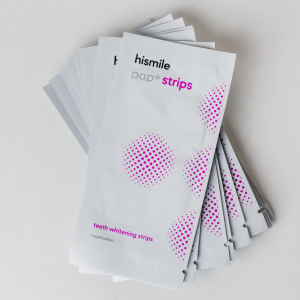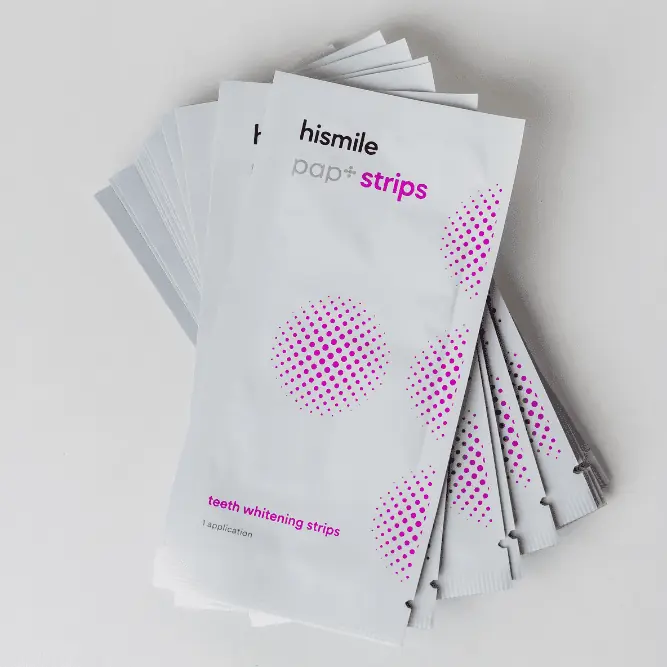 Hismile's PAP+ Whitening Strips use the same formula as their whitening kit, but in a convenient strip form that can be applied quickly and easily. These whitening strips don't cause gum irritation or sensitivity, like some brands that use peroxide-based whitening gel in their strips.
They're just like any other type of whitening strips except they are non-peroxide and work to strengthen and desensitise your teeth as you use them.
Hismiles PAP+ whitening formula includes the following ingredients:
Phthalimidoperoxycaproic acid (PAP) – the active whitening ingredient
Nano-hydroxyapatite – strengthens and remineralises enamel
Potassium citrate – desensitises your teeth
To use these strips, all you have to do is dry your teeth and apply the long strip to your top teeth and the shorter strip to your bottom teeth. Leave the strips on for 30 minutes and then remove and rinse your mouth with water.
Hismile also makes a PAP+ powder which you can read more about in our review of teeth-whitening powder.
In the following video, Emma, a dental hygienist gives her opinion and review of Hismile's Pap+ Whitening Strips:
SmileTime PAP Teeth whitening Strips
Next up we have SmileTime's PAP Teeth Whitening Strips which are suitable for those who don't want to use peroxide but still want a whiter smile. They are UK and EU-approved, vegan-friendly and peroxide-free and contain a whitening formula clinically proven to deliver up to 5 shades whiter in just one use.
The set of 7 strips (a 7-day course) uses an ingredient called PAP that's peroxide-free and has been shown in independent clinical trials to be effective at producing results after just one use.
They are easy to use at home and have a fresh, minty taste that leaves your mouth feeling cleaner. And, the treatment involves popping the strips on your teeth for 15-30 minutes for 7 days. SmileTime's whitening strips should leave you with no teeth sensitivity and results after just one treatment.
These whitening strips work well with no pain and sensitivity. Adheres perfectly to teeth too!

– SmileTime customer
You can read our full review of SmileTime here if you're interested in learning more about their full range of whitening products!
Snow's Magic Strips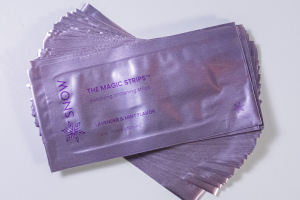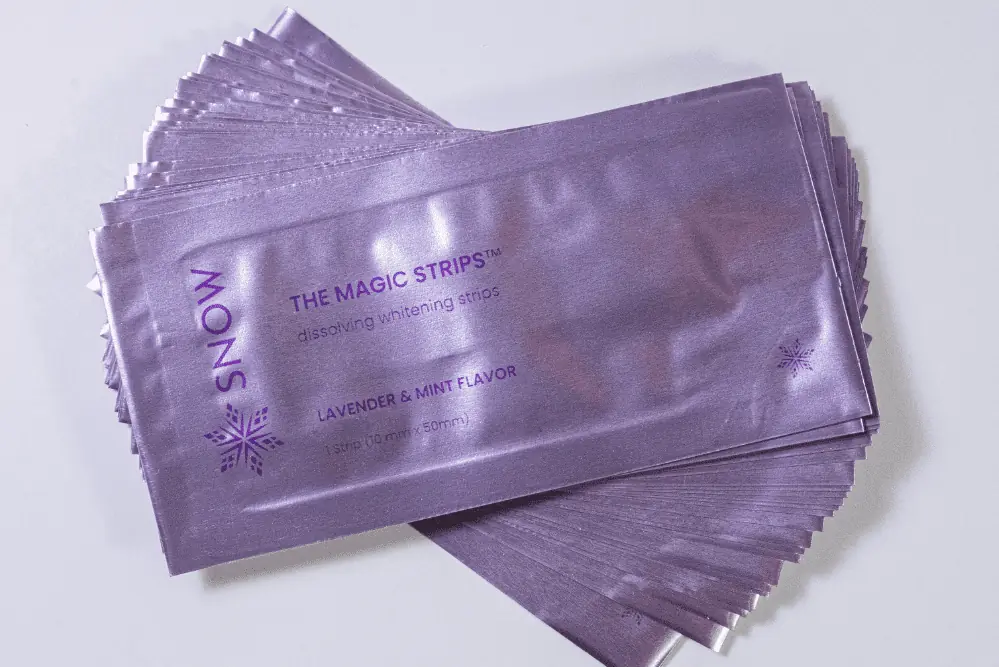 One of our top picks for best whitening strips is Snow's Magic Strips. Like their name suggests these whitening strips are pretty magical. T
hey not only whiten your teeth, but they also dissolve while they do so. This means that you are not left with the gooey mess once you peel off your whitening strip as with other brands.
Snow is well known for its popular whitening kit, but its Magic Strips are fairly new to the market.
The main whitening agent in these strips is hydrogen peroxide similar to Crest White Strips, but as we have already mentioned these white strips dissolve on use. According to Snow, 90% or more of people find their teeth are whiter after just one treatment.
There are 28 treatments included, 14 for the upper teeth and 14 for the lower teeth, and they cost $49, or about £35 which makes each treatment cost $1.75. or £1.27.
Find out more about Snow's Magic Strips in our full review here.
Pro Teeth Whitening Co Charcoal Whitening Strips
Don't be put off by the idea of sticking something black to your teeth! Activated charcoal is used in many whitening products, although dental professionals have mixed opinions about it.
These activated charcoal teeth whitening strips have been formulated by dentists as part of Pro Teeth Whitening Co's product range. They use 100% naturally derived ingredients in their strips, including coconut oil and cellulose gum.
As with all the products we've reviewed here, some people are really impressed with their results while others have seen very little difference. Some people have mentioned sensitivity, which is interesting considering these strips don't contain peroxide.
If you're into the charcoal whitening trend then these are probably the best teeth whitening strips to try, as they're from a well established brand. Just make sure you don't leave behind any of the black gel when you brush your teeth after using them!
Summary of the best whitening products
To help you digest the above information and select the best option for you, we've summarised the details of these four dental whitening strips in this table:
| | | | | |
| --- | --- | --- | --- | --- |
| | | | | |
| | | Phthalimidoperoxycaproic acid (PAP), nano-hydroxyapatite, potassium citrate | Phthalimidoperoxycaproic acid (PAP) | Sodium chlorite, coconut oil, activated charcoal |
| | | | | |
| | | | | |
| Approx. cost per treatment | | | | |
| | | | | |
Since prices on Amazon change regularly, it's worth clicking through to see what offers are available right now on the products you're interested in.
How do teeth whitening strips work?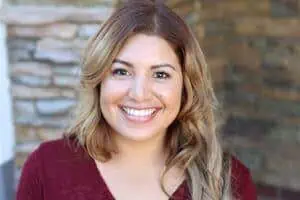 Let's go over some basics first.
Teeth-whitening strips are thin, flexible, transparent or translucent strips that are coated on one side with a tooth whitening gel.
You apply them directly to your teeth for a short amount of time each day, and gradually the bleaching agent gets to work.
In accordance with EU law, over-the-counter peroxide whitening strips in the UK may not contain more than 0.1% of hydrogen peroxide for teeth whitening.
It's possible to get a stronger formula, of up to 6%, on a prescription from a dentist.
You may have heard of Crest whitening strips before, however, due to the fact they contain more than 6% hydrogen peroxide, you will struggle to find them for sale in any UK outlets.
These restrictions mean that the best whitening strips in the UK are quite different to American teeth whitening strips, and the product offering certainly isn't as rich over here.
In fact, most UK whitening strips contain sodium chlorite as the active whitening ingredient. This can have a whitening effect, but a study in the British Dental Journal found that it also may reduce the hardness of dental enamel and leave teeth more susceptible to surface abrasions. As such, the British Dental Association advises caution when using any whitening products containing sodium chlorite.
When researching whitening strips in the UK you'll come across various brands that all promise great results but vary in a few ways, including:
Length of treatment time
Number of strips included
Extra ingredients
Special features
Cost
In our teeth whitening strip reviews below we'll go over these points in more detail so you can understand what they mean in practice.
How to use whitening strips
Every set of teeth whitener strips will have their own set of instructions which you should follow. However, in general, to use a whitening strip you: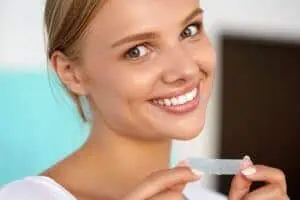 Brush first: This removes plaque and allows the whitening ingredients to better penetrate your enamel. Although there is some debate as to whether or not you should brush your teeth after white strips.
Identify top and bottom strips: Some brands have different sized top and bottom strips, so make sure you sort out which is which. Usually, the top strip is longer than the bottom one.
Apply the strips: You'll need to peel the strip off of its backing. The side that was attached to the backing is the side with the gel, and this is the side that needs to come in contact with your teeth. Press the strips to your teeth, making sure your teeth are completely covered, and smooth the strips down.
Keep the strips on for the time indicated in the instructions (usually around 30 minutes).
Remove the strips, brush and rinse well with water. Avoid eating or drinking for around an hour after treatment.
Please note that using your strips for longer than the time indicated won't make your teeth whiter, but the hydrogen peroxide could damage your enamel or gums leading to sensitivity.
Don't be alarmed if you notice white patches on your teeth immediately after using teeth whitening strips. These can occur because of the way the chemicals react with your enamel, but should fade straight away.
White strips alternatives
There are a zillion ways to whiten teeth: strips, gels, oils, toothpaste, trays, pens, LEDs… they all vary in cost and effectiveness. For the best results you'll probably want to see a dentist for professional in-office whitening, but be prepared to pay hundreds of pounds for this.
If you're looking for a more affordable option that still delivers professional-looking results, we recommend an at-home whitening kit. Here are a couple of great ones to consider:
Smile Avenue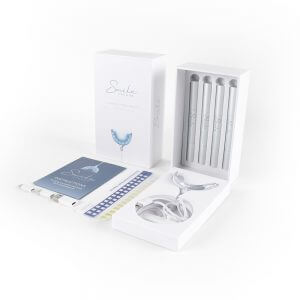 Designed in France and made in the US, the Smile Avenue whitening kit is safe and effective, even for sensitive teeth.
The active ingredient, Phthalimidoperoxycaproic Acid (PAP), is a proven teeth whitener. Hydroxyapatite remineralizes your enamel, and LED technology speeds up the process so you get results faster.
The generous four pens of gel will get you through 24-30 days of treatment, and after that, you can purchase affordable refills.
Unlike most whitening strips, Smile Avenue's kit comes with a 30-day money-back guarantee, so if you're not happy with the results you'll get a full refund.
Click through to their website where you'll get free shipping, and use discount code DENTA10 for 10% off your whole purchase!
You can also read our full review of Smile Avenue if you want to know more about this product.
Snow
Snow, an American brand that really made a name for itself in 2020, is a premium whitening system with revolutionary technology. You can read our review of Snow whitening to find out what all the fuss is about, but here's a quick overview: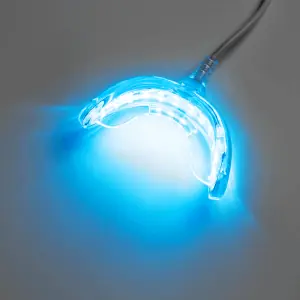 Gives you affordable, professional results
Uses advanced technology like blue and red LED light to accelerate whitening and kill bad bacteria
Has a hands-free, wireless and waterproof option – whiten while you shower!
Uses a special combination of carbamide peroxide and hydrogen peroxide for optimum results
Delivers a whole year's worth of results in one kit
Has refills and other products available
Their kits ship internationally from the US, and they often have special offers running. So why not jump over to their website and take a look?
Conclusion
We could say that even the best teeth whitening strips in the UK leave a lot to be desired when compared to those available in the US.
This is mainly because of the regulations in place on these products in the UK. Still, plenty of people seem happy using them and get decent results.
If you've tried whitening strips and been dissatisfied with the outcome – whether because of uneven coverage or just minimal effect, consider trying a home whitening kit instead. Although they are not quite as convenient as strips, they use more effective ingredients so you might get better results.
Whichever product you try, remember that perfectly white teeth don't mean that you have a healthy smile and vice versa. Your first priority should be to take care of your oral health and get in to see the dentist regularly.
FAQs
How often should you use teeth whitening strips?
You should always follow the instructions that came with your kit. Most strips are meant to be used once a day, every day, for a period of anywhere from two weeks to a month.
Do whitening strips really work?
They can work, and some that work for some people don't work for others, so you may want to try a couple of brands with different ingredients before giving up.
Are teeth whitening strips safe?
Yes. Unless you have an allergy, there is no reason to consider that whitening strips are unsafe. Just be sure to follow the usage instructions and don't leave the strips on for longer than stated.
Can you buy peroxide teeth whitening strips in the UK?
Yes, you can, but these products are regulated so cannot contain more than 0.1% peroxide unless prescribed by a dentist. This renders the peroxide content almost useless.
Are American teeth whitening strips available in the UK?
Yes, you can buy Crest Whitestrips from certain sellers. But, if they contain over 0.1% hydrogen peroxide they aren't allowed to be sold in the UK. For comparison, Crest strips have 10%.
Sign up to receive the latest news and offers from Dentaly.org