Sonicare and Oral-B are the two longest-running and best-selling brands in electric toothbrushes, so it's only natural to ask: Oral-B vs. Sonicare – who wins?
At Dentaly.org we've decided to take on this question so that anyone in the market for a new electric toothbrush can feel confident that they are getting the best brush for their needs.
We're going to approach the Sonicare vs. Oral-B debate with a few simple questions:
Which is better for removing plaque?
What other differences should I consider?
What options does each brand offer?
How to get the most for your money – whatever your budget!
We hope that by answering these questions we can address the concerns of anyone considering buying a Sonicare or Oral-B toothbrush.
Try the latest Sonicare toothbrushes risk-free!


"Best top-tier Philips toothbrush"


Removes up to 20x more plaque

Luxurious USB travel charger case

"Best mid-range Philips toothbrush"

Removes up to 10x more plaque

Guides you while brushing and points out neglected areas

Whiter teeth in just one week

Safe and gentle on sensitive areas, braces and dentures

"Best toothbrush for kids"

Interactive app gets kids excited about brushing

Exciting rewards for successful brushing sessions
The Best Sonicare and Oral-B Electric Toothbrushes
Top tier
High mid-range
Low mid-range
Sonicare ProtectiveClean 5100
Budget
Sonicare 9900 Prestige: Best toothbrush overall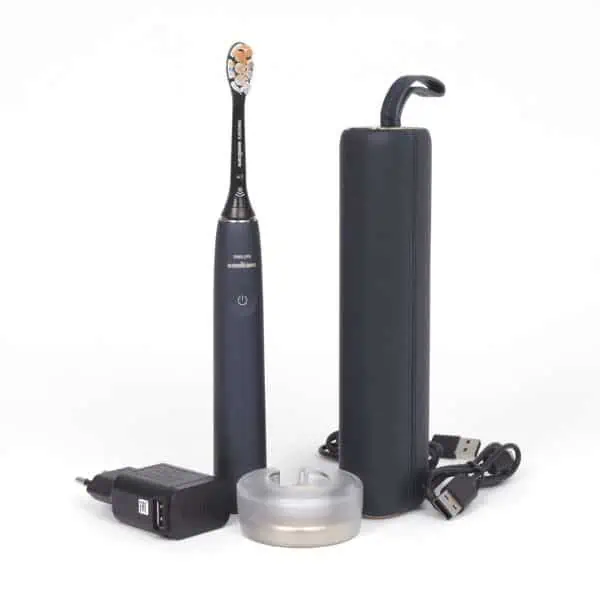 Pay full price (Try it risk-free for 90 days)
However, before we begin it would be a good idea to mention the difference between electric toothbrushes in general and traditional manual ones. The question arises: do electric toothbrushes actually clean more than manual ones, or is it all hype?
Braun Oral-B vs Philips Sonicare: The difference is in the brush head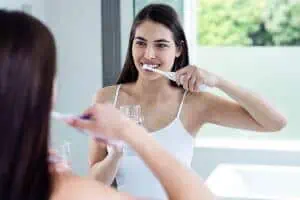 Although Sonicare has several advantages versus Oral-B (and vice versa), the most noticeable difference is the brush head.
It is the part that actually makes contact with your mouth and therefore the place where we should start to compare Sonicare to Oral-B, taking into account not just the shape but also the way it moves.
How does Sonicare work?
Sonicare toothbrushes have a more or less traditional brush shape. All of them are elongated and slightly smaller than that of a standard manual brush.
There are different models with designs for various functions like gum care or whitening, but every head has a pattern with at least 2 types of bristles. All their brush heads share the feature that the bristles are positioned perpendicular to the head.
The motion of a Sonicare toothbrush is known as 'sonic vibration,' which is created by a high-powered motor in the handle. This motor emits a frequency that causes the bristles of the brush to move from side to side about 31,000 times per minute.
Sonicare Try & Buy
Try a Philips Sonicare electric toothbrush starting from only €3.49 per month. Cancel at any time. Free shipping and free returns.
Learn more
The high-frequency vibration is meant to loosen plaque and tartar from your teeth through contact and also indirectly through fluid dynamics. Depending on who you ask, this may remove anywhere from three to ten times as much plaque as a manual brush.
For more information, you can check out some Sonicare toothbrush reviews or watch this video for a look at one of the top tier brushes from Sonicare and a visualisation of how its indirect cleaning works.
How does Oral-B work?
There are a few similarities that Oral-B's brush heads have with Philips Sonicare brush heads. They are both slightly smaller than traditional brushes and they offer a variety of bristle patterns for different purposes. However, the bristles on Oral-B heads are sometimes placed at angles. They claim this is to get better access to the small areas in between teeth.
Beyond that, they differ significantly from each other in both shape and motion. Oral-B heads are completely round, unlike any other toothbrush, and they move in a spinning motion. Though the speed varies from model to model, Oral-B clocks its top tier brushes at 8,800 oscillations per minute.
3D versus 2D cleaning action
Oral-B likes to refer to its brush head oscillation as "2D cleaning action." Many of their brushes (though not all) currently employ "3D action," which combines the rotation of the head with a back-and-forth pulsing motion. Although this is quite the same as sonic vibration, it functions similarly with the same fluid-dynamics-based indirect cleaning.
Here's a video from Oral-B featuring a demonstration of 3D action in their latest line of electric toothbrushes.
So which is better at removing plaque, Sonicare or Oral B?
There have been lots of studies specifically focused on comparing the Braun Oral-B vs. Philips Sonicare toothbrushes. After reviewing the two brands we've come to the conclusion that Sonicare has the advantage.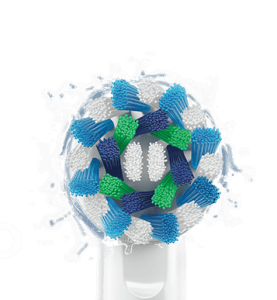 Below we've put together a couple of excerpts from several of these studies to give you an idea of what researchers are saying with respect to this debate:
Research results
One study found that while both brushes were helpful in improving subjects' oral hygiene, Sonicare had a clear advantage over Oral-B:
"Overall, this study demonstrates that long-term use of these two electric toothbrushes improves periodontal health in adult periodontitis patients, and that the Sonicare brush is superior to the Braun brush in reducing gingival inflammation and probing depth. Moreover, 6 months' use of Sonicare led to actual improvement in probing attachment levels of periodontal pockets."

-Robinson, Madalozzo, and Breslin
Meanwhile, in another study, researchers concluded that the Oral-B's rotational toothbrush head motion was more effective versus Sonicare's sonic vibration:
"Based on the findings of this single-use clinical evaluation, the action of the oscillating/pulsating power toothbrush is more effective at plaque removal than a high-frequency power toothbrush."

-Strate et al.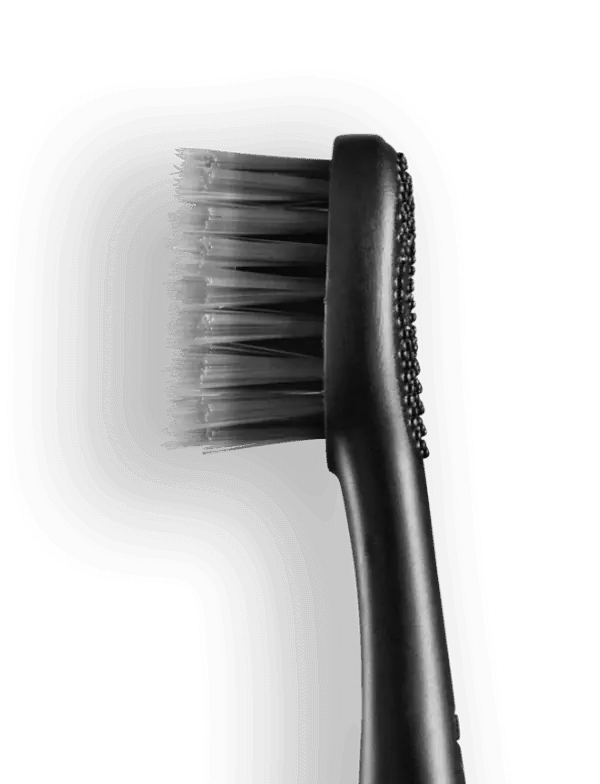 A more recent study has also concluded that electric toothbrushes with an oscillating head motion like Oral-B toothbrushes have a small benefit over high-frequency sonic toothbrushes like Sonicare's toothbrushes.
"There is moderate certainty for a very small benefit for the use of a powered toothbrush with an OR over an HFS mode of action."

-Thomassen, Van der Weijden and Slot
What does it all mean?
As far as plaque removal goes, science hasn't yet given us a clear answer as to whether Oral-B or Sonicare is better. It's worth mentioning that the studies used different models of electric toothbrush from each brand, and therefore there could be other factors influencing the results.
That said, our comparison is focused on the Oral-B oscillating/pulsating motion vs. sonic vibration from Sonicare. Although the model of brush may have varied, each brand's mechanism was constant across the studies. So, generally speaking, we can't point to a clearly superior system.
So is that it? There's no sure difference in cleaning power so Oral-B and Sonicare are the same? Do I even need to read on?
Well…that's not all. There are other factors to consider.
Best Sonicare toothbrush: The Philips Sonicare Prestige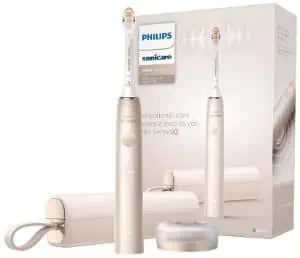 Up to 20 x more efficient than a manual toothbrush
Luxurious leather-look USB travel charging case
1 x all-in-one brush head that adjusts automatically
90-day risk-free trial
"Try & Buy" option available
Pay full price (Try it risk-free for 90 days)
How else can I decide if either Sonicare or Oral-B is better than the other?
Even though there is no clear leader in plaque removal, there are several other factors to consider when deciding which electric toothbrush to buy. Let's have a quick look at those factors that give one brush an edge over the other:
Aesthetics: Many people think that Sonicare is a better-looking brush, saying that it has a sleeker design and better colour coordination. Oral-B's brush heads often don't match the handle. Some even say that an Oral-B brush looks and feels like a toy (perhaps with the exception of their new iO range).
Noise: Another advantage of Sonicare is the fact that it is quieter. It's true that both of the brushes make noise. However, some reviewers note that Oral-B's motor is so loud you might want to close the door while you brush – the iO again being the exception.
Warranty: Both brands offer a two-year warranty on their products. Oral-B also offers a full additional year for free if you register on their website. That is definitely worth considering when shopping for higher-end models. If you are going to spend a couple of hundred quid on a brush, you want to get a few years out of it, right?
Price range: Naturally cost is always an important consideration. Once you have decided your budget you may find that one brand has more features than the other in the same price range. By the same token, you may notice that the additional features aren't important and therefore choose the model that is slightly less expensive.
Replacement head cost: Oral-B replacement brush heads are generally slightly less expensive than Sonicare, a difference that can add up over time. Also worthy of note is that higher-end models from both brands tend to have more expensive smart brush heads as well.
You've probably noticed that some of these factors favour one brand and some favour the other. So, we don't get a clear "winner" after taking these into account. That said, it can be helpful to prioritise your needs in order to decide which brush will best suit you.
Sonicare vs. Oral-B at different price points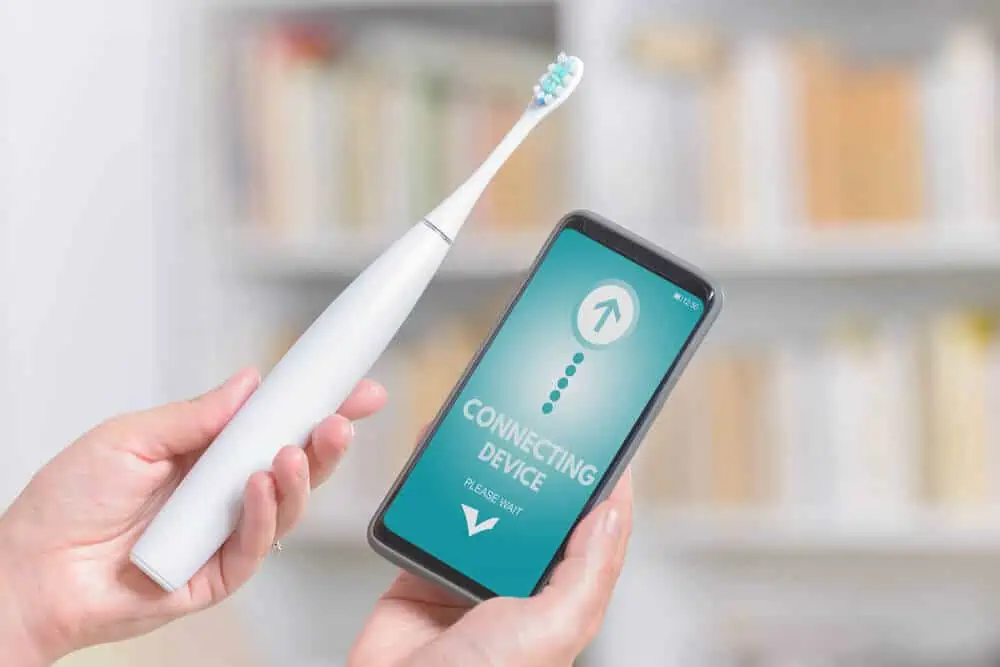 With this in mind, let's take a look at some of the different electric brushes offered by the two brands. We can compare and contrast them at different price points, as well as see what features become available as you move between price ranges.
For the sake of efficiency, we can outline a few features that all of these brushes share:
Rechargeable battery with charging stand
2-minute brush timer with 30-second intervals
Replaceable and interchangeable brush heads
2-year warranty
Sonicare vs Oral-B: The top tier
We'll get started with the flagship of each line of electric toothbrushes, the Sonicare 9900 Prestige versus Oral-B's iO Series 9. Both of these brushes offer the latest in features and connectivity from each brand. They also have a pretty high asking price but promise an unprecedented level of personalised cleaning. So, how do they compare?
Sonicare 9900 Prestige with SensIQ
The Sonicare 9900 Prestige with SensIQ technology is the most advanced Sonicare toothbrush on the market, designed to remove 20x more plaque than a manual toothbrush.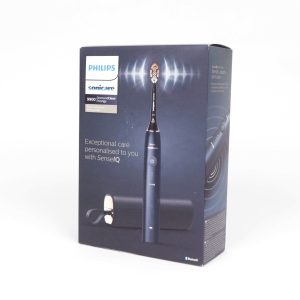 This power brush has all of the amazing components that sets Sonicare brushes apart when it comes to better, safer, and more stylish tooth cleaning, which we'll have a look at below, but it also has SenseIQ technology.
The highlights of SenseIQ are:
Pressure sensor: Lets you know when you are brushing too hard
Position sensor: Lets you know where you are brushing for each brushing session
Scrubbing sensor: Lets you know when you should reduce scrubbing, which is harmful to enamel
3D mouth map: This highlights areas you are missing when brushing
Adaptive intensity: A feature that automatically adjusts the intensity level while you brush
Artificial intelligence: Detects and syncs your brushing methods and preferences
The other innovative features of this toothbrush based on technical, aesthetic and performance specifications are as follows:
Technical specifications:
Connectivity: Bluetooth wireless technology with app
Power: 110-220V power supply
Battery: Rechargeable lithium ION battery that lasts 2+ weeks
Warranty: 2-year limited warranty
Compatibility: Android OS 8.0 or above and iPhone iOS 13.0 or above
Sonicare Try & Buy
Try a Philips Sonicare electric toothbrush starting from only €3.49 per month. Cancel at any time. Free shipping and free returns.
Learn more
Look and ease of use:
Battery indicator: Illuminated icon
Handle: Sleek and compact
Operation: Touch control
Travel case: Vegan leather compact charging case
Brush head replacement: Icon lights up
Cleaning performance:
Efficiency: Removes up to 20x more plaque
Gum health: Up to 15x healthier gums
Speed: 62,000 brush movements/minute
Timer: Quad timer and 2-minute timer
Whitening: 100% fewer stains
Pressure sensor: Handle vibrates and ring lights up purple
Scrubbing sensor: Handle vibrates and ring lights up amber
It also has five customisable modes — clean, white+, gum health, deep clean, and sensitive, and three intensity settings.
The brush head is an A3 Premium All-in-One brush head with angled bristles that have triangular tips and longer bristles to reach further.
And it charges standing on a frosted glass charging base.
Pay full price (Try it risk-free for 90 days)
Oral-B iO Series 10
From Oral-B's latest line we have the iO Series 10. You can order this brush in two colours and the brush heads come in black or white. The design is updated from previous Oral-B models, with smoother contours and a light-up display screen. It also has a magnetic charging base, the Sence Smart Charger that offers live-coaching and real-time guidance tailored specifically for your cleaning routine.
With the new and improved Sence Smart Charger, the iO1 can be fully charged in only three hours, an impressive improvement on almost all other electric brushes.
Oral-B has also replaced its previous drive system with a linear magnetic motor. The main advantage of this change is that it is a more powerful brush. Also noteworthy is the fact that it runs significantly quieter than other Oral-B models, though still slightly louder than sonic toothbrushes.
The iO Series 10 boasts seven different cleaning modes: daily clean, whitening, gum care, sensitive, intense, super sensitive, and tongue clean. It doesn't have a setting for adjusting the intensity. That said, these modes do seem to cover the bases of offering both more aggressive and gentler cleaning. Its battery life is also around two weeks.
Like its counterpart from Sonicare, this brush has a pressure sensor. However, the iO series' pressure sensor offers a slight bonus. It won't just tell you when you're brushing too hard. It will actually slow down oscillation if you apply too much pressure and indicate when you are using the correct pressure with a green light. This is meant to optimise each mode's performance.
The app has a real-time interface that will display your progress as you brush. It will also highlight areas that need more attention or that tend to receive too much pressure. After brushing it will also provide you with coaching and even a score. You can work toward increasing that score—a nice incentive to improve your routine.
The iO Series 10 includes:
Brush handle with a light-up display
Magnetic charging base
4 brush heads (one type)
Charging travel case
All in all, it is very comparable with the DiamondClean Smart with a few key differences. Essentially, the iO Series 10 has a more advanced display but doesn't offer the same variety in brush heads. The app interface and functionality may be another factor in helping you decide which brush is best for you.
For more information on this toothbrush, check out our full review on the iO Series!
Sonicare vs. Oral-B: High mid-range
Now that we've seen the best in what Sonicare and Oral-B have to offer, let's check out some of the wide range of standard models.
First, we'll look at the slightly more expensive mid-range brushes, which are available at around £150: Oral-B's Genius X vs. the Sonicare DiamondClean 9000.
These brushes are more straightforward in their design, though they do incorporate some of the more advanced features available.
Sonicare Try & Buy
Try a Philips Sonicare electric toothbrush starting from only €3.49 per month. Cancel at any time. Free shipping and free returns.
Learn more
Philips Sonicare DiamondClean 9000
The Philips Sonicare DiamondClean 9000 comes in 2 colours, pink or black, with hidden LED controls. It's quite similar looking to the DiamondClean Smart, but with fewer colour options. Although it is considered a level down from the DiamondClean Smart it's still a premium toothbrush, but it has slightly fewer features and is less expensive.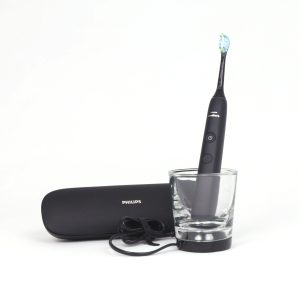 The DiamondClean 9000 has only 4 cleaning modes, unlike the DiamondClean Smart, which has 5 including the tongue care option. Both models have 3 intensity settings that can be used with each cleaning mode.
Other similarities to the Smart version include BrushSync mode-pairing, BrushSync replacement reminder, pressure sensor, charging travel case as well as a battery life of 14 days after being charged for 24 hours
The main difference between the 9000 and the Smart model is that the DiamondClean 9000 does not have the ability to connect to the Philips Sonicare app. So, the two versions are quite similar, especially if you are not too interested in feedback from the app.
A Philips Sonicare DiamondClean 9000 includes:
DiamondClean handle
Premium plaque defence brush head
Puck charger
Charging travel case
Oral-B Genius X
The Oral-B Genius X comes in three colours like the iO Series 9, however, instead of black, white, and rose quartz the Genius X offers a rose gold option instead of the white. The Oral-B Genius X has the same battery life of twelve days but without the quick charge feature.
It offers six different brushing modes instead of seven, which include daily clean, pro-clean, whitening, gum care, sensitive and tongue cleaning. In comparison to the iO, it is only missing the intense mode.
There is also a pressure sensor to alert you when you're brushing too hard. Like the iO series, it will automatically decrease the oscillation speed when necessary but it will not indicate when you are brushing at just the right pressure.
The pressure sensor on the Genius X is visible in the form of a Smart Ring, unlike its Sonicare rival that doesn't have a visible pressure sensor. The Smart Ring is a colourful ring at the top of the brush that you can customise via the Oral-B app.
With the app, real-time feedback and coaching aren't reserved for only the top-of-the-line models. Despite the more basic interface, it performs a lot like an iO, only with slightly fewer goodies.
When it comes to Oral-B versus Sonicare this model wins out with colour options, app connectivity and the visual SmartRing technology. However, the Oral-B Genius X doesn't include the 3 intensity settings, mode-pairing, and the brush head replacement reminder.
A Genius X kit includes:
Brush handle
Brush head
Charging station with 2 pin plug
USB Charging Travel case
SmartRing Feature
Sonicare vs. Oral-B : Low mid-range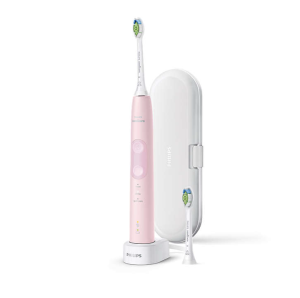 Next, we'll look at some slightly less expensive mid-range brushes that Oral-B or Sonicare have to offer at around £100: Oral-B SmartSeries 6500 vs. Sonicare ProtectiveClean 5100.
Sonicare ProtectiveClean 5100
The ProtectiveClean 5100 comes in three different colour schemes, though replacement heads still only come in black and white.
It has two fewer brushing modes than the DiamondClean (three instead of five) and just one intensity. There is a pressure sensor, though it will only alert you with a pulsing sound and not a visual cue.
This toothbrush, unfortunately, does not have the app support that is available for the DiamondClean series. However, the BrushSync smart head does have a couple of features like recognising which head is attached and automatically adjusting the brushing mode, as well as reminders to replace your brush head.
Although many of its features are more simplistic than Sonicare's top electric brushes, the basics remain the same. The ProtectiveClean 5100 has a sleek design, a two-week battery life, and plenty of brushing modes and intensities to play around with.
A Sonicare ProtectiveClean 5100 comes with:
Brush handle
2 DiamondClean brush heads
Charging stand
Travel case
Oral-B SmartSeries 6500
The Oral-B SmartSeries 6500 was definitely designed with improving your dental routine in mind. This brush comes with a lot of tools to encourage better brushing habits, starting with the fact it has 6 brushing modes; more than any other of its mid-range rivals.
Its wireless SmartGuide timer to let you know when you have brushed for the recommended amount of time and in the right places, while the pressure sensor stops you from brushing too hard and causing any damage to your tooth enamel or gums.
The SmartSeries 6500 also has different brush heads, and as mentioned before, 6 different brushing modes to use with them.
Similar to many of the mid-range models, the Oral-B SmartSeries 6500 comes with Bluetooth connectivity to support the Oral-B app, while its Sonicare mid-range rival does not include app connectivity.
An Oral-B SmartSeries 6500 kit includes:
Brush handle
4 brush heads
Travel case
UK two-pin plug
Sonicare vs. Oral-B: Budget
Last, but not least, we are going to look at some of the more affordable models that are on the market: the Sonicare Philips One vs. the Oral-B Pro 2 2500. Both brands do actually sell even more economical brushes, but in that category, there isn't much to compare.
The least expensive models only offer one mode, a single head, and a standard charging stand.
So, instead, let's look at comparing the next level of toothbrushes.
Philips One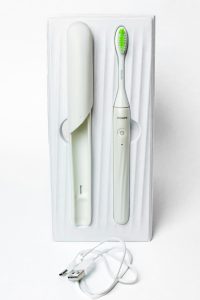 The new Philips One electric brush makes it easy and affordable to have a brighter smile whenever and wherever.
It's a no-frills brush with a sleek and minimalist design. 13,000 micro-vibrations per minute and contoured bristles clean your teeth to reveal a whiter smile, while a lightweight travel case allows for convenient storage in your day bag.
No frills doesn't mean less guidance when you brush — it still has a 2-minute timer that lets you know how long to brush, and a buzz every 30 seconds to let you know when to switch quadrants.
The most affordable version is just £29.99 and has an AAA battery that lasts for a whole 90 days, so you can change your battery when you change your brush head — which by the way, comes in various colours including Miami orange, mango yellow, midnight and mint blue.
Or, if you prefer a rechargeable brush, you can pay a bit more (£39.99) for the Philips One rechargeable which has a USB charger and lasts 30 days on a single charge.
Oral-B Pro 2 2500
Finally, we have Oral-B's Pro 2 2500. It offers two brushing modes, daily clean and gum care, unlike its Sonicare rival that only offers one. There is a pressure sensor, but while higher-end Oral-B models have a visual alert, the Pro 2 2500's sensor simply slows or stops its oscillation when you are pressing too hard. It also comes with a standard travel case which many other budget electric toothbrushes don't come with.
Its battery lasts about seven days between charges, which isn't bad but equally, isn't impressive when compared with other electric toothbrushes on the market. It also has no built-in head replacement reminder, which isn't essential but can be helpful with everything else we have to remember.
Make no mistake; all things considered, this is a good and functional toothbrush. It doesn't go far beyond the basics, but there are plenty of people who are happy to save the money and leave the apps and displays behind.
When it comes to Sonicare vs. Oral-B in the budget range, Sonicare wins hands down with battery life and the brush head replacement reminder. But, Oral-B holds its own with its pressure sensor slowing or stopping oscillation when you are pressing to hard.
An Oral-B Pro 2 2500 includes:
Brush handle
Cross-action toothbrush head
Charger with 2 pin UK plug
Li-ion battery
Standard travel case
We know it's a lot to go through, so for the sake of convenience we've compiled a table that gives you a quick look at the electric toothbrush models we've just gone over:
| | | | | | |
| --- | --- | --- | --- | --- | --- |
| | | | | App & Replacement Reminders | |
| | | | | App connectivity & replacement reminder | |
| | | | | | |
| Sonicare DiamondClean 9000 | | | | | |
| | | | | | |
| Sonicare ProtectiveClean 6100 | | | | Head recognition & replacement reminder | |
| | | | | App connectivity & replacement reminder | |
| | | 30 days / 90 days battery life | | | |
| | | | | | |
Conclusion
Which is better: Oral-B or Sonicare? Well, when it comes to electric toothbrushes, both Oral-B and Sonicare have their pros and cons at all price ranges.
However, studies have shown that either brand is more effective than a manual brush. While there is less agreement in a "Sonicare vs. Oral-B" scenario, it's important to consider which features and characteristics are most important to you when making a decision.
If you prefer oscillating and pulsating motion, then Oral-B's 3D cleaning action may be the better choice for you. But, if you're looking for a quieter motor and modern design, then Sonicare could be the way to go.
That being said, Philips Sonicare offers a range of advanced electric toothbrushes with features like multiple brushing modes, advanced sensors, and premium materials, making it a strong contender in the market.
Ultimately, maintaining a regular brushing and flossing schedule is the most important thing for your oral hygiene, regardless of which type of toothbrush you choose. However, with its advanced technology and impressive features, Philips Sonicare is definitely a brand worth considering when it comes to electric toothbrushes.
FAQs
Are electric toothbrushes really better than manual ones?
Yes. People have relied on manual toothbrushes for hundreds of years and in that time they have performed adequately. However, recent studies have shown that electric toothbrushes remove more plaque. This is due to the improved ability to clean hard-to-reach areas and also the fact that electric brushes now have features that encourage users to maintain better dental habits.
Which is better vs. plaque, Oral-B or Sonicare?
There have been many studies on cleaning ability that compare Sonicare to Oral-B in terms of brushing ability and technique, but on the whole, there is no scientific consensus either way. Some studies favour one toothbrush and some favour the other, while some find that they are more or less equal. However, there are other factors that can help you choose your preferred brand.
Are all Oral-B brush heads interchangeable?
Almost. Standard Oral-B brush heads come in a few styles that serve different purposes like gum care or whitening. These can be interchanged among Oral-B brushes with the exception of the iO series. The latest series from Oral-B, iO brushes have specialised heads that cannot be attached to other models outside the iO line.
How often should I replace my electric toothbrush head?
Many Oral-B or Sonicare toothbrushes have the ability to alert you when it is time to replace the head, but the general recommendation is to replace your toothbrush head every three months. If you are an irregular brusher your brush head may last a little longer, but it's much better to brush twice a day and pay for a new head when needed rather than wait until you need treatment for gum disease.
Sign up to receive the latest news and offers from Dentaly.org