Which is the best Waterpik for you or your family? With these Waterpik reviews, we're going to help you decide. Flossing is essential for a healthy mouth, and using an oral irrigator can make it much less of a chore. Waterpik is one of the biggest brands in this market with a variety of different models on offer.
If you're trying to work out which Waterpik is best, especially if you're buying a water flosser for the first time, all the different options can be quite confusing. Some offer just one or two basic settings while others have different features which may or may not be of any use to you. So enough wondering about cordless and countertop; Ultra, Advanced and Plus; all is about to become much clearer.
This guide will review and compare the top Waterpik flossers available in the UK for 2022. Whether you're replacing an old one or purchasing your first Waterpik, we hope you find this information useful.
What is a Waterpik water flosser?
Let's begin by answering an important question: What's a Waterpik water flosser?
A water flosser (or oral irrigator) is an oral health appliance used for dental care at home. Water flossers consist of a motor with a pump, a water reservoir and a water flosser tip. The motor pumps pressurised water from the reservoir, through the tip and into your mouth. This stream of water removes plaque and food particles just like regular floss.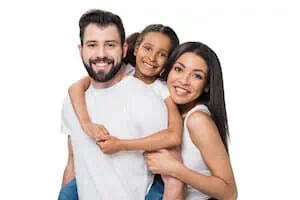 In an ideal world, you would use a Waterpik in addition to regular string flossing. But let's be honest, string floss is fiddly and most of us don't bother doing it daily, which is what dentists recommend. If you fall into that category then you might find that a more convenient water flosser does wonders for your oral hygiene routine.
Some studies suggest that a water flosser is better than string floss, especially if you have braces or implants. This said you should follow whatever your dentist recommends based on the condition of your teeth and gums.
Ask a hygienist!
During a consultation with a hygienist or your dentist, the most common advice given is to brush twice a day and floss your teeth. This advice has been proven statistically and is why dental professionals reinforce it at every appointment.
Beautiful smiles begin with healthy gums and teeth. So, it is important to ensure that the teeth and gums are maintained in a healthy state by brushing regularly and flossing daily. This helps to remove the plaque/tartar that forms on teeth and keeps the microorganisms at bay.
There are many interdental aids available in the market to help with your flossing and the newest being the oral irrigation devices. Some interdental aids may not be suitable for people with highly sensitive teeth or advanced gum disease with mobile teeth.
So, it is always best to have a discussion with your dentist or hygienist on what is best for your teeth and gums.
Dr Asha Ramesh
Waterpik is just one brand of water flosser available in the UK, but it's so well known that some people use the term 'Waterpik' to refer to any brand of flosser. If you're interested in comparing different brands (including some that are better value than Waterpik) then you can check out our full guide to the best water flossers in the UK. For now, though, we're going to focus on reviewing Waterpik water flossers.
What are the features to consider in the best Waterpik Flosser?
Due to their efficacy and ease of use, water flossers have become quite popular, and as a result, there are many different kinds on the market. When looking for the best Waterpik flosser for you, here are some features you should keep in mind: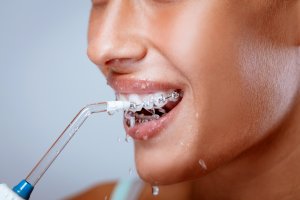 Countertop: A countertop water flosser has a large reservoir base that holds enough water for repeated uses, which means less frequent re-filling. Countertop models may also be more powerful than a cordless water flosser, and you never have to worry about a low battery.
Cordless: A cordless water flosser is not connected to a larger reservoir that sits on the countertop. Instead, it has a smaller reservoir that is built in to the handheld device. The best benefits of a Waterpik cordless water flosser are that it takes up less space and is easier to take along when you travel. On the downside, cordless models need to be refilled every 30-60 seconds, depending on the reservoir size and water jet pressure. You also need to remember to charge your flosser regularly, and it may have fewer settings or lower power than a countertop one.
Price: Waterpik flossers can range in price from £50 to £130 or more, so you'll have to decide what extras you are willing to pay for.
Settings: Water flossers come with various settings, some even having up to 10. This can be very useful, especially if your family will be using it as well. Some just have variable power settings whereas others have pulsing 'massage' settings. A low setting is especially important if you want to use your Waterpik to remove tonsil stones.
Tips: All water flossers have standard water jet tips, but some include others for special purposes. These can be for gum care, cleaning around implants, or flossing with braces. Read more about water flossers for braces.
Electric toothbrush compatibility: If you prefer using an electric toothbrush but don't want to occupy any more precious countertop space, you should look for either a countertop unit that bundles the two items together or a cordless water flosser that is compatible with the charging base for your electric toothbrush.
Waterpik cordless flosser reviews
We're going to break our Waterpik reviews down into two sections: cordless and countertop. Here are some reasons why a Waterpik cordless may be best for you:
You want a travel water flosser that takes up minimal space
You don't have a suitable plug near your bathroom sink
Your bathroom has limited space so you need a compact design
Although a countertop version may be slightly stronger, most people find that using the highest setting on a cordless model still provides a great clean. So, let's take a look at some of the best cordless Waterpik flossers in the UK right now.
Waterpik Cordless Plus water flosser (WP-450UK)
The Waterpik WP-450UK is a fairly basic model, with two pressure settings to choose from. The WP-450 is the white model but you can also pick up the Waterpik black Cordless Plus water flosser, the WP-462UK. The colour is the only difference between the WP-450 and the WP-462.
You get four different tips included: Classic, Orthodontic, Plaque Seeker and Tongue Cleaner. The tips rotate 360 degrees to make it easier to reach every part of your mouth.
The two pressure settings operate at 45 and 75 PSI, with 1450 pulses per minute. Some Waterpik reviews mention that the power is not that strong, but for others it is sufficient. The 210ml water tank lasts for around 45 seconds of flossing.
The Waterpik Cordless Plus is not waterproof, so you can't use it in the shower. It also doesn't come with any extras like a travel bag. All in all, this is a decent basic model and the different tips are handy if you have gum problems or wear braces. But if you're switching from a different brand you might be disappointed at the level of power.
"I purchased this cordless water floss about a month ago and I have to admit I am very impressed. Even though I am very thorough at brushing my teeth, I came to realize that I should have invested in one years ago, as it's perfect to make sure all traces of food are removed and your gum are healthy. I charge it about once a week (twice at the most) and use it every evening with a mouth wash diluted with water. The result is amazing."

-Amazon review
One final thing to note is that a fair number of users experience problems with the battery life. Fortunately, all Waterpiks come with a 2-year warranty and the company seem quite good about issuing replacements.
"This was a replacement for a previous faulty item. However this one too has now died after just months. Loved this product, and I ignored the other users comments about the charging issue. I've requested a refund this time. This is a great product when it works, they just need to sort out the charging/battery issue."

-Amazon Waterpik review
Waterpik Cordless Advanced (WP-560UK)
The other Waterpik cordless water flosser we recommend is the more advanced (and aptly named) Waterpik Cordless Advanced. As with the Cordless Plus, you get a choice of colours:
Black (WP-562UK)
White (WP-560UK)
Blue (WP-563UK)
All three have chrome accents for a more premium look, but the bulky shape is much the same. Aside from the design, you get a few extras with the Advanced:
3 pressure settings (45-75 PSI, 1250 pulses/minute)
Battery indicator
Travel case
Tip storage case
Shower-safe
Ultra quiet design
It also includes four tips but you get two Classic, one Orthodontic and one Plaque Seeker (no tongue cleaner). You can buy separate replacement tips for this and any other Waterpik flossers if needed.
The top power setting is no higher than the Cordless Plus, but you do get more control with the extra setting and the battery indicator is a very handy feature. Unfortunately, it seems to suffer from similar reliability issues so you'll want to keep that warranty card handy.
"I have used the two plug in Waterpiks and in many ways this is a leap forward. It is portable but still quite large, it doesn't need to be plugged in and best of all it eliminates the hose connecting the reservoir to the device delivering the water to your teeth. In all my previous Waterpiks the hose after a few months use has split leaving the device useless . It does not deliver pressure as high as the maximum on the devices that use mains power."

"When it was working it did a really good job of flossing, however straight after my second charge (yes I followed the instructions and only charged it for 3-4 hours and not more than that), the battery run out halfway during flossing. This is unacceptable especially for a product of this price point."

-Amazon Waterpik reviews
A good value Waterpik alternative
While reading Waterpik reviews, you've probably noticed that there are a lot of other brands of water flosser out there, some at significantly lower prices. Waterpik make some of the best water flossers around, but along with the brand name comes a premium price tag. The same goes for products from Oral-B, Philips Sonicare and Panasonic.
But compare Waterpik's models with a lesser-known brand like TUREWELL. The TUREWELL Water Flosser has features comparable to the Waterpik Cordless Advanced, but it costs around half the price. It's even cheaper than the Waterpik Cordless Plus, which has fewer settings.
The TUREWELL Water Flosser out-performs both cordless Waterpiks in terms of water pressure strength and battery life, and it has more colour options to choose from.
If you're looking for the best value at a lower price, a flosser like this is certainly worth considering.
Cordless model summary
Before we move on to look at countertop models, here's a quick summary of the cordless models mentioned above. Note that we haven't included the Waterpik Freedom and Select cordless models in our best Waterpik list because of their dated design and generally poor value for money.
This Waterpik cordless review table summarises the features of the three flossers above for easy comparison:
| | | | |
| --- | --- | --- | --- |
| | Waterpik Cordless Plus WP-450UK | Waterpik Cordless Advanced WP-560UK | |
| | | | |
| | | | |
| | | | 5 (normal, soft, pulse, point, pause, and DIY) |
| | 45-75 PSI, 1450 pulses/minute | 45-75 PSI, 1250 pulses/minute | 30-120 PSI, 1400-1800 pulses/minute pulses/minute |
| | | | |
| | | | |
| | | | |
| | | | |
Countertop Waterpik flossers
Travel and portable Waterpiks are super convenient, but in the comfort of your own bathroom, you may want the full power that comes with a countertop model. Here are some of the best Waterpik water flossers that are mains powered.
Waterpik Ultra Professional (WP-660UK)
The Waterpik WP-660UK regularly tops 'best Waterpik' reviews and is really the one to beat in the wider water flosser market. If you're looking for a contemporary countertop flosser with plenty of settings and features, get this one.
Key features of the Waterpik Ultra Professional include:
10 pressure settings (10-100 PSI, 1400 pulses/minute)
'Floss' and pulsing 'Massage' modes
90+ second capacity
1-minute timer with 30-second pacer
Choice of 4 colours (white, black, grey, blue)
Includes 7 tips (3 Classic and 1 each of Orthodontic, Pik Pocket, Plaque Seeker and Toothbrush)
Tip storage in lid
The WP-660UK takes up a little more space than a Waterpik cordless flosser, but you're getting more power and a lot more control over your settings. If several family members will be using it, each with different preferences and dental needs, it's great to have so many power settings and different tips – as well as somewhere to store them neatly. It never needs to be charged, and the 650ml tank has enough capacity for at least one full use.
"Bought this and a travel one as have been having problems with my gums. If you are torn between the two I would definitely recommend getting the full size version. The two are not really comparable. Water tank in full size only needs filling once and you can change the pressure from 1 to 10. 5 is enough for me at the moment."

"I wish I discovered this product earlier!! It's amazing in keeping my teeth clean. I dislike manual flossing and this seems to be the perfect solution. Can't wait for my next dental visit for my dentist to assess the condition of my teeth and gums. Would highly recommend if you are thinking about it. The size is perfect too for my family of 3. My 6yo uses it and loves it too. Glad it fitted nicely in the corner of our sink."

-Waterpik Amazon reviews
Unfortunately, there are still a few reliability issues reported with this product. Some complain it stopped working after 2 weeks, whereas for others, including the second Waterpik Ultra review quoted above, it lasted for a year. Again, Waterpik's 2-year warranty should cover a replacement if you experience any problems like this.
Waterpik Ultra (WP-120UK)
The Waterpik Ultra is a more basic countertop model but it still has 10 pressure settings and almost the same level of power as the WP-660, going up to 90 PSI with 1200 pulses per minute. For the slightly lower price tag you get six tips, no massage mode, and no timer. One feature that people find very helpful is the pause button on the handle, which lets you easily stop the flow of water while moving the tip around your mouth.
The price difference isn't that great, and when you compare the features you might decide it's worth paying a little more for the WP-660 Ultra Professional. You could argue that the WP-660 has a more premium look and feel, too. Still, this water flosser does the job and also comes with a 3-year warranty.
You can read our review of the Waterpik Ultra water flosser for more information about this type of flosser.
Waterpik Nano (WP-250UK)
We'll quickly mention the Waterpik Nano, not because it's really one of the best Waterpiks but because you might be interested in how it compares. As you might guess from the name, the nano is a more compact countertop flosser that takes up 50% less space than the two mentioned above. It's also the cheapest Waterpik countertop flosser.
The water tank holds enough water for 60 seconds of flossing and it inverts to sit on top of the unit to save space when travelling or in storage.
However, that's really where the benefits end because you're getting less pressure (80 PSI) than other models, only three power settings, and two tips included. It looks and feels quite cheap and dated compared to their others. If you want a compact flosser, it might make more sense to buy a cordless one with similar settings and a lower price, like this one from TUREWELL.
Waterpik and toothbrush combos
The final category we're going to look at is Waterpik toothbrush and flosser combination units. Although some of the flossers mentioned above come with a toothbrush tip, this functions as a manual toothbrush, i.e. there is no powered movement from the tip. If you want a Waterpik electric toothbrush and flosser, take a look at these options.
Waterpik Complete Care 9.0 sonic toothbrush + flosser
The Waterpik Complete Care 9.0 and 9.5 feature a separate water flosser and sonic toothbrush in a neat countertop unit. The difference between the two is that the 9.0 has a classically shaped toothbrush head (like a Philips Sonicare) and the 9.5 has a round oscillating head (like an Oral-B electric toothbrush). Both are available in white only.
Using the brush and flosser together will help remove plaque and improve gum health, and they are especially helpful for cleaning around braces.
The Waterpik flosser on this unit has 10 pressure settings delivering 10-100 PSI of pressure, but there is no timer or massage mode. In this sense, it's like the basic Waterpik Ultra WP120 but with a toothbrush included. The toothbrush has three modes: Clean, Whiten and Massage. It delivers up to 31,000 strokes per minute; not that powerful compared to most other sonic toothbrushes which deliver in the range of 40,000 to 60,000.
If you have never used an electric toothbrush before, you'll probably be quite happy with what this one offers. However, Waterpik reviewers who have previously owned a Sonicare or Oral-B often comment that the Waterpik toothbrush is not very powerful and just doesn't feel like it's doing quite such a good job.
Our complete electric toothbrush guide has more product recommendations if you're interested in a standalone brush.
Waterpik Sonic-Fusion Professional Flossing Toothbrush
The Waterpik Sonic-Fusion is a hybrid toothbrush and flosser incorporated into one handle. The toothbrush heads have a nozzle nestled among the bristles which deliver a burst of water. With this unit you have the choice to brush, floss, or brush and floss together, changing modes at the touch of a button. Do be aware that if using this as a flosser while brushing your teeth, you risk washing away your toothpaste before it's had the chance to do much good.
As with the Complete Care, you get 10 power settings for the flosser water jet and the same 10-100 PSI of pressure. It can be harder to position between your teeth because the tip is part of the toothbrush head.
The Waterpik Sonic-Fusion comes with a travel case that holds the toothbrush and two heads. It can be used as a rechargeable toothbrush while not plugged in, but it only functions as a water flosser while plugged into the mains. If you don't have a mains outlet in your bathroom, this is not very convenient.
Again, quite a few people are not too impressed with the brushing functionality of this Waterpik, while others think it brushes well but isn't a great flosser. A minority are completely satisfied. Many reviewers also comment that the cord is not long enough.
It seems that Waterpik are great at making water flossers, but some things should just be kept separate. For the price of this flosser, you can easily buy one of their other countertop models and a good mid-range electric toothbrush from a brand that specialises in them.
Conclusion
Water flossing is becoming more popular by the day and is considered by many medical professionals to be as good as, or better than traditional flossing. But you can also use it as a traditional flossing supplement if you're really committed. Your dentist may recommend using an oral irrigator to help improve your gum health, especially if you have bleeding gums, a sign of early gum disease. You can read more about this in our guide to Waterpik solutions for periodontal disease.
If you decide an electric flosser isn't for you, make sure you check out our article on proper flossing techniques with traditional floss, so that you can still take care of your gums.
But if you've decided to take the plunge, you'll find you have a lot of choices to make. Waterpik is a great brand with a good range of flossers to suit every need. Since Waterpik reviews of the flosser + toothbrush units are not that great, we recommend buying the two separately unless you really want an all-in-one product. Decide between cordless and countertop depending on your bathroom space, plugs, and how much you travel.
Waterpiks aren't the cheapest brand out there, so if you'd rather spend a little less you can check out our Oral-B water flosser review.
If you do get a water flosser, you'll want to make sure you're using it correctly. For more on this, check out our article on whether you should water floss before or after you brush.
FAQs
Can a Waterpik damage your teeth or gums?
If you have sensitive or bleeding gums then we recommend using a low-pressure setting and slowly building up to a higher setting. There is no reason that a Waterpik should damage teeth if used correctly. Do be sure to only switch it on once it's in your mouth because the high-powered jet
Is a Waterpik good for receding gums?
Yes, Waterpik flossers can help improve gum problems, including stopping receding gums. But we advise you to visit your dentist to get professional advice about the problem. If your gum condition is very bad then you may require other treatment.
What is better: Airfloss or Waterpik?
When it comes to Waterpik vs Airfloss both have proven effective in scientific studies. An Airfloss uses much less water because the short bursts combine water and air. Many people prefer one or the other. It is really a matter of personal taste.
How many times a day should you use a Waterpik?
Dentists recommend flossing at least once per day. Because using a Waterpik flosser is so convenient, you might want to use it every time you brush. People wearing braces may even floss after every meal.
Can a Waterpik be shared?
Yes, absolutely. This is because Waterpiks have removable tips so, just like an electric toothbrush, each member of the household can use their own tip on the same device.
Sign up to receive the latest news and offers from Dentaly.org