If you wear fixed braces and are suffering from sore and irritated cheeks and gums from the brackets and wires, you may need orthodontic wax.
Your orthodontist may have suggested using wax for braces which you might think sounds a little bit strange. But don't worry, it's perfectly normal! Dental wax is specifically meant for braces and is safe to be used on your teeth and in your mouth.
Braces are great for straightening your teeth and aligning your bite to give you a more confident smile. But unfortunately, because they are made from metal, they can damage sensitive gum and mouth tissue.
These tiny cuts and abrasions inside your mouth may not be noticeable right away, but constant irritation can get uncomfortable quickly. That is when dental wax can help ease your discomfort.
You can use it in very small quantities to cover brackets and protruding wires and provide a barrier to protect your mouth.
The following table is a summary of the orthodontic wax products we will discuss in this article:
Contains vitamin E and aloe vera

Suitable for patients wearing partial dentures

Available in convenient, single-use applications

Soft Silicone Nano Bristles Toothbrush

Made with clear, medical-grade silicone

Works with all orthodontic appliances

Moisture-activated adhesive technology

Packaged in convenient, single-use applications

Piksters Wax for Orthodontics and Braces

Packed in a portable case

Dentaid Vitis Orthodontic Wax Strips

Suitable for all orthodontic patients

Portable easy-to-carry case

Dentaid Vitis Orthodontic Wax Strips

Suitable for all orthodontic patients

Portable easy-to-carry case
So let's get into the details and learn how to use wax for braces.
What is orthodontic wax?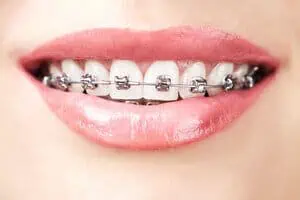 Orthodontic wax is a special type of wax that you can put on your braces to help stop them from rubbing on your cheeks, gums and mouth and causing irritation and pain. It is most commonly associated with metal braces, but you can use it with any type of braces including clear, ceramic, self-ligating and even lingual braces.
Some people have even been known to use it with their clear aligners to help make the edges more comfortable, although do check with your dentist first if you are considering this as it may cause them to sit differently.
Essentially, orthodontic wax is an organic compound of fatty acids that are derived from natural or synthetic components or a blend of both. Natural waxes are obtained from sources like plants or animals, whereas synthetic waxes are lab formulated from natural wax molecules in addition to other chemical elements.
Most dental waxes contain almost 40–60% paraffin (by weight). Additives like resins, oils, fats, and colours are added to give the wax a smooth surface, which is exactly what you want when it comes to protecting your mouth from your braces.
Here's a table that will give you an idea of the different orthodontic wax ingredients and their physical properties. You can find out your dental wax's ingredients from the package or ask your orthodontist.
Mineral-based (such as paraffin)

Additives improve smoothness

More resistant to cracking and flaking

Plant-based (such as carnauba and cocoa butter)

Generally harder than mineral-based waxes

Animal-based (such as beeswax)

Brittle at room temperature but becomes flexible at body temperature

Properties similar to paraffin
In addition to these common types of dental waxes, various speciality waxes offer different (and some say better) properties and textures. Common speciality waxes include baseplate wax, casting wax, sticky wax, utility wax, boxing and beading waxes, and impression wax.
All of these wax types have their own blends of natural and synthetic components and thus have different properties.
How do I apply wax to my braces?
The simple answer is to pinch off a ball of wax and stick it to your braces, but there's a little more to it than that if you want to protect your gums from new braces.
Dental wax or brace wax is often composed of natural waxes. The texture and taste of the wax can vary, but the process of putting wax on braces usually remains the same.
Step 1: Choose your dental wax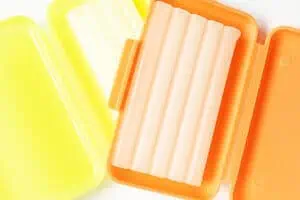 After fitting your braces, your orthodontist will give you a pack of essential supplies, and dental wax would ideally be included in it. If not, you can always buy one from your dentist or a pharmacy.
Orthodontists usually apply mouth wax after fitting braces as a preventative measure, but it will come loose over time. If there is still some wax on your braces, gently use a toothpick to remove the old wax before applying any more.
Step 2: Wash your hands
To apply the wax, first scrub your hands with soap and water for at least 20 seconds and dry them thoroughly. This will prevent bacteria and germs.
Step 3: Brush your teeth
To reduce bacteria build-up, brush and floss your teeth properly prior to wax application.
Step 4: Shape a small ball of wax
Open a new pack of braces wax and pull off a small amount (maybe start with 1/4 of an inch and use more if needed). It should easily pinch-off, then just roll it into a ball with your fingers for at least 5 seconds so it becomes soft. You should use just enough to cover the braces bracket or wire.

Step 5: Apply the wax to the problematic area
Use your thumb or forefinger to press and smooth the ball of wax over the bracket or wire, in the area that is sore or causing you discomfort.
Step 6: Final check
Lastly, rub the wax a couple of times to ensure it sticks properly. It should feel like a small bump.
Step 7: Allow the wax to work
After application, the wax will cover the pointy edges of the braces and the sore spots in your mouth will start to heal on their own. The wax will act as a barrier and stop the irritation.
Even after you've applied the wax, there are some important considerations. If it starts chipping off, replace the wax immediately with new wax. However, even if it stays in place, the wax should still be changed every one to two days because food particles can stick to it, which may lead to bacterial buildup in your mouth.
Ideally, you should avoid eating or drinking when you have wax on your braces because it does have a tendency to flake off as you chew or drink very hot liquids. Don't worry if you accidentally consume tiny amounts—it's harmless.
To get a better idea, watch this short video explaining how to apply wax to braces.
Where to buy dental wax
Ortho wax is available at your nearest drugstore. While your orthodontist may have a preferred brand, it's usually fine to use a substitute brand (but check first). You can also order wax online. Most e-commerce stores sell several brands of dental waxes. For your convenience, here's a quick list of quality dental waxes available at Amazon.
Note: Dental wax should be stored in a cool area when not in use.
GUM mint-flavored orthodontic wax
Prescribed widely by orthodontists for relief from irritation due to wires and brackets, this mint-flavoured orthodontic wax is easy to apply and remove as needed. This clear wax includes pre-cut pieces of the wax, meaning you don't have to guess how much to use.
Key highlights:
Flavoured orthodontic wax with vitamin E and aloe vera
Suitable for patients wearing partial dentures
Compact and easy to carry
Available in convenient, single-use applications
OrthoDots moisture-activated silicone dental wax
As its name suggests, OrthoDots moisture-activated silicone dental wax offers quick relief from pain and irritation caused by orthodontic appliances. Equipped with adhesive technology, this wax sticks better and works with all kinds of dental appliances, including braces and clear aligner trays.
Key product highlights:
Made with clear, medical-grade silicone
Works with all orthodontic appliances, including clear aligner trays
Moisture-activated adhesive technology assists with better sticking
Packaged in convenient, single-use applications
Piksters Wax for Orthodontics and Braces
One of the best-selling dental waxes, Piksters Wax for Orthodontics and Braces offers immediate relief from orthodontic irritation. It is a clear wax that easily blends with your natural tooth colour so that it's not visible. It's suitable for patients who wear braces, retainers, aligners, and full or partial dentures.
Key product highlights:
Subtle mint flavour
Packed in a portable case
Easy to apply
Dentaid Vitis Orthodontic Wax Strips
We like these dental wax strips because they offer quick and easy sticking, and they have great reviews. They are packaged in a small, easy-to-carry case and according to users, this dental wax is softer and more pliable than other brands.
Key product highlights:
No flavour
Suitable for all orthodontic patients
Portable easy-to-carry case
DenTek Wax For Braces
This orthodontic wax seems to be one of the more popular orthodontic waxes on the market, and it has great reviews. It is a clear mint flavoured wax that comes in a 2 pack and includes an applicator, which most brands don't have.
Quite a few of the reviews say that they prefer it over other brands, and most people seem to say that it's slightly thicker than other brands and stays on until you want to take it off again.
Key product highlights:
Suitable for all orthodontic patients
Applicator included
Mint flavour
Thicker than other brands
Is orthodontic wax safe to swallow?
This is a common question, considering that dental wax tends to chip and saliva causes mouth wax to wear off. Brace wax is non-toxic so you shouldn't worry if you swallow it accidentally. Most dental wax is flavourless, but some brands offer flavours like mint.
Our #1 recommended teeth aligners
Conclusion
Braces are the ideal solution to straighten your teeth, align your bite and help to improve your overall oral health. But traditional fixed braces can cause irritation and discomfort. The brackets and wires can poke and rub at your gums and cheeks, causing you to have a sore mouth. Fortunately, orthodontic wax can provide some relief.
Orthodontic wax not only keeps your oral tissue from getting damaged but also helps it heal and acts as a protective barrier. While the wax application is simple and straightforward, make sure you ask your orthodontist for all the healthy practices to follow.
There are a few different brands out there, but we recommend finding one that works for you. This could take a little bit of trial and error as not all ortho wax will be the same, and some will be better than others. Ask your orthodontist for their recommendations as well, and for advice on how you should use it.
FAQs
How do you remove orthodontic wax?
Orthodontic wax can be easily removed at home, but you should be careful not to hurt your gums in the process. You can use a toothpick to do so or talk to your orthodontist for guidance. Regular dental floss can also work effectively.
How often should orthodontic wax be applied?
You can apply it as often as needed, but most dentists recommend changing your dental wax every one to two days. You should know that food particles stick to dental wax and cause bacterial buildup. So ideally, you should change it every day after you've had your evening meal.
Use "DENTALY5OFF" to get an additional 5% discount.
Sign up to receive the latest news and offers from Dentaly.org