The CariPRO Ultrasonic Toothbrush is an electric toothbrush that cleans teeth with 40,000 vibrations per minute. This brush has everything required to keep your teeth clean and healthy.
It even has five specialized modes depending on your specific needs. Another pro? The CariPRO doesn't break the bank.
In this article, we'll do an in-depth investigation into the pros and cons of this electric toothbrush by CariPRO. We'll also:
Look at some CariPRO reviews
Compare CariPRO with other popular brands
Give you our final take
So keep reading to find out if the CariPRO will be the next addition to your healthy oral hygiene routine.
Why choose CariPRO?
If you want to know right now why CariPRO is a great electric toothbrush, here's a summary:
40,000 vibrations per minute
A no-fuss interface
30-day battery charge
Wireless charging dock
Soft, ergonomic form
60-day trial period – You get a FULL REFUND if you don't like it!
2-year warranty
Excellent price
In short, the CariPRO ultrasonic electric toothbrush offers everything a toothbrush needs to maximize your oral health. Click here to view full product details.
What is the CariPRO Ultrasonic Toothbrush?
The CariPRO Ultrasonic Toothbrush is an electric toothbrush that cleans teeth with 40,000 vibrations per minute. This brush has everything required to keep your teeth clean and healthy, and it's one of our top choices for best electric toothbrushes for sensitive teeth.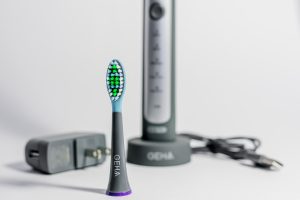 CariPRO is made by Smile Brilliant—the same brand that makes the Smile Brilliant professional at-home teeth whitening system. This toothbrush uses sonic vibrations to remove plaque from teeth—a method shown in studies to reduce significantly more plaque than you would with a manual toothbrush.
According to Smile Brilliant, if you use the CariPRO, this toothbrush will help you:
Optimize your oral health: The CariPRO removes 7x more plaque than a manual toothbrush, and gum health can improve in just 2 weeks.
Whiten your teeth: When you use the CariPRO every day, you will remove surface stains and have a brighter smile.
Save money: CariPRO is as good as any premium toothbrush, but for half the price, free shipping, and total refunds within 60 days.
How does CariPRO work?
The CariPRO is a no-nonsense ultrasonic electric toothbrush with all of the cleaning ability, and none of the fuss. That means it delivers excellent results while maintaining an easy-to-use design.
Just turn it on, select the mode you want and brush your teeth for two minutes, at least twice a day.
The smart timer will indicate when it's time to switch to a different part of your mouth. This helps you develop better brushing habits and ensure that all your teeth are getting enough attention.
If this is your first time using an electric toothbrush, keep in mind that you don't need to brush forcefully—the vibrations will do most of the work.
What are the CariPRO electric toothbrush features?
CariPRO customers love that this toothbrush has everything you need, and none of the things you don't. It's an easy, and affordable way to keep your teeth clean and your dentist happy. The features include: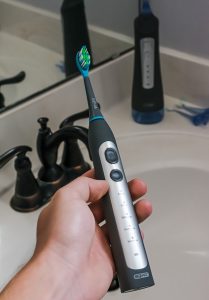 40,000 vibrations/minute
5 brush modes—clean, white, massage, gum care, sensitive
30-day battery life
Ergonomic design
Soft-touch grip
Waterproof design
Interval smart timer
Wireless charging dock
60-day trial with full money back
The individual package also comes with two CariPRO toothbrush heads, each with a gentle tongue scraper on the back. And a 2-year warranty ensures that a safe investment in your oral health. Plus with the 60-day trial, you can use it for two entire months, and if you aren't satisfied at the end, you get a full refund.
How much does the CariPRO cost?
You can choose from three great packages when you purchase your CariPRO toothbrush: the Deluxe Package, the Individual Package, and the Couples Package. Have a look at the different package options:
| | | | |
| --- | --- | --- | --- |
| | | | |
| | | | |
| | | | 2 wireless charging docks |
| | | | |
| | | | |
| | | | |
CariPRO reviews
To get a better idea of what the CariPRO electric toothbrush is actually like to use, let's take a look at some reviews from real users, including members of the Dentaly.org team.
Our product tester's CariPRO review
"Honestly, I couldn't ask for more from a toothbrush."

Dentaly.org product tester
One of our product testers tried the CariPRO out for herself and the reviews are overwhelmingly positive. Here's a summary of what she loves the most about the CariPRO toothbrush: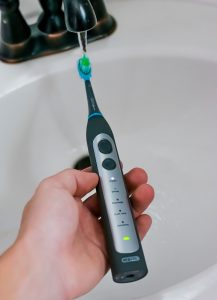 It's easy to use — turn it on, and use the arrow to select your setting
It leaves your mouth and teeth feeling clean; you especially notice a huge difference if you're making the switch from a manual brush to the CariPRO
The quadrant timer takes out all the guesswork for how long to brush
The actual process of brushing is extremely pleasant, although it does sometimes tickle!
It takes up virtually no counter space and is attractive to boot
Another thing our CariPRO tester couldn't emphasize enough is that the graphite gray silicone material always looks new and clean. Other electric toothbrushes are made out of regular plastic which can quickly acquire a build-up of calcium and other residues, no matter how well you clean them.
In summary, if you want a toothbrush that is easy to use, takes up little space and leaves your mouth feeling healthy and clean after every brush, this one is for you!
Protect enamel after you brush
If you suffer from sensitive teeth, cariPRO also makes Enamel Armour. This special formula works to: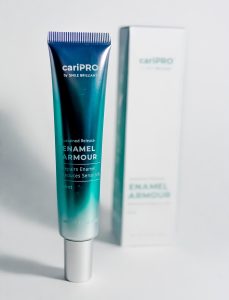 Strengthen and remineralize enamel
Seal pores to protect your tooth's surface
Rehydrate teeth
Protect teeth from decay
It's a great addition to your oral hygiene routine — just brush and floss your teeth at the end of the day, apply the serum and leave it on while you sleep.
Sun & Sea Salt's CariPRO review
"I really like this toothbrush you guys"

Dusty
In this CariPRO toothbrush review, Dusty gives us a live-action view into how brushing your teeth is with the CariPRO. She also lists off its various features, including its five modes, its 60 day trial period, its long-lasting battery charge of 30 days, its waterproof design, and the auto interval smart timer.
She says it feels really good, even though it does tickle a bit. All in all, she's quite satisfied with her CariPRO!
Kellie's CariPRO review
"It's just an overall more enjoyable experience."

Kellie
Kellie has already used Smile Brilliant's teeth whitening kit, and says she got really good results. So now she's excited to use the CariPRO premium electric toothbrush. She's very careful with her dental hygiene and oral health, and she's a big fan of electric toothbrushes as opposed to manual toothbrushes.
She likes that you get a 60-day trial, so you can get a full refund if you aren't happy. She's also happy that they have a 2-year warranty.
She recommends you follow the instructions and the timer, and brush each quadrant for 30 seconds.
And if you're looking for whiter teeth, good news! She says she has noticed her teeth getting whiter while using this brush.
Lindsey's CariPRO review
"I can take it travelling!"

Lindsey
Lindsey begins her Smile Brilliant CariPRO electric toothbrush review by going over some of the CariPROS great features. She points out that a 30-day charge means that it's perfect to take it with you while you're traveling.
If you're interested in seeing how this toothbrush works, Lindsey leads the viewer through the different operating modes. When she brushes, her preferred mode is the clean mode. She says the massage mode was especially good for when she had something stuck between her teeth.
Lindsey also recommends this toothbrush if you have braces or retainers. She sleeps with her retainers in, and the CariPRO ensures her teeth are clean while she sleeps.
Alternatives to CariPRO
CariPRO is one of the best toothbrushes on the market, and with a 60-day trial period, after which you can get a full refund, it's also risk free! But let's see exactly how it measures up to the competition.
CariPRO vs Sonicare
The Sonicare toothbrush range features everything from basic models to luxury models. If you're interested in the CarioPRO, you're most likely looking for toothbrushes that are high quality, but you don't necessarily need all of the crazy technology and extra features.
So for the purpose of this review, we'll compare the CariPRO Individual Package with the Philips Sonicare ExpertClean 7500.
This Sonicare is a bit more expensive than the CariPRO, but the features are quite similar. Whereas the CariPRO offers five different cleaning modes, Sonicare offers four: clean, white, gum health, and deep clean.
This model also comes with a charging travel case and a pressure sensor that lets you know if you're brushing too hard.
CariPRO vs Oral-B
The Oral-B 7000 is also priced similarly to the CariPRO. It is a little more high-tech, with Bluetooth connectivity, so it might not be the best option for those looking for a low-fuss option. It also has a less premium look and feel.
This toothbrush features the classic, round Oral-B head, which offers an oscillating motion instead of vibrations like the CariPRO. But one area where the CariPRO truly triumphs over the Oral-B is when it comes to the battery charge.
The Oral-B's charge lasts two weeks on a full charge, whereas the CariPRO's lasts an entire month.
There are also many other brands out there, like Quip. Read our Quip review here.
Conclusion
The CariPRO toothbrush cleans teeth with 40,000 vibrations per minute and five different settings for personalized cleaning. This mid-range brush has everything you need to take care of your oral hygiene and health without going over the top with features you might not even use.
If you're looking for a deep clean at an affordable price from a trusted oral health and hygiene brand, give it a try! The 60-day trial period means you can return it for a full refund if you're not satisfied for any reason. You can also try the cariPRO water flosser.
FAQs
Is the CariPRO electric toothbrush really an ultrasonic toothbrush?
Yes, the CariPRO is an ultrasonic toothbrush that cleans teeth with 40,000 vibrations per minute! It also features five different cleaning modes so you can customize your brushing.
Is the CariPRO toothbrush good?
It is good! It's an affordable toothbrush with various package options, including individual, deluxe, and couples. 40,000 vibrations per minute and five different settings ensure a deep clean.
Who makes CariPRO toothbrushes?
CariPRO toothbrushes are made by the brand Smile Brilliant. You may know this brand because of their highly successful whitening kit and their customized night guards for teeth grinding.
Sign up to receive the latest news and offers from Dentaly.org