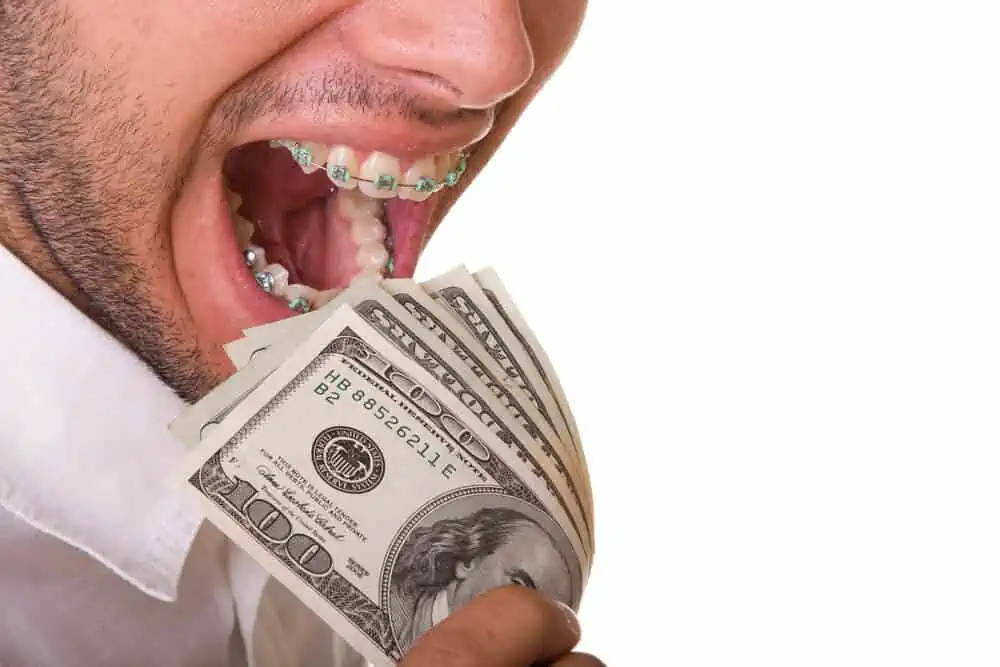 If you're here it's because you're wondering, "Are there cheap braces, and where can I find them?" The good news is, yes, you can find affordable braces and there are various ways to go about doing so.
Some of the ways include orthodontic insurance, nonprofits, or dental discount plans. But one of the best ways to find affordable braces is to consider at-home clear aligners, which can be used to straighten mild to moderate cases of teeth and jaw misalignment, also known as 'malocclusion' in the dentistry world.
In this article, we'll go through all of your financing options when it comes to finding affordable orthodontic braces, including:
Insurance
Grants
Nonprofits
And then we'll briefly go over your mail-order cheap braces options as well. Let's get started!
Do you need cheap braces?
Not everyone who has crooked teeth needs to have braces. However, misaligned teeth could actually negatively impact your health. That's because crooked teeth can:
Increase your likelihood of gum disease: It's more difficult to clean between your teeth, allowing plaque to build up.
Cause faster wear: A crooked bottom tooth could rub against a top tooth, or vice versa, causing loss of enamel, increased sensitivity, and an even higher risk of decay.
Make chewing difficult: If you have a misaligned jaw, you may not be able to chew your food thoroughly, which could result in problems with digestion.
Cause bad breath: Since it's harder to clean the plaque off your teeth, all of that bacteria could cause bad breath.
If you have crooked teeth but they aren't causing you any negative side effects, orthodontic care may not be necessary for your physical health. In these cases, as the director of orthodontics at Boston Children's Hospital cites in this Huffpost article, the need for braces can become somewhat subjective.
But, there's also your emotional health, including self-confidence, to think about. We live in a society where, whether you like it or not, looks matter, and a perfect smile can help a lot in both your professional and social life. Some people are perfectly fine with having their own unique smile with endearing flaws, but many of us wouldn't mind having straighter teeth. The only problem is that braces can be really expensive. Which brings us to the need for cheap braces.
Teeth straightening cost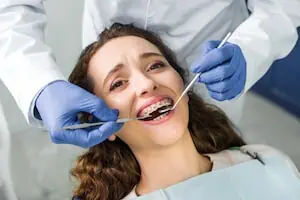 Standard metal braces can cost anywhere from $2,500 to $7,500, and if you opt for ceramic (clear in color and more discreet) or lingual (brackets attach to the backs of your teeth for lower visibility), you can tack another $1,000 or so on to that price.
For many adults and older teens, the first choice is Invisalign because it can treat up to 90% of orthodontic cases and because they aren't actually braces; rather, they are clear (or invisible) aligners.
Before you get excited about this option though, you better have your checkbook ready because Invisalign can cost anywhere from $3,500 to $8,500.
How to get braces for cheap
Getting braces isn't cheap, but are there ways to find more affordable orthodontic procedures? There certainly are! Read on as we take a look at some of the options for cheap braces.
Cheap braces with orthodontic insurance
Orthodontic insurance is available for purchase, usually as an add-on to your dental insurance. If your dentist or orthodontist had advised that you need traditional braces for medical reasons, you may find that taking out an orthodontic insurance policy helps you save some money. You can read more about finding dental insurance for cheap braces in our full guide here.
Another option that is like insurance is the dental discount plan. These are not insurance plans; there's no deductible or yearly maximum, but there is a membership fee you pay. In exchange, you may be able to get a braces discount. To learn more about discount plans for affordable braces, you can take a look at our article.
Cheap braces with nonprofits
There are many dental and orthodontic nonprofits around the country that may offer cheaper braces for adults and children. Some operate nationwide, while others are specific to an area. The best way to find out about nonprofits that offer free braces for adults and children in your area is to contact your local health center and make an inquiry. For now, have a look at two orthodontic-specific nonprofits that operate nationwide.
Smile for a Lifetime
Smile for a Lifetime is a nonprofit organization that matches children who need cheap orthodontic treatment with practitioners around the country who want to provide free care. They prioritize affordable braces for low-income families and free braces for low-income adults, children, teens, and young adults considered to be at risk. For more information about affordable braces with this program, head to smileforalifetime.org.
You can see Smile for a Lifetime in action in Katelyn's story below.
Smiles Change Lives
Smiles Change Lives is another nonprofit organization that matches children with orthodontists around the country who are willing to provide cheap orthodontic treatment for little to no cost. Families are asked to donate what they can to the program so that children in the future can benefit as well. To see if your child is eligible for cheap braces through this program, you can go to their website smileschangelives.org.
The cheapest braces: At-home clear aligners
Clear aligners with remote treatment are part of a booming market expected to reach $5.58 billion by 2027. They are by far the most affordable way to straighten teeth safely and effectively apart from charitable programs. There are a variety of clear aligner brands you can choose from depending on your budget, time restrictions, and treatment preferences.
Clear aligners are a series of transparent plastic trays that fit around your teeth. Each tray is designed to take you a step further in your teeth straightening treatment, and you change them once every two weeks in most cases. Invisalign is one of the most well-known clear aligners on the market, but Invisalign is an in-office option, meaning you have regular in-person visits with your dentist. In fact, they can cost more than traditional braces. Another in-office option is Six Month Smiles braces, which offer both aligners and braces. But these also start their pricing around $3,000. So for our purposes, we'll focus on at-home aligners.
Regardless of the brand you choose for your treatment, the process for at-home aligners is generally the same all around:
Impressions: You can order your impression kit online and once it arrives in the mail, take molds of your teeth. You then send these molds into your clear aligner company so they can analyze them and decide if you are a candidate for treatment.
Receive your aligners: If you are a candidate for clear aligner treatment, your aligners will be made in a lab and sent to you all at once. As soon as they arrive on your doorstep, you can begin treatment.
Remote supervision: While you straighten your teeth, you'll check in periodically (virtually) with a dentist or orthodontist to ensure that everything is going according to plan, until you finish your treatment.
Retainers: As with any kind of orthodontics, after your treatment is completed, you'll need to wear retainers at night so your teeth don't move back into their original positions.
Some brands, like Candid and Smile Direct Club, have physical locations where you can go to meet with a representative in person and get 3D scans of your teeth and an in-person consultation, both of which are usually included in the price. 3D scans are taken instead of the molds you would take at home if you ordered an impression kit, and they are said to be more accurate than molds.
Are you a good candidate for cheap braces?
There are several brands that we recommend over others when it comes to affordable at-home clear aligner treatment. Have a look!
ALIGNERCO
If you are looking for the cheapest braces around, then you may want to consider ALIGNERCO. We recommend this brand for their cheap braces cost and because they only work with orthodontists to plan your treatment, while many brands work with dentists who aren't specialized. This is important because orthodontists are specially trained in straightening teeth and are considered to be the authorities when it comes to treatment.
ALIGNERCO offers some of the least expensive braces for teeth at just $1,145. Click the button below to get started with ALIGNERCO's smile assessment, and use code SAVE200 for an extra $200 off! You can also read more in our ALIGNERCO review.
Candid
Candid clear braces stand out as well, in part for the same reason as ALIGNERCO—because they work only with orthodontists to supervise and plan your treatment. Candid also offers unique AI technology paired with Dental Monitoring, whereby every 10 days, you use a special scanner that attaches to your smartphone to take scans of your teeth to send to your orthodontist.
This helps make treatment more accurate because your orthodontist is able to better see how your teeth are progressing, and it can also speed up treatment time because you are checking in every 10 days instead of every two weeks. If at the 10-day mark your teeth are ready, you'll be able to move on to your next set of aligners three days early. If your treatment is six months, those three days add up. Candid is a much cheaper braces option than Invisalign, and costs just $2,400.
If you want to get started with cheap braces with Candid, you can purchase your impression kit online now!
NewSmile
NewSmile have figured out how to straighten multiple teeth at once, thus speeding up treatment time. Some people even finish treatment in just four months. NewSmile aligners are made from Raintree Essix plastic, which is the clearest plastic on the market, making this brand ideal for those who want the most invisible treatment possible. What's more, they offer a nighttime option so you don't even have to leave the house while wearing your aligners.
If you want the clearest cheapest braces around, find out more in our NewSmile review, and get your NewSmile impression kit now! Use code DENTALYDEAL for an extra $100 off any current discounts they are running.
Byte
Byte offers the shortest treatment time of the clear aligner brands currently on the market. That's because they have a special device called HyperByte that uses gentle micropulse therapy to set your aligners better and speed up the straightening process. Treatment with Byte is also conducted by orthodontists. Byte costs just $1,895—you can purchase your kit by clicking the button below to get started, and you can also read our full Byte reviews article to find out more.
Uniform Teeth
This brand is a bit different than the others because it's a combination of at-home and in-office treatment. That's because you have up to five in-office visits during your treatment, which is more than you would with strictly remote aligners but less than with normal braces. They also work exclusively with orthodontists to plan and monitor your treatment. Uniform Teeth costs $2,500 for their basic level of treatment.
Check your eligibility
Before you jump to the conclusion that at-home clear aligners are the best option for you, keep in mind that this sort of treatment is only meant for people with mild to moderate cases of malocclusion (teeth and jaw misalignment). The exception is Uniform Teeth, which can treat more complex cases with their Level 3 treatment; however, this costs $4,950. If you are looking for cheap braces for adults without insurance and you only need mild straightening, clear aligners may be a good option. For the cheapest braces, take ALIGNERCO's assessment to find out if you're eligible!
Summary of ways to get braces for cheap
To summarize the various ways of finding cheap braces, have a look at the table below:
Conclusion
If you're looking for affordable braces, you have a few options to consider. You can try looking at orthodontic insurance for cheap braces If that's not an option for you because of insurance prices, you'll need to look for cheap braces without insurance. In that case, try looking for opportunities with nonprofits, or you can consider at-home clear aligners. Each option comes with its own pros and cons, so you'll have to make the decision based on your expectations for budget and treatment time. You'll also need to think about things like if it's important for you that your treatment is planned and monitored exclusively with orthodontists and if you want to have in-person supervision.
If you aren't able to find cheaper braces that work for you, speak with your orthodontist about a payment plan. That way, you can divide your payments up into manageable chunks each month.
Whatever you decide to do, make sure you choose a provider you trust and keep in mind that the cheapest orthodontist may not be the best option for everyone.
FAQs
What is the cheapest way to get braces for adults?
The cheapest way to get braces is with at-home or mail-order clear aligners. These aligners don't require you to meet your dentist or orthodontist in office so you don't have to pay service fees.
Can you get braces for free?
Children who are eligible for Medicaid may get braces for free, depending on the state you live in. Adults who want braces for free will have to look for nonprofits with orthodontic programs.
Why are braces so expensive?
Aligning teeth is a complicated process that requires specialized tools and years of education. The materials used in braces and aligners may not be so expensive on their own. Instead, it's the process of planning your treatment does take time and money. That's why it can be so difficult to find an affordable orthodontist.
What are the cheapest braces?
The cheapest braces that offer safe and effective treatment are ALIGNERCO. They work with orthodontists to supervise your treatment, and at just $1,145, they really are the cheapest braces around!