In this NewSmile review, we'll talk about NewSmile clear aligners to help you figure out if this is the best option for you. NewSmile is a type of clear braces for adults and teens that until recently was only available in Canada, but after having such success with patients up north has crossed the border into the US.
Treatment with NewSmile is 100% remote, eliminating clinic overheads and service costs, resulting in much more affordable treatment than you would get with traditional braces.
Keep reading to find out everything you need to know about NewSmile, including eligibility, cost, and what makes them different from other clear aligner brands.
A review of clear aligners
Before we dive into NewSmile clear aligners, let's do a quick review of clear aligners, or invisible braces, in general.
Clear aligners offer a discreet alternative to traditional braces for straightening teeth. They are clear plastic trays that you wear during the day and at night and offer an affordable solution to the 60% to 70% of the global population who have misaligned teeth. However, unlike braces, they are removable and must be taken out to eat, drink most liquids, and brush your teeth. Clear aligners come in a series, each aligner representing a step further in the progression of your teeth straightening treatment.
Some invisible braces, like Invisalign, require regular visits with your dentist, while others don't require any in-office visits whatsoever. NewSmile is the latter kind—you can straighten teeth at home!
There are a lot of brands of clear aligners on the market, but not all offer the same quality of care and service as NewSmile. The good news is, there are some who do, and you can compare them below! Don't forget to read ALIGNERCO reviews, Byte reviews, and see our Candid page.
Find the right clear aligners for you

There are so many companies offering remote teeth straightening with aligners! Take a look at our top picks and discover why we recommend these over any others.

Best service
Complete treatment 100% remotely
Amazing customer service
Nighttime-only option
$1,395 or $83/month
NewSmile aligners are made from the clearest Essix plastic and come with a daytime or nighttime-only option to suit you. For just $1,395 you'll receive everything you need to straighten and whiten your teeth – and maintain your new smile:
Home impression kit
Full aligner treatment
Free whitening
First set of retainers
A full refund if you're not a good fit
NewSmile go above and beyond to provide a great experience to all their customers, beginning with a live video call to help you with your teeth impressions. Mail these back, and they'll send a 3D Treatment Preview for you to approve before going ahead.
Alternatively,
click here
for an extra $20 off an impression kit!
Best value
Complete treatment 100% remotely
6 month average treatment time
Nighttime-only option
$1,145 or $95/month
If you're looking for the best value aligner package, here it is! For just $1,145 you'll get:
Impression kit
Full aligner treatment course
Free teeth whitening kit
Your first set of retainers
In short, everything needed to straighten your teeth remotely and keep them looking great, with a full money-back guarantee if you're not a suitable candidate.
This low price doesn't mean you're compromising on quality of care, though. ALIGNERCO just choose not to put so much into marketing, and they pass on the savings to their customers. They are also known for their responsive and helpful customer care, which is important when you're doing things from home.
Plus, if you're in New York, you can visit their SmileStudio for a free consultation and help taking your impressions.
Nighttime-only aligners are also available for anyone who doesn't want to wear aligners during the day.
Get $150 off!
Faster treatment
3-4 month average treatment time
Assessed and planned by orthodontists
Includes whitening and first retainers
$1,895 or $83/month
Byte's HyperByte technology uses High Frequency Vibration to help your teeth move faster and with minimal discomfort. Their average treatment time is just 3-4 months, compared to 6 months for most others.
Treatment includes your first set of retainers. You'll also get their BrightByte 3-in-1 foam to whiten your teeth, clean your aligners and freshen your breath. And their Byte-for-life guarantee means you'll get free adjustments if your teeth start to move again.
Begin by ordering an impression kit so their orthodontists can assess whether you're a good match.
Get 75% off with code 02DENTALY100TS
What are NewSmile clear aligners?
NewSmile aligners are clear aligners that can help you straighten your teeth from home. Clear aligners are practically invisible, so no one even has to know that you're doing treatment.
NewSmile clear aligners are part of the booming at-home orthodontics industry that is expected to reach $8.2 billion by 2026. One of the reasons this type of aligner is so popular is that they cost much less than traditional braces or Invisalign. They require 22 hours of wear per day, and treatment usually lasts about six months. Let's have a look at how the NewSmile process works.
How does NewSmile work?
The makers of NewSmile wanted to make getting orthodontic treatment less complicated, and suffice to say, they've succeeded. There are six simple steps to NewSmile treatment. Let's see just how easy the process is.
Smile assessment
Your first step is to take a quick online smile assessment that will let you know instantly if you are a good candidate for this type of orthodontic treatment. In order to be eligible for most types of at-home clear aligners, including NewSmile, you should only require mild to moderate teeth straightening. Complex cases will require in-office visits and in some cases may need to be treated with traditional braces.

Order your impression kit
If your smile assessment results say that you're eligible for treatment with NewSmile, you will be prompted to enter your payment details so that NewSmile can send you your impression kit. You can choose to order your impression kit only, or you can order the entire package at once. Either way, you'll get a full refund if it turns out you aren't eligible for NewSmile treatment. Also when you order your impression kit, you can use code DENTALYDEALKIT to get $20 off your order.

Make your impressions
Once you receive your impression kit in the mail, it's time to make molds of your teeth. Your kit will come with detailed instructions on how to make perfect molds, but you also have the option (at no additional cost) of doing a 1-on-1 video call with a rep who will walk you through the process if you're unsure about what to do. After you've made your impressions, you then send them back to NewSmile so they can get started on your Treatment Preview.

Treatment Preview
NewSmile creates a 3D Treatment Preview of your smile that will show you how your smile will change week by week over your 4- to 6-month treatment period. Once you've had a look at your future smile, you can have a video call with an Impression Specialist to make adjustments to your treatment plan before the plan is finalized.

Straighten your teeth
After you're given the okay, NewSmile creates your aligners and sends you a new set every two weeks. With your aligners, you'll also get free whitening treatments.

Post-treatment retainers
Once you've completed your treatment and your teeth are perfectly straight, it's time to make sure they stay that way. How? With clear retainers that you'll wear at night. You'll need to wear your retainers every night for the rest of your life for optimal results. Keep in mind that this isn't unique to NewSmile. Every orthodontic treatment, including Invisalign and traditional braces, requires you to wear retainers at night after treatment.
Night aligners
For professionals and others who don't want to wear their aligners during the day, NewSmile now offers night aligners. For the night aligners, the process is exactly the same as it is for normal daytime aligners, the only difference is that you only wear your aligners at night.
Your treatment time will likely extend beyond the typical day-wear treatment, but many people find that it's worth it to not have to deal with their aligners during the day.
If night aligners interest you, you can click here to get started.
How much does NewSmile cost?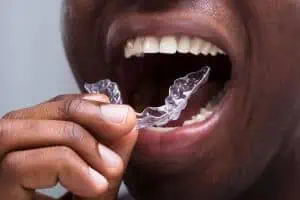 NewSmile offers both upfront payment and payment plans. You can opt for their 'Fast Track' payment, which is a lump sum of $1,395 for daytime treatment and $1,495 for the nighttime treatment. This price includes:
Impression kit
Treatment Preview
Aligners
Retainers
Whitening
But right now you can get an extra $100 off with our exclusive discount code: DENTALYDEAL. Click here to get started and view payment options.
Alternatively, you can opt to purchase your impression kit separately for $49, using code DENTALYDEALKIT to get $20 off. When you are approved for treatment, you can then purchase your aligners, and if you aren't eligible, you can get a full refund on your kit.
Or, if you prefer to spread your payments out, you can opt for their monthly plan. For the daytime option, this requires $0 down, and then payments of $83 per month for 18 months. For the nighttime option, it's $0 down and then $88 per month for 18 months. Monthly plans start at 0% APR.
You may be able to help cover your payments with money in your HSA or FSA. Some insurance plans with orthodontic coverage may cover part of your treatment costs, so make sure to ask them before you purchase these aligners.
How is NewSmile different than other aligners?
It's true that there are many similarities between NewSmile and at-home aligner brands. However, there are also some important differences. Let's take a look at them now.
Raintree Essix plastic: NewSmile aligners are made from Raintree Essix plastic, which is the clearest plastic for aligners available on the market today.
Multiple teeth: The NewSmile aligners are designed to work on multiple teeth at once—that's how they keep treatment time so short.
Orthodontic supervision: An orthodontist oversees the treatment of each patient.
Customer service: NewSmile is dedicated to providing customer service that goes above and beyond. They always have someone available to chat with over the phone about any issues, questions, or concerns you may have. You also can have a 1-on-1 video chat while you make your impressions.
Free retainers: With NewSmile, you get two free retainers after you finish treatment.
NewSmile vs Invisalign
You may have heard of Invisalign, as it's one of the leading brands of in-office invisible braces. But you might not know exactly how Invisalign and NewSmile differ, so here's a quick summary
NewSmile features remote treatment; Invisalign offers in-office visits
NewSmile costs less than $2,000; Invisalign can cost up to $8,500
NewSmile is only meant for mild cases; Invisalign can straighten severely crooked teeth
In the end, it's not that one is objectively better than the other, it's that different options are best for different people. While some may be good candidates for NewSmile, others may need the more hands-on treatment that Invisalign, or even traditional metal braces offer.
NewSmile reviews
You've heard what we have to say; now let's have a look at what real patients are saying about their experiences with NewSmile.
"I am really satisfied with my results. I am no longer self-conscious about my smile. Thank you."

Brenda A.
"I am now on my retainers! But for the aligners, it took me just 7 months and now done! Highly recommended!"

Naser H
"I had braces when I was young but it did not give me the result that I wanted and expected. Good thing that I have tried NewSmile. The treatment preview they sent me is exactly matched to the result I got. I highly recommend!"

Kate K.
You can see amazing NewSmile before and after results in the video below.
Is NewSmile treatment right for me?
You'll need to be approved by a NewSmile dentist or orthodontist to really know if you are eligible for treatment, but there are some basics that can help you figure out if this treatment is for you.
NewSmile may be the right option for your orthodontic treatment if you want:
A discreet way to straighten teeth
To pay much less than for braces or Invisalign
100% remote treatment
The clearest aligners on the market
Great customer service
Conclusion
NewSmile is an at-home clear aligner brand that offers a convenient, fast, and affordable way to straighten teeth. You can order your NewSmile impression kit for just $49 and get a full refund if you aren't eligible.
Standard treatment with NewSmile costs $1,395, or you can opt for their payment plan of $83 per month with a $295 deposit. Treatment lasts for six months, with 22-hour wear per day. NewSmile is dedicated to excellent customer service and offers aligners made from the clearest plastic available.
If you're interested in NewSmile, you can visit their website to read more and check current offers. Don't forget to use code DENTALYDEAL for $100 off when you sign up!
FAQs
Do NewSmile clear aligners hurt?
You may feel some discomfort while wearing NewSmile. Orthodontic treatment involves moving your teeth into a new position, a process that is usually uncomfortable. Since at-home clear aligners are meant to treat mild to moderate cases, and not complex cases, they usually are more comfortable than traditional braces.
Can I get NewSmile in the US?
Yes! NewSmile used to only be available in Canada, but just recently it was made available in the United States as well. Also, the promotion codes are the same for both countries.
Who can have NewSmile aligners?
NewSmile aligners are available to adults and teens who have all of their permanent teeth and have mild to moderate cases of malocclusion (teeth and jaw alignment issues). If you have a complex case, you may need to opt for traditional braces.
Sign up to receive the latest news and offers from Dentaly.org