Invisalign is a popular way to straighten teeth, but it's also very expensive, which leaves many to wonder, does insurance cover Invisalign?
Even some of the best dental insurance plans won't cover orthodontic care, but there are some that do, or you may be able to purchase a supplemental orthodontic plan.
There are other options too when it comes to Invisalign insurance, including discount or savings plans. In this article, we'll go over your options for dental insurance that covers Invisalign, including the carriers who offer coverage and your other options when it comes to getting the orthodontic coverage you need.
Invisalign insurance
Dentalinsurance.com is a hassle-free way to find a dental insurance plan for Invisalign braces in your area. You can find dental plans that include orthodontic coverage, or supplemental orthodontic insurance plans.
You can also browse a wide range of dental savings and discount plans that can help you save on treatment with Invisalign.
Just enter your zip code and date of birth, and you'll be able to browse the top dental insurance plans available in your state and get free Invisalign insurance quotes.
And if you need guidance along the way, you can call 888-626-0057 to speak to a helpful licensed agent.
Recap of Invisalign treatment
Before we dive into how to find dental insurance that covers Invisalign for adults, let's first do a quick recap of what exactly Invisalign is. Invisalign is not the same as traditional metal braces, and this is important because it can actually affect your insurance options. That is, some plans that may cover traditional orthodontic care may not cover Invisalign.
That's because Invisalign isn't actually braces. Instead, it's a system of clear aligners, or invisible braces, that fixes problems with teeth and bite alignment. This method is recognized and approved by the medical community, and can only be carried out with in-office supervision from a licensed dentist or orthodontist.
It's a very popular method of treatment as more and more adults decide they want to straighten their teeth, and teens prefer a method that isn't as noticeable.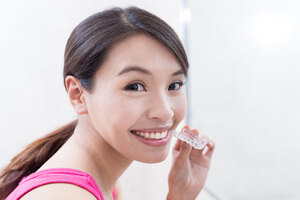 Invisalign can be used to treat a variety of malocclusion issues, including:
Crooked teeth
Crowded teeth
Diastema
Open bites
Overbites
Crossbites
And while Invisalign can successfully treat 90% of cases, if you have a particularly severe case of misalignment in your teeth or jaw, then you will still probably have to get treatment with a more traditional method. Either way, your orthodontist or dentist will let you know the best route for you.
Is Invisalign covered by insurance?
Even though approximately 75% of people could need some kind of orthodontic care, braces and aligners like Invisalign braces can be too expensive for many people. And when faced with having to pay for your dental work without insurance, or not at all, many people will understandably choose not to fix their misalignment issues.
The problem is that this can contribute to other health problems as well. That's why it's important to know about your Invisalign and braces insurance options so you can find cheap braces for you.
There are options for dental insurance that covers Invisalign. This is the same with traditional braces, although you may find more plans to cover traditional braces than clear aligners like Invisalign.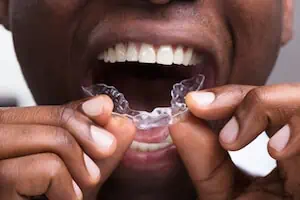 If you have dental insurance that covers Invisalign, it may pay for a percentage of your treatment costs, or a flat dollar amount. Plans can cover anywhere from 25% to 50% of the cost of your Invisalign treatment.
There will probably also be a lifetime maximum on the amount of coverage you will receive from your orthodontic or dental insurance. This limit can be low, around $1,000, or it can go quite high to around $4,000.
You may be able to get a higher lifetime limit if your Invisalign treatment is deemed medically necessary because you have a problem with jaw or tooth alignment that negatively impacts your health.
If this is the case, you'll need to present proof from a doctor that your Invisalign treatment is indeed medically necessary. Your orthodontist will be able to help you sort out how to present the required information.
It's best to seek advice from your benefits manager or financial coordinator so that you understand exactly what's covered and what's not, and make the best decision for your budget and needs. Be aware that if you have Medicaid, it's unlikely that Medicaid will cover Invisalign treatment.
You may even find that your orthodontic treatment is covered by health insurance, while in other cases, you'll need to purchase it as a separate plan.
How much is Invisalign without insurance?
If you don't have insurance to help you cover the costs of Invisalign, the cost of your treatment will partially depend on the type of Invisalign treatment you get. There are a variety of plans. These include:
Invisalign Full: $3,500–$8,500
Express 10: $2,500–$5,000
Express 5: $1,500–$3,000
Teen: $3,000–$6,500
That being said, your Invisalign treatment could cost up to $10,000, it all depends on the severity of your malocclusion and the level of treatment you'll need.
We've created this Invisalign cost calculator so you can get a personalized quote for your Invisalign treatment. Just enter a few details below to get your instant quote.
Get a cost estimate for your Invisalign treatment
How severe is your current level of teeth misalignment?
Do you have insurance that covers Invisalign?
Based on the information you provided, your Invisalign treatment cost estimate is:
What next?
to find an Invisalign dentist near you
How much is Invisalign with insurance?
You'll find a wide range of coverage when it comes to different insurance plans, but oftentimes, larger insurance carriers will cover a percentage of your treatment with Invisalign.
Unfortunately, many insurance companies still consider Invisalign to be a purely cosmetic treatment, so they won't cover any part of your dental treatment costs. The Invisalign insurance coverage will of course depend on the provider you have, but you can expect your Invisalign cost with insurance to be discounted from 25% to 50% of your treatment costs.
Keep in mind that most insurance plans will also have a lifetime limit, which means that once your provider has paid that amount, you'll have to pay the rest.
When you're searching for a dental insurance plan to cover Invisalign, you're most likely to find plans with coverage from the following providers:
Humana
Aetna
Cigna
Delta Dental
A bit further down we'll have a closer look of what kind of coverage you can get from these providers.
Invisalign cost vs traditional braces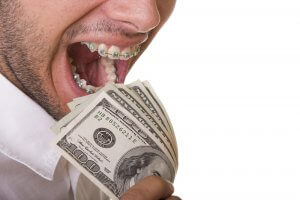 Invisalign is generally more expensive than traditional braces treatment. That's because your clear aligners are custom-made in a laboratory. Invisalign also charges the practices it works with a fee between $1,000 to $2,000 for permission to offer their treatment.
The cost to the dental practice will depend on how many Invisalign cases they do a year, and all of this brings the final price for the patient up. Traditional braces can cost anywhere from $2,500 and $7,500, and like Invisalign, depend on the severity of treatment you need and which dentist you go to.
Whether you go with traditional braces or Invisalign, these costs might not include additional treatment you need, including x-rays, tooth extraction, and your retainers after treatment. That's why it's important to fully understand all of the costs involved before you sign on to any treatment option.
Does dental insurance cover Invisalign for adults?
Some dental and orthodontic plans will cover Invisalign for adults. That being said, the best dental insurance plan for one person, may not be the best for another person. It all depends on your age, the state you live in, your number of dependents, the treatment you need, your budget, and a variety of other factors.
So what insurance covers Invisalign braces? Let's have a look!
Humana
Humana offers some dental insurance plans with orthodontic coverage, and they also offer dental discount plans with orthodontic discounts. You may want to specifically have a look at their Loyalty Plus PPO and their Complete Dental PPO, which may offer a discount for orthodontic treatment.
If you decide to go straight for their dental savings plan, you could get up to a 20% discount on your Invisalign.
Aetna
Aetna may offer Invisalign coverage, although most plans don't. They do offer a dental savings plan that can help with orthodontic coverage.
One in particular is the Aetna Vital Dental Plus Rx. This is a savings plan that costs around $150 per year and can help you save up to 39% on your Invisalign treatment.
Cigna
Cigna is a large nationwide dental insurer with three main dental plans–Cigna Dental 1500, Cigna Dental 1000 and Cigna Delta Preventive. If you're looking for orthodontic and Invisalign insurance, then you'll want to focus on the 1500 plan, which is the only one that offers orthodontic coverage and has a coverage limit of $1,000.
Cigna is very clear that braces and aligners are usually considered cosmetic, so unless you can prove that your Invisalign treatment is medically necessary, chances are it won't be covered.
Delta Dental
Delta Dental offers a wide range of dental and orthodontic plans, from basic to comprehensive coverage, depending on your budget. There are two brace coverage plans with Delta—the DeltaCare USA savings plan and the Delta Dental PPO.
Savings plans, also called discount plans, aren't actually insurance plans, which can be a good thing, depending on your needs. These types of plans don't have any deductibles, annual or lifetime maximums, and no waiting periods. You simply pay an annual fee and get discounted services in return.
You can read more in our article 'Does Delta Dental Cover Braces?'
How to get insurance for Invisalign
Yes, there are a lot of options to choose from, and many different factors to consider when it comes to finding your Invisalign insurance. Thankfully, Dentalinsurance.com is a user-friendly online platform that makes it easy to search for plans, compare them, and then enroll right on the spot if you find one you like.
To get started with Dentalinsurance.com, just enter your zip code and your date of birth, and you'll instantly see all of the best plans in your area.
You can then compare coverage and costs for your Invisalign treatment. You'll also find helpful videos along the way that will give you extra tips for choosing your plan.
What's more, the Dentalinsurance.com team is standing by—helpful licensed agents will give you guidance no matter where you are in the process. Just call 888-626-0057 to speak with someone now.
Other ways to pay for Invisalign
If dental insurance for Invisalign isn't going to work for you, you can check out these other options for lowering treatment costs.
Payment plans
You can get a monthly payment plan to help pay for your treatment with Invisalign. This plan will be arranged between you and your dentist or orthodontist, and the first payment will most likely be needed before you begin treatment.
For many, payment plans make a seemingly impossible cost, quite manageable by breaking it up into smaller amounts. Your monthly payment plan can last as long as your treatment or more, depending on the amount you pay per month.
Most practices will offer plans that have no extra fees or interest rates. If they do have interest rates, make sure you fully understand these costs, and that you'll be able to cover them.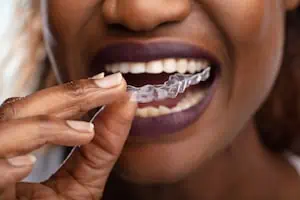 FSA
FSA stands for flexible savings account. This is something that you might get from your employer. With an FSA you pay money into a special account during the year.
This money is deducted automatically from your paycheck and can be used to pay for medical, dental, and orthodontic costs, usually including Invisalign invisible braces.
You can set aside up to $2,600 to cover your medical expenses. Not all employers offer an FSA, but you can talk to your HR rep to find out if yours does.
HSA
An HSA is a health savings account. This is also provided by your employer, and you can only contribute to it if you have a health plan with a high deductible. A high deductible means that you have to pay a large amount of money out of pocket before your insurance will begin to help cover costs.
With an HSA, money is deducted from your paycheck, or you can deposit the money yourself, and this money is used to pay for medical, dental, and orthodontic treatment.
Individuals can set aside $3,400 per year to cover healthcare costs, and an individual with a family can set aside $6,750. Talk to your HR rep to see if you meet the IRS eligibility requirements for opening up an account.
CareCredit
If you find yourself facing high out-of-pocket costs with your Invisalign treatment, you may also want to consider a dental credit card like CareCredit. This type of card can help you pay upfront for dental work, which you then pay pack in installments.
Or, you can pay monthly for ongoing treatment. Keep an eye out for high interest rates and be aware that if a card offers an interest-free period, this doesn't mean that it's interest-free.
Have a look at the table below for a summary of your payment options.
| | | | | | |
| --- | --- | --- | --- | --- | --- |
| | | | | | |
| | | | | | Only some plans cover braces |
| Supplemental ortho insurance | | | | | May have annual/lifetime maximums |
| | | | | | Offer discounted services |
| | | | | | Pay for treatment in installments over time |
| | | | Limits for savings amounts | | Option provided through employers for saving money for healthcare |
| | Credit card for health expenses | | | | Watch out for interest rates |
You can also check out the video below, which, while obviously paid for by Invisalign, talks about many of the options we mentioned above.
Conclusion
Although orthodontic treatment, specifically with Invisalign, can be too expensive for many to pay for out of pocket, the good news is that there are many insurance plans that offer partial coverage.
You may find coverage in your health plan through your employer, regular dental plans, or orthodontic insurance supplements. Another option is to enroll in a dental savings/discount plan.
While the number of options available may seem overwhelming, you can head to Dentalinsurance.com to find the best plan for you. They make it easy with a user-friendly website, and a helpful team of agents standing by to guide you through the process if you need it.
Just enter your zip code and date of birth to see the best Invisalign insurance plans near you.
FAQs
Will my insurance cover Invisalign?
A basic dental insurance plan for adults is not likely to cover braces or Invisalign. If you pay a higher premium for comprehensive coverage, you may be able to get help paying for your treatment.
So if you're looking for Invisalign insurance coverage, make sure to focus on the plans that offer more comprehensive coverage. You may even want to consider a dental savings or discount plan instead.
What dental insurance covers Invisalign?
There are a variety of plans that offer orthodontic coverage or savings plan that can help you pay for your Invisalign treatment. These include the names we mentioned above. Some of the best carriers to consider include Delta Dental, Humana, Aetna, and Cigna.
Does dental insurance cover Invisalign for adults?
It depends on the plan you have. Most plans will consider Invisalign to be cosmetic treatment. But if your orthodontic care is medically necessary, then you may find a plan that offers some coverage. If not, consider a savings or discount plan.
Sources
AAOinfo.org: Press Room. Consulted 25th April 2021.
Sign up to receive the latest news and offers from Dentaly.org