Get ready to read some Sonicare toothbrush reviews so you can make an informed decision for your oral hygiene.
In this article, we'll also compare different Sonicare models so you can find the best Sonicare toothbrush for you. And we'll even go over some of the other best electric toothbrush options so that you can get a full picture of what's available on the market.
Stay tuned and get ready to read some sonic brush reviews so you can take charge of your oral health.
On a side note—we won't cover it in this article, but if you're looking for a basic electric toothbrush with minimalist style, check out our Quip toothbrush review.
About Sonicare toothbrushes
Sonicare toothbrushes are made by health technology company Philips and are electric toothbrushes that combine two methods to brush teeth:
Conventional brushing that scrubs away plaque
Sonic technology that uses a high-speed brushing motion to disrupt plaque beyond where the bristles actually reach
More specifically to the Sonicare brand, the Philips Sonicare brush has advanced technology that "pulses fluid between the teeth and along the gum line" according to their website, while "brush-strokes gently and effectively remove plaque to improve gum health."
Sonicare toothbrushes are clinically tested and most models have built-in smart sensors to help you improve your brushing technique.
The most powerful Sonicare brushes have 62,000 brush movements per minute, which they claim gives you the equivalent of an entire month's worth of manual brushing in just two minutes.
No, this doesn't mean that you only have to brush your teeth once a month if you have a Sonicare brush, it's just a bit of hyperbole on the part of Sonicare to really drive home the point.
Plus most dentists would say that it's not so important what brush you use, the most important thing is that you brush twice a day, every day.
How to use a Sonicare toothbrush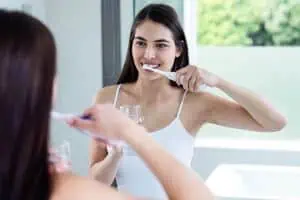 Using a toothbrush used to be relatively easy, although if you need to brush up on your technique, we've got an article that talks all about how to brush your teeth properly.
But now, with all this newfangled technology, you have to read a manual just to clean your teeth. Don't worry! It's not actually that difficult; if you're wondering how to use a Sonicare toothbrush, have a look at the instructions below, provided by the Sonicare site.
Wet the bristles
Apply your toothpaste
Place bristles against teeth at a 45-degree angle towards the gum line
Press the power button
Applying light pressure, move the brush head slowly across your teeth in a short back-and-forth motion
You don't need to scrub, the toothbrush will do this for you
Sonicare models
There are many Sonicare models you can choose from, but let's have a look at the three most popular:
ProtectiveClean 4100
The Sonicare 4100 is one of the most popular models on Amazon, combining advanced Sonicare technology with an affordable price. Features include:
Built-in pressure sensor
1 cleaning mode
1 x BrushSync feature
Battery life: 2 weeks
2-minute timer with QuadPacer
This model can be compared to another affordable sonic toothbrush with a battery life of 4 weeks, DuPont bristles and a convenient subscription service, called Brüush. Check it out in our Brüush review.
DiamondClean Smart
The DiamondClean Smart is considered to be the Cadillac of Phillips Sonicare toothbrushes (or the Tesla, if that's more your thing). It has an almost overwhelming amount of features, including multiple modes, and a brush with soft bristles for sensitive teeth and gums, which you can read about in full depth on the Phillips website or the Amazon page. The main features include:
Sensors and an app to perfect your technique
62,000 movements/min
Pressure sensor
5 cleaning modes and 3 intensities
Replacement brush head reordexring service with automatic brush head delivery
Premium brush heads automatically select the optimal mode and intensity
Stylish charging glass
Deluxe travel case
Battery life: 2 weeks
Philips One
If you're looking for a budget-friendly toothbrush, then you may be more interested in the Philips One by Sonicare rechargeable electric toothbrush. This is a new model and a high-quality, affordable option.
This toothbrush doesn't skimp on the technology — it cleans with micro-vibrations that work alongside tapered, soft nylon bristles to clean teeth. But don't forget to use regular brushstrokes as well.
This option is also designed for on-the-go use, with a battery that lasts up to 30 days, a lightweight form, and a compact travel case.
Have a look at the rest of its features:
1 mode — micro-vibrations
1 brush head
Travel case
2-minute timer and a quad pacer
USB charger and 30-day battery life
What is the best Sonicare toothbrush?
There is no one-size-fits-all answer for the best Sonicare toothbrush. Choosing the best Sonicare toothbrush for you all comes down to what you are looking for in a toothbrush. Ask yourself these questions:
Do you want a low price, a high price, or a mid-range price?
Do you want something with a lot of modes?
Does style matter to you?
Have a look at the following Sonicare toothbrush comparison table so you can figure out what may be the best model for you.
| | | | | | | |
| --- | --- | --- | --- | --- | --- | --- |
| | | | | Battery life (single charge) | | |
| | | | | | | |
| Phillips Sonicare ProtectiveClean 4100 | Side-to-side sonic vibration | | | | | |
| Philips Sonicare DiamondClean Smart | Side-to-side sonic vibration | | | | 5 modes and 3 intensities | |
Sonicare toothbrush reviews
One great way to find out if a toothbrush delivers on all its promises is to find out what other people who tried it thought. So buckle-up and get ready for some Sonicare reviews.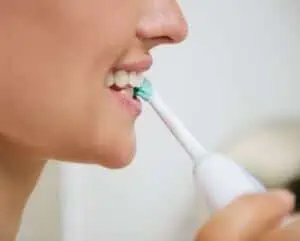 Youtube Sonicare review
This reviewer talks about the most expensive Sonicare on the market: the Philips Sonicare DiamondClean Smart.
He likes how easy it is to connect with the Bluetooth on your phone, and how easy it is to use the app.
He spends some time going over the different brush heads you get in the box, talks about the charging glass and the charging case, and intensity levels and esthetics.
Overall he really likes the guidance for proper brushing technique that is provided by the app and says that it seems like something that can help you build better brushing habits.
He personally says he doesn't think it's necessary to spend so much on a toothbrush, but if you really care a lot about your teeth, then it might be worth it to make the investment.
You can watch his full video report below.
Amazon Sonicare reviews
Now let's have a look at some shorter customer reviews from Amazon.
Philips Sonicare ProtectiveClean 4100:
"Great toothbrush for the money, has everything you need, nothing you don't."
Philips Sonicare DiamondClean Smart:
"Was hesitant at first due to the price. After much thought decided to take the plunge. In all honesty it was the best decision. The clean you feel after just one time is amazing, it feel like out of the dentist clean. I'd recommend this toothbrush to anyone."
Philips Sonicare Essence:
"Love these! Got a great buy on an older model several years ago, and it was time to replace. Got this at a really good price for a solid, reliable toothbrush. Considered the one with the quarter timer, but I'm pretty good about not needing an alarm to tell me to brush my other teeth so it wasn't worth the extra few bucks."
All three of these toothbrushes receive a majority of 5-star reviews on Amazon. A look at 3-star reviews is mostly people who aren't impressed with the quality for the price, and 1-star reviews were overwhelmingly faulty products. If you do receive a toothbrush that stops working soon after purchasing it, you should be able to return it and receive a new one at no additional cost.
Other sonic toothbrush reviews
Obviously, the Philips Sonicare is not the only sonic toothbrush out there, in fact, there are many great brands on the market today. Here's a brief summary of just some of the best alternatives to Sonicare toothbrushes
CariPRO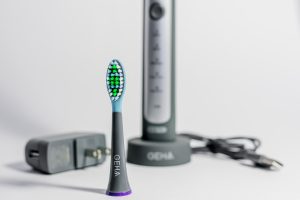 The CariPRO sonic toothbrush by Smile Brilliant is a great mid-range alternative to the Philips Sonicare toothbrush that gives you arguably better value for the price. This toothbrush has everything you need for an optimally healthy smile. Its features include:
40,000 vibrations per minute to decrease stains and eliminate plaque from teeth
5 brush modes
30-day battery life on a single charge
Ergonomic design
Waterproof design—use it in the shower!
Interval timer
Wireless charging dock
Each brush head has a gentle tongue scraper on the back, and additional brush heads are available for separate purchase on the website when you're ready for a replacement.
"Maintaining a healthy smile is finally enjoyable."
Oral-B
Oral-B toothbrushes aren't actually sonic, instead, they use a rotating, oscillating movement to remove dental plaque from teeth, but they are worth mentioning here since they are one of Sonicare's top competitors.
They also offer a wide range of electric toothbrushes, with versions from basic to luxe. In fact, we mention the Braun Oral-B Genius Pro 8000 in our electric toothbrush article as one of the best options for adults.
Oral-B was the first power toothbrush brand to receive the ADA Seal of Acceptance. The Genius connects to an app on your phone so you can receive guidance for proper brushing, and a pressure sensor to let you know if you are brushing too hard. You also get a travel case that allows you to charge both your smartphone and your toothbrush!
One reviewer on Amazon says:
"Very powerful toothbrush! In all hopes it will make the dentist happy. Very well made. I love the different modes for it. Very organized accessories. The app is also very handy, which you can put yourself on goals to whiten your teeth! Which is awesome"
Fairywill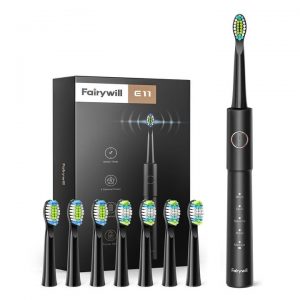 Fairywill makes affordable all-in-one electric toothbrushes that are sonic and rechargeable. They feature smart timers, pressure sensors and various modes. They are also waterproof so they can be used in the shower. Check out this sonic electric toothbrush on Amazon here.
Here's what one happy customer has to say:
"This is the first rechargeable toothbrush I tried. It arrived with enough power to last a few weeks and I only charged it once in the two month's I used it. I brush twice daily. The head on the brush is small, a great benefit to me because my gums used to bleed with manual brushing. This stays on the teeth, and has multiple modes depending on the power you want. Note that it pauses very briefly at 30-second intervals as a timing feature. It goes off automatically at two minutes as a recommended duration of use. Just turn it back on if you desire additional time. I have no complaints about the product, and purchased additional brush heads for future use. My teeth feel great. I love it."
Brio
The Brio SmartClean electric toothbrush is a mid-range model that features a built-in two-minute timer that also alerts you when to brush the next quadrant. Its charge lasts for 6 weeks and it has 4 brushing modes but has no pressure sensor.
One customer was very pleased with customer service:
"This is a wonderful toothbrush! Very powerful. More importantly they have amazing customer service! My toothbrush randomly stopped working at about the 2 yr mark and I had a 2 yr insurance plan. I called them up, they answered right away and sent me out a new brush no problem! Well turns out we caught a guy on camera stealing it from the front of my house! Thankfully, I called up customer service and they sent me out a new one with total sympathy and no hassle. Best service ever!"
Waterpik
Waterpik makes an electric toothbrush and water flosser all in one package, known as the Waterpik Sonic Fusion. However, if less is more, you may want to stick to something with a smaller profile.
Aquasonic
Aquasonic makes electric toothbrushes with a luxe look and feel, but a lower-midrange price tag. It comes with 8 heads and a travel case. The battery lasts for 4 weeks and it also has a whitening mode, although there is no pressure sensor.
This customer loves the price:
"Great product. Comparable to more expensive sonic toothbrushes on the market at less than 1/3 the price. Great bristles on the brush and only complaint is the hard plastic back of the brush head. Other top brand heads are rubberized to prevent chatter on teeth. Definitely recommend."
Conclusion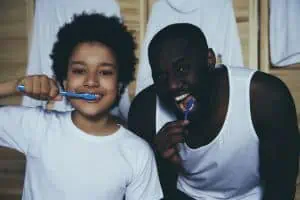 Many people consider sonic toothbrushes to be the best way to brush teeth. With so many options on the market and a wide range of prices, it can be hard to figure out which is the best for your oral hygiene.
But if you begin by choosing your price range and deciding which features you'd like, you can narrow it down to find your ideal brush.
For instance, you can even get electric toothbrushes with a UV sterilizer or a toothbrush like the Mode toothbrush, which has a wireless, magnetic charging dock. Or, to really perfect your brushing, check out our review of the usmile Y10 Pro and Oclean X Pro Digital, which give you supplemental brushing time to get the spots you missed.
Ultimately, the important thing is that you keep proper brushing habits. You can achieve stellar oral health with either electric or manual toothbrushes, it's just up to you to decide whether you also want some extra features to help with your brushing.
FAQs
Are sonic toothbrushes or electric toothbrushes really better?
Yes and yes. You can find studies like this one that show better results for rotating, oscillating electric brushes like those from Oral-B, and you can find studies like this one that promotes sonic toothbrushes. You'll probably also find that the answer varies from dentist to dentist.
Most dentists, if not all, will agree that it doesn't matter if you use a sonic, electric, or manual toothbrush, the important thing is that you brush twice a day using proper brushing techniques.
Can sonic toothbrushes damage teeth?
If used properly, a sonic toothbrush won't damage your teeth. Just like with any toothbrush, you should make sure that your brush head has bristles that aren't too hard on your teeth and gums. You also shouldn't apply too much pressure while brushing.
Is Sonicare or Oral-B better?
Both Sonicare and Oral-B will do a great job cleaning your teeth. And both offer basic electric brushes and super ultra-luxe brushes. So you'll just have to decide what you prefer. If you prefer a rotating, oscillating motion (Oral-B) or back and forth brushing motion with sonic vibrations (Sonicare). Both will get the job done!
Sign up to receive the latest news and offers from Dentaly.org