You should change out your toothbrush head every three months, but for extra cleanliness, you might consider purchasing an electric toothbrush with UV sanitizer.
There are more electric toothbrushes with UV sanitization units being sold on the market today, considering that this is a largely effective way to eliminate not only bacteria, but also viruses.
In this article, we review the best UV sanitizers for toothbrushes on the market today in terms of:
Best overall
Best household brand
Best for families
Best total clean
Best waterproof
Have a look at the table below for a snapshot of the best brands, and in continuation, we'll dive into a deeper review of each one.
| | | | |
| --- | --- | --- | --- |
| | | | |
| | Upright UV-C sterilizer made from sleek silicone | | |
| Philips Sonicare ExpertClean 7700 | UV sanitizing case with 360 protection | | |
| Pursonic S450 Deluxe Plus | Built-in germinicidal UV sanitizing bulb | | |
| TAO Clean Umma Diamond Sonic | Charging and sanitizing dock with UV-C light | | |
| AquaSonic Black Series PRO | UV sanitizing base and UV travel case | | |
How does a UV toothbrush sanitizer work?
A UV sanitizer can be built-in to your toothbrush, or it can be a separate unit, but either way, it uses UV light to reduce bacteria and other microorganisms, including viruses, from your brush.
Typically you will place your brush inside or on the sanitizing dock or case and press a button to turn the sanitizer on. The sanitizer will then shut off automatically once the process is complete.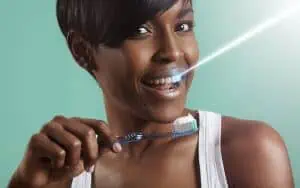 Studies show that yes, UV toothbrush sanitizers do work to reduce bacteria and viruses from your toothbrush, but not 100% of them.
You'll also still need to use a sanitizing or sterilizing solution if you want a totally clean brush handle.
But if a sanitizing toothbrush is something that interests you, we've got a review of some of the best sanitizers on the market today.
Best Electric toothbrush with UV sanitizer
Best overall: Nest Electric Toothbrush
The Nest Electric Toothbrush is our top pick for toothbrushes that work with a UV sanitizer — and it's not just our first choice — this brush began as a Kickstarter campaign and is now an award-winning product.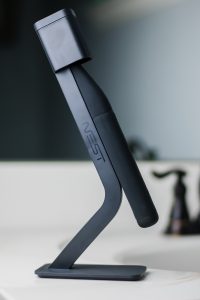 You can purchase this silicone toothbrush, both electric and manual models, as part of a bundle with a UV sterilizer. The sterilizer features two UV-C lights and is independent lab tested. And when you do, use code DENTALY30 to get 30% off your order.
The UV-C light is proven to eliminate microorganisms like bacteria and viruses — including coronavirus.
The UV sterilizer can be used with both the magnetic stand and travel case that can be purchased for this brush, meaning you'll be protected at home and on the go.
We would be remiss to ignore the other revolutionary features of this toothbrush — including the fact that it self-dispenses toothpaste. That's because it has an airtight, sterile interior compartment that you can fill with your favorite toothpaste — enough for a month of twice-daily use before it needs to be refilled.
Then when you're ready to brush, you just push a button and the perfect amount of toothpaste — as recommended by the ADA — is dispensed every time onto the bristles.
The bristles of this brush are infused with charcoal. And the body is crafted from sleek silicone with an ergonomic grip.
Check out the Nest in action in the video below:
You can read more about this toothbrush in our full Nest toothbrush review, or you can head on to the Nest website and get yours now.
Best household brand: Philips Sonicare ExpertClean 7700
This Philips Sonicare model comes with a UV sanitizer, specially engineered by Philips to kill germs that remain on your brush head after brushing. It neutralizes 99% of bacteria and viruses.
The sanitizer has a reflector that distributes the light around the entire brush head for 360 protection. It's easy to operate — all you have to do is push a button to turn it on.
Then you can forget about it and let it do its job because it automatically shuts off after a 10-minute cleaning cycle.
The sanitizer fits all of the snap-on Sonicare heads except for kids' models. It features a built-in Sonicare toothbrush charger as well.
Aside from the UV sanitizer, this toothbrush also features:
App for a personalized brushing experience
4 brushing modes and 3 intensities
Pressure sensor
You can purchase this Sonicare model now, or you can read more about Sonicare toothbrushes in our guide here.
Best family: Pursonic S450 Deluxe Plus
The Pursonic features a built-in UV sanitizer that kills 99.9% of bacteria and germs with a germicidal UV bulb in seven minutes. The integrated sanitizing chamber stores up to four brush heads, making it ideal for use by the whole family.
The brush heads come in different colors for easy identification. A two-minute timer and 30-second alerts let you know how long to brush in each section of your mouth.
Additionally, this is a sonic toothbrush with 30,000 strokes per minute and it comes with 12 brush heads in four different colors.
Best total clean: TAO Clean Umma Diamond Sonic Toothbrush
The Tao comes with a specially patented charging and cleaning dock that recharges your brush, dries it, and activates UV-C light to get rid of 99.9% of bacteria.
The brush features a 2-minute brushing cycle, at which point it will automatically shut off and you can place it into the clean station.
The Tao also features 40,000 brush strokes per minute and comes with a facial brush that gently scrubs away dead skin cells — for a clean mouth and a rejuvenized face.
Best waterproof: AquaSonic Black Series PRO
The AquaSonic is waterproof and comes with both a UV sanitizing base and a UV travel case, both of which kill 99.9% of germs so you're safe at home and on the go.
It also cleans with 40,000 vibrations per minute that come from its ultrasonic motor, and has four brush modes — clean, soft, whiten, and massage — for a personalized clean.
This brush lets you know how long to clean, with a two-minute timer and 30-second quad alert and comes with six ProFlex brush heads.
What's more, the lithium-ion battery lasts for a full 30 days on a single charge.
Best UV toothbrush sanitizers
You can also get UV toothbrush sanitizers sold separately from brushes. This type of sanitizer can be used with multiple types of brushes, including manual brushes. Some of the most popular include:
Conclusion
In a world where we are all more in tune with hygiene and health, you can't go wrong with a UV sanitizing toothbrush.
There is a wide variety to choose from, including toothbrushes with built-in sanitizers, or toothbrushes with sanitizers that are sold as an accessory, like the self-dispensing Nest.
There are also sanitizers for manual toothbrushes and electric toothbrushes, and sanitizers that are multi-use with extras like Bluetooth tech and speakers, like this one.
You can also get a simple travel case with a built-in UV sanitizer, perfect for travel or for students living in dorms.
FAQs
Do UV toothbrush sanitizers work?
UV toothbrush sanitizers do work, and most claim they can eliminate 99.9% of bacteria. However, sanitizers won't get rid of all microorganisms, whereas a process like sterilization will.
Can you sanitize an electric toothbrush?
You can sanitize an electric toothbrush — either with a special cleansing solution, or with a UV sanitizer which you can purchase separately, or as part of an integrated device.
How do you disinfect a toothbrush handle?
You can disinfect a toothbrush handle by using a cleansing solution made from hydrogen peroxide, cleaning alcohol, vinegar, antibacterial mouthwash and countless other solutions (use these as separate solutions, not all should be mixed together).
Sign up to receive the latest news and offers from Dentaly.org