If you're reading this, chances are you want to know about the best way to keep your teeth clean and healthy. After all, nobody looks forward to having fillings and root canals at the dentist! But do you really need an electric toothbrush to maintain good oral hygiene?
The key to keeping your teeth clean is knowing how to brush properly and forming good habits. While this is possible with a manual toothbrush, the features available with many modern toothbrushes can be a big help. But with models costing anywhere from $20 to $200 or more, how do you choose the right one for you?
In this article you will find out more about the benefits of powered toothbrushes as we compare features and reviews of some of the top brands available in the US. In just a few minutes you'll be better informed to find the best electric toothbrush for your needs.
Why use an electric toothbrush?
Let's be clear on this from the get-go: if you can't be bothered to brush your teeth properly, it doesn't matter how much you spend on a fancy toothbrush. You're still likely to end up with dental problems like tooth decay or gingivitis (gum disease).
Common issues that affect oral hygiene include:
Not brushing twice a day
Not brushing for long enough (2 minutes is recommended)
Limited dexterity which affects brushing movement
Not focusing on cleaning each area properly
Brushing too hard (which damages gums)
Using toothpaste that doesn't contain enamel-protecting fluoride
Rinsing after brushing (which washes away the fluoride in your toothpaste)
Not replacing your toothbrush or toothbrush head often enough
Not cleaning between teeth with floss or an interdental brush
Electric powered brushes can help with some – but not all – of these problems.
If you have arthritis or some other condition that limits your movement, you will almost certainly benefit from a toothbrush that does most of the hard work while you just hold it against each tooth. But there are other features which can help anyone brush their teeth better.
For instance, most models come with timers that tell you when your two minutes is up. They often signal every 30 seconds so you can brush each quadrant of your mouth evenly.
Pressure sensors will alert you if you're brushing too hard and need to ease off a little. You can even get an app for your toothbrush which reminds you to brush and shows you which areas of your mouth to focus on.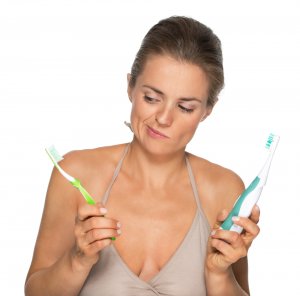 Electric vs. manual
Although the quality of your oral hygiene is largely down to how you brush, not what you brush with, it seems that electric brushes do offer certain benefits.
A study published in 2014 by health researcher Cochrane found that patients who used a powered brush experienced a 21% reduction in plaque after three months, compared with those who continued to use a manual brush. There was also an 11% reduction in gum inflammation (gingivitis) after this time.
The advice from the American Dental Association is that it doesn't matter what type of brush you use as long as it is soft-bristled, you brush twice a day, clean every surface of each tooth, and use fluoride toothpaste.
Choosing the best electric toothbrush for you
Don't assume that a cheap electric toothbrush will do a worse job of cleaning your teeth than an expensive one. Some technology may help achieve a deeper clean, but other features are only worth paying for if you'll actually benefit from them.
It's important you take the time to work out which features you really need and which are just nice to have – otherwise you could end up paying more than you need to for your electric brush.
Battery-powered vs. rechargeable
The cheapest electric toothbrush you'll find is probably a battery-powered one that takes regular AA or AAA batteries. These are essentially the same as manual brushes, but with a vibrating head. Although these may still offer some benefits over manual brushes, they don't compare to rechargeable models in terms of the power and features they offer.
Battery-powered brushes might be a good option for kids who need some extra motivation to brush. However, if you're looking for an electric powered toothbrush to take your oral hygiene to the next level, it's worth investing in a rechargeable model.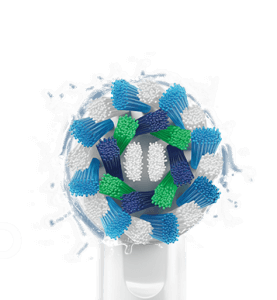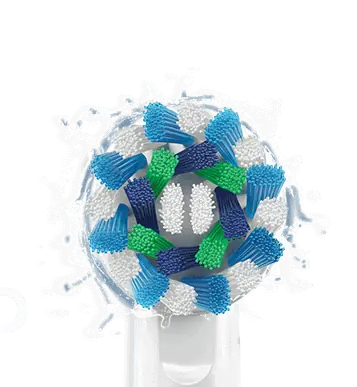 Know your oscillating from your ultrasonic
When you start to research rechargeable electric toothbrushes, one of the first things you'll notice is the variety of different heads available. Different manufacturers use different technologies in their brushes. Some promise a better clean, but independent research on this matter is limited. In the end, it may just come down to choosing the one that you find most comfortable.
Here is a quick explanation of some different terms you might come across regarding toothbrush heads:
Rotating: The bristles turn, either as one whole circle or in individual clusters. Brush heads are usually quite small and are designed to clean one tooth at a time.
Rotating-oscillating: Rather than spinning round and round in one direction, oscillating brushes rotate one way and then back again very quickly – as many as 8,000 times a minute.
Counter-rotating: The head contains 6-10 tufts of bristles, each one spinning in the opposite direction to its neighbour. This style was considered revolutionary in the 90s but has since been overtaken by newer technology.
Pulsing: The head moves back and forth against teeth to help dislodge plaque, even between teeth where the bristles can't reach. This is often paired with rotating-oscillating heads to deliver a more thorough clean.
Vibrating: Rather than rotating, the head moves from side to side very quickly to vibrate against teeth. These are usually shaped like 'normal' toothbrush heads.
Dual-head: The head has two parts; one which oscillates and one which vibrates from side to side.
Sonic/ultrasonic: High-speed movements create vibrations at certain frequencies which help with the breakdown of plaque. The vibrations can also push fluid between teeth to achieve interdental cleaning – this is known as a "non-contact brushing effect".
Two of the biggest brands on the market are the Braun Oral-B and Philips Sonicare toothbrushes. In the video below you can see how these brushes make use of different technology, as well as some other things you should consider when making your choice:
Other features – useful or gimmicks?
As we mentioned above, a timer and pressure sensor will both help with proper brushing. Some brushes signal halfway through the two minutes while others signal four times. They might automatically shut off after two or three minutes so you don't brush for too long.
If you travel frequently you may appreciate a brush which comes with a lid or travel case to keep it clean and safe. If you'd prefer not to take the charger with you when you travel, you should look for a brush that has a longer-lasting battery. Alternatively, you might prefer a model which charges directly with a USB cable – which is easier to carry around than a charging dock.
You'll also find brushes which feature:
Different cleaning modes and vibration speeds
Different brush head attachments (for whitening, flossing, etc.)
Bluetooth connectivity (to connect to a mobile app)
Phone holder
Lock button
LED display
An all-in-one unit with a toothbrush and water flosser
It's really up to you to decide whether these features are useful additions to your tooth brushing routine.
Below is a comparison table for some of the most popular models available in the US (note that each manufacturer offers other models, too). Following this, you'll find detailed descriptions of each of these and other brushes, along with information from user reviews.
Braun Oral-B
Braun Oral-B electric toothbrush heads are small and either circular or oval in shape. This is the leading brand that uses rotating-oscillating technology, and some models also offer pulsing heads for deeper cleaning. Different types of brush head are designed for whitening, sensitive gums, and use with braces. There is even a compatible brush head made with charcoal fiber.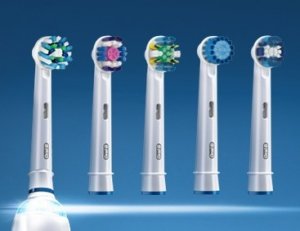 Oral-B offers a wide range of brushes, with basic models being more affordable and its most advanced Genius Pro 8000 brush currently retailing at a couple hundred dollars (although the suggested retail price is even higher). Many models come with Bluetooth connectivity (featured in the table above).
By connecting to the Oral-B App you can receive real-time brushing guidance to ensure you're reaching every part of your mouth. Your dentist can even adjust your brushing plan if there are certain teeth or areas you need to focus on.
The cheapest Oral-B electric toothbrush with a pressure sensor is the Pro 2000 which is at a mid-range price point. Part of the brush lights up if you are putting too much pressure on your teeth.
Oral-B's more premium models don't just light up but actually slow down the brushing speed if you are brushing too hard. You also get a handy travel case from which you can charge your smartphone as well as your toothbrush.
A Cochrane study into the best type of powered toothbrush heads found a slight reduction in plaque and gingivitis levels in the short term when using a rotating-oscillating head as opposed to a side-to-side head. Oral-B of course pounced on this data, but the study stated that the difference was small and further studies were required.
All in all, whether you want a budget powered toothbrush or a more premium one loaded with features, Oral-B probably has one to suit you.
Philips Sonicare
The Philips Sonicare electric toothbrush range offers a large number of options. All Sonicare toothbrushes use patented sonic technology with a side-to-side brushing motion.
At the basic end of the scale you can pick up a no-frills Sonicare EasyClean for a little bit more than the Oral-B equivalent. This has one brushing mode, a timer, and not much else.
At the other end of the scale there is the DiamondClean Smart (not to be confused with plain old DiamondClean). This top-of-the-line toothbrush with three built-in sensors and Bluetooth connectivity tracks every movement of your brushing and tells you if you've missed a spot or you're using the wrong technique – a bit like a personal dental hygienist.
It also comes with four different brush heads which you can use for plaque removal, teeth whitening, gum care and tongue care. Each head has a microchip so the brush automatically knows which settings to use for each one. To charge the toothbrush, you place it in a stylish glass rather than a traditional holder. It also comes with a travel case that allows USB charging.
Many reviews of the Sonicare DiamondClean Smart state that the app has helped the user learn how to brush their teeth properly. However, some users experienced technical problems with the app – and without that, it's really no different to much cheaper models.
In between these two models there are numerous options with varying levels of smart technology and other features. The regular DiamondClean range, for example, comes with five different cleaning modes and a range of colors, including pink.
Fairywill
Fairywill's electric toothbrush is an all-in-one style of brush that offers different settings and brushing styles suit your condition of teeth and gums.
The Rechargeable Sonic Toothbrush with Smart Timer, has five different brushing modes to whiten, clean, polish or massage, as well as a setting for sensitive teeth. The toothbrush has the added benefit of being waterproof, so you can use it while in the shower or bath. It's also less than half the weight of a regular electric toothbrush, making it comfortable to hold.
Delivering 40,000 micro-brush strokes per minute, it has two power levels; a strong mode for adults and gentle mode for children/kids and seniors.
The 2-minute timer and 30-second interval pacer help you brush well, and the low-charge indicator offers a helpful reminder to dock the toothbrush on its USB charger. Fairywill claims that a 4-hour charge will last 30 days, however some users have complained that's not the case.
If you're after a light-weight brush with multiple settings then this could be a good choice. The Rechargeable Sonic Toothbrush with Smart Timer's affordable price point is further enhanced by a 180-day guarantee, so you can return the product if you're not happy with it for any reason.
FOREO ISSA
Swedish company FOREO is a relatively new player to the market, having been founded in 2013. The company launched its ISSA sonic toothbrush in 2014 as a revolutionary alternative to the technology that had been around for decades.
The ISSA combines soft silicone bristles with sonic pulse technology to create a clean that is effective on plaque but soft on gums. The original brush consists of 100% silicone bristles, while the newer ISSA2 hybrid version (pictured) incorporates a core of PBT polymer bristles that scrub the surface of the teeth.
The materials used in this toothbrush head are resistant to bacteria, making it a more hygienic alternative to traditional nylon heads.
Other useful features of the FOREO ISSA include:
Waterproof design
Built-in timer
8 vibration speeds
Optional tongue cleaner attachment
USB chargeable (no charging dock)
1 charge lasts up to 365 uses
4 vibrant color options
Comes with a 2-year limited warranty and 10-year quality guarantee
Reviews of this product are polarized. One the one hand, many people claim it is the best electric toothbrush for sensitive gums since the silicone material makes it almost impossible to exert too much pressure. This also helps protect tooth enamel from erosion due to over-enthusiastic brushing.
On the other hand, several people report having had reliability issues – either with the brush losing its charge or the bristles falling apart. Some people also comment that the large brush head is hard to get used to, especially if you have a small mouth.
FOREO's range of toothbrushes are certainly not the cheapest you'll find. However, if other toothbrushes make your gums hurt, you're worried about bacteria building up on your toothbrush, or you just want to try something completely different, it might be worth the investment. It comes with a 2-year warranty and 10-year quality guarantee, which should cover any problems with reliability.
The following ISSA electric toothbrush review compares it to two other styles of brushes. The reviewer's conclusion is that the head is a little too large to effectively clean all her teeth. Perhaps she should try the ISSA Play, which is a smaller version of the Hybrid that's powered by AAA batteries.
Kids' electric toothbrushes
Tooth brushing can become less of a chore when children have the fun of an electric brush with a timer. However, most adult brushes are not suitable for children or toddlers to use because the brushing action is too abrasive for young mouths.
Instead, some manufacturers produce children's electric toothbrushes which are specially designed to be gentler on teeth and gums.
ISSA Mini has the same silicone bristles as the adult version but a much smaller head, making it suitable for children to use. ISSA mikro is even smaller, and suitable for use on babies as soon as their teeth start coming through. The brushes come in a range of vibrant colors.
Oral-B rechargeable brushes feature bright colors and fun characters to encourage children to brush (Disney's Frozen or Cars, anyone?). They have a built-in timer but also work with a special timer app. Suitable for ages 3+.
Philips Sonicare for Kids rechargeable toothbrushes are more feature-packed than the Oral-B offering but cost more. They come with customizable stickers and programs to get kids used to brushing for 2 minutes. The two different brush sizes are suitable for ages 4-6 and 7+. A more expensive version is Bluetooth connected.
Battery-powered toothbrushes for kids are available from a number of manufacturers, including Colgate. These may be much more affordable (the more expensive models include a timer), but the toothbrush heads aren't replaceable. When it's time for a new one, you'll have to buy a whole new brush.
If you have young children, find out more about the best electric toothbrush for kids and toddlers and compare different models in detail in our full article on this topic.
Conclusion
Remember, you don't need to spend a fortune to get cleaner teeth. Even with a manual toothbrush and good brushing techniques, you can keep your teeth clean and help prevent future dental problems.
However, there are many affordable electric brushes for people who want that bit more motivation to brush well. Fairywell offers great value in terms of price and functionality, while Oral-B has a wide range of brushes to suit every budget and need.
The ISSA toothbrush range from FOREO brings a completely different approach with more hygienic materials, but some people have been disappointed by reliability issues.
Alternatively, if you have a big budget and you love technology, the Philips Sonicare DiamondClean Smart could be the one for you.
Failure to look after your teeth now may mean you need expensive dental care later in life – dentures or tooth implants, for instance. So, even a pricier toothbrush could be worth the investment if it helps you improve your oral hygiene.