If you're reading this, chances are you are looking for the best electric toothbrush for 2023, and want to know how to keep your teeth clean and healthy. After all, nobody looks forward to having fillings and root canals at the dentist! But do you really need an electric toothbrush to maintain good oral hygiene?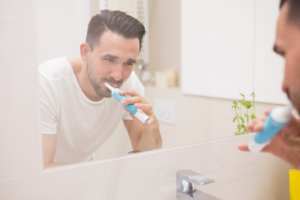 The key to keeping your teeth clean is knowing how to brush properly and forming good habits.
While this is possible with a manual toothbrush, the features available with many modern toothbrushes can be a big help. But with models costing anywhere from $20 to $200 or more, how do you choose the best electric toothbrush for you?
In this article, you will find out more about the benefits of powered toothbrushes as we compare features, reviews and consumer reports of some of the top brands available in the US, like Braun electric toothbrushes and Philips Sonicare toothbrushes.
In just a few minutes you'll be better informed to find the best electric toothbrush for your needs. We've listed some of the best electric toothbrushes in the US:
Best for overall mid-range


LED light whitens teeth and kills bacteria

Self-dispensing toothpaste

42,000 sonic vibrations/minute

4-week battery and sleek travel case

Best for higher-priced options


Rotating-oscillating with micro vibrations

Why use an electric toothbrush?
Let's be clear on this from the get-go: if you can't be bothered to brush your teeth properly, it doesn't matter how much you spend on a fancy toothbrush, or if you use a manual brush.
You're still likely to end up with dental problems like tooth decay, bad breath or gingivitis (gum disease), even if you own the best electric toothbrush on the market.
Common issues that affect oral hygiene include:
Not brushing twice a day
Not brushing for long enough (2 minutes is recommended)
Limited dexterity which affects brushing movement
Not focusing on cleaning each area properly
Brushing too hard (which damages gums)
Using toothpaste that doesn't contain enamel-protecting fluoride
Rinsing after brushing (which washes away the fluoride in your toothpaste)
Not replacing your toothbrush or toothbrush head often enough
Not cleaning between teeth with floss or an interdental brush
Electric powered brushes can help with some, but not all, of these problems. Our guide to how to brush your teeth has a full description of the correct technique, and you can discover the best manual toothbrushes.
If you have arthritis or some other condition that limits your movement, you will almost certainly benefit from a toothbrush that does most of the hard work while you just hold it against each tooth. But there are other features which can help anyone brush their teeth better.
For instance, most models come with timers that tell you when your two minutes is up. They often signal every 30 seconds so you can brush each quadrant of your mouth evenly.
Pressure sensors will alert you if you're brushing too hard and need to ease off a little. You can even get an app for your toothbrush which reminds you to brush and shows you which areas of your mouth to focus on.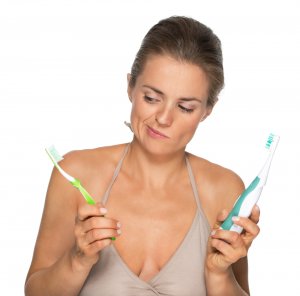 Power toothbrush vs. manual
Although the quality of your oral hygiene is largely based on how you brush, not what you brush with, electric toothbrush reviews suggest that electric brushes do offer certain benefits.
A recent study published by the International Journal of Dental Hygiene found that power toothbrushes remove more plaque than manual toothbrushes.
A study published in 2014 by health researcher Cochrane found that patients who used a powered brush experienced a 21% reduction in plaque after three months, compared with those who continued to use a manual brush. There was also an 11% reduction in gum inflammation (gingivitis) after this time.
The advice from the American Dental Association is that it doesn't matter what type of brush you use as long as it is soft-bristled, you brush twice a day, clean every surface of each tooth, and use fluoride toothpaste.
Choosing the best electric toothbrush for you
Don't assume that a cheap electric toothbrush will do a worse job of cleaning your teeth than an expensive one. Some technology may help achieve a deeper clean, but other features are only worth paying for if you'll actually benefit from them.
It's important you take the time to work out which features you really need and which are just nice to have. Otherwise, you could end up paying more than you need to for your electric brush. So here are some factors to consider when deciding what kind is the best electric toothbrush for you.
Battery-powered vs. rechargeable
The cheapest electric toothbrush you'll find is probably a battery-powered one that takes regular AA or AAA batteries. These are essentially the same as manual brushes, but with a vibrating head. Although these may still offer some benefits over manual brushes, they don't compare to rechargeable models in terms of the power and features they offer. Battery-powered brushes might be a good option for kids who need some extra motivation to brush. However, if you're looking for an electric-powered toothbrush to take your oral hygiene to the next level, it's worth investing in a rechargeable model.
One exception might be the Quip electric toothbrush, which you'll read more about below.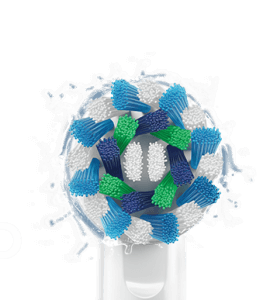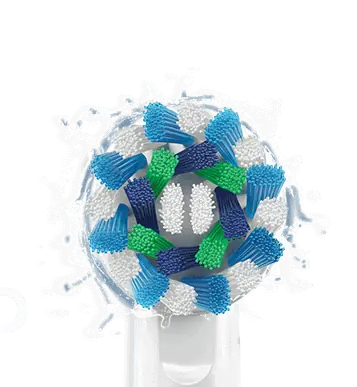 Know your oscillating from your ultrasonic
When you start to research rechargeable electric toothbrushes, one of the first things you'll notice is the variety of different heads available. Different manufacturers use different technologies in their brushes, and one isn't necessarily better than the others.
Some promise a better clean, but independent research on this matter is limited. In the end, it may just come down to choosing the one that you find most comfortable.
Here is a quick explanation of some different terms you might come across regarding toothbrush heads:
Rotating: The bristles turn, either as one whole circle or in individual clusters. Brush heads are usually quite small and are designed to clean one tooth at a time.
Rotating-oscillating: Rather than spinning round and round in one direction, oscillating brushes rotate one way and then back again very quickly – as many as 8,000 times a minute. This Cochrane study and this one from the International Journal of Dental Hygiene, found a slight reduction in plaque and gingivitis levels in the short term with this type of head.
Counter-rotating: The head contains 6-10 tufts of bristles, each one spinning in the opposite direction to its neighbor. This style was considered revolutionary in the 90s but has since been overtaken by newer technology.
Pulsing: The head moves back and forth against teeth to help dislodge dental plaque, even between teeth where the bristles can't reach. This is often paired with rotating-oscillating heads to deliver a more thorough clean.
Vibrating: Rather than rotating, the head moves from side to side very quickly to vibrate against teeth. These are usually shaped like 'normal' toothbrush heads.
Dual-head: The head has two parts; one which oscillates and one which vibrates from side to side.
Sonic/ultrasonic: High-speed movements create vibrations at certain frequencies which help with the breakdown of plaque. The vibrations can also push fluid between teeth to achieve interdental cleaning – this is known as a "non-contact brushing effect".
Three brands you've probably heard of on the market are the Braun electric toothbrush, Quip toothbrush and Philips Sonicare. In the video below you can see how these brushes make use of different technology, as well as some other things you should consider when making your choice:
More features for best electric toothbrushes—useful or gimmicks?
As we mentioned above, a timer and pressure sensor will both help with proper brushing. Some brushes signal halfway through the two minutes while others signal four times. They might automatically shut off after two or three minutes so you don't brush for too long.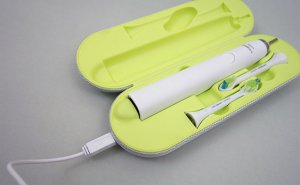 If you travel frequently you may appreciate a brush which comes with a lid or travel case to keep it clean and safe. If you'd prefer not to take the charger with you when you travel, you should look for a brush that has a longer-lasting battery. Alternatively, you might prefer a model which charges directly with a USB cable, which is easier to carry around than a charging dock.
You'll also find brushes which feature:
Different cleaning modes and vibration speeds
Different brush head attachments (for whitening, flossing, etc.)
Bluetooth connectivity (to connect to a mobile app)
Phone holder
Lock button
LED display
An all-in-one unit with a toothbrush and water flosser (read our Waterpik Sonic Fusion review).
UV sanitizers (read more here)
It's really up to you to decide whether these features are useful additions to your tooth-brushing routine. And if you're interested in water flossers, you can read about the best water flossers in our full guide.
CariPRO Ultrasonic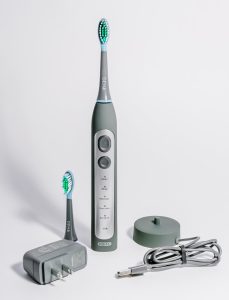 The CariPRO Ultrasonic electric toothbrush is made by professional oral healthcare company Smile Brilliant. This toothbrush is elegant in its simplicity and downright impressive in its ability to clean.
When you brush with CariPRO, you will remove 7x more plaque than you would with a manual toothbrush, and improve your gum health in just 2 weeks. You'll also notice a smile that is 2x whiter after a single week of use.
The features of the CariPRO include:
40,000 vibrations/minute
5 brush modes—clean, white, massage, gum care, sensitive
30-day battery life
Ergonomic design, soft-touch grip
Waterproof
Auto-interval with 30-second quadrant timer
Wireless charging dock
The CariPRO also has premium DuPont bristles. These micro bristles are specially cut and angled for optimal cleaning, with an expert ability to clean tooth surfaces and in-between teeth.
Last but certainly not least, trying the CariPRO is completely risk-free because you get a 60-day trial period. If you aren't totally in love with your CariPRO after 60 days, you can return it for a full refund.
Snow LED electric toothbrush
If you're looking to add an extra oomph to your tooth whitening routine, or your oral hygiene routine in general, you should definitely check out the Snow LED toothbrush. This bad boy is specially designed to remove plaque and whiten.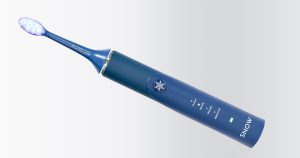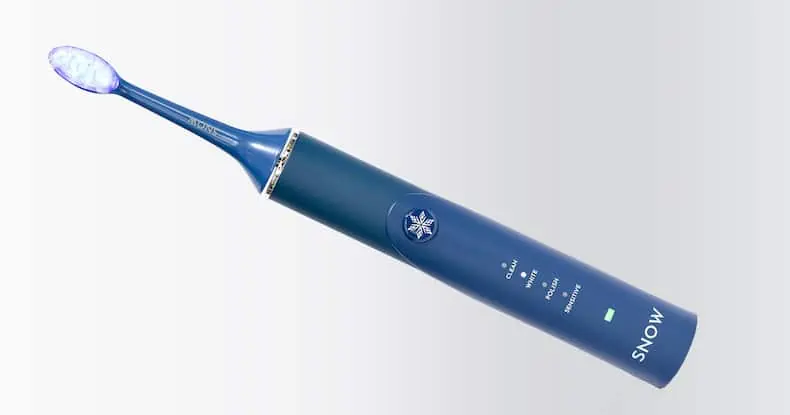 It does this with an integrated blue LED light that kills bacteria and accelerates teeth whitening. Plus, it's got 4 cleaning modes — clean, whiten, polish, and sensitive. Add to that sonic technology with 30,000 vibrations per minute, and you've got an impressive high-tech electric toothbrush.
In summary, the following features will make this revolutionary toothbrush an indispensable part of your oral care routine:
Sonic technology: This toothbrush delivers rapid sonic vibrations — 30,000 per minute — that work to break up plaque and activate the fluids in your mouth to get between the cracks in your teeth and below your gum line.
Blue LED light: The LED light can help speed up the whitening process when used along with products that contain hydrogen peroxide — a whitening toothpaste for example. This light also helps kill the bacteria that contribute to gum disease and other oral health problems.
4 brushing modes: The 5 brushing modes are clean, whiten, polish and sensitive so that you can have a totally customized brushing experience.
Timer: A 2-minute timer shuts the toothbrush off automatically when you're done brushing. The timer also pulses every 30 seconds so you know when to move on to the next quadrant of your mouth.
Long-lasting battery: Feel free to take this brush with you on the road — the battery lasts for days without charging.
Extra brush heads: The Snow brush comes with 2 brush heads, so you're all set for 6 months before you need to order refills. (It's recommended to change brush heads every 3 months).
Nest
All of the toothbrushes we recommend are high quality and have unique features, but the Nest toothbrush really is a game-changer.
This toothbrush features a sterile, airtight internal compartment that holds toothpaste — up to two weeks worth for adults, and four weeks for kids.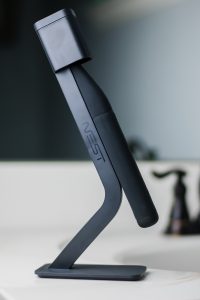 When you are ready to brush your teeth, you press a button and the Nest automatically dispenses the perfect amount of toothpaste directly onto the bristles.
Nest offers both manual and electric brushes, and both come with this feature. Furthermore, for both types of brushes, you can also purchase a bundle that includes the UV sterilizer.
The sterilizer uses UV-C to eliminate microorganisms like bacteria and viruses, including the Coronavirus.
You can also purchase the MagPad, which is a sleek silicone puck that you can place on the wall or countertop as a magnetic stand for the Nest.
Are you often on the go? You can also get the Nest AirCapsule — a sleek, compact silicone travel case. Find out more in our full Nest Toothbrush review.
Plus, get 30% off your order when you use code DENTALY30 at checkout.
Mode
The Mode is another brush that brings something different to the table. This electric toothbrush doesn't come with 10 brushing modes and smartphone capability. Instead, it has a single mode and a minimalist design.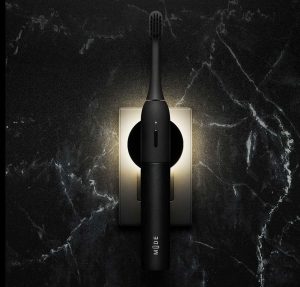 This is the first electric toothbrush in the world, that docks and charges magnetically, without cables. This means the dock plugs right into the wall, and the toothbrush rests on the dock — no wires needed.
It's the end of fumbling around your cluttered countertop and knocking your toothbrush off its charger and onto the floor.
Aside from its unintrusive design, it also features an integrated nightlight in the dock, just an added bonus to help you see your way around the bathroom, without having to turn the lights on.
The cherry on top is that this brush is elegant, emphasized by the fact that it comes in a single color option — clean black, with an aluminum base and a rubber grip.
As far as its brushing capability, it's got everything you need — 38,000 vibrations per minute, soft tapered brustles, a waterproof brush, a 2-minute timer, and 30 days of battery on a single charge.
Order yours now as a subscription with a new brush head every 3 months, or as a one-time purchase. Read more in our Mode electric toothbrush review.
Brüush
The Brüush Toothbrush is a new electric toothbrush that uses sonic technology to deliver up to 42,000 brush strokes every minute, shown to remove 20% more plaque than a manual brush.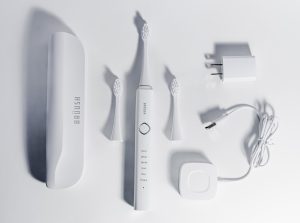 It's designed to be your favorite Brüush for twice-a-day use at home, as well as on the go. That's because it features a lithium-ion rechargeable battery that lasts 4 weeks on a single charge. It also comes with a super sleek travel case.
With Brüush you get to customize your brushing routine by choosing from 6 modes — white, gentle, gum, max, and tongue.
Brüush also features:
Dupont bristles: The brush head is designed to easily reach areas that typically aren't, thanks to their unique shape. They also have super-soft specialty Dupont Tynext nylon.
Professional clean: You'll feel like you've just been to the dentist every time you brush your teeth, and your dentist will see the difference too.
Subscription: Brüush makes it easy to maintain your oral health with their refill plan. You get 3 new brush heads delivered to your home every 6 months — costing just 6$ per head.
What's more, Brüush is so confident that you'll love your Brüush that they have a 90-day trial period. That means you can try it for 3 months, and if you don't like it, return it for your money back.
You can order your Brüush and start elevating your oral hygiene routine right away.
Braun Oral-B
If you're in the market for an electric toothbrush, you've probably read some Oral-B electric toothbrush reviews. That may be because Oral-B electric toothbrushes were the first power toothbrushes to receive the ADA Seal of Acceptance. Braun Oral-B electric toothbrushes use small round brush heads with rotating-oscillating technology, and some models also offer pulsing heads for deeper cleaning. Different types of brush head are designed for whitening, sensitive gums, and use with braces. There is even a compatible brush head made with charcoal fiber.
Oral-B offers a wide range of brushes, with basic models being more affordable and more advanced models retailing at a couple hundred dollars. Many models come with Bluetooth connectivity (featured in the table above).
By connecting to the Oral-B electric toothbrush app you can receive real-time brushing guidance to ensure you're reaching every part of your mouth. Your dentist can even adjust your brushing plan if there are certain teeth or areas you need to focus on.
Most Oral-B models have a pressure sensor that slows down the brushing speed if you are brushing too hard. You also get a handy travel case from which you can charge your smartphone as well as your toothbrush.
The most advanced Oral-B models are the Oral-B Genius Pro 8000 and the AI-equipped iO brush which can precisely track how well you are brushing each tooth. It also combines the iconic Oral-B round brush head with gentle micro-vibrations that can make gums 100% healthier in one week. It also features:
Interactive color display showing brushing modes, replacement reminders and encouragement
Smart modes for personalization based on your needs
Magnetic charger and a charging travel case
A lower-cost model you may want to consider is the Braun Oral-B Pro 1000. This brush is a more affordable model, but still features:
Oscillating pulsing motion
Built-in timer
Pressure sensor
…in other words everything you need to get the job done!
All in all, whether you want a budget powered toothbrush or a more premium one loaded with features, there is most likely an Oral-B electric toothbrush that will suit you and your oral hygiene needs.
In one of the electric toothbrush reviews for the Oral-B iO, a customer raves:
"Overall, this toothbrush is solid and perfect for someone who wants to rely on a quality toothbrush. Oral-B has certainly made significant progress in making high-tech toothbrushes. This one toothbrush is, I would say, revolutionary in the motorized toothbrush category. Equipped with pressure sensor and possibly gyro sensor as well, and combined with A.I. technology, it is hard not to brush my teeth perfectly clean. The toothbrush comes with a solid carrying case, charger base, and an extra brush head. I would rate it 10 stars if I could."
If you're looking for a brush with an oscillating, round head, you also may want to have a look at the Goby Toothbrush.
Philips Sonicare DiamondClean Smart
The Philips Sonicare electric toothbrush range offers a large number of options. All Sonicare toothbrushes use patented sonic technology with a side-to-side brushing motion.
At the basic end of the scale, you can pick up a no-frills Sonicare toothbrush for a little bit more than the Oral-B electric toothbrush equivalent. This has one brushing mode, a timer, and not much else.
At the other end of the scale, there is the Philips Sonicare DiamondClean Smart (not to be confused with the plain old Philips Sonicare DiamondClean). This top-of-the-line Sonicare toothbrush seems to be considered the best Sonicare electric toothbrush on the market, based on Sonicare electric toothbrush reviews. With three built-in sensors and Bluetooth connectivity, it tracks every movement of your brushing and tells you if you've missed a spot or if you're using the wrong technique—a bit like a personal dental hygienist.
It also comes with four different brush heads which you can use for plaque removal, teeth whitening, gum care and tongue care. Each head of the Philips Sonicare toothbrush has a microchip so the brush automatically knows which settings to use for each head. To charge your Philips Sonicare toothbrush, you place it in a stylish glass rather than a traditional holder. It also comes with a travel case that allows USB charging.
Many reviews of the Philips Sonicare DiamondClean Smart state that the app has helped the user learn how to brush their teeth properly. However, some users experienced technical problems with the app, and without that, it's really no different from much cheaper models.
In between these two Philips Sonicare toothbrush models, there are numerous options with varying levels of smart technology and other features. The regular Philips Sonicare DiamondClean range, for example, comes with five different cleaning modes and a range of colors, including pink.
Happy reviewers agree that the professional clean you get with the Philips Sonicare toothbrush is worth the price, with one of them saying:
"Overall very pleased. It is a toothbrush that feels like what a dentist uses when I get a check-up. Expensive most definitely but it gets the job done very effectively."
If you're interested, you can find out more about Oral-B vs Sonicare.
Oclean Flow
The Oclean Flow is a no-fuss, user-friendly electric toothbrush. It doesn't have any of the frills of more expensive brushes, but as a budget option, it excels in its league.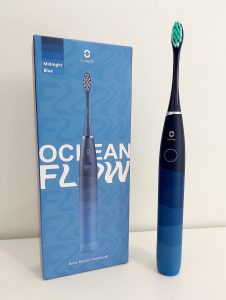 This toothbrush features all you need to keep your teeth in tip-top shape:
5 cleaning modes
2-minute timer
38,000 RPM motor cleaning power
Waterproof design
It charges with a USB cable, and it has ultrasonic active noise reduction technology so you won't wake your loved ones during early mornings or late nights.
And while esthetics aren't the most important factor to consider, this brush features a lovely blue wave design, reminiscent of the ocean.
hum by Colgate
Colgate has recently released their own mid-range, smart electric toothbrush with app compatibility, called the hum.
This brush has some particularly appealing features. For one, you can choose whether you would like a rechargeable electric toothbrush or a battery-powered toothbrush.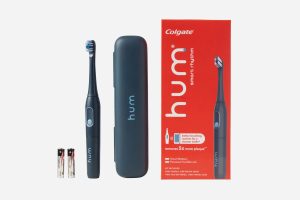 Both models come with two heads to get you started for your first 6 months. This brush also features an ergonomic handle that makes it easy to grip, a two-minute timer, and 3 modes of sonic vibrations including normal, sensitive, and deep clean.
The starter kit comes with
1 electric toothbrush and head
1 charger
1 carrying case
1 extra head
The most notable feature of the hum is its app, which tells you which teeth you need to brush better, and keeps track of your past brushing coverage and brushing duration.
The best part is that while you continue to improve your brushing with the help of your app, you also earn points towards rewards.
One happy brusher says:
"I love this toothbrush it helps me stay on track with brushing my teeth I have bad brushing habits and my gums tend to bleed the first time I used this product my gums did bleed but ever since then it has stopped! Which is amazing I always feel like I get a good clean every time I use it !"
Best electric toothbrushes for kids
Tooth brushing can become less of a chore when children have the fun of an electric brush with a timer. However, most adult brushes are not suitable for children or toddlers to use because the brushing action is too abrasive for young mouths.
Instead, some manufacturers produce children's electric toothbrushes which are specially designed to be gentler on teeth and gums. Here are some of the best electric toothbrushes for kids:

ISSA Mikro: The FOREO ISSA toothbrush wasn't mentioned in our main reviews, but it merits being brought up here. The Foreo Baby is very small and suitable for use on babies as soon as their teeth start coming through. The silicone toothbrushes come in a range of vibrant colors.
Oral-B rechargeable brush: This Oral-B electric toothbrush features bright colors and fun characters to encourage children to brush (Disney's Frozen or Cars, anyone?). It has a built-in timer but also works with a special timer app. Suitable for ages 3+.
Philips Sonicare toothbrush for Kids: This is one of the best-rated electric toothbrushes. These rechargeable toothbrushes are more feature-packed than the Oral-B electric toothbrush offering but cost more. They come with customizable stickers and programs to get kids used to brushing for 2 minutes. The two different brush sizes are suitable for ages 4-6 and 7+. A more expensive version is Bluetooth connected.
Battery-powered toothbrushes for kids: Battery-powered toothbrushes are, in general, more affordable. They are also available from a number of manufacturers, including Colgate and Quip. The downside is that the toothbrush heads aren't usually replaceable (except for with Quip). When it's time for a new one, you'll have to buy a whole new brush.
If you have young children, find out more about the best electric toothbrush for kids and toddlers and compare different models in detail in our full article on this topic.
Best electric toothbrushes US: Summary
We've covered a lot of information about many different toothbrush models; have a look at the table below for a summary of some of the best options:
| | | | | | | |
| --- | --- | --- | --- | --- | --- | --- |
| | | | | | | |
| | | | | | | |
| | | | | | | |
| | | | | | | |
| | | | | | | |
| | | | | | | |
| Battery life (one charge) | | | | | | |
| | | | | | | |
| | | | | | | |
| | 40,000 vibrations/minute, high-performance DuPont bristles, 5 brush modes, waterproof | 30,000 vibrations/minute, LED light technology, 4 brushing modes | Self-dispensing toothpaste, UV sterilizer, charcoal-sapphire bristles | Wireless, magnetic charging dock, integrated nightlight | 42,000 vibrations/minute, quadpacer, 2-minute timer, Dupont bristles | Noise-reduction tech, 5 cleaning modes, ultra-long battery life |
| | | | | | | |
Conclusion
Feeling spoiled for choices and need help narrowing down your options based on your specific needs? Don't know if you should choose the Oral-B Pro 1000 or the Oral-B Genius? Or what about the Philips Sonicare toothbrush. Or the Quip electric toothbrush, don't forget about that!
It could help to choose a toothbrush based on your main dental concern. To help, we've made a list of the best electric toothbrush based on consumer reports and your personal needs:
Remember, you don't need to spend a fortune to get cleaner teeth. Even with a manual toothbrush and good brushing techniques, you can keep your teeth clean and help prevent future dental problems.
However, there are many affordable electric brushes for people who want that extra motivation to brush well. Snow is great for whitening, and Oclean offers great value in terms of price and functionality, while the Oral-B electric toothbrush comes in many models to suit every budget and need, like the Oral-B Genius 8000 and the Oral-B Pro 1000.
The CariPRO features bristles that are specially cut and angled, as well as 40,000 vibrations per minute for an optimal clean.
Alternatively, if you have a larger budget and you love technology, the Philips Sonicare DiamondClean Smart could be the one for you. You can also check out our guide to the best new technology in toothbrushes. You can also try the Soocas for an electric brush the size of a manual brush.
And if you're looking for an eco-friendly option, you can check out our review of bamboo electric toothbrushes too.
Failure to look after your teeth now may mean expensive dental care later in life, such as dentures or tooth implants. So, even a pricier toothbrush could be worth the investment if it helps you improve your oral hygiene.
FAQs
What is the best cheap electric toothbrush?
One of the best budget electric toothbrushes for you may be the Oclean Flow electric toothbrush. This brush is under $40 and features five brushing modes and noise-reducing technology.
What is the best electric toothbrush under $50?
The Oclean Flow takes the gold for this category. Some say it is the best electric toothbrush for under $50 because it is powerful, uses sonic vibrations, and it offers a deep clean. It doesn't have any extra and unnecessary features while managing to stay not only under $100, but under $50.
What is the best electric toothbrush for sensitive gums?
The Oral-B Genius Pro 8000 uses oscillating and rotating technology which may be better for sensitive and receding gums. It also has various settings and heads for customization.
What is the best electric toothbrush for periodontal disease?
In the same vein, the Oral-B Genius Pro 8000 could also be considered the best electric toothbrush for gingivitis and the best electric toothbrush for gum disease and gum recession as well. It has a plethora of settings and brush heads including a brush head for sensitive gums which could lead to gingivitis or periodontal disease if not cared for.
What is the best electric toothbrush brand?
Every brand offers its own special functions, including different modes and heads, so you'll have to decide which is the best electric toothbrush on the market for you.
If you want to go for trusted household names, you may want to try a Philips Sonicare toothbrush, or an Oral-B electric toothbrush. If you want to branch out and try something new, but also with good reviews, try the CariPRO.
What is the best electric toothbrush for whitening and plaque removal?
If your greatest concern is whitening and plaque removal, you may want to go all out with the Philips Sonicare DiamondClean Smart electric toothbrush. This bad boy doesn't skimp on features.
Each head has a microchip so the brush knows what setting to use, and an app creates an interactive cleaning experience. Plus, the Philips Sonicare DiamondClean Smart definitely doesn't want for style.
You can also check out our full guide to the best whitening toothbrushes.
Sign up to receive the latest news and offers from Dentaly.org