There are numerous Invisalign alternatives on the UK market these days. And for good reason. Many people who want to straighten their teeth are looking for options that are less noticeable than traditional metal braces.
Straighter teeth can not only boost your self-confidence but also improve your overall oral health. But with all the different brands out there offering clear aligners, how do you choose between Invisalign and their competitors?
Don't worry, we are here to help. Whether you're looking for a cheaper alternative to Invisalign and braces or a way to straighten your teeth without visiting the dentist every month, you've got plenty of options.
We've created this guide which covers Invisalign competitors and alternatives in the UK, both in-office and at-home, including:
ClearCorrect
Smile Direct Club
NewSmile
Straight Teeth Direct
Smilelign
Wondersmile
Straight My Teeth
Dr Smile
What is the best Invisalign alternative?
Our top pick is Smile White. Like Invisalign, SmileWhite treats 90% of alignment problems. Unlike other brands and treatments, you have in-person monitoring by a dentist, to ensure a good result.
However, the treatment is up to 40% cheaper than Invisalign. As a bonus, you'll get free whitening and free retainers. From mild adjustments to complex bite misalignment, Smile White can help.
Use code "DENTALY5OFF" to get an additional 5% discount on your treatment.
We hope this guide helps you figure out which alternative to braces is the best option for you! Alternatively, if you want to learn more about Invisalign costs, we have a separate page covering them in more detail.
Remote vs. In-office aligners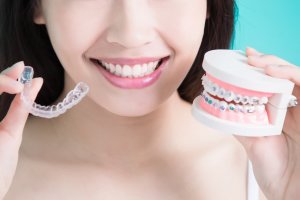 We'll assume that by this point in your research, you're quite familiar with how Invisalign treatment works. You go to your local provider, they scan your teeth or take impressions, those get sent to a dental lab, and a few weeks later your first sets of aligners are ready.
You go back to your dentist or orthodontist to have them fitted, and return every month or so for checkups and to collect your new aligners. Alongside this, you use Invisalign's app to track your progress.
Now, the Invisalign system is one of the best in this market; they've been operating for over 20 years, have treated over 11 million patients, and their aligners use cutting-edge technology backed by great research. This means that they can treat up to 90% of orthodontic cases, including some quite severe malocclusions.
But, there's a new breed of clear aligner brand which has become popular in the UK recently, and that's at-home aligners or 'remote orthodontics'. The difference with these is that you don't visit a dentist or orthodontist; instead, you can carry out the entire process from home and your aligners are sent directly to you.
Here's a quick summary of how these options compare:
| | | |
| --- | --- | --- |
| | | |
| | | |
| | | |
| | | |
| | Visit your dentist every 4-6 weeks | Monitored remotely using an app, no in-office visits |
| | | May be included, may incur an extra cost |
| | | |
| | Mild, moderate and some severe cases | |
A cheap Invisalign alternative?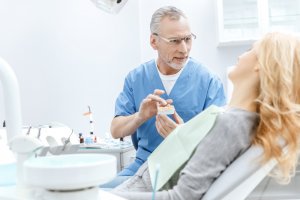 There are a few names in this market, which we will go into below, but they all operate in basically the same way:
You take an online assessment to check that you're a suitable candidate
You either order a home impression kit or visit one of their clinics for a 3D scan
Your scans or impressions are sent to their lab, which creates your aligners
You receive your aligners in the post
You check in online by taking photos of your teeth as your treatment progresses
A dentist or orthodontist monitors your treatment remotely
By cutting out the in-office visits, these can market themselves as cheaper alternatives to Invisalign and braces. However, they aren't suitable for everyone.
Most can only provide mild to moderate straightening on the front six to eight teeth. Plus, the dental community has naturally raised some concerns over the safety and efficacy of this type of treatment.
So, there are pros and cons to home aligner treatment, but they can be very appealing if you are looking for a cheaper Invisalign alternative. Here are our top picks, if you want to check them out straight away:
Find the right clear aligners for you
Complex cases
Treats up to 90% of Cases
Up to 40% cheaper than Invisalign
Buy now, pay later in interest-free instalments.
Rated 4.9/5 on Trustpilot
As seen on 5, BBC, 4, DailyExpress, TheMail
Get 5% OFF with our discount code DENTALY5OFF and FREE Whitening and Retainers worth £790
Smile White offers a hybrid model for clear aligner treatment. You have 3 in-office appointments, so your dentist can ensure in person that your treatment is going as planned.
That means that, unlike other clear aligners, Smile White can treat even the more complex cases of bite misalignment.
To get started:
Every treatment comes with free teeth whitening, so you can whiten your teeth while you straighten them!

Best value
Free retainers and whitening
Nighttime aligners available
0% interest finance options
£1,395 £1,295 or £83.33/month
NewSmile is a Canadian company that brought its clear aligners to the UK market in 2022. NewSmile aligners are made from the clearest material and the company offers excellent service at the best price.
They don't have any physical locations, so you'll need to purchase an aligner kit to get started. One of their Impression Specialists will guide you through the process on a video call when you're ready.
NewSmile aligners are very affordable, costing just £1,395 (currently discounted to £1,295). But even better, this price includes whitening foam to use in your aligners, plus your first set of retainers!
Choose their daytime package for treatment in 4-6 months, or nighttime aligners for a more discreet treatment that takes 8-10 months. Both options come with 0% interest payment plans available.
We do recommend that you visit a dentist before commencing any type of aligner treatment. They should check that your mouth is free from cavities, gum disease, or any other issues that should be resolved before wearing aligners.
At-home Invisalign alternatives in the UK
Let's look first at some of your options for remote orthodontic treatment from home. Not only are these options generally cheaper than Invisalign treatment; they also have the added convenience of not requiring in-office visits.
Some brands even offer nighttime-only treatment, meaning you only have to wear your aligners for 10 hours a day. This treatment takes around twice as long, but if you really don't like the idea of wearing aligners to work or school, this could be a good choice for you.
Here are some other things to keep in mind as you choose your aligner brand:
Do they have clinics you can visit for a 3D scan?
How do they monitor treatment?
How long does treatment take?
How much does it cost?
Is whitening treatment included?
Do they provide retainers to wear after straightening?
So, let's take a look at some of the UK's best Invisalign alternatives.
NewSmile
NewSmile is another affordable alternative to Invisalign in the UK. Their aligners are made from Raintree Essix plastic, which is the clearest plastic for aligners available on the market today.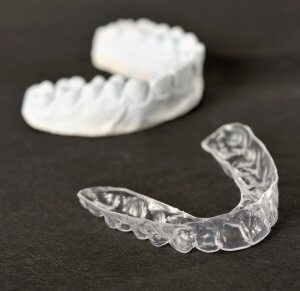 NewSmile don't have any clinics in the UK, so you'll need to order an impression kit to do at home. One of their Impression Specialists can jump on a video call to talk you through this process, if needed.
Once your impressions are done, NewSmile will send you your aligners plus a free whitening treatment and your first set of retainers.
If you don't want to wear your aligners during the day, NewSmile offers nighttime aligners. The process is the same as for the daytime aligners, with the only difference being that you wear your aligners for 10 hours at night. Y
our treatment time will likely be longer than with daytime aligners, but some people prefer this option over wearing aligners during the day.
NewSmile offers both upfront payment and payment plans. Their 'Fast Track' payment requires a one-off payment of £1,295 for daytime treatment or £1,395 for the nighttime treatment.
This price includes the impression kit, treatment preview, aligners, retainers, and whitening. If it turns out you're not eligible for treatment, you'll get a full refund.
You can also choose to buy the impression kit separately for £39, or take advantage of an interest-free payment plan.
Read our NewSmile review to find out more.
Straight My Teeth
Straight My Teeth was one of the first brands to offer a cheaper alternative to Invisalign with remote aligners. Their full package costs £1,199. Currently they are not accepting any new patients, though. We recommend you choose one of the two options above if you're looking for affordable aligner treatment.
Check out this video for a handy guide on how to take teeth impressions at home:
Straight Teeth Direct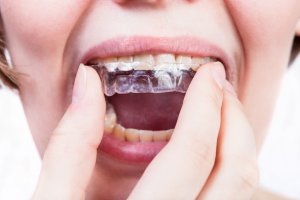 Straight Teeth Direct is the only one of these companies to guarantee that an orthodontist will be overseeing your treatment. This is a good selling point – after all, orthodontists are specialists in the field of teeth straightening.
Their aligners cost £1,550, making them mid-range in terms of price, and they have one clinic in London which you can visit for scans – although they charge £79 for this appointment.
If you want to be sure an orthodontist is monitoring your treatment and you don't mind paying a bit extra for that benefit, this could be the best choice for you. Our Straight Teeth Direct review has more details.
Smile Direct Club
Smile Direct Club is one of the bigger names in this business. Although they only launched in the UK in 2019, they have been operating in the US for several years.
The main benefit of Smile Direct Club compared to others in the UK is their network of SmileShops – physical locations you can visit for a free 3D scan instead of having to take your impressions at home.
Their aligners cost £1,639, making them similarly priced to other brands, but not the cheapest. Included in this price is a premium teeth whitening treatment and any refinements you need at the end of treatment. You also have the option to pay £69.43 per month, but this increases the total cost to £1,805.19.
Summary of at-home aligner solutions
All these Invisalign competitors with similar-sounding names can be a bit confusing, so here's a table summarising everything we've just mentioned (and a bit more):
£1,299 (including whitening)

£1,639 (including whitening)

£1,550 (whitening £199 extra)

1 included, can pay subscription for more

0% finance plans available

£69.43/month at 9.9%, total payable £1805.19

3 payment options available

Materials and manufacturing

BPA-free resin, 3D printed

Prices correct at time of writing but may change at any time.

And if you want to know more about at-home solutions, read our article on teeth straightening at home.
In-office Invisalign Alternatives
If you need more significant teeth straightening than is offered by these remote orthodontics companies, or you'd just prefer the assurance of regular face-to-face checkups, here are some in-office alternatives to Invisalign treatment for you to consider.
ClearCorrect
ClearCorrect was founded in 2006 and is the main competitor to Invisalign in the UK. The process and experience for getting these aligners are quite similar to the Invisalign system.
Your dentist or orthodontist must register to be a ClearCorrect provider, and then ClearCorrect sends them the materials needed to straighten your teeth.
You have regular in-office visits with your dentist or orthodontist as you would with regular braces. ClearCorrect aligners are made from thinner material than Invisalign aligners, which their website claims make them less noticeable.
It could be argued that the thinner aligners are more prone to break, while others say they are more comfortable.
Then there's the price. ClearCorrect market itself as a cheaper Invisalign alternative, and you might save a few hundred pounds by choosing them. However, they still aren't as cheap as at-home solutions, except perhaps for very mild cases.
Read more about ClearCorrect vs Invisalign in our separate guide which explores these two brands in more detail.
Quick Straight Teeth
Quick Straight Teeth, and similar competitors Six Month Smiles, work on just the front six to eight teeth to make treatment as quick and affordable as possible. You still visit a dentist throughout the treatment, so you could see these as an in-between option if you don't need Invisalign Comprehensive but do still want in-office treatment.
Summary of in-office alternatives to Invisalign treatment
Below is a quick summary table comparing some of the in-office Invisalign equivalents. Others like Smilelign aligners, ClearSmile, Inman Aligners and Six Month Smiles are all similar options that your dentist might offer.
Suitable for mild problems?

Suitable for mid-level problems?

Maybe (only front 6-8 teeth)

Suitable for complicated problems?




£2,000 - £3,000 (Express)
£2,500 - £4,000 (Lite), £3,500 - 5,500 (Full)

£1,800 (minor treatment)- £4,500

£1,150 - £1,750 per arch (£2,500 + for 2 arches)

Prices correct at time of writing but may change at any time.

If it turns out you don't like any of these at-home or in-office options, you may want to consider a hybrid option like Impress Aligners.
Are at-home aligners really a good alternative?
Invisalign is arguably one of the most popular in-office brands. However, there are really good alternatives available with at-home solutions like NewSmile. With direct-to-consumer aligners, you can order your aligners from home or with a single visit to a clinic for a scan. Then, your aligners are posted out to you and you complete treatment remotely.
We can say that these companies are a good option if you:
Want the best price
Are happy having your treatment checked remotely
Want the convenience of not having to visit a dentist every month
Only need mild, or moderate cosmetic straightening
Want to whiten your teeth at the same time
On the other hand, Invisalign treatment is a good match if you:
Aren't a good candidate for at-home aligners because of the amount of movement your teeth need
Prefer face-to-face checkups with a dentist to check your progress
Want to use the brand that's been around the longest in the UK
Would like to benefit from the expertise and advanced technology gained from treating over 11 million patients worldwide
Our #1 recommended teeth aligners
Conclusion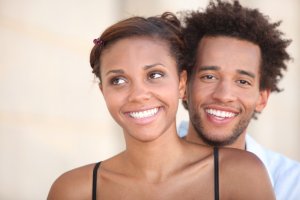 Nowadays, there are a plethora of options for those looking to straighten their teeth. Not only are there countless alternatives to traditional metal braces, but there are also many alternatives to clear aligners like Invisalign.
If you want to read more about our top picks, check out our article on the best teeth aligners in the UK.
Some of these alternatives are much more affordable and convenient with remote treatment options. The one that we most recommend for those on a budget is NewSmile, who offer great value for £1,295.
The Invisalign system is a proven alternative to metal braces in around 90% of orthodontic cases, so it's a great option if you need that extra level of treatment.
Regardless of the option you choose, we always recommend scheduling a general checkup with your dentist before starting any at-home treatment. It's important to deal with any untreated cavities or gum disease before wearing aligners and your dentist could assess your overall suitability for the treatment you choose.
We hope our guide has helped you figure out the best option for your smile!
FAQs
Is Invisalign the best clear aligner brand?
With over two decades of experience and research behind them, the Invisalign system is certainly the most established. But it may not be the best for you if you're on a tight budget.
What are the best Invisalign competitors in the UK?
The best Invisalign alternative in the UK is going to be different for each individual. That being said, if you are looking for a cheap Invisalign alternative, our top pick is NewSmile.
Is there a cheaper alternative to Invisalign?
If you want to stick with clear aligners, a cheap Invisalign alternative might include online or at-home options such as NewSmile, Smile Direct Club or Straight Teeth Direct.
Use "DENTALY5OFF" to get an additional 5% discount.
Sign up to receive the latest news and offers from Dentaly.org