The Inman Aligner is one of the most common options in the UK for adults wanting to straighten their teeth without fixed braces, but is it right for you? The Inman appliance is a type of clear aligner used to straighten the front few teeth with as little fuss as possible.
If you worry about how your teeth might look to others, or you have stopped smiling so you can hide any toothy gaps or crooked teeth, then you might be a good candidate for aligner braces.
Aligners are an alternative to the more traditional fixed metal braces. They are removable devices that apply pressure to your teeth and guide them into a better alignment over time.
In this article, we will review Inman Aligners in detail, covering the following information to help you decide about your orthodontic treatment:
What is an Inman Aligner?
What is it like wearing Inman Aligners?
Are there any Inman Aligner problems to expect?
What do Inman Aligners cost in the UK?
Inman Aligner vs Invisalign: How do they compare?
What do Inman Aligner reviews from the UK have to say?
There are other methods for straightening your teeth which you can learn about in our guide to braces for adults. But for now, let's take a look at the Inman Aligner.
How much do Inman Aligner cost?
Inman Aligner cost between £1,200 – £4,000 depending on what type of treatment you require. We'll explain all the details in this article.
If you're looking for a more affordable alternative, you may want to consider Smile White. They can treat 90% of cases, have 3 in-person dentist appointments to ensure a good result, and as a bonus you'll get free whitening and retainers worth £790.
Book a FREE e-consultation or read our Smile White review for more information.
Use "DENTALY5OFF" to save an additional 5% on your treatment.
What are clear aligners?
Clear aligners like the Inman Aligner and the Invisalign system are types of removable braces. They function very similarly to the traditional metal brace; both result in straighter teeth.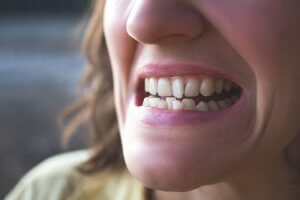 The difference between clear aligners and regular metal braces is the method taken to reach the final result. Clear aligners are removable and made from plastic which is moulded to fit perfectly over the teeth. Metal braces differ because they are fixed into position, and as they are made from metal they are very visible when worn.
Similar to other types of braces, you will need to have an initial assessment with a dentist or orthodontist. Once a plan is in place, your provider will fit your aligners.
Commonly, the treatment requires that you change aligners every couple of weeks to readjust the fit. However, there are many different brands and types of clear aligners so this might vary. Treatment generally takes between 12 – 18 months, but it is possible to straighten teeth in a shorter amount of time if you only need small adjustments.
Recent studies show that clear aligners are effective in straightening teeth in many cases, but not all. This is due to the direction of movement needed to reposition the teeth.
For example, this study found that clear aligners were not effective when it came to teeth that needed their rotation controlled. That is why it is important to know your options and discuss them with your dentist or orthodontist before deciding on a treatment.

What is Inman Aligner?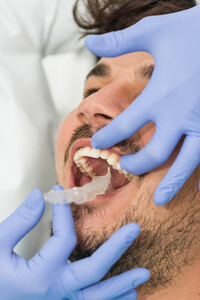 As mentioned above, an Inman Aligner is a plastic aligner that you can wear to straighten your teeth. The outcome is similar to wearing braces, except only your front few teeth can be straightened. Although the outcome is similar in terms of teeth straightening, they are very different in how they look and function.
This treatment option specialises in treating overcrowding and protrusion of your front teeth, rather than being a transformation of your entire mouth.
Inman braces use a combination of clear plastic, metal wires, and springs which makes them visible when worn. So, they are not as aesthetically pleasing as invisible braces. However, they are arguably less noticeable than fixed metal braces.
Who is Inman Aligner suitable for?
The Inman Aligner is not suitable to treat people with more complicated orthodontic needs. However, it is suitable for mild cases of crooked teeth, including misaligned or uneven teeth. Additionally, they are suitable for mild cases of: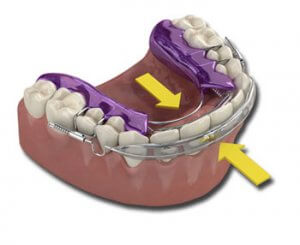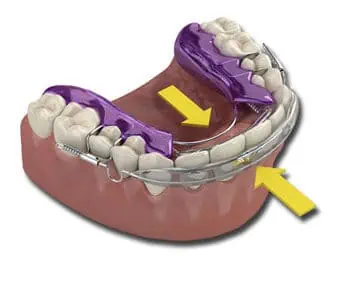 How do Inman Aligners work?
The Inman Aligner works by putting pressure on both the inside and outside of your teeth, creating a dual pressure action that slowly guides your teeth into the desired position.
This is done with the use of coiled Nickel Titanium springs and a metal bar inside the acrylic material that covers your teeth.
While the spring aligners put pressure on the inside of the teeth, the metal bar that runs along the front of the teeth provides opposing pressure.
This creates a constant pushing and pulling force, which helps to reposition teeth quickly.
Treatment timescale
Treatment tends to be shorter than other clear aligners due to the constant pressure on the teeth. Inman Aligner claims to be able to cut the treatment time down to nine weeks, with most cases taking between 6 – 18 weeks.
Inman Aligner before and after pictures
The video below shows before and after pictures of people that have used Inman Aligners to treat various misalignment issues:
What is it like wearing Inman Aligners?
The Inman Aligner is thicker than other clear aligners due to the metalwork inside the acrylic material, so it will take up a bit more space in your mouth and feel more bulky. The thin metal bar that runs along the front of the teeth is also visible, making it more obvious that you are wearing a removable brace.
You should wear the Inman Aligner between 16-20 hours a day, and remove it when you eat or drink anything besides water.
Inman Aligner pain
Initially, wearing Inman braces might feel uncomfortable due to the pressure put on the teeth. Some Inman Aligner pain is normal in the first couple of days, but it should settle down quickly. If the pain becomes unbearable or does not ease you should consult your dentist or orthodontist.
Possible Inman Aligner problems
The main problems with Inman Aligners seem to stem from people not wearing them for the full amount of time per day. The following difficulties have been reported: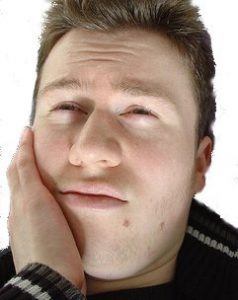 Uncomfortable, sometimes painful in the first 2 weeks
Excess salivation
Speech difficulty
Only for minor orthodontic issues
Visible metal bar over the teeth
Even though the spring aligner can be uncomfortable, or cause excess salivation initially, it is important to continue to wear it for the recommended amount of hours per day. If you don't wear your Inman braces for the recommended hours, it can greatly increase the time needed to complete the full treatment.
If the pain or discomfort does not go away after the first two weeks, speak to your dentist to discuss your continued treatment.
What do Inman Aligners cost in the UK?
The average Inman Aligner cost in the UK is £1,200 to £2,000 per arc. Prices vary from dentist to dentist and will depend on the duration and complexity of your treatment.
An initial assessment will let your dentist or orthodontist assess your teeth and give you a cost estimate. Remember that the cost of Inman Aligners only covers the straightening of your front teeth, whereas Invisalign aligners and traditional braces will treat the whole mouth.
What do Inman Aligners cost with the NHS?
Clear aligners are not a treatment option with the NHS; if you would like to get Inman aligners or another type of clear aligner you will have to pay for private treatment. The NHS commonly use traditional, fixed metal braces as a treatment, but only for patients who have a clear medical need for orthodontic work.
Our #1 recommended teeth aligners
Inman Aligner vs. Invisalign
The most well known clear aligner on the market is Invisalign; however, there are a few Invisalign alternatives to check out as well. The Inman Aligner is one of the lesser-known alternatives, and even though the treatment time might not be as long, it doesn't offer the same comprehensive treatment.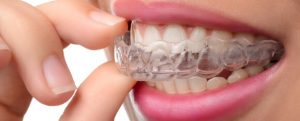 Similarities between the Inman Aligner and the Invisalign system include:
Both are less noticeable than a fixed metal brace
Both are removable
If you compare Inman Aligners vs. Invisalign side by side, the Inman brace is much more visible due to the thin metal bar running along the front of the teeth. The Inman Aligner is also a more bulky appliance due to the metal springs and bars it's made from. So, Invisalign aligners are a better choice for people who want their aligners to be practically unnoticeable.
Are there any other differences?
It's important to remember that the Invisalign system is a comprehensive orthodontic treatment for the entire mouth, unlike the Inman aligner which can only be used to correct the very front few teeth.
The Inman appliance is predominantly for people who had braces at a younger age but didn't wear their retainer as needed once their braces were removed.
Invisalign, on the other hand, has a variety of treatment options suitable for different levels of tooth movement. It can treat around 90% of orthodontic problems, and it's easy to check your eligibility with their Smile Assessment tool.
Below you can see the key differences and similarities between the Inman Aligner and Invisalign, so you can get a better idea of which one might work best for your needs:
| | | |
| --- | --- | --- |
| | | |
| | | |
| Suitable for mild problems? | | |
| Suitable for mid-level problems? | | |
| Suitable for complicated problems? | | |
| | | £3,500 - £5,500 full mouth |
| | | |
| | Nickel Titanium springs & Clear Acrylic Plastic | |
| | Metal bar visible across front teeth | |
| | | |
What do UK Inman Aligner reviews have to say?
There's not too much to be found online when it comes to Inman Aligner reviews in the UK, besides a couple of YouTube reviews from people's personal channels. This is possibly due to the fact that Invisalign treatment is much more popular in the UK.
However, after reading a few reviews found in comments here and there, the general consensus is that the Inman Aligner works efficiently for the very front teeth but can be quite uncomfortable to wear.
The following video has Inman Aligner before/after pictures which show how the aligners work to effectively straighten the front teeth over a short period of time:
You can also see a few Inman Aligner results on their website where they have a number of before and after pictures.
Invisalign on the other hand has quite an abundance of reviews, so we've documented a few of them for you to check out on a separate page.
Conclusion
The Inman Aligner is a good choice for anyone in the UK wanting their front few teeth straightened in a relatively short time. There may be some discomfort while wearing the appliance, but with an average treatment time of just 9 weeks, it will be over before you know it.
However, there are no studies to determine if treating only the front teeth could have a detrimental effect on the back teeth and overall bite.
For a less noticeable approach to teeth straightening, Invisalign is the market leader. Another benefit of Invisalign vs. Inman Aligner treatment is that Invisalign treatment works on all your teeth, making sure the realignment of your front teeth doesn't negatively affect your bite elsewhere.
Both brands have a large network of providers, and you can easily search for Invisalign providers online to find out more about their aligners. You may well find a dentist who offers both Inman and Invisalign, in which case they can advise you on the most suitable treatment for your specific needs.
If you're looking for an even cheaper aligner option and you only need mild teeth straightening, check out Straight My Teeth. They remotely monitor treatment using an app, and it costs just £999 for the complete package.
We hope this Inman Aligner review has helped you discover more about your orthodontic treatment options in the UK.
Remember than regardless of the treatment you choose, we recommend visiting a dentist for a general check-up before starting any at-home treatment. It's important to deal with any untreated cavities or gum disease before wearing aligners – and you could ask your dentist to assess your overall suitability for treatment.
Use "DENTALY5OFF" to get an additional 5% discount.
FAQs
How much does an Inman Aligner cost?
Inman Aligners cost between £1,200 to £2,000 depending on the dentist or orthodontist that you go to. The price also depends on the amount of work needed and the treatment timeframe.
Which is better: Inman Aligner or Invisalign?
Neither is a clear winner because each treatment has a very different target audience. The best treatment depends on your specific dental needs, as well as your budget. But, if you want aligners that are almost invisible, then the Invisalign system is probably the best choice.
Sign up to receive the latest news and offers from Dentaly.org