Are you looking for Invisalign reviews to help you decide abut this treatment? If you or your teen want braces without a mouth full of metal, you're probably considering invisible braces like Invisalign. But they come at a cost, leaving many potential wearers wondering "Is Invisalign worth it?". In order to answer this question we have compiled these helpful Invisalign reviews from real users.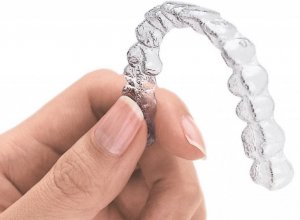 Keep reading to get honest opinions of what teeth straightening with these "invisible" braces is really like in terms of:
Effectiveness
Comfort
Practicalities
Noticability
Speech
Price
These reviewers have plenty of tips and real experiences to share, to help you decide whether Invisalign is right for you.
Are you a good candidate for Invisalign?
Invisalign is the best-known clear aligner brand in the UK for good reason. They can treat 90% of cases and are backed by industry-leading technology. And, as you'll see from these Invisalign reviews, the results can be dramatic.
Have you checked your eligibility yet? Their free Smile Assessment takes just 2 minutes to complete. Or, find out where your nearest Invisalign dentist is and book an appointment online.
Seven Impartial Invisalign reviews
"They are pretty much perfect, all the gaps are gone"
Mimi had very gappy teeth and also an overbite which were affecting her appearance and her ability to eat. In her Invisalign review video she shares her amazing transformation with clear aligners.
Mimi's treatment cost £5,000, and she thinks Invisalign has totally been worth it. She paid a £1,500 deposit and then £350 every time she had an appointment. It was supposed to take 11 months but will end up at just over a year because she needed a couple of refinements towards the end. Following her treatment she will get a fixed retainer to keep her teeth in their new position.
If you have gaps in your teeth, the good news is that Invisalign is great at fixing this problem, as you have just seen. Their online Smile Assessment will let you know instantly if you are a good candidate.
"They are so not noticeable"
Next we have this review from a vlogger called Lucie who has documented her Invisalign Full braces journey with a series of Invisalign review videos. In the one below, towards the end of her treatment, she answers some of the common questions she has received from her followers and subscribers.
Her Invisalign results are quite drastic, as you can see from the before and after comparison she includes at around 17 minutes.
In case you don't have time to watch the video, here is a quick summary of the points she mentions:
Pain: Lucie found the treatment quite painful, especially the first 2-3 months, but she has friends who haven't found it as bad, so it varies from one person to another.
Sharp edges: Some of the trays were slightly sharp around the edges which made her gums sore.
Quick results: She noticed a difference within the first month of treatment.
Hard to notice: Even with attachments (small tooth-coloured blobs attached to your teeth to help with movement), it's difficult to spot when someone is wearing Invisalign.
Cost: Lucie received several quotes ranging from £3,000 to £6,000 for her Invisalign treatment, so it's worth shopping around for different quotes (check for your local providers here). In the end she paid £3,200 including retainers.
Flexible treatment: After her initial treatment, Lucie needed some further refinements. Because she got Invisalign Full, there was no extra charge for this work. Invisalign Lite, which is cheaper up-front, includes a fixed number of trays and no refinements.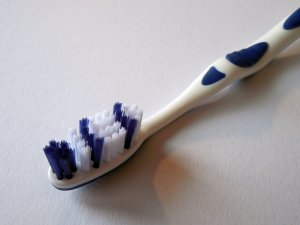 Everything considered, Lucie is happy that she got Invisalign rather than metal braces, even if it made the treatment slightly longer and more expensive.
If £3,000+ is out of your budget, you might want to consider remote orthodontic treatment from Straight My Teeth. They use clear aligners, just like Invisalign, but without the cost and inconvenience of regular dental checkups. Instead, your aligners are posted to you at home and a dentist or orthodontist monitors your treatment remotely. Their full course of treatment costs just £999.
Straight My Teeth can't treat the same range of cases as Invisalign, but it's easy to check whether you're eligible with their free online assessment. After that, you can order an impression kit to be sent to your home so you can get started!
"My teeth don't hurt at all"
Another Invisalign user who had trouble with mouth sores from the aligners was this 39-year-old lecturer in London. He had Invisalign Lite treatment, which consists of just 14 trays to correct minor misalignments.
Although he had no pain from his teeth, he found the aligners uncomfortable to wear at first.
"For the first lecture I had to give, since having the aligners put in, I had to take them out as it was just too painful to talk with them in.

The good thing though is that my teeth don't hurt at all, and the aligners are practically unnoticeable. None of my friends noticed, until I pointed it out."
Most users who experience discomfort at first find that they get used to wearing the aligners soon enough.
If you want to speak to an Invisalign orthodontist about getting your teeth straightened, check here to find your nearest provider and book your first appointment online.
"I feel more confident with my smile"
Bronte has been wearing Invisalign for a while and in the following video she has compiled a helpful Q&A based on some common questions she gets asked. She begins by explaining how the process works and then goes on to talk about cost, pain and some practicalities of living with Invisalign. We've summarised her Invisalign experience below in case you don't want to watch the whole thing.
Here are some of her answers:
How much did it cost? £2,995 plus £200 for fixed wire retainers. This included everything involved with the treatment.
Does it hurt? Yes – you are moving all of your teeth at once! Put a new set in right before bed and "sleep through the pain".
Can I still have a night out? Yes! It's not the end of the world if you very occasionally have the aligners out for more than the recommended 2-4 hours. Just don't forget to brush your teeth and put your aligners in before going to bed… otherwise you'll regret it in the morning.
Is it worth it? Yes, for me it was worth it. I'm more confident with my smile and people compliment me on my teeth. I made it affordable by saving up £20 a week.
"I definitely recommend it to anyone, even teenagers!"
This Invisalign reviewer is just 14 years old and was treated with Invisalign Teen. This system has several features specifically designed to encourage teenagers to get the most out of wearing braces.
He explains how it took a while to persuade his parents to let him have Invisalign braces:
Being only 14 years old they didn't trust me with the responsibility of keeping the trays in for at least 22 hours a day. But in the end, I got it and I've worn it for the prescribed amount everyday.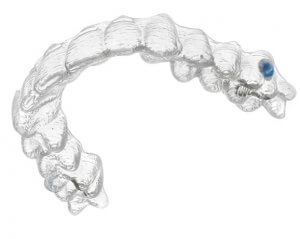 Since compliance is a common worry for parents whose children want removable braces, Invisalign Teen features a wear indicator. The blue dots fade with use to show whether the aligner is being worn for long enough.
This teen experienced slight pain on the teeth which were most crowded, but this subsided after 2 days. He found it easy to get used to both the aligners and the attachments, which were fitted after the first 2 weeks. After 4 weeks he could already see a difference in the position of his teeth!
Don't forget to take your free Smile Assessment to find out whether you or your child are a suitable candidate for Invisalign treatment. It just takes two minutes to fill in some details about what your teeth look like now.
"You may lose weight"
Anna is a 26-year-old Brit who had traditional metal braces when she was a teen but still had a severe open bite – only 4 of her teeth made contact when she bit down. She was putting off getting any more dental work done because she'd been told 10 years ago that she would need jaw surgery.
Then, in 2017, her orthodontist suggested Invisalign braces as an alternative. In this article Anna details her experience.
Anna's braces didn't end up that "invisible" because she had to have attachments on 20 teeth – including all her front teeth. This was drastically different from the two that her orthodontist originally predicted.
Anna's biggest problem is wearing the aligners for the recommended 22 hours per day.
Since the wear time is 22 hours, that leaves two hours to eat three meals a day. It's pretty ambitious, but I do my best to, because it really beats trying to pry the aligners off my teeth more than necessary.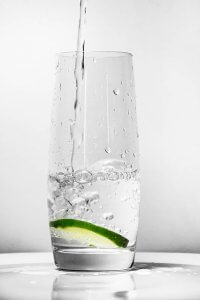 Invisalign recommends wearing the braces for 20-22 hours a day. The remaining 2-4 hours can disappear quickly since you need to clean your teeth and aligners carefully after eating and drinking anything except water.
This results in what many reviewers refer to as the "Invisalign diet". You can't be bothered to clean your teeth numerous times every day, so you just stop snacking. Anna also mentions that she finds it quite painful to remove her aligners, so she does it as little as possible.
She lost weight in her first month but managed to stabilise her weight by adding protein smoothies to each meal. She also recommends taking an aligner case and toothbrush everywhere you go.
"I absolutely recommend that you go for it"
Finally let's look at an Invisalign review from Rob, who decided to get his teeth straightened at age 49. This video is recorded at day 200 when he is on set 26 out of 54 aligners. He's really happy with how his treatment is progressing, and he shows a brief glimpse of how Invisalign's dental monitoring app tracks your progress.
Rob has uploaded some other interesting videos, including this one explaining why he decided to get this treatment so late in life and describing the lead-up to getting his aligners. He has also made a very helpful video explaining what his daily routine with Invisalign is like. This would be good to watch if you want to know what the Invisalign experience is like in practical terms. Just like Anna, he saw almost immediate benefits from giving up snacking!
Conclusion
We hope these Invisalign braces reviews have helped you get a better idea of what it's like to wear plastic aligners. All these reviewers reported an overall positive experience with promising results, despite some slight discomfort and inconvenience.
Remember that it's normal to experience some discomfort whatever type of braces you choose. Fixed brace brackets, in particular, often cause mouth sores where they rub against the cheeks and tongue.
On the whole, people seem to consider the drawbacks a small price to pay in return for improving their smile without it being obvious they're wearing braces. Being able to remove the aligners for important meetings or events is also a big plus, and results appear surprisingly quickly.
If you're ready to get started on your Invisalign journey, begin by taking a free Smile Assessment to check if you're one of the 90% of people who is eligible for treatment. Then, find your nearest provider and book an appointment online today for a full assessment. Just click the button below to search for Invisalign dentists near you.
If you're looking for a cheaper alternative to Invisalign, you may have come across some brands like Straight My Teeth, Smile Direct Club and Your Smile Direct which offer 'direct-to-consumer' orthodontics. With these brands, you can do everything from home and don't have regular in-office checkups. Instead, a dentist or orthodontist monitors your progress remotely.
Of these brands, we recommend Straight My Teeth because they offer great value at £999 without compromising on quality or service. You can visit their website to discover more and check whether it's a suitable treatment for you.
At-home aligners can work well for some people, but there are risks involved with having such hands-off supervision as you straighten your teeth. You can read some real user reviews here to see how they compare to Invisalign.