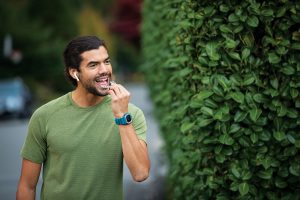 How much does Invisalign hurt?
When does Invisalign stop hurting?
Invisalign pain in the first week
Ways to reduce pain from Invisalign aligners
A cheaper option: SmileWhite
If you're on a tight budget and looking for a cheaper option, check out SmileWhite. Like with Invisalign, they can treat 90% of cases, and you have a few in-person dentist appointments to ensure a good result. As a bonus, you'll get free whitening and retainers worth £790.
Read our Smile White review or check if you're eligible for their treatment with a quick and free assessment.
Is Invisalign painful?
Lower pain tolerance
Gingivitis
How much does Invisalign hurt?
When does Invisalign hurt?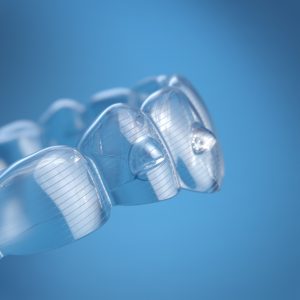 When you first get your aligners
If your aligner has any rough or sharp edges
As you get used to wearing aligners
Each time you switch to a new set of aligners
When you are chewing or eating
If you have any attachments, buttons or elastic bands
Of course, when you first put on your Invisalign aligners they may be uncomfortable. That's because you are not used to them, and they are putting new pressure on your teeth and mouth! But the longer you wear your aligners, the more you should get used to them.
You shouldn't feel any pain when you are eating, and if you do, speak with your Invisalign dentist or orthodontist. However, if your teeth and jaw are already sore then it may be a little uncomfortable to chew at first.
Attachments, buttons and elastics help your aligner put extra pressure on your teeth which may cause more pain around certain teeth. If you are having your overbite corrected, or another type of malocclusion, the buttons and elastics will be helping to realign your bite and might cause your jaw to ache.
Another issue that you may encounter is if the edges of your aligner are sharp or rough. This can cause irritation and soreness of the gums, but your dentist can rectify this easily if you let them know.
It's important to remember that any pain from the Invisalign system won't last forever, so don't let it put you off getting treatment.
When does Invisalign stop hurting?
Invisalign pain should only last for the first 2-3 days of a new aligner. So if you are changing your aligner every 2 weeks then you should only experience pain for those first few days of each new set.
Everyone is different though, and some people may experience no pain at all, and some just mild discomfort. But, if you are experiencing pain that lasts much longer than this then you may need to contact your Invisalign doctor for advice.
Use "DENTALY5OFF" to get an additional 5% discount.
Invisalign pain first week
The most common time that you may experience pain with Invisalign aligners is during the first week, as we mentioned before. This study found that 83% of people got used to their Invisalign aligners after the first week, 53% of people only experienced very mild pain, and 35% didn't experience any at all.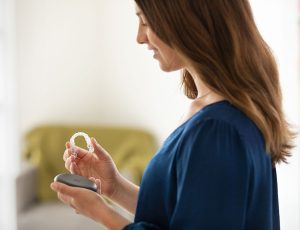 If you are one of the people that does experience pain during Invisalign treatment, some of the types of pain that you can expect to have in the first week include:
An ache in the jaw
Single tooth pain
Aching facial muscles
Sore tongue
Pain or sensitivity in several teeth
Invisalign hurts to take off
Fortunately, none of these symptoms should last forever! They are mainly associated with the first week of wearing your aligners, and for the first couple of days when you switch to a new set.
Let's look at some of the ways you can help to alleviate any aches and pains from Invisalign treatment.
How to alleviate pain from Invisalign aligners
Although getting any pain from orthodontic treatment isn't great, it will be worth it when you have straighter teeth, especially as there are a number of different ways you can help alleviate any Invisalign pain.
Wear your aligners as much as possible
If you wear your aligners for the full 22 hours a day right from the beginning, you are more likely to get used to them faster. Although you might want to take them out when they get uncomfortable or painful, it's best to keep them in so you can adjust and get used to them. But, of course, take them out to eat and drink.
It also helps to make sure your aligners are properly seated, and using devices like Invisalign chewies can help with this. Badly seated aligners can put pressure in the wrong places and cause unnecessary pain and discomfort, and even disrupt your treatment from working correctly.
Put new Invisalign aligners in before bed
When it's time to change to a new set of aligners, change them just before you go to bed. This will help reduce the amount of discomfort you feel with brand-new aligners as your teeth should adjust to them while you sleep.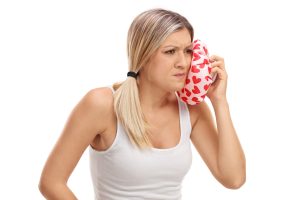 Use a cold compress or drink cold water
For jaw pain with Invisalign aligners, you can apply a cold compress to help soothe the muscles in the area. Icepacks or even frozen bags of peas are perfect for this, but make sure you wrap them in a towel first to protect your skin.
Chewing or sucking on ice cubes, or drinking cold water can have a similar soothing effect on Invisalign teeth pain.
Orthodontic wax
Sometimes the edges of your aligners can be a little bit rough or sharp on your gums, especially if your gums are particularly sensitive. This can be resolved with the use of orthodontic wax.
All you have to do is pinch a little bit of dental wax off, roll it in your fingers to soften it and then smooth it over the area of your aligner that is giving you problems.
This is something that can be sorted out by your Invisalign doctor if you let them know, but wax can help until you get to the dental practice.
Over-the-counter pain relief
As a last resort, over-the-counter pain relief can help. It is best to try and get used to the discomfort first, but pain relief is a great option if it gets too much. Make sure you follow the instructions and take the recommended dosage on the packet.
Change your eating habits
In some cases, you can experience single tooth pain with Invisalign aligners. This may be because one tooth is experiencing more pressure than others as it is gradually pressured into a new position.
Try to eat on the other side of your mouth and avoid using that tooth until it feels a little better. This will help to alleviate pain when eating. If you have pain in your jaw as you get used to your aligners, chewing will feel slightly uncomfortable.
It's best to eat soft foods at first, just while your jaw and teeth get used to new aligners. There is nothing stopping you from eating harder food, but it may feel more uncomfortable to bite down.
Conclusion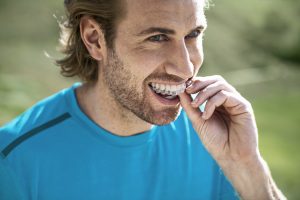 Invisalign aligners are not painful, but they are moving and realigning your teeth which may feel sore and uncomfortable at some point.
All orthodontic treatments can cause pain due to the fact that your teeth are being pressured to move. However, if we look at studies, Invisalign aligners are typically less painful than fixed appliances.
The first week of wearing Invisalign aligners can be the most painful as your teeth and jaw are adjusting. But most people say that this pain or discomfort goes away after the first week. Others say they only get very mild pain and some lucky people never feel any pain at all!
If you do get pain with Invisalign treatment, there are plenty of ways to help you alleviate it. You can use icepacks and cold compresses, orthodontic wax and of course, over-the-counter pain relief.
Don't let your concerns about Invisalign pain put you off getting these aligners. The chances are you will only feel mild discomfort in the first week, or when changing aligner sets. It will be worth it for a more confident, straighter smile.
When it comes to pricing, keep in mind that individual quotes for Invisalign will vary — your dentist can give you a detailed price quote.
If you're still not sure if these aligners are for you, why not book a free consultation with your nearest provider to find out more. Or, for a cheaper option, check if you're a candidate for SmileWhite aligners.
Our #1 recommended teeth aligners
Sign up to receive the latest news and offers from Dentaly.org