There are numerous excellent electric and ultrasonic toothbrushes available today, and still, the Mode electric toothbrush stands out from the crowd.
The Mode brush does away with clunky charging stations, holders and cables. Instead, its magnetic charger plugs directly into a power outlet and doubles up as your toothbrush holder and a nightlight. Smart, space-saving, and stylish all in one.
In this Mode toothbrush review, we'll cover:
What are the key advantages of the Mode toothbrush?
Why choose this over other toothbrushes?
What do Mode toothbrush reviews say?
We hope this article helps you determine whether the Mode toothbrush is right for you, or if you should look at different electric toothbrushes.
Why go Mode?
Saves counter space: the wireless charging dock plugs straight into the wall and functions as a holder
Powerful cleaning with a no-fuss approach
With its stylish nightlight and all-black appearance, it looks elegant and classy
Travelers and others who dislike having a lot of cables hanging around will benefit from wireless charging
Mode electric toothbrush review
The majority of electric toothbrushes have bulky chargers and bases that may be used to store them upright while not in use. Others are battery-powered, which some people may find wasteful.
However, the Mode Toothbrush doesn't operate on throwaway batteries or connect via wires. Its charging dock plugs directly into a power outlet and holds the brush in place magnetically, keeping your countertop clutter-free. The dock rotates to help the brush fit into any space.
This is the first toothbrush in the world to have completely wireless charging using a magnetic dock, so it could be a great choice if you're forever losing your charger or just like to have a clear countertop, making it one of our top picks for top new technology toothbrushes. The brush also looks great and feels great in your hand.
Here's what the CEO & founder has to say about the Mode toothbrush: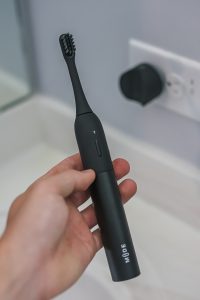 "After reviewing many of the products on the market, I wasn't interested in creating another private label brush like the others out there. Through extensive research, people find brushing to be mundane, they don't like cluttered counter space, and charging docks were obtrusive and easily knocked over.

Based on these factors, we decided to focus on improving the charging and docking experience and elevating the otherwise routine task of brushing your teeth. As a result, Mode was born as the future of brushing at the intersection of innovation and routine."

CEO Marco Massaro in an interview with PR Newswire
For individuals who don't want to compromise home design for a vital necessity, this brand aimed to develop a more aesthetically pleasing sonic toothbrush and disrupt the established norm of other well-known brands.
Mode features innovation
With 38,000 sonic vibrations per minute, Mode offers a thorough but gentle cleaning
By stowing and charging on the wireless dock, the Mode toothbrush frees up counter space
The dock's built-in night light illuminates the surrounding area. When the dock detects that the room is growing darker, the nightlight automatically switches on
Whisper-quiet motor: Mode has an extra-quiet motor to keep noise to a minimum, but with plenty of brushing power
The battery lasts up to 30 days on a single charge
Features an IPX4 splash-proof dock and an IPX7 waterproof toothbrush for usage in the bathtub or shower
Design and aesthetics
There's a huge variety of electric toothbrushes on the market that all have fantastic features and will help you achieve proper teeth cleaning.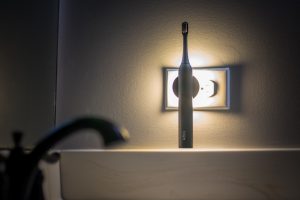 However, many of these put functionality over aesthetics and don't do much to enhance the look of your bathroom. Especially if you're short on counter space, a bulky charging dock and wires can be really annoying to accommodate.
And if you don't have a proper holder for your brush, it can easily get knocked onto the floor – yuck!
The fact that the Mode toothbrush features a wireless charging dock and is kept directly at the power outlet eliminates all of these issues. The result is a free and clean counter space — no charging dock and wire sitting on your bathroom counter.
In addition, the area around the dock is illuminated by an integrated nightlight. The nightlight automatically turns on when the dock notices that the room is getting darker.
See the Mode in action in the short promotional clip below:
Battery and charging
Since the charging dock sits directly at the power outlet, there are no more cables hanging around (or getting lost), and your bathroom counter looks clean and tidy.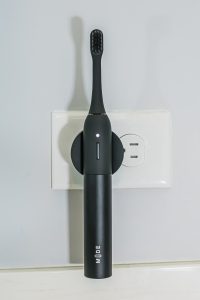 You might be wondering if the toothbrush blocks the neighboring power outlet. The good news is that the dock rotates, so the toothbrush can be kept either vertically or horizontally. This is also handy if your power outlet is right next to a wall or a cupboard.
The battery lasts up to 30 days on a single charge, so you don't actually need to keep the charger switched on all the time.
Cleaning result
The Mode toothbrush reaches 38,000 brush strokes per minute, which is around the average for most sonic toothbrushes on the market nowadays. It has only one brushing mode, whereas many other toothbrushes have a few speeds to select from.
If you prefer to use different brushing modes for different purposes then you may find this brush doesn't suit you so well. But most people stick to just one mode even if their brush has several – and if that's you then you'll appreciate the simplicity of Mode.
The Mode toothbrush features extra soft tapered bristles to reach deep between the teeth, and it has been proven in studies that sonic toothbrushes in general are very effective cleaners.
User-friendliness
The fact that there is only one button to press makes this brush quite user-friendly and simple to use. It also features a two-minute timer so you know you're brushing for long enough each time.
The toothbrush is IPX7 waterproof, which makes it safe to use in the shower or in the bathtub.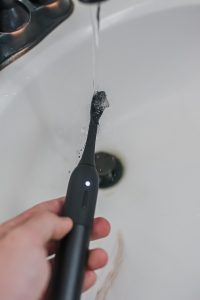 The handle is made from aluminum and has a non-slip rubber coating at the top. Because of this, the Mode toothbrush is not only durable, but it also fits nicely in your hand and doesn't move around, even when wet.
Portability and travel
The fact that this toothbrush has a wireless dock, and you don't need to bring any charging cables, makes this toothbrush an ideal portable electric toothbrush for traveling.
The wireless dock has a rotating feature, so you can charge it wherever you want, whether it's a vertical or horizontal power outlet.
Currently, there is no travel case available, but the toothbrush does come with a cap that covers the bristles to keep them clean while traveling.
Price and warranty
The Mode toothbrush has no color options to choose from — it is completely black. Therefore, when purchasing the Mode toothbrush, the only option you'll get is selecting between a one-time purchase or a subscription.
When selecting the one-time purchase, the Mode toothbrush costs $165 and comes with a one-year warranty from the date of purchase.
With the toothbrush subscription option, the brush costs just $150 and comes with a "lifetime" warranty. This basically means that the warranty is valid as long as you continue the subscription. You'll receive one replacement brush head every three months, costing $10 with shipping included.
If you struggle to remember when you should change your toothbrush, a subscription can be an excellent option. However, if you decide it's not for you, you can cancel at any time. Mode also offers a 30-day trial, under which you may return the brush within 30 days of purchase if you are not completely satisfied with it.
Mode toothbrush price and warranty


$10 every 3 months for a replacement brush head (cancel anytime)


Check with Mode.com for latest price and warranty details.

Mode toothbrush reviews
Here are some recent Mode toothbrush reviews from other customers:
Great design and very strong when brushing. Teeth feel 100% cleaner.

Jonathan F.
So far, this is the best toothbrush I've purchased. Much stronger than sonicare and the magnetic charging is great.

Jenna M.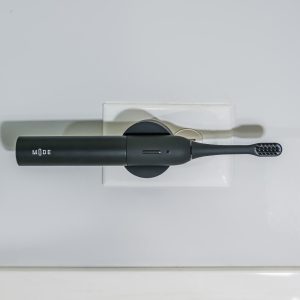 The brush heads are very soft and staggered, so they don't feel hard when brushing. They are definitely great for sensitive teeth like mine.

Roger P.
I'm so happy I took a chance on it! This performs better than sonicare at a cheaper price than the diamondclean I've used. The dock is also amazing for keeping the brush out of the way!

Courtney S.
Conclusion
You can find numerous good sonic toothbrushes on the market. Moreover, a lot of them have many cleaning modes to choose from, while the Mode toothbrush offers only one. Depending on your brushing preferences, this may be a pro or a con for you.
The Mode, however, stands out from the crowd in its elegant simplicity. The sleek black design and minimalist charging dock will declutter your bathroom, giving it an air of order and cleanliness.
You may want to purchase the Mode toothbrush if any of these unique features appeal to you:
Space-saving: The charging dock plugs straight into the wall and functions as a holder
Wireless charging: Good for traveling and people who don't like having loads of cables hanging around
Nightlight: A soft glow will guide you at night
Mode offers a 30-day risk-free trial with free 2-day shipping, so why not give it a try?
Sign up to receive the latest news and offers from Dentaly.org