Are you considering orthodontic treatment and are wondering 'how much do braces cost a month?'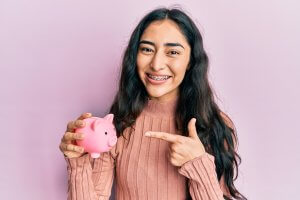 Your braces treatment may cost between $1,200 and $13,000 total, and anywhere from as little as $80 per month to $650 per month, depending on where you live, how long the treatment is, and which type of braces you get.
There are many different types, some more affordable than others. Finally, insurance plans can also impact the amount you spend.
In this article, you'll learn all about the different types of braces and their monthly costs. We hope this helps you make the best decision for your lifestyle and your budget.
Average cost of braces per month
Let's start by having a look at what certain braces typically cost without insurance:
Traditional metal braces
These are probably the braces that come to mind when you think of orthodontic treatment. They use wires and brackets to slowly adjust the position of your teeth. It can take anywhere from several months to a few years to complete this treatment plan.
This option is usually going to be the most cost-effective if you have moderate to severe alignment issues. However, these braces are also the most visible option, causing some adults and teens to look for less noticeable solutions.
You might pay anywhere from $2,500 to $7,500 total for traditional braces, and the average monthly cost of these braces will be from around $200 to $250. But, you can use payment plans to cover the cost. If you can cover the amount upfront, you might even get a discount from your clinic.
Invisible braces
Invisalign is a brand of clear aligners that straighten teeth without braces. If you are an adult, you might prefer this option. They function differently than traditional braces — there are no wires and no brackets. Instead, these are completely clear, removable, and much more discreet.
They are a bit more expensive than normal braces, costing anywhere between $3,500 to $8,500 with an average monthly cost of $330 to $500.
If you are on a budget, your orthodontist may recommend another brand that could cost somewhat less.
There are also cheaper alternatives to in-office invisible braces — at-home clear aligners. These cost from just $79/month and are designed to treat mild to moderate cases of malocclusion.
Find the right clear aligners for you

There are so many companies offering remote teeth straightening with aligners! Take a look at our top picks and discover why we recommend these over any others.

Best service
Complete treatment 100% remotely
Amazing customer service
Nighttime-only option
$1,395 or $83/month
NewSmile aligners are made from the clearest Essix plastic and come with a daytime or nighttime-only option to suit you. For just $1,395 you'll receive everything you need to straighten and whiten your teeth – and maintain your new smile:
Home impression kit
Full aligner treatment
Free whitening
First set of retainers
A full refund if you're not a good fit
NewSmile go above and beyond to provide a great experience to all their customers, beginning with a live video call to help you with your teeth impressions. Mail these back, and they'll send a 3D Treatment Preview for you to approve before going ahead.
Alternatively,
click here
for an extra $20 off an impression kit!
Best value
Complete treatment 100% remotely
6 month average treatment time
Nighttime-only option
$1,145 or $95/month
If you're looking for the best value aligner package, here it is! For just $1,145 you'll get:
Impression kit
Full aligner treatment course
Free teeth whitening kit
Your first set of retainers
In short, everything needed to straighten your teeth remotely and keep them looking great, with a full money-back guarantee if you're not a suitable candidate.
This low price doesn't mean you're compromising on quality of care, though. ALIGNERCO just choose not to put so much into marketing, and they pass on the savings to their customers. They are also known for their responsive and helpful customer care, which is important when you're doing things from home.
Plus, if you're in New York, you can visit their SmileStudio for a free consultation and help taking your impressions.
Nighttime-only aligners are also available for anyone who doesn't want to wear aligners during the day.
Get $150 off!
Faster treatment
3-4 month average treatment time
Assessed and planned by orthodontists
Includes whitening and first retainers
$1,895 or $83/month
Byte's HyperByte technology uses High Frequency Vibration to help your teeth move faster and with minimal discomfort. Their average treatment time is just 3-4 months, compared to 6 months for most others.
Treatment includes your first set of retainers. You'll also get their BrightByte 3-in-1 foam to whiten your teeth, clean your aligners and freshen your breath. And their Byte-for-life guarantee means you'll get free adjustments if your teeth start to move again.
Begin by ordering an impression kit so their orthodontists can assess whether you're a good match.
Get 75% off with code 02DENTALY100TS
Other braces
Invisalign and metal braces tend to be the most common orthodontic treatments. However, there are other options.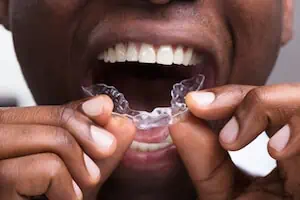 Lingual braces: With lingual braces, the wires are attached behind the teeth. They are very discreet, and also the most expensive option, costing up to $13,000. You will also need more frequent adjustments with lingual braces. The average monthly cost of lingual braces is from $450 to $650.
Ceramic braces: They resemble metal braces but are colored to match your teeth. They are usually a little pricier than metal ones, with the cost going up to $10,000. Ceramic braces can also be clear. The monthly cost of ceramic braces will be around $270 to $350.
At-home clear aligners: Remote clear aligners have the lowest average cost of all orthodontic treatments. The average price for braces treatment with clear aligners varies greatly but can be anywhere from $80 to $300 per month.
How much do braces cost per month without insurance?
The average cost of braces without insurance is from $2,500 to $7,500 for traditional metal braces. However, these costs can vary greatly and will depend on the type of treatment you select. It also depends on the length of your treatment time. You should talk with your orthodontist about the cost — most offer a free consultation.
Your orthodontic practice likely offers monthly payment plans to those without insurance. If you can request to have your payment period extended, you could pay less each month, over a longer period of time.
How can I pay monthly for braces?
Your orthodontist's office most likely offers monthly payment plans and will be able to work out a financing contract with you. Many practices partner with third-party financing companies. This enables them to offer you better payment options than traditional financing methods.
Most orthodontic practices offer plans with very little (or no) interest. Plus, you can take as long as 24 months to make the payments.
Of course, every office is going to run differently. We recommend that you get a free consultation with your dentist or orthodontist and ask them the following questions:
What are your payment plan policies?
Is my child covered by insurance?
Is there interest on the plan?
What is the length of time I have to cover the treatments?
Can I make adjustments to the plan?
Are there any fees?
What can I do to save more money?
Different methods to finance the costs
Your dentist wants you to have good oral health, so they will keep your best interests in mind when advising you. Most will work with your dental insurance to get their patients the most coverage. Additionally, the cost of braces can be paid for with most payment methods, such as a credit card, or with monthly payments.
If your children have Medicaid, it should cover any medically necessary treatments, but treatment coverage for adults is much more limited. Additionally, some types of braces aren't covered under Medicaid.
You may be able to use money from a flexible spending account to go towards the cost. These include HSA, FSA, HRA, or other accounts. You can use some of the money to lower the amount of your payments if your dental insurance plan won't cover treatment.
Conclusion
Braces treatment can be pricey, but there are many different ways to manage it. The braces cost will depend on where you live, what type of braces you get, and the complexity of the removal process. All of these factors add to the total braces cost.
Be sure to discuss your payment options at your consultation with your orthodontist if you plan on paying for the braces without insurance. Typically, orthodontists will allow you to pay in monthly installments with no interest.
No matter what you decide to do, your oral health is important! Although high costs make it difficult to pay for braces, remember that ultimately it's an investment in your oral health and your overall health.
Sign up to receive the latest news and offers from Dentaly.org