Why are so many people traveling to get dental treatment such as dental implants in Spain? With the cost of dental care rising, dental tourism is gaining popularity. Hundreds of thousands of people now travel overseas every year to access more affordable dental care.
Spain is a popular dental tourism destination, renowned for its excellent dentistry standards but with prices up to 50-70% lower than in the US. There is also the added bonus of being able to enjoy a holiday abroad at the same time.
So if you're considering a Spain dental trip, this guide is for you. Find out what kinds of treatment are available and what you need to be aware of if you do go abroad for dental implants or other work.
Dental Tourism Spain
Spain is a popular country for overseas dental work, attracting patients from North America, the UK, Germany, and Austria. Not only does Spain offer high-quality dental work at more affordable prices; there is the added benefit to Spain dental tourism of shorter waiting times than many patients are used to back home. Most patients also comment on the great customer service and high level of English communication which makes the experience more enjoyable.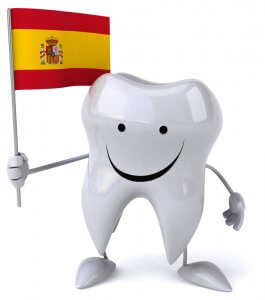 In addition, there are a number of reasons why people might choose Spain over any other destination.
If you're ready to find a dental clinic in Spain, you can get help from Medical Tourism Corporation. They help thousands of Americans each year find reputable and affordable clinics abroad. You can fill in your details below to get started with a free quote.
Request a free quote for dental treatment abroad
Education
To practice in Spain, dentists must hold a degree from a Spanish university or a diploma from a recognized EU country. In Spain, dental training takes around five years at university.
Once a dentist has completed their undergraduate education they may choose to specialize in a particular area of dentistry. Continuing education isn't mandatory, but it's a good idea to ask what courses your dentist has completed since graduating. The best dentists should show a commitment to ongoing education even if it isn't required.
Regulation for dental work in Spain
Dentists in Spain must register with the Spanish Dental Association (Consejo General de Colegios de Odontólogos y Estomatólogos) in order to practice. They must also register with their local authority. Although this registration requires dentists to meet certain minimum standards, it doesn't involve any kind of ongoing formal regulation.
There are other organizations for different specializations, for example the Spanish Implantology Society or the Spanish Society of Prosthodontics. If you need specialist work such as implants, crowns, bridges, root canals or periodontal treatment, it could be worth checking if your dentist has voluntary membership with the relevant association.
Spanish dentists may also register with the General Dental Council (the governing body in the UK). This is optional and doesn't offer any guarantees, but may give you extra peace of mind about the dentist's commitment to meet certain standards.
Some dental clinics might be ISO certified as well. This is another good indication that the clinic meets certain quality standards, but it isn't mandatory.
A dental holiday in Spain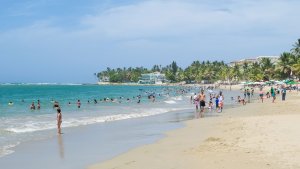 Of course, Spain is a popular vacation destination in its own right, welcoming more than 80 million foreign visitors in 2017. Some come to explore the streets of Barcelona and Madrid, some hit the golf courses, while others head straight to the beach.
If you're vacationing in Spain anyway, it can be a good opportunity to access cheap dental care. Alternatively, if you're coming predominantly for dental work, you'll still find plenty to do during your free time.
One of the great things about traveling abroad for dental implants or other work is the chance to enjoy a holiday, get your teeth fixed, and still save money compared to private treatment costs back home.
Dental implants in Spain and other treatments
The cost of dental implants in Spain makes them an attractive alternative to getting the work done in the US. As you'll see in the table below, you might be able to save around $1600 per implant. You could also save hundreds of dollars getting your dental crowns in Spain.
Other popular dental treatments in Spain include: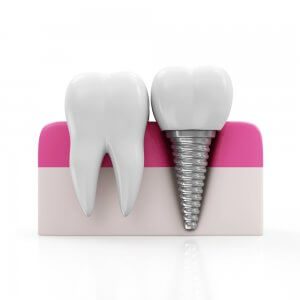 Bridges
Root canal work
Veneers
Extractions
Dentures
Teeth whitening
Other cosmetic dentistry
You can even get things like fillings and cleanings – not that it would be worth making the trip for a filling alone. But if you need a lot of treatment or are in Spain anyway for a holiday or business trip, it's worth considering.
Some treatments will require multiple visits to the dentist. When calculating the overall cost of your treatment, don't forget to include flights for every trip and accommodation for the full length of each stay. It may take several days to make prostheses such as crowns, bridges and veneers, during which time you could return home or enjoy some of the sights locally.
Implants usually require two or three visits spread over six to nine months – or even longer. Read more about this process in our guide to getting dental implants, including All-on-4 "teeth in a day".
In the following video, one patient describes his experience getting dental implants in Spain:
Spain dental prices
The table below compares the dental prices in Spain with prices in the US for common treatments including implants, veneers and crowns.
Do keep in mind that prices will vary between dentists and clinics in different locations. You might find that prices are slightly higher in areas that cater mainly to tourists, particularly along the coast.
Often the dentists with the lowest prices are those located in cheaper areas mainly populated by locals. However, these clinics can be harder to reach and may not have such good facilities. Those that specialize in dental tourism are likely to speak better English and still have competitive prices compared to US dentists.
Why is dentistry in Spain cheaper?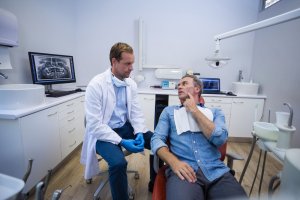 The 2007-08 financial crisis hit Spain worse than most other European countries, leading to an extended period of recession and high unemployment. The economy is recovering well, but for now it remains one of the cheapest places to get dental care in Europe.
Cheaper prices aren't a reflection of poor quality and standards; dentists in Spain come under the same EU regulations as all European countries (including the UK). And since the majority of Spanish dentists run private practices they need to stay competitive to attract patients – both local and foreign. This means having the latest equipment, technology and training.
Naturally, as with any country, there are some dentists who aren't so committed to excellence. It's therefore important to research your choice carefully and not just decide based on price.
Best locations for dental implants in Spain
Whether you're a culture vulture or a sun seeker, there are dental clinics in most popular tourist destinations. Even if the main purpose of your trip is dental work, you should still give yourself some time to explore this country!
Here are some of the most common destinations for dental care in Spain:
Madrid
The capital, located right in the center of Spain, is easy to reach by plane from many major US cities. There are dental clinics spread throughout the city center. You might prefer to stay close to your clinic to minimize travel time, but it's quite easy to get around using the city's transport system.
Fans of art and history will enjoy passing their free time in the city's many galleries and museums.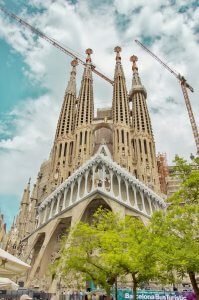 Barcelona
Situated in the north-east tip of Spain, Barcelona is famous for its shopping, food, art, architecture and beaches. You'll have no trouble passing a few days there in between dental visits.
Dental clinics are spread throughout the city, including some of the better-known chains which have multiple clinics in other locations.
Valencia
Valencia is a port city on the East coast of Spain. It's a good place to stay if you want a combination of beaches, nature and culture. You'll find a cluster of dental clinics in the city center, all easy to reach by public transport.
Other locations for a Spain dental holiday
They may be known more for their cheap package holidays than their dentistry, but coastal resorts like Tenerife, Alicante and Costa del Sol, Malaga, all have their fair share of dental clinics catering to tourists. You could even visit a dentist on the islands of Majorca and Menorca, off the east coast of Spain (but you'll have more choice on the larger island of Majorca).
If you do decide to get your teeth done while on vacation, be sure to research your decision properly rather than impulse-buying from a sign you see on the street.
How to choose a dentist in Spain
The best dentist in Spain for you will depend on the treatment you need and whether you want some holiday time as well. Wherever you choose to go, you should check that they are registered to practice in Spain as a minimum. There are also other qualifications and memberships you can look out for, as mentioned above.
Cost will be a big consideration, and it's a good idea to shop around to get an idea of prices. However, you should ultimately choose the dentist you feel most comfortable with rather than the cheapest.
Before committing to anything, contact the clinic and ask as many questions as you like. They should be happy to answer these to put your mind at ease. If possible, speak directly to your chosen dentist so you can assess their spoken English and ask about their experience.
Research and reviews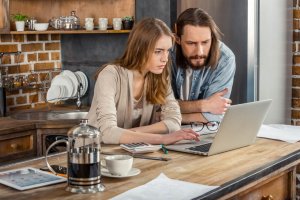 There is lots of information online to help you research your choice of dentist. You can read Spain dental reviews from former patients on travel forums, review sites and independent blogs. We also have a separate article featuring dental implant reviews from patients in Spain, and other dental work.
Don't be put off by one or two bad reviews – remember that no dentist anywhere has a 100% success record. Sometimes complications occur and procedures fail. What sets good dentists apart is the way they resolve any issues that occur.
Precautions and considerations
As you research whether dental tourism in Spain is right for you, there are certain things you should consider. Spanish dentistry has a good track record but sometimes things can go wrong.
Understanding your treatment: As well as researching your dentist, you should get clued up on the procedure(s) you need. This will prepare you for the work itself and equip you to ask all the right questions before making a decision.
Finding a specialist: You should ideally find a dentist that specializes in the work you're having done. Check how many times they have carried out the procedure before and ask to see some before and after photos and patient testimonials.
Guarantees: Check how long your dental work is guaranteed for, where you'd need to go for any follow-up work, and who would cover the cost of this.
Insurance: Your travel insurance and US dental insurance probably won't cover costs associated with any work you choose to have done overseas. Instead, ask your clinic or travel company what insurance they can offer you. Who would cover the expenses if you had to re-schedule a flight because of delays or complications, for example?
Booking a package: You may book a dental holiday package in Spain through a third party company that specializes in this kind of trip. This is less hassle than arranging everything yourself and you may get extra protection in the case of complications. It might not work out as cost-effective as booking everything yourself, however.
Other destinations for dental work abroad
Spain is just one of the countries to consider if you want to save money on dental work.
Turkey is a little further away but there are some excellent dental clinics in Istanbul, as well as in coastal locations like Antalya, Side and Kusadasi. This makes it a great choice for a dental holiday, and the money you save on your dental costs may well be enough to cover a two-week break in the sun.
If a holiday in the sun is less important to you, consider Hungary or Poland. Both have well-established dental tourism industries thanks to their internationally renowned dental schools and state-of-the-art facilities.
Dentists in Hungary are mainly located in Budapest and some border towns, while Warsaw, Krakow and Gdansk are the main destinations for dental implants in Poland. Bucharest in Romania is another popular option. All these cities have plenty of sightseeing opportunities, museums and galleries for you to visit in your free time there.
Start searching for your clinic abroad with the help of MTC. Fill in your details below to get started.
Request a free quote for dental treatment abroad
FAQs
How much do dental implants cost in Spain?
A dental implant in Spain can cost around $1,000 for a single dental implant. That is hundreds, and in some cases, thousands less than in the US. It's a great way to make the most of your travels.
What is the cost of dental treatment in Spain?
A dental implant can cost around $1,000, a porcelain-fused-to-metal crown can cost around $400 and a porcelain veneer is usually around $300. Consider getting multiple treatments for greater savings.
Sign up to receive the latest news and offers from Dentaly.org