Our comprehensive FOREO toothbrush review has all of the information you need to decide if this is the right electric toothbrush for you. It is definitely not what you would call a mainstream design, and there are no other electric toothbrushes out there that look similar.
Not only does it have an interesting, silicone design that comes in four colors, it is also adept in removing plaque and leaves your teeth feeling deep cleaned. With its innovative design and silicone bristles, it might just be one of the most efficient sonic toothbrushes on the market.
FOREO is a Swedish brand that became popular because of its luna cleanser (a silicone vibrating facial massager). Since then they have become well known and trusted in the oral hygiene world.
The newest toothbrush to the market from this brand is the FOREO ISSA 3 which we will review in this article. We will also discuss the FOREO brand and answer the following questions:
How is the FOREO ISSA hybrid toothbrush different from other electric toothbrushes?
What are the other models of the FOREO ISSA toothbrush?
How does the ISSA 3 compare to other FOREO toothbrushes?
We will also touch on the other sonic toothbrushes in this range, such as the FOREO ISSA 2, the Sensitive Set, the ISSA mini 2, and the ISSA kids and ISSA baby. The table below shows a summary of our roundup of the main models:
Brush head type: Slim fit ISSA & Hybrid Wave

2x stronger medical grade silicone and PBT polymer

Number of intensities: 16

365 uses on a single USB charge

Brush head type: ISSA Hybrid

Material: Medical grade silicone and PBT polymer

Brush head flexibilty: Medium

Number of intensities: 16


365 uses on a single USB charge

Brush head type: ISSA Mini Hybrid

Material: Medical grade silicone and PBT polymer

Brush head flexibilty: Medium

265 uses on a single USB charge

Material: Medical grade silicone and PBT polymer


Brush head flexibilty: Medium


265 uses on a single USB charge

Material: Medical grade silicone and PBT polymer

Brush head flexibilty: Medium

265 uses on a single USB charge
Let's jump right in and find out a little bit more about the FOREO brand.
The FOREO brand
Founded in Stockholm in 2013, FOREO is a Swedish company dedicated to the world of wellness and beauty. Focusing on technology and the use of silicone to offer solutions adapted to all, this brand's name is short for "for everyone."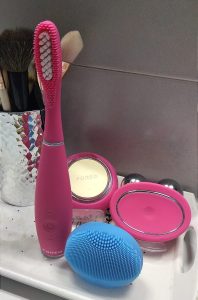 The first ISSA toothbrush was released in 2014 and has since become popular around the world.
What is so different about the FOREO ISSA toothbrush?
A FOREO toothbrush is a sonic silicone toothbrush. It is the first of its kind, where even the bristles are made from silicone and use sonic pulse technology to break up plaque. FOREO claims these bristles offer 11,000 sonic vibrations a minute, which enables you to deep clean tricky areas and avoid over-brushing.
Now, we should point out that not all of the bristles are silicone. The ones in the middle are the same as you would find on every other toothbrush out there.
In the following video, London-based dental surgeon Dr. Nina Bal explains why the FOREO ISSA hybrid electric toothbrush is her favorite toothbrush.
Our FOREO ISSA review
The most important part of our FOREO toothbrush review is to note that studies have shown that silicone bristles are as effective as removing biofilm from teeth as brushes with nylon bristles.
Now that we've established that these brushes will effectively clean your teeth, let's move on to more fun factors.
This toothbrush has a fun, sleek, and modern design and is a great option for electric toothbrushes for people whoe travel a lot. Its battery life is far superior to other electric toothbrushes. The soft silicone bristles also make the FOREO one of the best electric toothbrushes for sensitive teeth.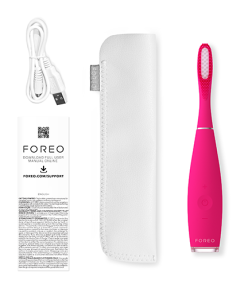 Let's take a quick look at the full range of features that the FOREO ISSA hybrid toothbrush offers:
Bacteria-resistant, medical-grade silicone and PBT polymer bristles
Waterproof
Hybrid wave brush heads that last up to a year
Ridges on the back of the brush head for a full mouth cheek and tongue cleaning
Battery life should last up to 365 uses after just 1 charge (265 for the mini models)
Low-battery indicator
Travel lock
Built-in timer
There are small differences between different models in the FOREO range, but all are effective for full mouth cleaning.
Another notable point is that this range of sonic toothbrushes is more eco-friendly than regular toothbrushes because the brush heads last a year!
Overall rating: ★ ★ ★ ★ ☆ (4/5)
FOREO ISSA™ 3 toothbrush review
The FOREO ISSA™ 3 is the latest sonic toothbrush from FOREO to hit the market. It uses the revolutionary sonic pulse technology combined with the bacteria-resistant hybrid brush head to be one of the most advanced sonic toothbrushes on the market.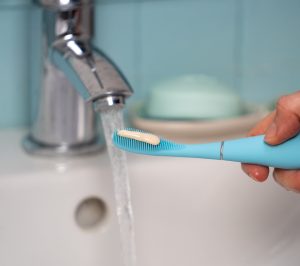 And, although it is very similar to previous models, there are some new and improved features. The medical-grade silicone is twice as strong as the silicone used in past models, and the brush head now has 360-degree flexibility and bounce-back bristles.
Other new features include a smart memory and a low battery indicator, as well as updated color choices.
Other highlights include:
4-in-1 oral care: Cleans teeth, tongue and cheeks, and massages gums
16 speeds: It has 16 intensity levels of sonic pulse technology
Familiar movements: You still use a gentle brushing motion, so no need to learn new habits
Eco-conscious: It's USB rechargeable and the Hybrid Wave head lasts for 6 months before it needs to be changed, and the Sensitive head lasts an entire year
Smart design: 10,000x more hygienic than nylon bristles and 100% waterproof
Our team has tried and tested the FOREO ISSA toothbrush, with overwhelmingly positive reviews. Keep reading to see how we rated it for ergonomics, aesthetics, use, and battery life.
Ergonomics ★ ★ ★ ★ ★ (5/5)
Composed of a handle and a soft silicone head, the FOREO toothbrush has a perfectly ergonomic design, offering a good grip and a useful seal for use in the shower in particular.
Unlike most other electric toothbrushes, the bristles on its head are also made of silicone, providing gentle brushing for your teeth and gums.
The brush head is extremely flexible and adapts relatively well to all areas of the dental arches, but its size (larger than conventional electric toothbrushes) makes it a little bulky in the mouth.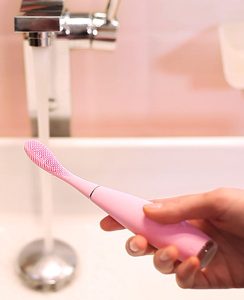 Aesthetics ★ ★ ★ ★ ★ (5/5)
The FOREO silicone toothbrush is notably elegant. Its sleek design and pretty "pop" colors (fuchsia, black, pink, mint) make it a modern product in line with Swedish style.
Even its packaging has been well thought out, almost reminiscent of smartphone cases.
Features ★ ★ ★ ★ ☆ (4/5)
The FOREO ISSA toothbrush features sonic technology and delivers more than 11,000 pulses per minute, effectively cleaning teeth. It has 8 speeds in order to adapt to different dental sensitivities.
The ISSA also has a timer that vibrates and lights up every 30 seconds to indicate it's time to change brushing areas. After 2 minutes, 3 vibrations indicate the end of the minimum brushing time.
Use ★ ★ ★ ★ ☆ (4/5)
Unlike rotating electric toothbrushes, it is not enough to simply place the ISSA toothbrush on the teeth to clean them. It is indeed necessary to proceed with normal brushing, as you would with a manual toothbrush, by making circular movements with the brush.
Once the 2 minutes of brushing are finished, all you have to do is rinse your mouth and run the head of your toothbrush underwater. The non-porous silicone composition of the Issa toothbrush offers impeccable hygiene, with up to 10,000 times fewer bacteria than a nylon toothbrush.
Battery life ★ ★ ★ ★ ★ (5/5)
ISSA offers up to 365 uses for a one-hour charge, that is to say, 6 months of brushing at the rate of two daily brushings! This is unheard of in terms of electric toothbrushes and it makes this brush a very good travel toothbrush, especially since it comes with a travel case to take it with you.
Another good point for frequent travelers is that the replacement head should only need to be changed once a year!
If you're ready to get your FOREO, you can use code to get off your order. And that doesn't apply just to toothbrushes — it applies to everything on the FOREO website!
What are the other models of the FOREO ISSA toothbrush?
There are various FOREO ISSA models, including the ISSA 2, the ISSA 2 Sensitive, the ISSA 2 Mini, the ISSA Kids and the ISSA Play. Let's have a closer look at these options now.
FOREO ISSA 2
While the ISSA 3 is the latest model, we found the other models just as effective. The FOREO ISSA 2 is very similar to the most recent model but lacking in a few of the new features, including the silicone material and smart memory.
FOREO ISSA 2 Sensitive Set
The FOREO ISSA 2 Sensitive Set was created especially for sensitive gums and FOREO claims it makes it impossible to irritate or overbrush with this toothbrush. And, if you weren't sure whether to get this toothbrush, or the regular ISSA 2, it also comes with a hybrid brush head, so you don't need to stress.
The ISSA 2 Mini
The FOREO ISSA Mini is, as the name suggests, a smaller version of the regular ISSA toothbrush. But it comes in more vibrant colors, including wild strawberry, mango tango, enchanted violet, and summer sky.
The difference between this one and the regular ISSA toothbrush is that it only offers 9,000 sonic pulsations per minute. The battery life is also slightly less, only lasting for 265 uses as opposed to the 365.
The FOREO Issa Mini also comes in a sensitive set, for those who want a gentler toothbrush.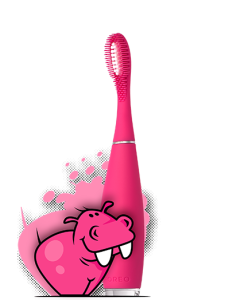 The ISSA Kids and ISSA Babies
There are also FOREO ISSA sonic toothbrushes for both kids and babies. The ISSA Kids is very similar to the ISSA 2 Mini, with different fun names for the colors.
It is soft and gentle on children's teeth while delivering an optimal clean. As far as children's electric toothbrushes go, this one is pretty fun as the silicon bristles make it an interesting experience.
The FOREO toothbrush baby has a small round brush head similar to that of Oral-b electric toothbrushes. The ISSA baby brush head has super-soft silicone bristles that are strong enough to resist chewing.
This toothbrush comes in 5 different colors, with fun names such as kiwi green panda, bubble blue dino, sunflower yellow squirrel, strawberry rose lion, and pearl pink bunny.
FOREO ISSA Play
If you really want to get yourself a FOREO ISSA but you're on a budget, check out the FOREO ISSA Play, the cheapest of their range of sonic toothbrushes. It has very similar features to all the other toothbrushes in the ISSA range, but it is non-rechargeable and battery-powered.
FOREO toothbrush vs Sonicare
Both FOREO and Sonicare use sonic vibrations to break up plaque and clean teeth. There are a couple of major differences between these two brands, namely:
Models: There are seemingly countless models of Philips Sonicare toothbrushes, ranging from a basic $20 brush like the Philips Sonicare One, which is a basic rechargeable electric toothbrush, to the DiamondClean Smart which you can get for nearly $300. FOREO has a more focused offering, with their ISSA collection.
Bristles: The bristles of the FOREO toothbrushes are made from silicone, designed to be extra gentle on teeth and gums, whereas Sonicare bristles are made from the customary nylon.
Both brushes, when used correctly, will do an excellent job cleaning your teeth, so it really comes down to personal preference in the end. You can read our full Sonicare toothbrushes review for more information.
Where to buy the FOREO toothbrush
You can get the FOREO toothbrush directly from the FOREO website, where you can also find the rest of the toothbrushes in their wide range. FOREO also offers other products including a skincare range.
Make sure to use to get off all FOREO products.
If you prefer to purchase the FOREO toothbrush on Amazon, you can do that too!
Conclusion
The FOREO ISSA toothbrush range is a real revolution in the electric toothbrush market. It has a sleek design and soft silicone bristles that are extra gentle on teeth and gums. If you don't like the idea of brushing your teeth with silicone bristles, the hybrid brush head has both nylon and silicone bristles.
The ISSA 3 toothbrush is a higher-end toothbrush, but if you're looking for a sleek design, a gentle touch, convenience, and a great clean, then the price is worth it.
If you are on a budget, check out the other FOREO models that have a slightly lower price tag with many of the same features. And if you decide that you want a FOREO ISSA toothbrush you will also benefit from a 2-year limited warranty and a 10-year quality guarantee.
Sign up to receive the latest news and offers from Dentaly.org