Byte reviews from real Byte orthodontics patients are one of the best ways to gauge the quality of this brand. That's why in this article, we'll take a look at real customer reviews — not just the unboxing — following them on their teeth-straightening journey from start to finish.
In this article, you'll find out how Byte ranks in terms of:
Results: ★★★★☆
Cost: ★★★★☆
Convenience: ★★★★★
Appearance: ★★★★☆
Treatment time: ★★★★☆
Customer service: ★★★☆☆
Keep reading these Byte invisible aligners reviews to find out if Byte is the right aligner brand for you. You can also read our full guide to Byte teeth straightening for more information.
Why Byte?
There are a lot of at-home invisible aligner companies that deliver safe and affordable results.
Byte is one of our top picks because they work exclusively with orthodontists to plan your care, and they have the fastest treatment time of any brand thanks to their special HyperByte technology.
Byte is much more affordable than in-office clear aligners by literally thousands of dollars. Plus, you can get 80% off the impression kit with promo code SMILEBRYTE.
Byte invisible aligners reviews breakdown
Results: ★★★★☆ (4/5 stars)
Byte has successfully straightened the teeth of thousands of patients. However, it should be noted that these types of aligners are only successful when it comes to straightening teeth with minor imperfections.
If your teeth are overlapping, or your bite is misaligned, then you'll likely need to consult an orthodontist in-office for a more hands-on treatment plan.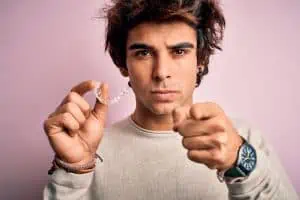 Cost: ★★★★☆ (4/5 stars)
At $1,999 for standard All-Day treatment and $2,399 for At-Night treatment, the cost for Byte braces falls somewhere in the middle of the costs for at-home aligners. But this cost also includes free whitening and your first set of post-treatment retainers.
Don't forget the HyperByte device, which also makes this one of the fastest treatments available.
Convenience: ★★★★★ (5/5 stars)
Clear removal aligners are already more convenient than traditional braces, especially because they can be removed for photos and special occasions. And let's not forget the fact that you can complete every step of the process from home, without ever going to the dentist's office.
But Byte takes it a step further with the nighttime option, allowing you only wear your aligners when you're at home, and most of that time can be spent sleeping.
Appearance: ★★★★☆ (4/5 stars)
The material used to make Byte aligners is BPA-free plastic, with a shiny finish, while some other types of aligners have a textured, frosted finish. The shiny finish is a bit more noticeable when you're wearing them, which may be a deterrent for some people. Although you also may prefer a shiny finish as it will at an extra gleam to your smile.
Treatment time: ★★★★☆ (4/5 stars)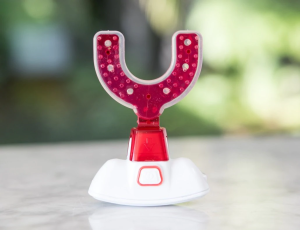 The average projected treatment time for their standard aligners that you wear for 22 hours per day is just four months. And for nighttime aligners, it's just five months.
The short treatment time is largely thanks to the HyperByte device, which comes included in your aligner package. This device delivers high-frequency vibrations, a technology that has been shown to speed up and improve straightening results without causing root resorption — sometimes a consequence of orthodontic treatment.
However, the average treatment time is the estimate that Byte orthodontists make when planning treatment. For some patients, as you will see below in the reviews, the treatment time is extended because refinements are needed.
Customer service: ★★★☆☆ (3/5 stars)
Byte receives a mix of positive and negative customer service reviews, although most tend to be positive. When Byte had an expansion boom, it seems that customer service was strained, but it has since recovered. Customer service agents are generally quick to respond and attentive, and the company has an A+ rating with the Better Business Bureau.
Byte aligners reviews
Brianna's Byte review
"They will work with you until you get your teeth where you want them to be."
In this Byte review, Brianna has finished her treatment and takes us through her before and after pictures, and the pros and cons of her experience.
Her treatment was initially projected to take four months, but she had to do refinements because she had a couple of teeth that were stubborn in moving. She ended up having to do five different impression kits for six different aligner packages.
You don't have to pay for a new impression kit or aligners if you need refinements, and Byte will keep working with you until you are satisfied with your results.
In the end, one of Brianna's teeth still hadn't moved into the perfect position, and while Byte recommended continuing treatment, after two years, she decided she was happy enough with the results and just wanted to be done.
According to Brianna, the pros are:
It's a cheaper way to straighten teeth
You don't have to go to the dentist
And the cons are:
Customer service was bad
The treatment plan took longer than originally projected
You aren't seeing an orthodontist in person, which makes treatment less predictable
Beth's Byte review
"It is a wonderful feeling that my teeth are so nice and straight."
In the second of our Byte reviews, we meet Beth, whose dentist quoted that to straighten her bottom teeth she would have to pay $4,000, so she opted for something a bit more affordable.
She chose the nighttime aligner plan and has been wearing her aligners for eight months. She says it has been an easy process, although she didn't finish her treatment in the projected time because her teeth weren't exactly how she wanted them at the end.
So she got refinements, which took an extra three months to get them to where she was satisfied.
Watch her full Byte review to see everything she has to say about her Byte experience.
Dr A Jhoy's Byte review
"My teeth are 90% better than what they were — but I'm not paying for 90%, I'm paying for 100%"
This reviewer started treatment with Byte nearly two years ago. She says her teeth look much better than they did before starting treatment, however, there are still a couple of teeth that she is not satisfied with.
She has done eight impression kits for all of her aligner kits and the refinements she has needed.
The points she highlights are that:
Customer service was really frustrating
The aligners can become pretty gross and yellow by the end
Taking photos of your teeth during the process is imperative if you want refinements at the end
She concludes by saying that customer service has improved, and by showing a before and after picture of her smile, which is noticeably straighter than it was before.
Alternative aligner companies
If you're not completely convinced by these Byte aligner reviews, there are plenty of other ways to get a straighter smile. Check out the comparison below to learn more about the top brands:
Find the right clear aligners for you
There are so many companies offering remote teeth straightening with aligners! Take a look at our top picks and discover why we recommend these over any others.
Conclusion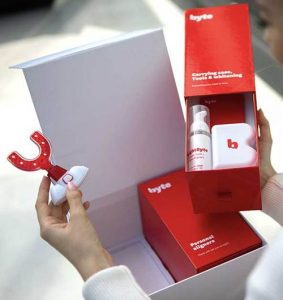 Byte invisible aligners are advertised as the fastest at-home teeth straightening option, one of the reasons being their high-frequency vibration therapy.
However, this should be taken with a grain of salt. For simpler cases, Byte treatment is indeed fast, but in cases when there is a particularly stubborn tooth, you may find that you need multiple refinements, which will extend your treatment time.
The good news is, you don't have to pay for refinements, and Byte will work with you until you are satisfied.
Remember that there are other brands that you can explore as well. Invisalign is the leading brand of invisible brace, but the cost makes it unaffordable for some people. If you're interested in saving money, take a look at our review of Candid, see ALIGNERCO reviews, as well as NewSmile reviews and SDC to see which would be most suitable for you.
FAQs
Do dentists recommend Byte?
Some dentists recommend Byte and some don't. All dentists would agree that if you have complicated malocclusion, you should get in-office orthodontic treatment. At-home aligners are only meant for mild cases where slight adjustments are needed.
Are Byte aligners safe?
Byte aligners are safe as long as you follow the instructions, do your regular check-ins, and make sure to notify your Byte orthodontist if you think something is going wrong.
Do Byte aligners really work?
Byte works for many patients looking to get straighter teeth affordably and conveniently. However, keep in mind that this sort of treatment is only meant for mild to moderate cases of malocclusion.
If you have severely crooked teeth, chances are you'll need to opt for in-office clear aligners like Invisalign, or even traditional braces. If you think you'll need in-office braces, but you don't want to sacrifice fast treatment, you can check out our article on Fastbraces.
Sign up to receive the latest news and offers from Dentaly.org