If you're wondering what other people are saying about Byte aligners, we're going to take a look at some Byte reviews.
Braces can be unsightly, expensive and treatment can last a long time. That's where Byte aligners come in.
They claim to offer the fastest way to straighten your teeth from home, and for a much lower price than traditional adult braces.
Byte's mission also sets it apart from other brands — they truly want to make beautiful smiles available to everyone, regardless of income.
In this article, we'll cover everything you need to know about Byte including:
Our Byte review
Byte before and after
How much does Byte cost
Byte aligners safety
Alternatives to Byte
Byte aligners reviews from customers
So you'll have all the information you need to make the best decision for your smile. You can also read our full guide to Byte teeth straightening for more information.
Why Byte?
There are a lot of at-home invisible aligner companies that deliver safe and affordable results.
Byte is one of our favorites because they work exclusively with orthodontists to plan your care, and they have the fastest treatment time of any brand thanks to their special HyperByte technology.
Byte is much more affordable than in-office clear aligners by literally thousands of dollars. Plus, you can get $65 off the impression kit with promo code BYTE22.
What are Byte invisible braces?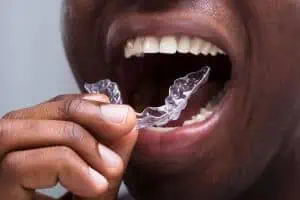 Byte invisible braces are clear aligners, which are clear plastic devices that are made to fit and adjust your teeth. They are created based on scans or impressions of your mouth. These aligners work to gradually move your teeth into an aligned position.
The general treatment process for all clear aligners is as follows:
Impressions or scans of your teeth are taken
A dentist or orthodontist creates a treatment plan based on those impressions
Your clear aligners are made in a lab
You begin treatment with your first pair of clear aligners
You wear each set until you're ready to move on to the next set in the treatment plan, eventually working your way through all of the aligner sets
Post-treatment maintenance with retainers
Clear aligners can be divided into two general categories, in-office and at home, and Byte is a type of at-home aligner, meaning that treatment can be completed 100% remotely.
How much do Byte aligners cost?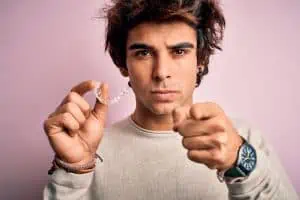 At-home invisible braces can cost anywhere from $1,200 to $2,500, and the cost for Byte braces falls somewhere in between, and also depends on which plan you choose.
All-Day Byte aligners cost
The ticket price of All-Day Byte is $1,999, but you also have the options to pay in installments of $70 per month for 36 months with a $249 deposit. Apart from that you also have to purchase an impression kit which costs $95. Your first set of post-treatment retainers are free, but after that when you need a new set of retainers, you'll have to pay $99 for each set.
At-Night Byte aligners cost
The All-Night cost is a one-time payment of $2,399 or a payment plan of $84 per month for 36 months with a $299 deposit. With this plan, you'll also have to pay $95 for the impression kit and you'll get your first set of retainers free.
Does Byte accept insurance?
Byte does accept insurance, and you can also pay using your FSA or HSA accounts. Not sure if your dental insurance will cover treatment with Byte teeth aligners? You can send Byte your insurance details and they'll let you know.
The following table shows a summary of the cost of Byte depending on the plan you choose.
| | |
| --- | --- |
| | |
| | |
| | $70/month for 36 months, $249 deposit |
| | |
| | $84/month for 36 months, $299 deposit |
| | |
| | First set free, 99$ for each additional set |
Byte aligners reviews
Brianna's Byte review
"They will work with you until you get your teeth where you want them to be."
In this Byte review, Brianna has technically finished her treatment plan, which was supposed to be 13 weeks wearing aligners on the top teeth and 15 weeks wearing her aligners on her bottom teeth.
Her treatment time is going to be extended, and she will have to take her impressions again because she is experiencing problems with tracking — meaning her aligners aren't lining up perfectly with her teeth.
Other than her understandably frustrating delays, she is overall happy with Byte, especially their customer service, and is looking forward to finishing her treatment.
LindaElaine's Byte review
"Byte has been great!"
In this second of our Byte reviews, we meet LindaElaine with just a few weeks left of her Byte invisible aligners journey. While she definitely feels like there have been some changes to the structure of her mouth, she hasn't had any trouble eating.
She now has straight teeth, and overall, she says Byte teeth aligners have been great. Plus, her treatment time was only three months. That was one of the main reasons she initially chose Byte. She also says that customer service has been amazing, always prompt to respond whenever she had a question.
In the video below you can see some Byte before and after images of her teeth and they do indeed look straighter.
Watch her full Byte review to see everything she has to say about her Byte experience.
More Byte aligners reviews
These Byte reviews are from consumeraffairs.com:
"It's such a easy experience! Things are moving along greatly! Everything is super easy to follow! And very smooth shifting of teeth! I love this journey and I'm so excited to see my new teeth! I'm so glad I get to be a part of this!"
"I have had mostly good experiences so far with this company. The only thing that I am not happy with is having to wait 3-4 weeks for the second half of my aligners to be made and shipped. I feel like that should be considered when giving a time frame for the treatment plans."
"I've been a customer with Byte since 2020. My experience has been good but there is definitely room for improvement with the professional care team. I feel that the customers should be able to choose their care professional as we make relationships with our care advisor. Not all of the care team show that same compassion so we should be able to choose."
Byte aligners reviews summary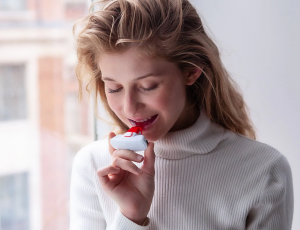 Affordability ★★★★☆ (4/5 stars)
At $1,895 for standard All-Day treatment and $2,295 for At-Night treatment, Byte falls somewhere in the middle of the costs for at-home aligners. But this cost also includes free whitening and your first set of post-treatment retainers. Don't forget the HyperByte device, which also makes this one of the fastest treatments available.
Convenience ★★★★★ (5/5 stars)
Clear removal aligners are already more convenient than traditional braces, especially because they can be removed for photos and special occasions. And let's not forget the fact that you can complete every step of the process from home, without ever going to the dentist's office.
But Byte takes it a step further with the nighttime option, allowing you only where your aligners when you're at home, and most of that time can be spent sleeping.
Appearance ★★★★☆ (4/5 stars)
The material used to make Byte aligners is BPA-free plastic, with a shiny finish, while some other types of aligners have a textured, frosted finish. The shiny finish is a bit more noticeable when you're wearing them, which may be a deterrent for some people. Although you also may prefer a shiny finish as it will at an extra gleam to your smile.
Alternative aligner companies
If you're not completely convinced by these Byte aligner reviews, there are plenty of other ways to get a straighter smile. Check out the comparison below to learn more about the top brands:
Find the right clear aligners for you

There are so many companies offering remote teeth straightening with aligners! Take a look at our top picks and discover why we recommend these over any others.
Conclusion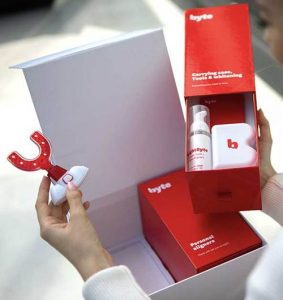 Byte invisible aligners are the fastest at-home teeth straightening option, thanks to their HyperByte vibration therapy. This system has both an All-Day and an At-Night option, for those who prefer to not wear their Byte aligners during the day.
Byte works with licensed orthodontists to plan your treatment and uses remote monitoring so your doctor can make sure everything goes according to plan. According to Byte reviews, many patients are very happy with their teeth-straightening experience with this brand.
Byte also makes an effort to be an active community activist, with a vision of giving everyone access to the dental care they need.
Remember that there are other brands that you can explore as well. Invisalign is the leading brand of invisible brace, but the cost makes it unaffordable for some people. If you're interested in saving money, take a look at our review of Candid, see ALIGNERCO reviews, as well as NewSmile reviews and SDC to see which would be most suitable for you.
FAQs
Do dentists recommend Byte?
It depends entirely on the dentist you ask. Some dentists are opposed to at-home aligners, but others, especially the ones that work with these companies, would say they are a good treatment option.
Are Byte aligners safe?
As long as you follow the instructions, and make sure to notify your Byte orthodontist if you think something is going wrong, Byte aligners, as well as most at-home aligners are indeed safe.
Do Byte aligners really work?
Byte works for many patients looking to get straighter teeth affordably and conveniently. However, keep in mind that this sort of treatment is only meant for mild to moderate cases of malocclusion.
If you have severely crooked teeth, chances are you'll need to opt for in-office clear aligners like Invisalign, or even traditional braces. If you think you'll need in-office braces, but you don't want to sacrifice fast treatment, you can check out our article on Fastbraces.
How much does Byte cost?
The standard cost of Byte teeth straightening is $1,999, with the option to pay in installments with a deposit upfront. The impression kit costs $95 and the retainers cost $99.
Sign up to receive the latest news and offers from Dentaly.org