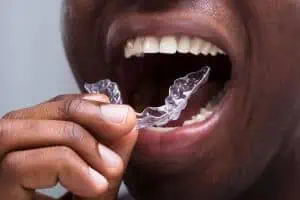 If you're wondering what other people are saying about Byte, we're going to take a look at some Byte reviews.
Braces can be unsightly, expensive and treatment can last a long time. That's where Byte comes in. They claim to offer the fastest way to straighten your teeth from home, and for a much lower price than traditional adult braces.
Those are bold claims! To determine if there's any weight behind them, we'll go over the following:
Cost
Treatment time
Safety
Alternatives
Byte aligners reviews from customers
So you'll have all the information you need to make the best decision for your smile.
Why Byte?
There are a lot of at-home invisible aligner companies that deliver safe and affordable results.
Byte is one of our favorites because they work exclusively with orthodontists to plan your care, and they have the fastest treatment time of any brand thanks to their special HyperByte technology.
Byte is much more affordable than in-office clear aligners by literally thousands of dollars. Plus, you can get 75% off the impression kit with promo code 02DENTALY100TS.
What are Byte invisible braces?
Before we talk about Byte reviews specifically, let's do a quick refresher on clear aligners AKA invisible braces. Clear aligners are clear plastic devices that are made to fit your teeth, based on scans or impressions of your mouth. These aligners work to gradually move your teeth into an aligned position.
The general treatment process for all clear aligners is as follows:
Impressions or scans of your teeth are taken
A dentist or orthodontist creates a treatment plan based on those impressions
Your clear aligners are made in a lab
You begin treatment with your first pair of clear aligners
You wear each set until you're ready to move on to the next set in the treatment plan, eventually working your way through all of the aligner sets
Post-treatment maintenance with retainers
Clear aligners can be divided into two general categories, in-office and at home, and Byte is a type of at-home aligner, meaning that treatment can be completed 100% remotely.
Dr. Jon Marashi
The Byte aligners company was founded in 2017 by celebrity and cosmetic dentist Dr. Jon Marashi. The notable cosmetic dentist is best known for his clinic in Brentwood, Los Angeles, where he is a star favorite, with clients like Justin Timberlake, Cher, and Tom Hanks.
No stranger to treating clients with virtually unlimited resources, he wanted to extend his reach to a wider audience. His goal was to provide star-worthy treatment for a fraction of the cost. With lower costs and greater convenience, his hope is to make orthodontics more accessible.
How does Byte work?
Byte works very similarly to other at-home clear aligners:
Order your impression kit
In order for Byte's orthodontists to assess whether you're a good candidate for this treatment, you need to take impressions of your teeth at home. To do this, order an impression kit online – it usually costs $95 but right now you can get 75% off with promo code 02DENTALY100TS. Once you receive your impression kit in the mail, it's time to make your impressions.
Your impression kit will include gloves, a cheek stretcher, molding trays (two for the top and two for the bottom in case you mess up the first time), four white containers of putty, four red containers of putty, and an instruction manual.
If you are concerned about taking your impressions on your own, you can sign up for an 'Impression Session', where you get help from a member of the Byte aligners patient care team via video chat. Also, you get two chances in the impression kit to do your top and bottom impressions, plus they'll send you another kit for free (you pay for shipping) if you need to try again.
You can also watch this YouTube tutorial, provided by Byte, for how to take impressions.
Create a plan
Once you send your impression kit in, a team of Byte orthodontists will review your impression and photos, and using their 'Smile Science' technology, will develop a plan that takes into consideration the ideal placement of your teeth in relation to your facial features.
If you're happy with the treatment plan, you make your payment – either as a lump sum or via monthly instalments. This is one thing which makes Byte different to other aligner companies; you don't pay for your full treatment until everything is confirmed.
Start your treatment
About four weeks after your plan is approved, you'll receive your aligner kit in the mail. Each kit includes:
All of the Byte aligners in your treatment plan
HyperByte vibration therapy
BrightByte whitener
Carrying case
You will wear each aligner for a week before moving onto the next one. At the end of your treatment, you'll begin wearing your retainers (first set free with your Byte aligners). As with any form of orthodontic treatment, you'll want to wear your retainers every night for the rest of your life to make sure your teeth don't move back out of line.
Byte treatment plan
There are two options for treatment with Byte, and 'All-Day' option and an 'At-Night' option. That means you can choose the best plan to fit your lifestyle.
Byte All-Day
The primary treatment plan that Byte offers is the Byte All-Day plan, although it would be more aptly named the 'All-the-Time' plan. That's because with this plan you have to wear your Byte aligners for 22 hours per day, and use your HyperByte for five minutes per day.
If you follow your treatment plan, your treatment time will be half as long as it would have been with any other aligner brand. That means that, if all goes well, in theory, you could have straight teeth in as little as two or three months.
Byte At-Night
If you have a job that requires you to take lots of photos, or give speeches, or you simply don't want to have to wear your Byte invisible aligners during the day, you may want to consider the At-Night plan. You only have to wear your nighttime aligners for a minimum of 10 hours per day. They are made of thicker material that is designed to move your teeth while you sleep.
In addition to wear time, you also must use your HyperByte for a minimum of 10 minutes per day. Since you're only wearing your Byte aligners for 10 hours per day, treatment time is slightly extended to an average of five to six months.
What is HyperByte?
Let's talk about HyperByte. Is it a gimmick or does it actually work?
We've mentioned it in passing a couple of times above, but it deserves much more attention considering this is one of the main components of Byte that sets it apart from other clear aligner brands.
HyperByte is a High Frequency Vibrations (HFV) device. An HFV uses vibration-based therapy in the form of gentle micro-pulses that can reduce discomfort and encourage a better fit with your Byte invisible aligners, resulting in better traction and more efficient and accurate movement of teeth. The ultimate result? Faster treatment time.
The dentists at Byte aren't the first to use HFV to speed up treatment, in fact, orthodontists have been including vibration therapy for years as part of the braces treatment they offer to their patients, and studies do show that HyperByte can speed up treatment. This particular study examined the results for 30 orthodontic patients using HFV compared to a group that didn't use HFV as part of their orthodontic treatment. The results showed that the groups using the HFV was able to change aligners in 5.2 days on average, while the control group took 8.7 days on average to change aligners.
According to Byte, the benefits of HyperByte are:
Up to 64% faster tooth movement
Cleared by the FDA as a Class II medical device
Eases discomfort
Your HyperByte comes with your Byte aligners, accompanied by a soft mouthpiece, LED light notifications, and a fast-charging USB cord. To use your HyperByte, just slip it in your mouth, with your aligners in, and gently hold it in your mouth between your teeth.
BrightByte
BrightByte is Byte's signature tooth whitening treatment, and it comes included with your Byte teeth aligners. To whiten your teeth with BrightByte, you just apply it inside your Byte invisible aligners and then put your aligners in. This whitening formula also kills 99.9% of bad bacteria and freshens your breath.
How much do Byte dental braces cost?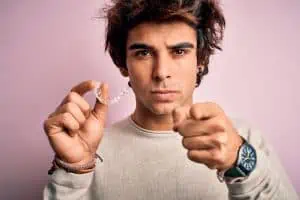 At-home invisible braces can cost anywhere from $1,200 to $2,500, and the cost for Byte braces falls somewhere in between, and also depends on which plan you choose.
All-Day cost
The ticket price of All-Day Byte is $1,895, but you also have the options to pay in instalments of $83 per month for 25 months with a $349 deposit. Apart from that you also have to purchase an impression kit which costs $95. Your first set of post-treatment retainers are free, but after that when you need a new set of retainers, you'll have to pay $99 for each set.
At-Night cost
The All-Night cost is a one-time payment of $2,245 or a payment plan of $98 per month for 25 months with a $415 deposit. With this plan, you'll also have to pay $95 for the impression kit and you'll get your first set of retainers free.
Does Byte accept insurance?
Byte does accept insurance, and you can also pay using your FSA or HSA accounts. If you're not sure if your dental insurance will cover treatment with Byte, you can send Byte your insurance details and they'll let you know.
The following table shows a summary of the cost of Byte depending on the plan you choose.
Byte aligners reviews
LindaElaine's Byte review
"Byte has been great!"
In this first of our Byte reviews, we meet LindaElaine with just a few weeks left of her Byte invisible aligners journey. While she definitely feel like there have been some changes to the structure of her mouth, she hasn't had any trouble eating. She now has straight teeth, and overall, she says Byte has been great. Plus, her treatment time was only three months. That was one of the main reasons she initially chose Byte. She also says that customer service has been amazing, always prompt to respond whenever she had a question.
In the video below you can see some before and after images of her teeth and they do indeed look straighter.
Watch her full Byte review to see everything she has to say about her Byte experience.
BrandsLove2Tone's Byte review
This United States Veteran started his YouTube channel after his second tour and decided that he wanted to straighten and whiten his teeth a bit because he was planning on having more visibility on social media, doing some advertisements, and trying to get endorsements for his work.
He's also a musician and has a lot of photos taken, so he thought he could improve his outward image a bit.
He chose Byte aligners primarily because of the price. As he was still on tour when he first considered straightening his teeth, he didn't have a whole lot of money to spend on treatment. He was also attracted by the fact that it worked so much faster than traditional braces.
He says he would definitely recommend using Byte teeth aligners if you want to straighten your teeth at a reasonable time and for a reasonable price.
He shows pictures of his before and after and the difference is extreme!
You can watch his whole Byte reviews video below, where he shows you how to make impressions and gives lots of helpful tips and tricks.
Alternative aligner companies
If you're not completely convinced by these Byte aligner reviews, there are plenty of other ways to get a straighter smile. Check out the comparison below to learn more about the top brands:
Find the right clear aligners for you

There are so many companies offering remote teeth straightening with aligners! Take a look at our top picks and discover why we recommend these over any others.
Should I choose Byte?
Byte aligners are a good middle-of-the-road option for those who want to straighten their teeth affordably and conveniently.
Byte teeth aligners could be the best choice for you if…
You want to pay less (for the standard treatment plan)
You want an orthodontist to plan your treatment
You want 100% remote care
You have mild to moderate malocclusion
One more thing we should mention about Byte is that they are big on community outreach. The company strives to provide oral health care to those who don't have access, and they actively participate in community events related to all kinds of health and wellbeing.
Additionally, at the beginning of the COVID-19 pandemic, they used their manufacturing labs to make face shields and ventilators for those on the front lines. In the video below, you can see Kerry Washington name-drop Byte's activism on the Ellen Show.
Conclusion
Byte is the fastest at-home teeth straightening option, thanks to their HyperByte vibration therapy. This system has both an All-Day and an At-Night option, for those who prefer to not wear their Byte aligners during the day.
Byte works with licensed orthodontists to plan your treatment and uses remote monitoring so your doctor can make sure everything goes according to plan. According to Byte reviews, many patients are very happy with their teeth-straightening experience with this brand.
Byte also makes an effort to be an active community activist, with a vision of giving everyone access to the dental care they need.
Remember that there are other brands that you can explore as well. Invisalign is the leading brand of invisible brace, but the cost makes it unaffordable for some people. If you're interested in saving money, take a look at our reviews of Candid, ALIGNERCO, NewSmile, Byte and SmileDirectClub to see which would be most suitable for you.
FAQs
How much is the Byte impression kit?
The Byte impression kit costs $95, but if you purchase it using promo code 02DENTALY100TS, you can get 75% off. Byte offers a 100% Impression Kit Guarantee, which means that if you send in your impression kit and the orthodontists at Byte determine you aren't a good candidate, you will get a complete refund.
Are Byte aligners safe?
As long as you follow the instructions, and make sure to notify your Byte orthodontist if you think something is going wrong, Byte aligners, as well as most at-home aligners are indeed safe.
Do Byte aligners really work?
Byte has worked for many patients looking to get straighter teeth affordably and conveniently. However, keep in mind that this sort of treatment is only meant for mild to moderate cases of malocclusion. If you have severely crooked teeth, chances are you'll need to opt for in-office clear aligners like Invisalign, or even traditional braces. If you think you'll need in-office braces, but you don't want to sacrifice fast treatment, you can check out our article on Fastbraces.