There are numerous Invisalign alternatives on the market these days. And for good reason. Many adults who want to straighten their teeth are looking for options that are less noticeable than traditional metal braces.
What's more, the desire to have the perfect smile comes with being a part of modern-day society. Not to mention straighter teeth are also important when it comes to overall oral health.
So how is one to choose between Invisalign and alternatives with this embarrassment of options?
If you're feeling overwhelmed with all of the Invisalign competitors out there, don't worry! We've created this guide that will cover Invisalign competitors and alternatives, both in-office and at-home, including but not limited to:
ClearCorrect
Smile Direct Club
Candid
Smilelove
We hope this guide helps you figure out which Invisalign alternative is the best option for you! Alternatively, if you want to learn more about Invisalign, you can read our full guide here.
At-home Invisalign Alternatives
The following Invisalign Alternatives all share two things in common that separate them from Invisalign: There are no regular in-office visits with your dentist or orthodontist, and they are, on average, cheaper. Invisalign competitors tout the remote aspect as a pro for those who are interested in Invisalign but would prefer a cheaper alternative, as it allows for lower costs and is said to be more convenient.
Invisalign, however, would argue that this is one of the downsides of at-home braces, because, according to Invisalign, due to lack of hands-on professional supervision, they aren't entirely safe, nor is their accuracy guaranteed. As you will see, though, not all teledentistry brands are the same in this regard. Some have absolutely no in-person contact, whereas others have an orthodontist monitoring your treatment remotely and checking in every 7 to 10 days.
As you read through these descriptions of the at-home aligner options, keep in mind that the purpose of each is relatively the same: Correct cases of malocclusion that aren't so severe they require careful dentist supervision or surgery. The main differences between these alternatives to Invisalign will be:
Costs
Treatment time
Severity of cases they can treat
Availability of in-person assistance
Diagnostic technology
Monitoring techniques
Candid
Candid is our pick for one of best and cheaper alternatives to Invisalign braces.
That's because, in a way, Candid offers the best of all worlds. For one, with Candid you have the option of completing your treatment 100% remotely. However, for those who feel more comfortable with hands-on assistance, they also have physical locations called Candid Studios. You can go to a Candid Studio for a free consultation, and a care specialist will take 3D scans of your teeth if you decide you want to start treatment. They have great customer service, both in-studio and virtually, which you can read more about in our Candid reviews article.
In the video below, you can see one Candid patient's experience visiting a studio to get her 3D scans.
Alternatively, if you choose the 100% remote route, you simply order your impression kit online, and do your own impressions at home, sending them into Candid when you're done. The kits are $95, but there is usually a promotion or discount happening, so you can get it for much cheaper. Additionally, the entire amount you paid will be refunded if it turns out that you aren't eligible for treatment with this type of aligner.
Another reason we really like Candid, is that your remote monitoring is done exclusively with orthodontists. Why is this important? Well, because orthodontists are dentists, but after completing their requirements for becoming a dentist, they then go on to pursue more studies in the specialized field of orthodontics and straightening teeth.
And now, Candid offers AI technology with their treatment system through a partnership with medical tech company Dental Monitoring. With this technology, you can virtually check in with your orthodontist using an at-home scanner. This not only ensures more effective treatment, but it also has the potential to cut a significant amount off of your treatment time.
Treatment with Candid takes an average of six months, and you have two payment options to choose from: a one-time payment of $2,400, or $99/month.
Candid also has a new Smile Assessment tool. All you do is fill it out and you can instantly find out if you're eligible! Just click the link below.
SmileDirectClub
SmileDirectClub (SDC) was the first popular alternative to Invisalign braces to make its mark on the teeth straightening market. It entered the clear aligner race in 2014, advertised as a convenient and cheap alternative to Invisalign.
The process is quite similar to that of Candid—you can go to a SmileShop where they can do scans of your teeth, or you can order an impression kit to take your impressions at home.
Treatment with SDC usually lasts between six and 18 months, and you are assigned a dentist or orthodontist to check in with you and see how your teeth are progressing. We've got a more in-depth article comparing Invisalign and SDC if you're interested in knowing more.
SDC doesn't however, work exclusively with orthodontists and they don't have AI technology for remote monitoring.
SDC is one of the more popular options for at-home braces out there, besides Candid. In the video below, you can see how one reviewer rates her experience.
We've also compiled more Smile Direct Club reviews here for you to peruse.
Smile Direct Club has also introduced the new Nighttime Clear Aligners, which only have to be worn for 10 hours a day, so mostly while you sleep. This does, however, extend treatment time.
SnapCorrect
SnapCorrect is one of the cheapest clear aligner alternatives to Invisalign on the market, costing a total of $1,749. If you qualify, you can also opt for a payment plan of $80.84 per month. SnapCorrect differs from SDC and Candid in that there don't seem to be any physical stores where you can go if you'd rather get your impressions done with the help of a representative.
SnapCorrect also claims that not only are they less expensive than SDC, they are also much clearer and therefore less noticeable. They tout contoured edges on the top of the aligner that don't cut into your gum line (which they claim is a problem with SDC).
As far as a self-comparison with Invisalign goes, SnapCorrect claims that their aligners are less noticeable than Invisalign, due to the almost total transparency of their retainers. They also mention the benefit of not needing attachments on teeth, and no visits to the dentist, making it a more convenient alternative to Invisalign.
Smilelove
The thing that differentiates Smilelove the most from the other Invisalign competitors is that they have one of the most affordable payment plans at $79/month, plus there are ongoing promotions. Also, your first set of retainers after aligner treatment is free. You are subject to a credit check and a down payment might be required.
This monthly payment includes:
At-home impression kit
Whitening kit
Post-treatment retainers
Smilelove accepts Health Savings and Flexible Spending Account plans to help with costs as well.
Smilelove works very similarly to SnapCorrect; you take your impressions at home, send them in and doctors will develop a plan. There's no satisfaction guarantee with Smilelove. You can return your impression kit unopened and unused within 30 days, but once you open it you're locked in.
In-office Invisalign Alternatives
ClearCorrect
ClearCorrect was founded in 2006 and is the main competitor to Invisalign. That's because the experience and process are quite similar to that of Invisalign. Your dentist or orthodontist must register to be a ClearCorrect provider, and then ClearCorrect sends them the materials needed to straighten your teeth.
You then have regular in-office visits with your dentist or orthodontist as you would with regular braces. Many patients appreciate the professional supervision that Invisalign and ClearCorrect offer. What's more, prices for ClearCorrect are comparable to Invisalign, costing anywhere from $2,000 to $8,000.
ClearCorrect aligners are made from thinner material than Invisalign aligners, which their website claims make them less noticeable. But it could be argued that the thinner aligners are more prone to break, while others say they are more comfortable.
Read our article on ClearCorrect vs Invisalign to read more about the similarities and differences, or check out some ClearCorrect reviews to see what real users think of these aligners.
Uniform Teeth
Uniform Teeth is similar to ClearCorrect and Invisalign because treatment includes regular meetings with your orthodontist. This, of course, is reflected in the higher cost ($3,500) than you'll see with remote-care clear aligners.
Uniform claims to be different from Invisalign by employing only trained orthodontists who specialize in clear aligners, which they say helps cut treatment time down by 50%. They are also proud to say that their aligners are made in the United States.
Since, like Invisalign, you have in-office visits with an orthodontist, Uniform Teeth aligners can be used to treat not just mild, but also severe cases of malocclusion.
According to their website, most patients finish treatment within 6 months, and the average cost is between $2,500 and $5,000.
Dandy
Dandy has made their mark on the clear aligner industry by providing an option between in-office options like Invisalign, and completely remote options like SmileDirectClub. Should you opt for treatment with Dandy, you will meet with a dentist who creates and supervises your treatment plan. For most treatment plans, you only meet with your dentist at the beginning and then 1-3 times more during the treatment process. However, you also have the option to meet with a Dandy dentist in-person if needed. 
Due to the greater amount of supervision with Dandy than with remote clear aligners, Dandy can treat more complex cases of malocclusion.
Distinguishing itself from Invisalign, Dandy doesn't use teeth attachments, and their clear aligners have a "flowing scalloped" edge that fits to your teeth along the gum line. This, in theory, results in a more natural look and shorter treatment time, due to the extra pressure exerted on your teeth.
Invisalign vs Competitors Summary
So that's a lot of information we just went over about alternatives to Invisalign. For a quick summary, have a look at the following table that compares Invisalign with Invisalign competitors.
Are at-home aligners a good alternative to Invisalign?
In cases of mild to moderate malocclusion, at-home aligners can certainly be a good alternative to Invisalign. That being said, it matters which at-home aligners brand you choose. We recommend Candid as the best alternative to Invisalign if you want to save money and enjoy the convenience of a mail-order brand, without sacrificing quality of care.
There are some severe cases of malocclusion that at-home aligners like Candid aren't able to treat, and in these cases, you may need to go with Invisalign or even traditional braces.
If you're interested in this cheaper option, and want to see if you're eligible, you can do the Candid Smile Assessment right now. You'll find out if you're eligible instantly, at which point you can order an impression kit online, or visit a Candid Studio.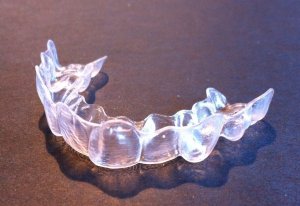 Conclusion
Nowadays there are a plethora of options for those looking to straighten teeth. Not only are there countless alternatives to traditional metal braces, but there are also many alternatives to clear aligners like Invisalign.
Some of these alternatives are much more affordable and convenient with remote treatment options. The alternative that we most recommend is Candid, not only because of their lower price tag, but also because they work exclusively with orthodontists for your treatment monitoring and they have AI technology that makes for a more efficient process.
If you want to find out if you're a candidate for at-home clear aligners, you can take the Candid Smile Assessment now.
FAQs
What are the best Invisalign competitors?
The best Invisalign alternative is going to be different for each individual. That being said, if you are looking for a cheap Invisalign alternative, you can opt for at-home options like Candid, SmileDirectClub or SnapCorrect. 
Candid actually offers a sort of middle ground—you can complete treatment 100% remotely, or you can go to a Candid Studio to get in-person assistance and 3D scans. Additionally, remote monitoring with Candid is done exclusively with orthodontists, so you know you're getting expert supervision.
What are some cheaper alternatives to Invisalign?
A cheap Invisalign alternative might include online or at-home options like Candid, SmileDirectClub, Smilelove and SnapCorrect. These are just a few of the names that have flooded the remote-care clear aligner industry in the past few years. 
What's the best Invisalign alternative at home?
The best at-home Invisalign alternative will be whatever is best for you as an individual. Candid is one of the most popular brands available now, and has a lot of positive reviews. They also have an A+ rating from the Better Business Bureau. Take their Smile Assessment now to find out if you're eligible. You may also want to consider treatment with SDC, as they have very good reviews as well.