This is a review of the best Invisalign alternatives in 2023. Whether you're looking for braces for adults or teens, we've looked at factors like treatment efficacy, cost, aesthetics, eligibility, and treatment time.
In this article, we cover:
Options that are more affordable than Invisalign
Clear aligners with at-home impression kits
In-office aligners
Keep reading to find the best alternative Invisalign treatment for you. If you haven't already seen our full Invisalign guide, then you may find some useful information there, too.
The best Invisalign alternatives
Best for fast treatment
Best all-inclusive kit
Best for clearest material
Best cheap Invisalign alternative
Best hybrid option
Best in-office
Byte: Best for fast treatment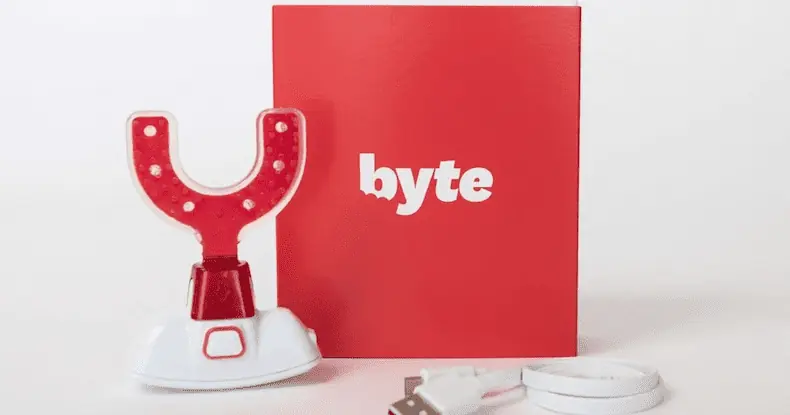 Brand details
Eligibility: Mild to moderate cases
Treatment time: 3-4 months
Price: $1,999 standard; $2,399 nighttime
Extra features: HyperByte device
Why we like it
As part of Byte treatment, you get the HyperByte, which delivers high-frequency vibrations that help make aligners fit more comfortably and can potentially speed up your treatment time.
Byte also offers a Byte for Life guarantee which means that as long as you continue to purchase your retainers every six months, Byte will give you new aligners in the future if your teeth shift or move. Byte also offers nighttime aligners which you only have to wear for 10 hours per night, allowing you to customize your treatment to your lifestyle.
Areas for improvement
Byte offers, but doesn't require, virtual check-ins with your dentist — This lack of accountability means that if it's difficult for you to commit to treatment, you might end up not wearing your aligners as much as you should.
Byte also doesn't have physical locations as some other brands do, where you can go to get 3D scans of your teeth, instead of making your own impressions at home. 3D scans are generally more reliable than impressions.
Our final take
Byte offers fast treatment as long as you only need minor adjustments. It's not the most affordable at-home option, but it's cheaper than Invisalign. The HyperByte device may decrease discomfort.
If you like Byte, use discount code SMILEBRYTE to get 80% off your kit.
Get Byte now
Read our full Byte review for more information.
NewSmile: Clearest plastic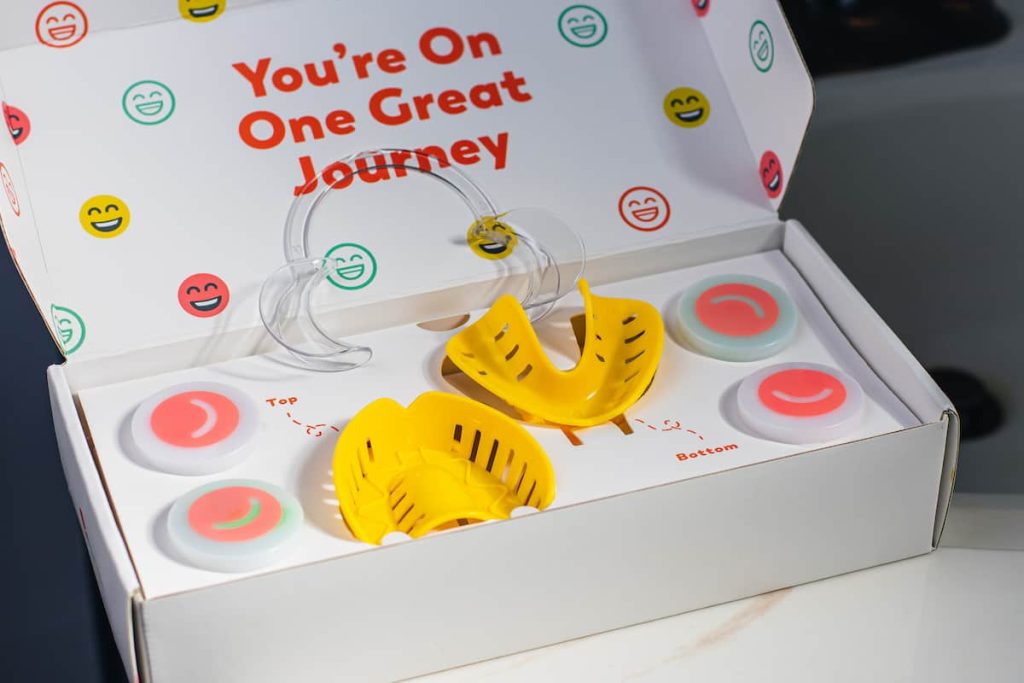 What we like
One thing that sets NewSmile apart from the competition is that these aligners are the clearest aligners available.
They also move multiple teeth at once and have a shorter treatment time of 4-6 months. Customer service includes live video chats whenever you need them, and as a plus, you also get whitening as part of your kit so you can brighten your teeth while you straighten them.
They also have a couple of purchase options — you can purchase an impression kit for just $49 and take your impressions at home, or purchase the full package up-front for $1,495. There's also a payment plan of $55 per month.
Room for improvement
NewSmile doesn't have any physical locations where you can get an in-person 3D scan.
Our final take
NewSmile offer the clearest aligners available and is a great option for making slight adjustments at a mid-range aligner price.
Get your NewSmile aligners
You can find out more about NewSmile by reading our full NewSmile review.
Smileie: Best single-arch
Brand details
Eligibility: Mild to moderate cases
Treatment time: 4-6 months
Price: $849 standard; $1,049 nighttime
Extra features: Single-arch pricing options
Why we like it
Smileie gives you the option to straighten just your top or bottom teeth with bottom braces or top braces only for a discounted rate. They also offer nighttime aligners for added convenience. With your aligner package comes the impression kit, the aligners, and a free set of retainers — no hidden costs.
Areas for improvement
Single-arch treatment is a good option for a very small slice of the population — in most cases, if you straighten one arch without the other, you risk messing up your bite. Make sure to consult your orthodontist before choosing single-arch treatment, as recommended by the American Association of Orthodontists. They have only one orthodontist contact on their page and one physical impression center in Arizona.
Our final take
Smileie is a good option if you have very minor adjustments to make in a couple of your front top or bottom teeth, since you can opt for single-arch treatment. They are also one of the most affordable brands when they are having sales. You must consult your orthodontist before pursuing treatment for top or bottom teeth only.
Get Smileie aligners
Learn more about single-arch treatment in our Smileie review.
ALIGNERCO: Cheapest
Brand details
Eligibility: Mild to moderate cases
Treatment time: 4-6 months
Price: $945 standard; $1,145 nighttime
Extra features: Various payment plans
Why we like it
ALIGNERCO is an affordable option not just because of its low sticker price, but also because it offers various payment plans to fit your budget. No in-office visits make it convenient, and a nighttime option lets you choose the best fit for your lifestyle.
Areas for improvement
ALIGNERCO doesn't have virtual check-ins so there isn't as much supervision as there is with other brands, and there is currently only one physical location, in New York, where you can get a 3D scan instead of impressions.
Our final take
ALIGNERCO isn't technically the cheapest brand anymore, however it does have various payment plan options that still make it the best budget option. You can also get nighttime aligners if that is more convenient for you. Only consider this brand if you need slight adjustments.
Use discount code SAVE150 for an extra $150 off your kit.
Get ALIGNERCO aligners
You can also find out more about this affordable brand in our ALIGNERCO review.
ClearCorrect: Best in-office
What we like
ClearCorrect is the biggest competitor of Invisalign, and are meant to treat more complex cases than at-home clear aligners. They are also potentially more affordable than Invisalign, since they charge dentists lower product and lab fees.
Direct dentist monitoring means greater control of your treatment, and they are made of thinner plastic than Invisalign for more discreet wear.
Room for improvement
While potentially cheaper than Invisalign, ClearCorrect still may be too expensive for many patients. They also have fewer dentists than Invisalign, so it may be more difficult to find treatment.
Our final take
ClearCorrect is a good alternative to Invisalign if you need to make mild to severe adjustments to your tooth or jaw alignment, and they may be a bit cheaper than Invisalign.
Read our article on ClearCorrect vs Invisalign to read more about the similarities and differences.
More alternatives to Invisalign
If none of the above options have got you convinced, there are plenty of other choices:
Are at-home aligners a good alternative to Invisalign?
At-home aligners are a good alternative to Invisalign if you need only mild adjustments to straighten your teeth. For more extensive treatment, you may need to consider an in-office alternative.
With at-home aligners, there are no regular in-office visits with your dentist or orthodontist, and they are almost always cheaper. Invisalign competitors say these are more convenient alternatives to Invisalign, especially if you're looking to save money and still avoid traditional braces. They can also be appealing if you're trying to stay home as much as possible.
The main differences between these alternatives to Invisalign will be:
Costs
Treatment time
Severity of cases they can treat
Availability of in-person assistance
Diagnostic technology
Monitoring techniques
That being said, it matters which at-home aligners brand you choose. Read more about straightening teeth at home here.
We recommend brands like NewSmile, ALIGNERCO, and Byte as the best alternative to Invisalign if you want to save money and enjoy the convenience of a mail-order brand, without sacrificing quality of care. And Candid is a great option if you're looking for a best-of-both-worlds solution.
There are some severe cases of malocclusion that at-home aligners aren't able to treat, and in these cases, you may need to go with Invisalign or even traditional braces.
If you do think you are a good candidate for clear aligners, you can choose from the top options below:
The best alternatives to Invisalign

There are so many companies offering teeth straightening with invisible braces and clear aligners! Take a look at our top picks and discover why we recommend these over any others.
Conclusion
An in-office braces brand like Invisalign is worth it if you can afford it and have time to go to your dentist's office for regular checkups, but if you're looking for a cheaper option, clear aligners may be a good alternative.
Nowadays there are a plethora of options for those looking to straighten teeth. Not only are there countless alternatives to traditional metal braces, but there are also many alternatives to clear aligners like Invisalign. There are even brands that offer both clear aligners and clear braces, like Six Month Smiles, which you can read more about here.
Some of these alternatives are much more affordable and convenient, with remote treatment options. NewSmile, Candid, ALIGNERCO and Byte stand out as some of the best, not only because of their lower price tag, but also because they work exclusively with orthodontists for your treatment monitoring.
Here's a recap of how you can get started with each of these brands, and our special discount codes if you choose to go ahead and order a kit or aligner package:
Still want to know more? Our guide to the best invisible braces has more details and comparisons.
FAQs
What are the best Invisalign competitors?
The best Invisalign alternative is going to be different for each individual. If you are looking for a cheap Invisalign alternative, you can opt for at-home options like ALIGNERCO, NewSmile, or Byte. You can read more about the best options in our best invisible braces article.
What are some cheaper alternatives to Invisalign?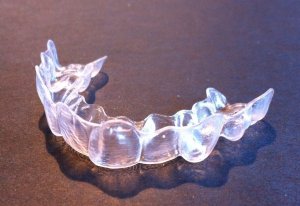 A cheap Invisalign alternative might include online or at-home options like NewSmile, Candid, and Byte. These are just a few of the names that have popped up recently. There are many others as well.
Uniform Teeth, for example, offers a hybrid option between in-office and at-home aligners, and then there are options like ALIGNERCO which, at just $1,145 is one of the cheapest options around.
What's the best Invisalign alternative at home?
The best at-home Invisalign alternative will be whatever is best for you as an individual. Candid is one of the most popular brands available now, and has a lot of positive reviews. They also have an A+ rating from the Better Business Bureau.
You may also want to consider treatment with NewSmile or Byte, who guarantee your treatment is monitored by qualified orthodontists.
Sign up to receive the latest news and offers from Dentaly.org