SureSmile aligners are a type of invisible braces similar to Invisalign orthodontics. They are made from clear Essix Ace plastic and are custom-made to fit each patient's teeth.
Treatment with SureSmile aligners involves a series of aligner trays, each one progressing further along in the treatment process.
These aligners require regular in-office dental visits, including an initial visit to conduct 3D scans and determine eligibility.
In this article, we'll look at real SureSmile reviews and discuss everything you need to know about SureSmile aligners. Here's a snapshot!
SureSmile cost: $3,000 to $6,000
SureSmile treatment time: 6 to 18 months
Treatable cases: Mild to complex
We hope this information helps you decide if this is the best teeth straightening option for you!
Get Faster, Cheaper Treatment with Byte!
Byte clear aligners are our top pick if you want the convenience and affordability of straightening your teeth at home. Before you commit to a more expensive brand, order your risk-free fully refundable impression kit today and save $1,000s on your treatment!
Byte is much more affordable than brands like SureSmile aligners by literally thousands of dollars. Plus, you save 80% on the impression kit with promo code SMILEBRYTE.
What are SureSmile Aligners?
SureSmile is a brand of removable clear aligners, also known as invisible braces. Clear aligners are custom-made plastic trays that you wear to straighten your teeth. Patients, especially adults, often prefer this type of treatment over traditional braces for a few reasons. They are: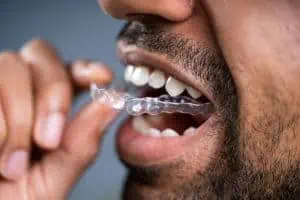 Less noticeable: Clear aligners are just that—clear, so you can straighten your teeth discreetly.
Removable: These aligners usually need to be worn for 22 hours/day but you can take them out if you need to, for a photo shoot, a speech, or any important event where you don't want to wear them—(although it's important to not exceed the time allowed to have them out).
Convenient: Clear aligners often require fewer visits to the dentist or orthodontist than traditional braces—indeed, some clear aligners allow 100% remote treatment.
These aligners specifically require in-office dentist appointments, including an initial face-to-face consultation. The average treatment time for SureSmile aligners is around six months, which is pretty typical for this type of invisible braces.
There are a couple of other components that patients will want to consider as they are researching the best brand of clear aligners for them:
Digital scans: By now, most clear aligner companies offer the option of in-office, digital scans. SureSmile uses a Primescan intraoral scanner combined with their SureSmile technology and planning software to deliver precise results.
Essix plastic: SureSmile aligners are made from Essix Ace plastic, known for its durability.

Essix Ace aligners are known for having increased hardness in their fabrication process, which aids in durability, but they may be more water soluble and have less transparency when compared to other aligners.

Essix Ace aligners with attachments have been found to have lower retention than other aligners. Depending on whether a high or low frequency vibration is used, this may be aided by the vibration technique in adjusting the aligner over the month and contributing to increased tooth movement.
The Essix Ace aligners are thermoplastic aligners that can conform to tooth models during the thermoforming process.

Custom-fit: SureSmile aligners are laser cut and polished, with a contoured gum line for optimal comfort.
Our #1 recommended teeth aligners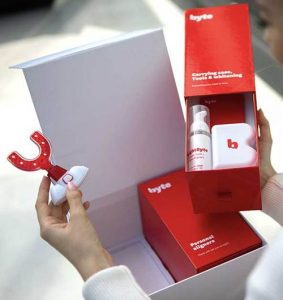 Up to 90% cheaper than Invisalign
Buy now, pay later in interest-free installments
A+ BBB rating
Save

80%

on the impression kit with promo code

SMILEBRYTE
SureSmile vs. traditional braces
There are quite a few differences between SureSmile and traditional braces, but let's have a look at some of the biggest differences now:
Material: SureSmile aligners are made from clear Essix Ace plastic, whereas traditional braces consist of a system of metal brackets and wires.
Removability: SureSmile aligners, like all clear aligners, are removable, and in fact, must be taken out when you eat. Traditional braces are fixed to your teeth with a special glue that only your orthodontist can remove.
Price: The price of traditional braces can range from $2,500 to $7,500; the price for SureSmile is hard to pin down, but on average is around $4,000.
Length of wear: Traditional braces often require more wear time than clear aligners, but the typical treatment time is anywhere from 18 to 24 months, and SureSmile aligners have a shorter treatment time, with an average of 6 months of wear.
Eligibility: These aligners are specially designed to treat cases that require minor tooth movement; the most complex cases will require treatment with traditional braces.
Have a look at the table below for a summary of the differences:
| | | |
| --- | --- | --- |
| | | |
| | | |
| | | |
| | | |
| | Mild to medium (sometimes complex) cases | |
| | | |
SureSmile vs. Invisalign
The truth is that SureSmile and Invisalign are very similar treatment options. They both use invisible braces, or clear aligners to straighten teeth, and they both require in-office consultations and regular visits with your dentist or orthodontist. The main differences are:
Treatment time: Invisalign treatment time can be anywhere from 9 to 18 months, although it averages around 1 year, and the average treatment time for SureSmile is around 6 months, although it can be longer for more complex cases.
Price: Invisalign costs anywhere from $3,500 and $8,500, although the exact price will depend on the length of treatment time and complexity of your case. It's difficult to find a cost estimate for SureSmile; however, it likely averages around $4,000.
Treatment options: Invisalign offers various treatment pathways depending on your specific needs, including express options and an option for teens that includes a compliance tracker.
Composition: Although SureSmile and Invisalign are both made of thermoplastic, their compositions differ. Invisalign aligners are more retentive and allow for more precise tracking and fit for tooth movements. Essix-Ace aligners used by SureSmile have been shown in literature to be less retentive with attachments placed on the teeth. This could explain why aligners are changed every two weeks.
Some similarities between SureSmile and Invisalign include the ability to use attachments which are small clear add-ons that can help facilitate the straightening process. Both brands are also able to treat more complex cases than remote treatment aligners, but can't treat the most complicated cases, which require traditional braces treatment.
Inman Aligners cost similar and can treat more complex cases as well.
SureSmile vs. at-home clear aligners
If you have mild to medium malocclusion (misaligned teeth), at-home clear aligners are another effective, and even more affordable way to straighten teeth.
Beware that not all aligners offer the same level of customer care and service. Some brands claim fast braces treatment times, but remember that time is relative to the complexity of your case.
The brands in the table below have proven to be safe and effective and are some of our top choices for clear aligners.
Affordable, effective and fast SureSmile alternatives

There are so many companies offering remote teeth straightening with aligners! Take a look at our top picks and discover why we recommend these over any others.
How does SureSmile work?
SureSmile treatment begins with an in-office appointment with your dentist. The steps in SureSmile treatment can be summarized in the following six different stages:
Make an appointment: Contact a SureSmile orthodontist to schedule your first consultation.
Initial consultation: You'll meet with your dentist or orthodontist in person. At this consultation, your dentist will confirm eligibility and take scans of your teeth so they can plan your aligner treatment.
Treatment review: You'll meet with your dentist to go over the scope of your aligner treatment.
Get your aligners: You'll return to visit your dentist and get your first set of aligners.
Monthly visits: Monthly visits to your dentist are required, to get your new sets of aligners and to ensure that everything is going according to plan.
Last appointment: Your dentist will confirm whether or not you are ready to complete your treatment, and you'll get retainers to wear to keep your teeth in their newly aligned position.
How often do I switch SureSmile aligners?
You should switch your SureSmile aligners every two weeks to a new set of aligners, though this can vary. This is the typical wear time for most invisible braces and clear aligners.
It's possible that if during one of your monthly check-ins your dentist decides that you aren't ready to move on to your next aligner, you'll need to continue wearing your current set for a bit longer, but it won't be much longer, as these aligners aren't designed to withstand continued wear.
What are the SureSmile aligners' hours of wear?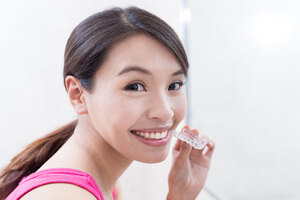 SureSmile aligners' hours of wear are 20 to 22 hours every day. This means that you will wear them all of the time—when you sleep and while you're at work—just like traditional braces.
The two to four hours per day when you aren't required to wear them is for taking them out to eat, or if you need to for an important event. It's essential to wear your aligners for the prescribed time because if you don't, your treatment can be delayed. With continued negligence, you may even have to start treatment over from the beginning.
How much does SureSmile braces cost?
The SureSmile braces cost depends entirely on the level of treatment you need. Some dentists offer SureSmile braces for around $3,000 for mild cases, and the cost seems to average around $4,000. More complex cases will cost more—you won't know the cost until your dentist can confirm how long your treatment will take.
SureSmile aligners near me
Just like with Invisalign, if you want treatment with SureSmile, you'll need to visit a SureSmile provider near you. If you need help finding one, you can call 866-383-0748. You'll be put through to a live operator who will match you with a nearby dentist or orthodontist that offers SureSmile braces.
Find a SureSmile dentist

near me

now
SureSmile reviews
Kay Cee talks about her aligner experience with SureSmile braces in this SureSmile braces review. She decided to get SureSmile because she had some gaps in her front teeth, as well as some misalignment problems. Her dentist said that they were going to continue to get worse, and recommended clear aligner treatment.
She paid $2,800 for her aligners, and she helped pay for them using CareCredit. Kay Cee decided to go with clear aligners because she didn't want traditional braces for aesthetic reasons, and she wanted something that worked faster.
Kay Cee takes us through her process of getting her digital scans done, including a video of the process. After the scans, her dentist sent her an image of what her teeth would look like after treatment. She approved the treatment, and then her dentist sent for her aligners to be made.
Her dentist gave her five trays at a time, and she was supposed to switch her trays every week. He didn't give her all of her trays at the same time because a lot of people lose their trays when that happens.
The full package included the trays, an instruction manual (that she didn't need to read), two aligner cases, a Retainer Brite foam for removing stains from aligners, and chewies to help make the trays fit perfectly.
Also at her initial appointment, her dentist trimmed her trays down for her because they were digging into her gums a bit.
Have a look at the video below for a comprehensive review of her SureSmile experience.
Conclusion
SureSmile aligners are a type of removable clear aligner very similar to Invisalign. They are made from Essix Ace plastic and require regular in-office visits with your dentist or orthodontist.
These aligners take on average six months for treatment, and cost around $4,000; however, this price can be more or less depending on the length of treatment time and the severity of your dental malocclusion.
As with all clear aligners, these aren't meant to treat the most complex cases, and patients with severe misalignment will most likely need to get traditional metal braces. You can consult with a SureSmile dentist near you to find out if you're eligible for treatment by calling 866-383-0748.
If you're interested in a more affordable option and remote treatment, check out our pages on Candid, ALIGNERCO reviews, NewSmile reviews, and Byte.
FAQs
Is SureSmile worth it?
SureSmile is worth it. Every person is different, but SureSmile is an effective way to straighten teeth. This is a viable treatment option for patients who would also be eligible for treatment with Invisalign.
In-office appointments mean that they can treat complex cases; however, the most severe cases will still require treatment with traditional metal braces.
What does SureSmile cost?
The average cost of SureSmile is around $4,000; however, this price will vary depending on each patient's needs. Some patients may pay as little as $2,000, while others will pay much more.
How do you clean SureSmile aligners?
You can clean SureSmile aligners using Retainer Brite products, like Retainer Brite tablets, following the instructions on each product package. Some dentists also recommend brushing with a soft-bristled brush and soap, while others recommend denture cleaners.
Sign up to receive the latest news and offers from Dentaly.org