Are you wondering how to get free dentures? Because of the high costs of dental insurance and dentures themselves, you're not alone.
Thankfully it is possible to find affordable dentures and dental care in general, through charity programs, state-funded healthcare, and dental schools to name a few.
We want to make it easier for you to find the replacement teeth you need and get financial support for dental care, which is why in this article we'll take a look at how to get:
Free dental work for veterans
Free dentures for seniors
Free dentures for the poor
We'll also take a look at getting dentures through Medicaid and Medicare, dental insurance for dentures and the cost of dentures without insurance.
But first—Have you thought about a loan?
We hope you can find the free dentures you need—but we also understand that sometimes, you can't wait to get the treatment you need. And that's where loans could help.
A dental loan helps you pay upfront for treatment, and then you can pay it back over time in small, manageable amounts. If that interests you, click the button below to search for a loan with the SuperMoney loan search engine.
Where to get discount dentures
It's not easy, but some resources may help you find free partials and dentures at a discount.
Let's have a look at some of the main places where you might be able to find low-cost dental care and affordable replacement teeth, including low-cost or free dental implants or dentures.
Local health departments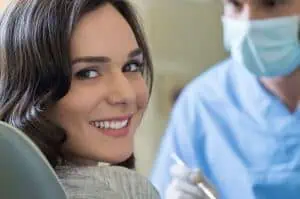 If you are looking for financial assistance with dentures (partial or full), check the website of your local health department as well as the Health and Human Services (HHS.gov) website for federally funded and private entities that provide discounted or free dental healthcare.
Find the number to call in your state by visiting this site provided by the National Association of County and City Health Officials. Just click on your state and you'll see the contact information for your county's local department.
Community health centers
Whether you live in a rural or urban area, there's likely to be a community health center somewhere nearby. Dental care is typically not provided for free, but these organisations may host mission services throughout the year to cover some dental procedures.
Denture services are typically a multi-appointment treatment with a laboratory component to produce the prosthesis.
Dental schools
Dental training schools are a great place to inquire about free dental work.
Dental training schools are full of smart students who need to get real experience practicing their skills, so they often offer low-cost treatment. You might even be able to get free or low-cost dentures with medical work like a tooth extraction or a root canal. Read our guide to free dental care here.
If the idea of getting dental work done by students gives you pause, don't worry. They are always supervised by a qualified dentist, so you know you aren't making a sacrifice when it comes to the quality of the care you receive.
Find out if there's a dental school near you and if so, call or visit to request an appointment.
Local dentists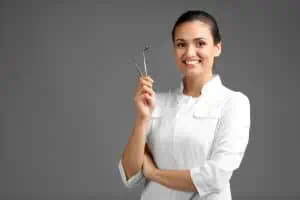 This may take a bit of door-to-door knocking or phone-calling at various dental offices, but sometimes finding low-cost care is as simple as going to your local office and asking them if they offer any such services.
Many dental clinics do offer cheap dental health services, or at least they might be willing to work out a payment plan for you.
Some dentists even offer free restorative services like dentures every so often to give back to the community, like this dentist in Las Cruces, New Mexico.
Free dental clinics
If you live in the city, chances are that you can find a free or cheap dental clinic for cheap false teeth. These are provided by the state and are open to the public, and often provide services such as dentures.
The American Dental Association provides an easy way to find out where there are free clinics in your state, just go to their free clinic-finder page.
Dental financing for dentures
The following table shows various dental financing options for dentures. While none of these options are totally free, you may find that they can help quite a bit. We then dive a bit deeper into your dental insurance options, since this can be a complicated subject.
A bit more about dentures on dental insurance
Health insurance: If you have a full dental insurance policy, chances are that it will cover at least part of the cost for your dentures. The first thing you need to do is give your dental company a call. The number to dial is likely on the back of your dental insurance card.
Medicare: Dental is not covered by Medicare. But you might be able to enroll in a Medicare Advantage Plan to get supplementary coverage. We'll talk more about this option in the section for seniors and folks with disabilities.
Medicaid: If you are eligible for federally-funded health care, then depending on what state you live in, you may get help paying for your dentures. Have a look at the table below to see if your state covers at least part of the cost for dentures.
| | |
| --- | --- |
| States that cover dentures | States without limitations on coverage |
| Alaska, Arizona, Arkansas, California, Coloradp, Connecticut, District of Columbia, Florida, Georgia, Idaho, Louisiana, Maine, Massachusetts, Michigan, Minnesota, Missouri, Nebraska, New Jersey, New Mexico, North Carolina, North Dakota, Ohio, Oklahoma, Oregon, Pennsylvania, Rhode Island, South Dakota, Utah, Washington, Wisconsin | |
As you can see, many states actually cover some kind of coverage when it comes to dentures and Medicaid.
The only state that offers dentures without any limits on services is Rhode Island. That means that all of the other states have some requirements like a limit on how much the program will cover, or a limit on the frequency with which you can get your dentures replaced.
If you think you might make less than the Federal Poverty Level, then you might be eligible for state-run programs, and that could save you some substantial costs.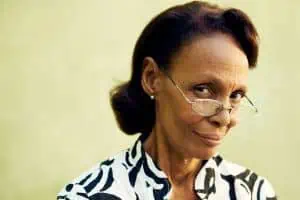 To find out if you're eligible and how to get enrolled you can check out our full Medicaid dental guide, or find a Healthcare Navigator now who can help you navigate your way through the labyrinth that is the US healthcare system.
If you're not eligible for dental care through Medicaid, then you may want to consider enrolling in your own dental insurance plan. There is a wide range of plans available, some of which may fit into your budget while offering the coverage you need.
You can browse the best plans for you in your area by going to Dentalinsurance.com. Once you're there, all you have to do is enter your zip code and date of birth and you'll get to compare plans and enroll directly if you find one that works for you.
Annual changes to health coverage are common for Medicaid and Medicare, so patients are always advised to check annually on new states providing coverage or changes to requirements for those that do.
If you find you need some guidance, you can call them at 888-626-0057 and speak with one of their helpful licensed agents.
It is important to note that discounted or Medicaid-covered dentures do not typically include implant overlay dentures.
Free dentures for low-income
In some cases, you may not be eligible for dentistry paid for by the state. And if you do find low-cost, affordable options, the price might still be over your budget. If that's the case, then you may be wondering how to get dentures for free.
Sometimes, certain groups of people, like veterans or seniors, can get access to free dental services including dentures, so let's have a look at some of your options.
Free dentures for veterans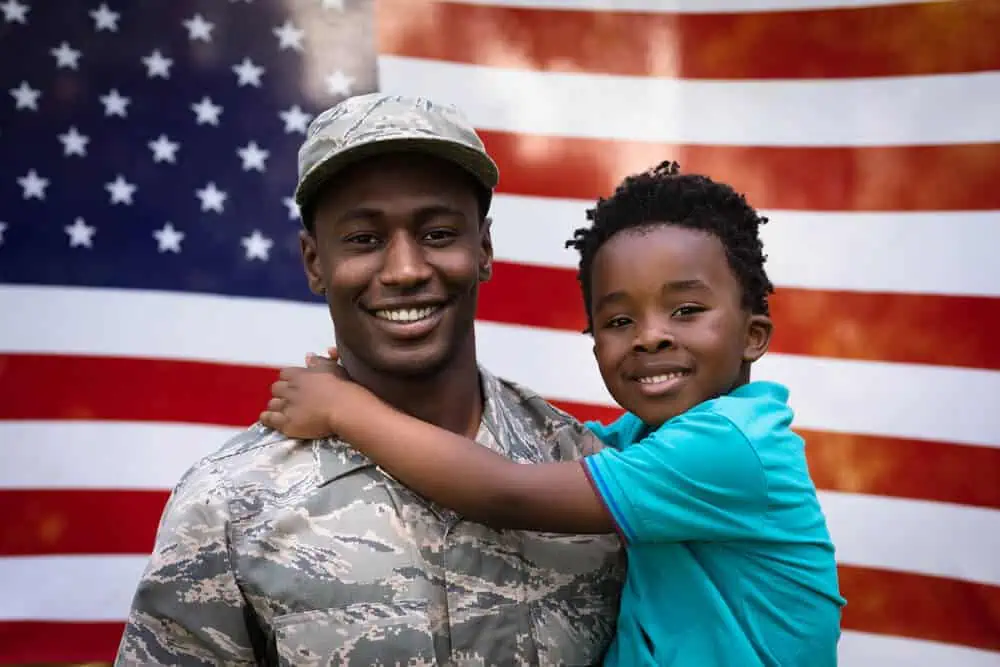 The VA offers comprehensive dental benefits to veterans who qualify based on certain criteria. Veterans who can receive full dental benefits, including dentures, are those who:
Have a service-related disability
Are a former POW
Are unemployable due to service-related conditions
Other veterans may also receive some free VA dental care benefits. Have a look at this chart to find out more.
If you are a veteran who isn't eligible for any benefits, you can sign up for medical care through the VA. Go to VA.gov or call your local center in order to find out more about how to get enrolled.
Additionally, you may want to have a look at a charity, such as MouthMobile run by Aspen Dental. They provide free care, including dentures, to vets who don't qualify for comprehensive benefits from the VA and for the general public as well. Watch the video below to find out more.
Free dentures for seniors
Free dental services through public assistance programmes or charitable entities such as United Way and others may also be an option for seniors with medical conditions that necessitate assisted living housing or for whom their physicians see a medical need for dentures.
Medicare: If you're a senior over the age of 65 you are likely eligible for Medicare. Although Medicare itself doesn't cover dentures, you may be able to enroll in a Medicare Advantage Plan, (Part C).
PACE: Medicare and Medicaid partner up with a program called PACE, which helps seniors access the medical services they need. Find out if you live in an area served by PACE by clicking here.
Free dentures for disabled
Some people with disabilities may qualify for state programs to pay for their dentures. If you are on SSI, you automatically are eligible for Medicaid. You may also be eligible if you fall under one of the following categories:
Disabled under 65
Working disabled
Disabled and medically-needy
To apply for disability and receive the benefits that are your right, you'll have to fill out a form at your local SSA office or complete the application online at ssa.gov.
The SSA system can be daunting and complicated if you try to navigate it on your own. A good place to start if you need some more help is by calling the United Way national helpline, It's easy, the number is the same no matter what state you live in: 211.
Whether you're a veteran wondering how to get free dentures, or you need free dentures for low-income individuals, there are a plethora of nonprofit agencies waiting for you to call them.
Here is a list of places you should contact if you are still having trouble finding cheap false teeth or dentures for free:
Donated Dental Service Program: This program offers free, comprehensive dental treatment like dentures to those who are indigent, those who have a disability, or seniors. You can contact them with an inquiry here.
Give Back a Smile: This amazing program provides free restorative dental care, including dentures, to people who have damaged teeth from being victims of domestic violence. Click here to find out how to apply.
National Association of Free & Charitable Clinics: The NAFCC has a network of 1,400 clinics across the US to provide health care to the medically underserved. Find a clinic in their network near you by entering your zip code here.
Where can I find free dentures near me?
The best way to find free dentures near you is by following the advice in this article, like contacting your local health department and local community health centers.
You can also call 866-383-0748 and be connected with a dentist to speak about your options for low-cost dentures.
Conclusion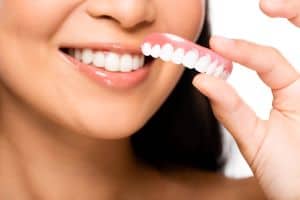 It can be difficult to find affordable dentures, but that doesn't mean it isn't possible. There are many people out there who want to help you find the care you need, sometimes you just have to take the first step and ask.
To recap, here are some of the main options you have if you are looking for free care:
Call a healthcare navigator
Contact a charity
Contact your local health department
Contact the VA
Call the United Way
We hope this helps you on your journey to replacing your missing teeth, and remember, don't be afraid to ask for help when you need it.
FAQs
Does Medicaid cover dentures?
This federally-funded program might cover dentures and dental depending on the state you live in, although it's highly unlikely. Call your state agency to find out if dentures are covered. You can find the number for Medicaid in your state by visiting this page of medicaid.gov.
Where can I find dentures under $400 near me?
There are a number of institutions that aim to provide low-cost dental work, sometimes even including dentures. You can find low-cost dentures and dental care by checking out the following.
Dental schools
Local health department
Charity organizations
You should also find out whether you are eligible for Medicaid, because if you are, there's a very small chance that your state might cover dentures and other dental work as well.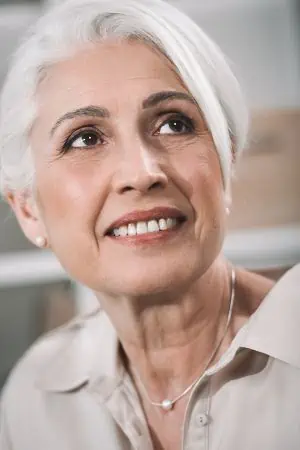 How much does it cost to get dentures without insurance?
If you have to pay full price for quality dentures, the cost for dentures without insurance could be anywhere from $300 to $8,000 for a full arch of traditional dentures, depending on a few factors.
Can seniors get free dentures?
Some seniors may be eligible for free or low-cost dentures through a variety of government programs aimed at seniors or low-income individuals. These programs include PACE or dental training schools.
Begin by asking around at local community centers or your local health department to see if they know of any local programs.
Sign up to receive the latest news and offers from Dentaly.org