Are you wondering where to find a 'pediatric dentist near me?' Or maybe you're wondering what it is exactly that a pediatric dentist does.
Pediatric dentists specialize in taking care of children's mouths and teeth. Along with specializing in kids' oral anatomy, they also often have a bedside manner that is a bit more accommodating to youngsters.
In this article, we'll go over how to find children's dental services in your area and the different types of kids' dentists you can choose from.
We'll also talk about:
The cost of a pediatric dentist
Emergency kids' dentists
Affordable or Medicaid pediatric dentist
…and more!
So keep reading to find out when your kid should go to the dentist, and how to find the best one in your area.
And if you want to be connected with a local children's dentist who is available for treatment, you can call 866-383-0748 right now. You'll be connected with a live operator who will put you through to a pediatric dentist in your area.
Need a pediatric dentist? Call now to get connected!
What is a pediatric dentist?
Pediatric dentists are dentists who specialize in the oral health of children, anywhere from babies to the end of their teen years. They can do everything a regular dentist can do. That includes treatment for teeth and gums, and they know what problems to look out for at different stages of childhood.
Pediatric dentists play a very important role in not just your child's oral health, but their overall health as well. Taking care of their teeth now will have a lifelong effect on their wellbeing.
That all starts with the first baby teeth that erupt during a child's first six months. By six years old your child will start to lose their baby teeth, and then the permanent teeth come in. Proper dental care through every stage is essential to ensure your child doesn't suffer from tooth decay or periodontal disease, now or later in life.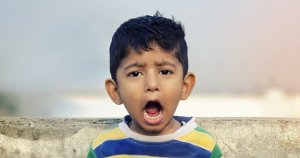 What training do pediatric dentists have?
Pediatric dentists undergo thorough training, just like regular general or family dentists. They also have specialized studies in caring for the teeth of children. This includes:
4 years of dental school (just like a regular dentist)
2 additional years of specialization in child dentistry, including kids with special needs
What treatments can a pediatric dentist provide?
Pediatric dentists are trained to provide complete oral health treatment, including everything a regular dentist can provide. But they also specialize in treatment for kids. This includes:
Oral care and risk assessment for infants
Preventive care like cleanings, fluoride treatments, and sealants
Cavity repair
Diagnosis of diseases including diabetes, asthma, hay fever, ADHD, and congenital heart defects
Monitoring and management of gum disease
Canker sore treatment
Injuries like knocked-out teeth
Orthodontic assessment and referral, and in some cases treatment
Parents can also consult with pediatric dentists about concerns they may have such as their child's diet or habits like thumb-sucking or pacifier use. Some young children also have tongue tie, or ankyloglossia, and pediatric dentists know how to treat this.
At what age should a child start seeing a pediatric dentist?
Children should start going to the dentist after the eruption of their first tooth, but no later than their first birthday, according to recommendations from the American Dental Association. Your child doesn't need to have many teeth — even one is enough for the dentist to have a look at. They'll also check the health of your child's gums and offer advice as far as diet and pacifier use goes.
How much does a pediatric dentist cost?
The pediatric dentist can cost anywhere from $30 to $100 for routine procedures including cleaning and fluoride treatment. The range is so wide because the cost varies from state to state. It will also depend on if your child has health insurance or even free healthcare offered by CHIP or Medicaid.
Can kids go to adult dentists?
If you go to a family dental practice, your general dentist may offer to treat your child as well. While this is fine, there are some advantages to visiting a pediatric dentist instead.
Your child can go to a pediatric dentist until they are 18. In fact, although you may be inclined to switch your teen over to a regular dentist before they reach 18, a pediatric dentist may be the best for providing optimal care to your teen.
They specialize in watching for and preventing cavities and in taking care of mouths that are at a greater risk for traumatic injuries (from sports, for example).
They can also help teens work through anxiety they may have about the appearance of their mouth and smile, including the aesthetics of fillings, crowns, and braces. Pediatric dentists can also help spot symptoms of eating disorders, which often begin during the teen years.
The fact is, it can be complicated to treat teenage patients, and pediatric dentists are equipped to do the job.
You can have a look at the table below that summarizes the main differences between a pediatric and family dentist.
| | |
| --- | --- |
| | |
| Have specialized training in child development and child psychology | Focus on dentistry for the family as a whole |
| Equipped with smaller tools and explain treatments in kid-friendly language | Technology isn't specific to kids' needs |
| Trained to treat kids with special needs | Don't have specific trainig to treat kids with special needs |
| Often have relaxing, welcoming and fun clinics | Clinics feature a more serious environment |
Emergency pediatric dentist
Just like there are emergency dentists for adults, there are also emergency dentists for children. Emergency pediatric dental services can help provide quick relief for intense pain or repair trauma damage.
Here are some of the services provided by emergency pediatric dentists:
Relief from severe toothache, pressure or oral pain
Emergency tooth extraction
Wisdom tooth pain relief
Repair of fractured teeth
Repair of fillings and crowns
Orthodontic pain or discomfort relief
Dental infection treatment
You may not know whether your child needs to see an emergency pediatric dentist now, or if they can wait to see their regular dentist. Check out the following list to know when you should seek emergency dental treatment for your kid: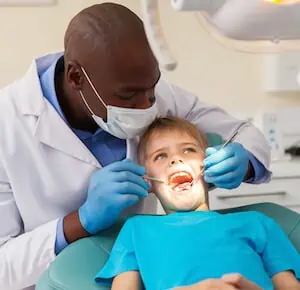 Broken teeth
Knocked-out teeth
Severe tooth pain or pressure
Severe tooth sensitivity
Pain caused by dental cavities
Tooth abscess
Lost filling
Orthodontic injury
Sometimes, however, you should skip the dentist altogether and head straight to the emergency room. These situations include if there is:
Uncontrollable bleeding from the mouth
Severe facial or oral swelling
Trauma to the face or mouth
If you need to find an emergency pediatric dentist now, you can call 866-383-0748 to be put in touch with one in your area.
Pediatric dentist that accepts Medicaid
Not all kids' dentists accept Medicaid or CHIP, but thankfully, there's an easy way to find out. You can go to insurekidsnow.gov. This site is an official website of the United States government and can help you find a pediatric dentist that takes Medicaid near you.
Just select your state from the drop-down menu and enter your zip code. You can also add additional search criteria if you are looking for a specialty dentist.
Pediatric dentist and orthodontist
Pediatric dentists and orthodontists often have a close relationship. Your child's dentist will monitor the growth of their teeth and their jaw alignment as they get older, and if they see fit, they will refer your child to an orthodontist whom they trust.
For treatment with traditional braces, kids will need to go to an orthodontist, but it's also possible that for aligner treatment like Invisalign, they can go see their usual dentist, as long as they are licensed providers of such treatment.
Special needs pediatric dentist
Children with special needs may require closer dental care and monitoring than children who don't have special needs. Thankfully, all pediatric dentists are trained to work with patients with special needs, including dental-related anxiety.
They can also help recommend floss holders or special toothbrushes that are easier for children to grip. And they can ensure your child gets the necessary fluoride treatments to help prevent decay in higher-risk patients.
If you have a child with special needs, it's even more reason to get to a pediatric dentist now. They can help you figure out the most effective way to help your child with their oral health and hygiene routine.
How to choose a good dentist for your child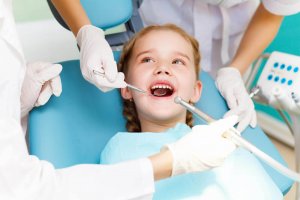 Here are the top tips for choosing the best pediatric dentist for your kid:
Accessibility: Try to find a dentist that is located relatively close to where you live, and who has hours that work with your schedule. That way it will be much easier to ensure that your child gets to see their dentist as often as possible and that they are close by in the case of an emergency.
Insurance: Choose a dentist that takes your insurance or one that accepts Medicaid or CHIP.
Reviews: Reviews from actual patients can be found online and are one of the best ways to get a feel for treatment quality and bedside manner.
Qualifications: Make sure the dentist you choose for your child has the necessary qualifications, including those from the American Board of Pediatric Dentistry, or the American Board of Orthodontics if you know braces are in your child's future.
Environment: While not as important as quality care and certifications, check out the clinic for yourself to suss out the general feeling you get. Obviously you'll want to choose a clinic that is comforting, friendly, and welcoming.
Preparing your child for a dental visit
Show pictures: You can show your kid flashcards or images of a friendly pediatric dentists office so they can get a feel for what they'll see.
Watch a video: There are lots of videos on YouTube that provide a friendly introduction for kids to the dentist.
Bring toys: You can encourage your child to bring along their favorite stuffed animal or toy so they don't feel quite as nervous.
Come up with a signal: You and your child can come up with a safety signal. It can be a hand gesture that your kid can make, and the dentist will stop for a moment so they can relax.
Stay positive: You might be anxious for your kid to go to the dentist, but try not to show it. Talk about the dentist in a positive way and make a point to enjoy going with your kid to the dentist.
How to find a pediatric dentist near me
When looking for a dentist for kids, it's important to find one that is near where you live. That way, if your child every needs emergency care, you can feel confident knowing their trusted dentist is near. Plus, it will make it easier for you to bring them to their regular checkups.
If you need help finding a pediatric dentist in your area you can call 866-383-0748. You'll be connected to a live operator who will put you through to a pediatric dentist near you. You can also call them to find an emergency pediatric dentist.
Need a pediatric dentist? Call now to get connected!
Conclusion
Now you know all about pediatric dentists and the services they offer. These dentists for children are everywhere, and their main purpose is to make sure that your child starts their lives off with a healthy smile.
While pediatric dentists aren't more expensive than normal dentists, it still might be more than the average family can afford. Thankfully, many kids have dental services under Medicaid or CHIP, so chances are you might not even have to pay anything for your kid to see the dentist.
If you haven't enrolled your kid in CHIP or Medicaid, you can find out more about signing up by visiting the website here.
And if you're looking for a dentist for kids near you now, just all 866-383-0748 to be put in touch with a pediatric dentist in your area.
FAQs
When should kids go to the dentist?
Kids should start going to the dentist between 6 months and 12 months of age, or when their first baby tooth appears. This may seem early, but it's never too early to start.
From an early age, (yes, even just 6 months) dentists can begin to assess the risk of your child for cavities, or other oral health problems, and they can get them on the road to stellar oral health. They can also give you advice on thumb-sucking or pacifier use, and diet if need be.
What procedures does a pediatric dentist do?
Pediatric dentists are specially trained to provide dental care for babies, children and teenagers. They can perform the same procedures as a general dentist does. And they are particularly good at assessing cavity and gum disease risk levels, and the need for orthodontic care.
All pediatric dentists are trained to provide care to children with special needs, and their offices are generally more friendly and welcoming than that of a general dentist.
Do pediatric dentists cost more?
A visit to the pediatric dentist may cost more than the same visit to a general dentist, but chances are the costs will be quite comparable, although it depends on location and treatment type.
That's because pediatric dentists specialize in working with children and even use special tools that are made for smaller mouths. The good news is that dental insurance for kids is easier to come by than it is for adults, especially considering government-funded programs like CHIP or Medicaid.
Sign up to receive the latest news and offers from Dentaly.org