Looking for a cheap dentist without insurance? It can be frustrating, daunting, overwhelming, angering andd downright stressful to try to navigate our healthcare system if you are anything less than the top 1% in terms of wealth.
The good news is, chances are that you can find the dental care you need, at a price that you can afford (even if that means free). There are countless nonprofits, charity organizations and benevolent dentists around the country who care more about equal access to oral health than they do about making money. It's just that finding them can be difficult.
That's why we've compiled a list of some of the most important resources out there for affordable dental care for those who have no insurance but need dental work, or are underinsured, whether due to financing or eligibility problems.
So keep reading to learn about:
Nonprofits
Federally-funded programs
Free clinics
Local resources
Emergency care
We'll help you figure out what to do if you don't have dental insurance. The treatment you need at a price that you can afford is most likely out there, so don't give up until you find it. Your first step could be to call the number below to get connected with a dentist in your area and check their prices without insurance.
No insurance? Call now to find a dentist near you.
Dental costs without insurance
How much does a dentist visit cost if you don't have insurance?
Let's start off by looking at some costs for common dental procedures.
If you're looking for dental care for adults without insurance, then chances are, you're already well-aware of the exorbitant costs of routine dental work. So since we've clearly identified the problem, let's talk about some of the solutions.
I don't have dental insurance and I need help
—Is something no one should ever have to search on Google. But the unfortunate truth is that around 1/3 of adults in the US have no form of dental benefits coverage. And many of those who do have some dental benefits are grossly underinsured, meaning they still can't afford the care they need. Either that or they are paying more than they can afford for monthly premiums or their deductibles.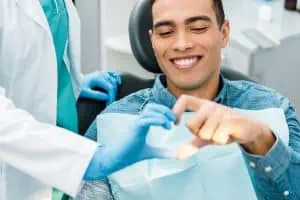 The good news is that there are programs that can help. Chances are, you can find help paying for the dental work you need, the problem is the general lack of awareness that these programs do in fact exist. So we're going to have a look at some of the ways that you can get the dental work you need even without insurance.
But before we start, it's important that you understand that it may take some time and effort to find a program that can help you. In this article, we provide a place to start, but it's up to you to make the necessary phone calls and do your due diligence to find a program that works for you. And don't give up if at first, you don't succeed—your dental health is extremely important and it's likely that you will be able to find the help you need.
Dental insurance could fit your budget
You might think you can't afford dental insurance, especially if you've seen the monthly premiums for regular health insurance. But dental insurance is actually much less than health insurance.
You can search for plans that may even fit within your budget by going to Dentalinsurance.com. There are also plans with no waiting periods and guaranteed acceptance. Click the button below to check prices.
United Way
We're listing this as your first resource because it's imperative to know about whether you need help finding housing, general healthcare, dental services and a wide range of other services as well. Anytime you are looking for local resources, you can always call the number for United Way Worldwide. Simply dial 2-1-1 and you'll be connected to a vast network of information from professional, highly-trained and very knowledgable representatives.
The line is open 24 hours a day, seven days a week and can be accessed both by phone and computer. It's a free and confidential service, and you can find information about a wide variety of services, including health and dental care.
Medicaid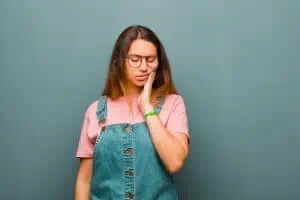 If you don't have enough money to pay for a dental insurance plan, or you don't have dental insurance through your healthcare provider, your first stop should be seeing if you are eligible for Medicaid and if your state offers Medicaid dental services.
Your eligibility for Medicaid depends on whether or not your gross income (before taxes) falls under the Federal Poverty Level in your state. These levels change slightly every year, but you can consult this year's here.
To find out more about how Medicaid works and how to get help enrolling, you can read our full article on Medicare and Medicaid dental coverage.
Even if your state doesn't offer dental work on Medicaid, you should still make sure to sign up if you're eligible, because you never know when you could need healthcare.
Dental schools
If you're looking for inexpensive dental care or low-cost braces for adults, dental schools are a really great option. Chances are if you live in a city, there's a dental school near you, and they'll offer you excellent care at a much lower price than you would have to pay at a normal clinic with no dental insurance.
Dental schools often have clinics where their students work in order to gain experiences treating real patients. And you can be sure that the care you receive will be good quality because these are students who are reaching the end of their studies and getting ready to go out into the real world, some even starting their own practices.
Additionally, each student is supervised by a licensed dentist with years of training experience. You may even be able to find specialist care at certain dental school, like orthodontic care for braces.
When considering a dental school, make sure it's one associated with the American Dental Association; you can search for a program near you here.
Also, you shouldn't wait until you have a dental emergency to seek treatment. At least yearly routine cleanings are an important part of prevention, which is why you should also consider dental hygiene schools for dental cleanings without insurance.
Clinical trials
The National Institute of Dental and Craniofacial Research and other accredited medical organizations sometimes look for participants in their studies, whether they are trying out a new way to reduce pain during procedures or a better way to extract wisdom teeth. These clinical trials are both government and privately funded, which means they are no or low-cost for you if you're looking for uninsured dental care.
It's natural if you're wondering whether or not this is a safe option. First, keep in mind that no treatment is 100% safe for everyone, whether you pay thousands of dollars or nothing at all.
But you can rest assured that clinical trials are as safe as expensive dental care because before any new treatment can be tested on humans, it must go through years of research in laboratories first.
Additionally, Congress has passed laws to protect study participants, with rules like: Every clinical investigator is required to make sure that every participant is safe. You can read more about the basics of clinical trials, including your safety as a participant, at the National Institute of Health's page here.
And if you decide that you'd like to participate in a trial, you can see which trials are available here.
Discount plans
In general, dentists want their patients to be able to afford dental care because they are passionate about oral health. Dentists also understand that dental work can be too expensive for many of their would-be patients. For this reason, many dentists offer dental discount plans, so their patients can see a dentist with no insurance.
A dental discount plan is sort of like having dental insurance, but there are some important differences. With a discount plan, you can avoid the following:
Monthly premiums
Deductibles
Annual maximums
Waiting periods
You pay a membership fee and in return get discounted fees on the care you need. You can check out our dental savings plan article here to find out more!
You can also follow the link below for Dentalinsurance.com and you'll be able to browse and compare both discount plans offered by dentists and dental insurance plans in your area.
Dental loans
Another option might be for you to take out a loan for your dental work.
A loan will let you pay for expensive procedures immediately, and then you are responsible for repaying the loan over several months or years. Before taking out a loan, make sure that you will be able to pay it back within the payment deadline, if not you could end up owing significantly more.
If you'd like to see what your options are for taking out a loan, you can use SuperMoney's loan search engine where you can find and compare personal loans for dentistry. Click on the button below to get started.
Nonprofits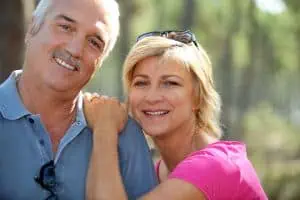 There are tons of nonprofits around the country that offer affordable dental care to those who have no insurance and need a dentist; the following are some of the most popular:
Dental Lifeline Network
This nonprofit provides free, comprehensive dental care to people with disabilities, the elderly and the medically fragile who can't afford the treatment they need, and can't get public aid. Their program, Donated Dental Services, operates in every state, and you can find your state's program by clicking here.
Mission of Mercy (Arizona, Maryland, Pennsylvania and Texas)
Mission of Mercy provides free healthcare, dental care and prescription medications to individuals who don't have insurance or don't have insurance that covers the treatment they need. They are an independent, faith-based organization that receives no government funding.
This gives them the freedom to provide healthcare without any pre-qualifications, so you don't have to provide residency or financial information. You can go to their website, and then navigate to your state from there to find an upcoming clinic.
America's Dentists Care Foundation
The ADCF is a national non-profit with headquarters in Wichita, Kansas and partners and events all over the country. They provide support to a multitude of charitable clinics that provide free oral healthcare to any person who attends. They also offer comprehensive care clinics for specific populations, like veterans who need dental care.
To find a clinic or program near you, you can check out their event map here. If there are no events currently listed for your area, you can scroll down to the bottom of the page where you'll find a list of all of the various organizations around the country with whom they collaborate.
Give Back a Smile
If you need dental work because you've suffered from domestic abuse, or you know someone who does, you may want to consider the Give Back a Smile (GBAS) program, operated by the American Academy of Cosmetic Dentistry Charitable Foundation.
GBAS helps women and men who have suffered dental injuries from an intimate partner, spouse or family member. They also provide services for men and women who have dental injuries due to sexual assault. Head to their website to find out more and have a look at the eligibility requirements.
Special Care Dentistry Association
The Special Care Dentistry Association (SCDA) is an international organization that provides oral health services to people with special needs. They partner with professionals from various organizations, including the Council of Hospital Dentistry, the Council of Dentistry for People with Disabilities, and the Council of Geriatric Dentistry. Fill out their referral form here to find the help you or a loved one needs.
For more information about dental care for people with disabilities, read our article here.
Give Kids a Smile (GKAS)
If the average dentist visit cost is too much for you to pay, it doesn't mean your children need to go without care. This program is run by the American Dental Association and provides free oral health services for underserved children around the country.
To find dental care for your child through this program, go to this page where you can find clinics by state, or contact them to ask if there is a Give Kids a Smile program near you.
In the video below, you can watch a dental student's inspiring account of a GKAS event in Arizona.
Local health centers
Wondering how to get your teeth fixed with no money? Health centers may be your answer. Health centers are community-based organizations that offer high-quality primary health care services to those who don't have insurance or are underinsured and can't afford the private costs of dental care.
They receive their funding from Medicaid, Medicare, private insurance patient fees and other sources as well, like hospitals, federal funding, donors, etc. The healthcare professionals and support staff at local health centers offer culturally competent care and are usually multilingual.
Health centers are safe places to go for quality dental care. They must meet strict requirements in able to receive federal funding. You can read more about organizations like these in our free dental care article.
To find your local health center, go to their search page here.
State and local resources
Your local health department is a wealth of knowledge when it comes to finding reduced-cost dental care. All you need to do is call your local health department, and ask about their financial assistance programs. To find your department's contact information, search for your state here.
United Way WorldWide
For other local resources, you can always call the number for United Way Worldwide as mentioned above. Simply dial 2-1-1 and you'll be connected to a vast network of information. The line is open 24 hours a day, seven days a week and can be accessed both by phone and computer. It's a free and confidential service, and you can find information about a wide variety of services, including health and dental care.
Dental tourism
Do you need major dental work with no insurance? If you need a large and very expensive dental procedure, like implants, you may find that you can save money by traveling to another country for your dental care.
If saving money is your main goal, one of the best options for residents of the United States is to cross the border into Mexico, where you'll find a vast network of clinics offering quality care with English-speaking doctors.
You may be hesitant to choose this option because of horror stories you've heard about foreign clinics, but that's just not the reality anymore. Clinics in other countries are able to offer affordable care because the cost of living in those countries is much lower than it is in the United States.
These clinics cater to dental tourists and rely on positive reviews to keep their practices open. Just make sure you do plenty of research on the clinic you want to go to, and read more about dental tourism.
In the video below from The Daily Show with Trevor Noah, Michael Kosta heads to Mexico to interview people who have gotten their dental work done there. He also interviews a dentist from Arizona that says while people should be cautious when considering dental tourism, he'd rather they get the treatment they need in Mexico, than not get it at all.
Dental emergencies and no insurance
If you have a dental emergency and you don't have insurance, try to find an emergency dentist near you by calling the United Way or your local health center as mentioned above.
You can also go to this FreeDentalCare website. They have organized a database of free and sliding dental care clinics around the country. Most clinics will have an emergency number listed on their website that you can call if your emergency happens outside of normal hours.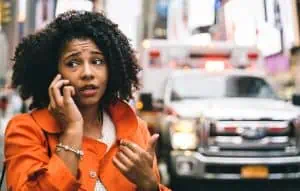 If you are losing serious amounts of blood or are in excruciating pain, and believe your life is in danger, visit the emergency room. If you want to read more about what constitutes as a dental emergency, you can check out our article here.
If your emergency happened in the past three months
If your dental emergency happened within the last three months, and you are eligible for Medicaid, and your state provides Medicaid dental benefits, you may be able to apply for retroactive Medicaid. This will cover your emergency dental fees, but only for bills from up to three months prior to the date of your application.
This is a very complicated process and we do not recommend completing the form for retroactive Medicaid by yourself. To get help with the process, find a Healthcare Navigator. Navigators' services are absolutely free. They are extremely knowledgable about the healthcare system, and if it turns out you aren't eligible for Medicaid, they might be able to connect you with other help to fund your dental emergency with no money.
To find a Navigator near you, head to this healthcare.gov search page and type in your location. It will show results for agents, brokers, and navigators (assisters), so make sure you choose the Navigators or Assisters option.
Dental care for illegal immigrants
No matter your immigration status, you've got teeth and those teeth need proper care! You can check out Informed Immigrant and search for trusted nonprofits that can help you find the dental care you need.
Conclusion
Around 74 million Americans, including children, college students, and seniors, have no dental benefits, so it's likely that either you, or someone you know needs low-cost or free dental work without insurance. If you don't have dental insurance, even dental cleanings without insurance can be too expensive. Not to mention fixing a tooth abscess without insurance.
It can be difficult to find the care you need, but the good news is, chances are that with some searching, you'll be able to find treatment that you can afford. Follow our advice above, and never hesitate to ask for help.
It's worth even asking at your local dentist office if they offer low-cost services for the uninsured—and if they don't, they might be able to point you in the right direction.
While you figure out how to find an affordable dentist near you, you might want to have an online consultation with a teledentistry appointment. You can text chat with a licensed dentist for free to understand more about the treatment you need. Or, for a small fee you get have an online consultation where the dentist will prescribe pain relief and antibiotics if you're in pain from an infection. Read more about teledentistry in our guide here.

Finally, you may not have dental insurance because you think you can't afford it. But dental insurance is much more affordable than regular health insurance, so chances are that you could find a plan that fits your budget.
For help finding a plan, go to Dentalinsurance.com. They make it easy to search a wide range of affordable plans in your area.
FAQs
How much does it cost to go to the dentist without insurance?
Depending on your financial resources, costs for going to the dentist without insurance can be really expensive. You can have a look at these costs for a better idea.
Can you go to the dentist without insurance?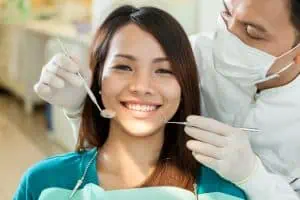 If you're looking for affordable dental care without insurance, the good news is that you absolutely can go to the dentist without insurance, keeping some things in mind. It really comes down to finding a dentist or clinic offering reduced-cost or free care.
Follow the advice listed above in this article, or call United Way at 2-1-1 to speak to a highly-trained rep who can help put you in touch with the care you need.
How can I find a dentist without insurance near me?
If you are looking for dental care without insurance, chances are you can find it, but you may have to do some looking around. By following these tips, you'll likely find what you're looking for. You can ask at your local health center, or your local dentist if they offer sliding-scale fees. You can also head to freedentalcare.us and type in your zip code to find a free or low-cost dentist near you.
You can also call 866-383-0748 to check for dentists in your area and ask for prices without insurance.
No insurance? Call now to find a dentist near you.
Sign up to receive the latest news and offers from Dentaly.org