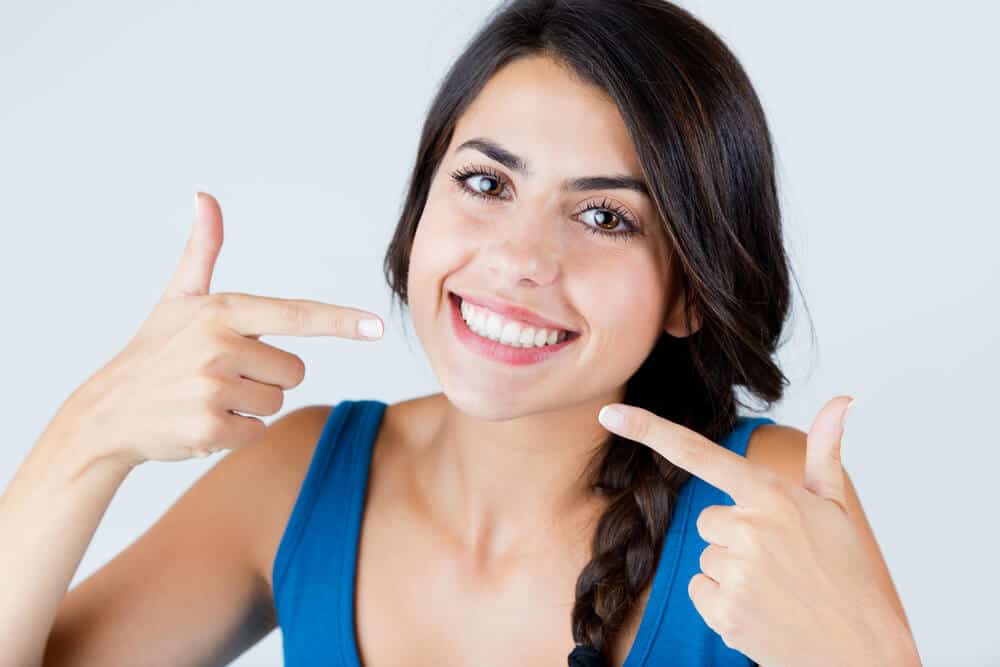 Are you thinking of using the HiSmile teeth whitening kit but want to read some HiSmile reviews first?
Well, we're here to help with a comprehensive examination of the HiSmile kit.
Keep reading to get answers to these questions and more:
Does HiSmile work?
Is HiSmile safe?
What are the HiSmile instructions?
Where can you buy HiSmile teeth whitening in the US?
How does it compare to other whitening kits?
We aim to take the confusion out of choosing the right solutions for a smile you love, whether it's the HiSmile teeth whitening kit or another alternative.
With Smile Brilliant you get professional whitening at home
One of our favorite whitening kits is Smile Brilliant. Smile Brilliant costs about the same as HiSmile, but the results are much different.
That's because the Smile Brilliant whitening system is exactly what you would get at the dentist.
Custom whitening trays and dental-grade whitening gel mean professional results from the comfort of your home.
If this sounds like what you're looking for, check out the Smile Brilliant kit now.
Is HiSmile safe?
Before we go any further with this HiSmile teeth review, let's talk about the most important thing—safety. The American Dental Association says that whitening, both in-office and at home, like with HiSmile, can indeed be effective and safe.
HiSmile guarantees that its kit is completely safe, even for those who suffer from sensitive teeth. There is one risk that might occur with the Hi Smile teeth whitening kit since you apply the whitening gel directly into the tray.
That is that there could be some overflow when you put the HiSmile tray in your mouth. This is a problem with whitening kits whose ingredients can cause burning and irritation to the gums. It's not clear if this is the case with HiSmile, but it's certainly worth considering.
What is HiSmile teeth whitening?
HiSmile teeth whitening is an Australian company which was founded in 2014. Their HiSmile teeth whitening kit and other products have gained great success across the globe, significantly helped by their strong social media marketing strategy.
Does HiSmile work?
Let's cut to the chase! Yes, HiSmile can provide slight whitening results in most people's teeth. HiSmile guarantees your teeth will be two shades brighter after six days of treatment. Just keep in mind that depending on the current hue of your teeth, two shades may not be very noticeable.
How does HiSmile work?
One of the unique selling points of the HiSmile kit when it first hit the market was its 10-minute treatment time. Other kits are now available offering the same thing, although many alternatives still require 20-45 minutes of treatment per day. HiSmile guarantees at least two shades of whitening with a six-day treatment, meaning a total whitening time of just one hour. That's clearly appealing for anyone with a busy daily schedule.
How much is HiSmile?
HiSmile costs $129, which is much less than professional whitening at the dentist, but you should keep in mind that the HiSmile results are much less noticeable as well. With HiSmile whitening, there are just six days of gel for treatment included, and refills work out at around $9 per application.
HiSmile offers a 30-day returns policy, but this is only available for Hismile whitening kits that are unopened, unused, and still in sealed packaging.
HiSmile teeth whitening reviews overview
The HiSmile review average is a 4.5-star rating on Trustpilot at the time of writing, which is quite impressive, and their customer service gets a special mention. However, it seems that the majority of their 5,000+ HiSmile teeth whitening kit reviews are the result of a 'Free Starter Set for you and a friend' marketing promotion which began in late 2019.
Customers who leave a HiSmile review here during the promotion are entered into a monthly prize draw. So, interpret that as you will.
You can't deny that there are thousands of positive HiSmile reviews out there, but you may also be wary of a product that is known for its paid celebrity endorsements.
You can read our detailed HiSmile review below, but here's a quick summary:
The HiSmile teeth whitening kit produces visible results for most people and comes with a money-back guarantee for anyone who doesn't achieve two shades of whitening (provided you follow their instructions). The gel formula protects against sensitivity and refills are easy to purchase. However, the kit doesn't present great value for money when compared to others on the market that offer similar results.
Our overall rating: ★★★☆☆ (3/5 stars)
HiSmile reviews and features
Kit contents ★★★☆☆ (3/5 stars)
Here's what you get when you purchase a HiSmile whitening kit:
Fixed-shape mouth tray
Attachable LED light with 10-minute timer
9ml of whitening gel (3 x 3ml syringes)
Instructions (on the bottom of the box)
Colour chart to measure your HiSmile results
It's nicely packaged in a sleek white box, but it feels a bit light on contents compared to some of its competitors – especially the quantity of gel you receive.
Other products available to purchase from HiSmile include:
Gel refills
Toothpaste
Whitening pen
Mouthwash
Breath spray
They also offer a subscription service, whereby you can have the gel refills, HiSmile toothpaste, or whitening pen automatically shipped to you every one, two or three months.
There's a 15% saving on the regular HiSmile price, and you can cancel any time. This could be useful if you want to top up your whitening results regularly without having to remember to order the products.
The following HiSmile review from a dentist shows what the kit contains and how to use HiSmile. The video is from February 2019 but note that the ingredients have changed since then, although the HiSmile directions haven't.
Ingredients ★★★★☆ (4/5 stars)
What's in HiSmile whitening gel? They've actually recently changed their formula, but it still has the same key whitening and remineralizing ingredients. Here's the full ingredient list:
Glycerin, Water/Aqua, Phthalimidoperoxycaproic Acid (PAP), Ammonium Acryloyldimethyltaurate/VP Copolymer, PVP, Potassium Hydroxide, Potassium Citrate, Sodium Saccharin, Aroma/Peppermint Oil, Hydroxyapatite, Mica, Titanium Dioxide, Piroctone Olamine
The key ingredients for the whitening process are:
Phthalimidoperoxycaproic acid (PAP): Recently added following a change in formula, this is the main bleaching agent which gets to work on the discolored molecules in your teeth.
Hydroxyapatite: A mineral naturally present in bones and tooth enamel which helps remineralize the tooth surface.
Potassium Citrate: This works to relieve any sensitivity you already have, and protect against external triggers.
Are these ingredients safe for teeth whitening? The kit is manufactured in China and meets all regulations for this type of product in the US. However, we always recommend using products which are made in a country which itself has strict regulations, such as the US or Europe.
HiSmile says that users will not experience any sensitivity at all with this formula. It's a bold claim since some people have much more sensitive teeth than others.
Reviews reveal a mixed bag of feedback on the sensitivity issue. A few reviewers mention that they have experienced some sensitivity, especially when eating, but for most people, it wasn't enough to make them cut their treatment short. Others who were expecting sensitivity have had a completely pain-free process.
If you are concerned about sensitivity with teeth whitening, we mentioned the Smile Brilliant whitening kit in the intro; they actually have a special whitening kit just for sensitive teeth. You can read more about the company here to find out if it's right for you.
Ease of use ★★★★★ (5/5 stars)
This kit is certainly easy to use. With a fixed shape mouth tray, there's no fiddly molding required. Just attach the light, insert the gel, and it's ready to go. The instructions are really clear, and you use about half a syringe of gel each time – 1/4 on the top and 1/4 on the bottom of the tray.
The short treatment time of just 10 minutes a day is definitely a benefit, too; many other kits on the market take 20-45 minutes. Although the mouthpiece is hands-free, so you can walk around and get on with other stuff while you're whitening your teeth, it still stops you from going out or having a conversation with anyone.
Some people also find they drool a lot while using these kits, so the shorter the treatment time, the better. Even if 10 minutes feels like too long for you, you only have to keep it up for six days.
HiSmile recommends using the kit after brushing your teeth at night. Rinse your mouth with water afterward to remove any leftover gel, and for best HiSmile results, don't eat anything until the next morning.
Results ★★★☆☆ (3/5 stars)
HiSmile says you'll see teeth a minimum of two shades whiter after using their kit. You measure this using the color chart provided in the kit. The more stained your teeth are to begin with, the more noticeable your results are likely to be.
Do be wary of HiSmile 'before and after' photos posted to social media HiSmile reviews, where the two images are taken in different lights. Look at the lips and skin as well as the teeth to judge whether the tone of the photo enhances the results. For example, the teeth in the image here are certainly whiter, but so is the person's face.
Most at-home whitening kits will not be able to produce the same results as laser whitening at a dentist, but you should get slightly whiter teeth if you use this kit as instructed.
We say most kits, because the kit we mentioned in the intro, Smile Brilliant, actually uses a dental-grade whitening gel and the same custom-made whitening trays that dentists use.
To find out more about what customers think of HiSmile, here's a selection of comments from HiSmile reviews on Trustpilot:
"Great whitening product! I had stayed away from whitening products (ie: crest white strips) because my teeth were so sensitive. After 2 uses I saw major change and after 5 my teeth are completely white. Ordering more!"

"A coffee-drinking gal's best friend! As someone who requires coffee to function, I was super excited to try this teeth whitening kit and I was blown away! "

"I've used pretty much every product in the HiSmile range for about 3 years & I really love the results I've been able to achieve."

"I've been a hi smile customer for some time now and have used the day and night toothpaste daily and the teeth whitening kit every few weeks. Amazing products. The new pap+ range takes this to the next level."
While some HiSmile reviews indicate that the product works quickly, some people find that they needed to continue for another six days, using refills, to achieve the results they want. The company recommends using the kit once every two weeks to maintain results.
HiSmile does offer a 30-day money-back guarantee if your teeth haven't improved by at least two shades after six days' consecutive use. To be eligible for this, you must take your HiSmile before and after photos (timestamped) and email these, along with the evidence you have used the kit, to their customer service department.
Make sure you take a 'before' photo so that, in the event you're not satisfied, you'll be able to make a claim.
Price ★★☆☆☆ (2/5 stars)
The HiSmile kit costs around $155 in the US, which is certainly much less than a visit to the dentist for professional whitening, but then at the dentist, you're paying for much better results, too.
HiSmile discount codes are often available, so it's worth checking for promos before you buy.
If you change your mind after purchasing, HiSmile offers a 30-day returns policy, but will only refund products that are unopened, unused, and still in sealed packaging. Minus any postage costs. Plus, you must email for pre-approval of the return, package it correctly, and return it at your own cost with a tracked delivery service.
Alternatives to HiSmile teeth whitening in the US
There's a ton of teeth whitening kits out there, and it seems like the choice is changing all the time. So if you haven't been won over by HiSmile reviews, what are your other options?
Our top pick for 2021 is Smile Brilliant. Smile Brilliant costs about the same as HiSmile, but the value that you receive for the price actually works out to be much better, since, with Smile Brilliant, you're getting the same treatment you would get at the dentist.
The Smile Brilliant teeth whitening kit comes with custom-made teeth whitening trays. How does that work? You order your trays online, and you receive an impression kit in the mail. You then make your impressions and send them in.
Your one-of-a-kind trays are crafted in a dental lab in the US. Along with your trays, you also get 27 whitening applications with 22% carbamide peroxide — that's the same concentration that dentists use.
Smile Brilliant also offers a kit for sensitive teeth or a kit for non-sensitive teeth. And within those options, you can choose from whitening for heavy stains, average stains and light stains — as you can see, the entire process is customized to you!
Why we like Smile Brilliant
Smile Brilliant offers the perfect hybrid — it's the convenience and affordability of whitening at home, and the professional results of in-office treatment.
The effects are fast, noticeable, and long-lasting. Plus your trays are custom-made in the US, by the same dental laboratory that dentists use.
Discover the accessibility and professional results of Smile Brilliant difference for yourself. If you do decide to give it a try, check their website for current offers and promotions.
You can have a look at the table below for a summary of the differences between Smile Brilliant and HiSmile.
| | | | | | | |
| --- | --- | --- | --- | --- | --- | --- |
| | | | Main whitening ingredient | | | |
| | | 7 - 14 days (varies by person) | | | Custom-made whitening tray; made in the same lab that dentists get their trays from for in-office whitening treatments | |
| | | | Phthalimidoperoxycaproic acid (PAP) | | Fixed shape, external LED. Gel is inserted directly into tray. This can cause the gel to overflow and damage gums | |
Another good alternative to HiSmile is the Snow teeth whitening system. Snow costs more than HiSmile, but the value that you receive for the price actually works out to be much better, since, with Snow, you get a whole year's worth of treatments for the price.
Snow is another LED whitening kit that you only have to use for nine minutes per day. You also have the option to use an app with the whitening system to control how white you want your teeth to get, and at what pace.
And just like with HiSmile, with Snow you can buy refills so you never actually have to pay all over again for the LED mouthpiece. Visit their website to find out more about Snow.
Conclusion
So, does HiSmile work? Yes, for most people, but set yourself realistic expectations about the results. They guarantee two shades brighter, and if that's ok with you, by all means, give it a go.
Their specially formulated gel is supposed to be very gentle on teeth, but some users still experience sensitivity.
The main downside of HiSmile is that you really aren't getting a lot of value for the price. The gel refills aren't cheap either, so be prepared to keep paying the HiSmile price if you want to maintain your whiter smile. If you're looking for a whitening kit that offers a better value for the price, and more dramatic results, you may want to consider Smile Brilliant.
We do like the fact that the company offers a selection of oral care products and encourages users to follow good habits for oral health – not just whiter teeth. That's definitely something we can get behind.
FAQs
Are HiSmile reviews positive?
HiSmile reviews on Trustpilot are quite positive, currently standing at around 4.5 stars, although we suspect that many of those reviews may be the result of a marketing campaign. We give HiSmile 3.5 stars for its ability to whiten teeth, while keeping in mind that you only get two shades whiter from this kit. Keep in mind that when you look at HiSmile teeth whitening reviews, or reviews of any product for that matter, you should take paid for reviews with a grain of salt.
Does HiSmile really work?
HiSmile works for most people who give it a try. However, you're not likely to notice a very drastic change in the whiteness of your teeth, or at all, depending on the current hue of your teeth. After all, they only guarantee that your teeth will be two shades brighter after the six days of treatment.
Is HiSmile safe?
HiSmile is generally safe, anc the company claims that it's also safe to use for people with sensitive teeth. One problem that may occur is that irritation or harm to the gums. That's because with HiSmile, you insert the gel into the mouthpiece, and then bite down, as you do this, the gel could overflow. The best way to avoid this is to choose a whitening kit that allows you to apply the gel directly to your teeth.
Sign up to receive the latest news and offers from Dentaly.org