Discover Hismile, the cutting-edge teeth whitening system that harnesses the power of PAP+ to brighten teeth and enhance oral health. At the heart of Hismile is their acclaimed whitening kit, accompanied by an array of other potent whitening products to maintain your radiant smile.
These Hismile reviews focus on the scientific basis of their ingredients, effectiveness, customer feedback, and cost. Dive in to the world of Hismile products and see the results for yourself!
But first, check out these must-haves for your teeth whitening routine:
Hismile V34 Color Corrector

Hismile PAP+ Teeth Whitening Kit

Instantly brightens teeth

Violet balances warmer hues

Oxidising tooth stains with PAP+

PAP+ whitens and strengthens teeth

First at-home VIO405 light

Desensitising and remineralising
Hismile teeth whitening kit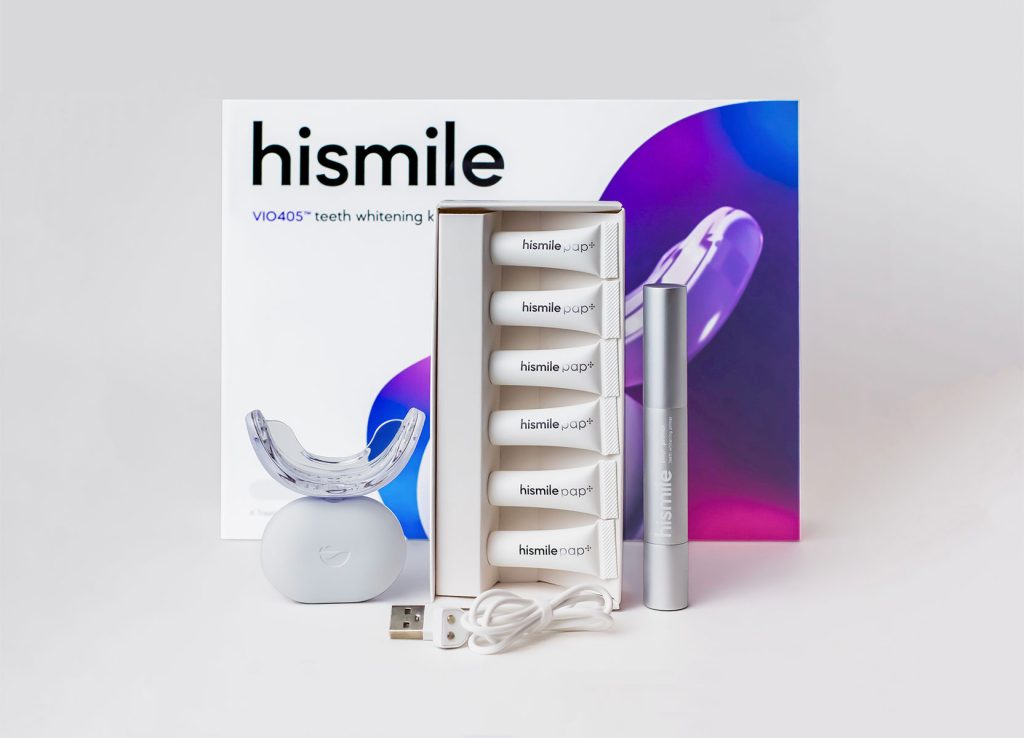 The Hismile VIO405 Teeth Whitening Kit has a mouthpiece with VIO405 technology to activate the PAP+ whitening formula. Similar to other kits, you apply the serums to your teeth, then insert the mouthpiece and whiten teeth for 10 minutes. Check out our breakdown of all of the Hismile features.
Our take: ★★★★✩
We give the Hismile teeth whitening system 4/5 stars based on for its PAP+ formula which reacts with stain molecules, changing your tooth color at the molecular level and helps to remineralize teeth. This is a great, affordable option for people who want to avoid peroxides and still whiten their teeth.
Get white teeth with no sensitivity
Hismile whitening kit ingredients
The main ingredients in the whitening gel are Phthalimidoperoxycaproic Acid (PAP), Potassium Citrate, and Hydroxyapatite. Together, these ingredients form Hismile's signature PAP+ whitening solution.
Nano-hydroxyapatite: This is naturally present in bones, and re-deposits minerals back into the tooth structure, reducing sensitivity and strengthening enamel
Potassium citrate: Relieves pre-existing sensitivity for a completely sensitivity-free whitening experience
Phthalimidoperoxycaproic acid (PAP+): The main whitening agent that whitens discolored molecules in enamel
Are these ingredients safe for teeth whitening?
Yes, in fact, they help to improve the health of your smile while whitening your teeth. And, if we compare the PAP+ formula to peroxide-based whitening products, it whitens teeth with none of the detrimental effects that hydrogen peroxide can have on teeth and gums.
Hismile VIO405 LED mouthpiece
When we saw that this was another whitening kit with an LED light, we were skeptical, because most of the time, those LED lights are nowhere near as powerful as the ones used in the dentist office — and thus don't make much of a difference, if at all.
However, Hismile uses a VIO404 LED — violet light — which is illuminated by 32 LEDs. Most mouthpieces have just 5 LED lights, and operate on a longer wavelength.
Whereas studies show that regular blue LED lights don't make much of a difference in teeth whitening, the opposite is true with violet LED. Violet LED light enhances teeth whitening, with or without a whitening gel (although results are much better with a whitening gel).
Hismile Price
$129 may seem like a lot for a teeth whitening kit, and it's true that you can pick up others for a lot less than this. However, it's important to consider the cost per treatment, not per application.
Most home teeth whitening kits require 6+ days for a single treatment, whereas Hismile's new formula usually shows results after just one day. So, it can work out at just $21.5 per whitening treatment, depending on how many pods you use. Hismile gel refill pods cost just under $10 each.
If you change your mind after purchasing, Hismile offers a 30-day returns policy for products that are unopened, unused, and still in sealed packaging. You'll need to submit a returns form and return the kit using a tracked delivery service at your own expense.
Does Hismile work?
Hismile does work; many people notice a difference after just one use. PAP has been proven to be as effective as non-peroxide whitening methods, plus it prevents sensitivity and strengthens enamel.
Results of a clinical trial published on their website show that 100% of participants achieved instant results and 61.9% saw an improvement of 3+ shades after one 10-minute treatment.
Independent studies like this one have verified that PAP is effective at achieving immediate results, even more so than hydrogen peroxide, although they may not be as drastic as professional teeth whitening at the dentist.
Your personal results will depend to some extent on your natural tooth color and the amount of staining present. The shade guide provided in the kit helps you track your progress.
Hismile pros and cons
Backed by a lot of research and development, Hismile offers a host of benefits to anyone looking for a bullet at-home teeth whitening kit. Here are some pros and cons of the Hismile teeth whitening kit.
405nm violet light actually whitens teeth

Whitening formula helps strengthen enamel

Takes only 10 minutes per day

Affordable compared to other options

For some people, peroxides might be more effective at whitening

Not as powerful as in-office whitening
Other Hismile whitening products
Hismile PAP+ Whitening Toothpaste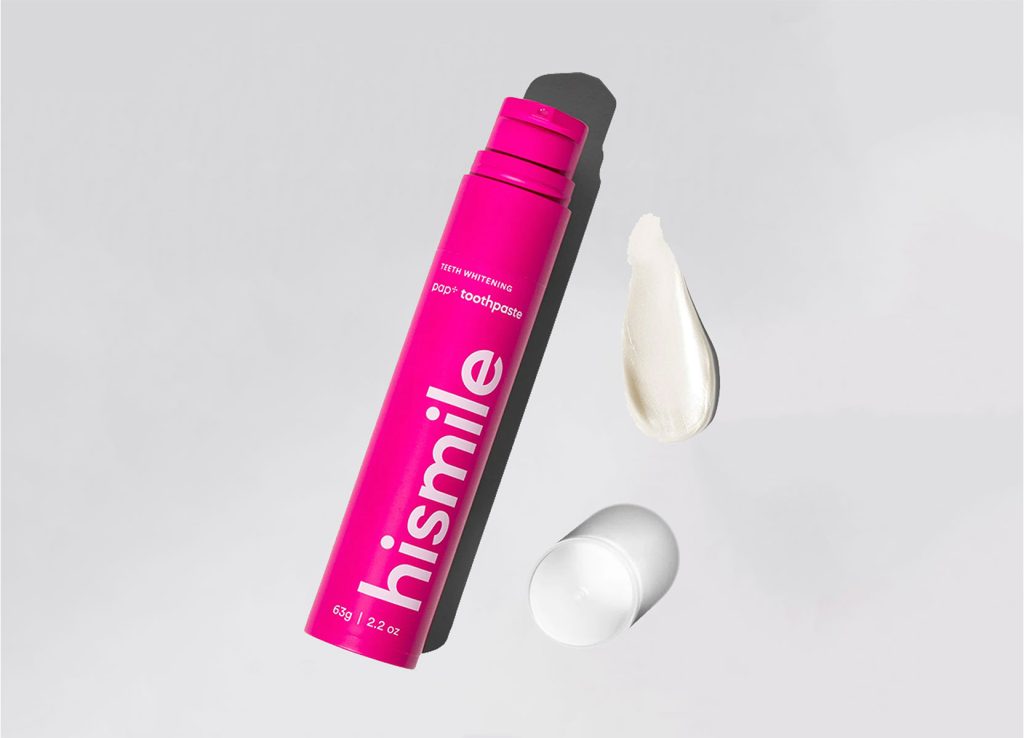 The PAP+ whitening toothpaste provides effective daily whitening with a fluoride-free formula. It contains the same PAP+ formula as the whitening gel, helping to oxidise staining, reduce sensitivity, and remineralize enamel.
Hismile Glostik Tooth Gloss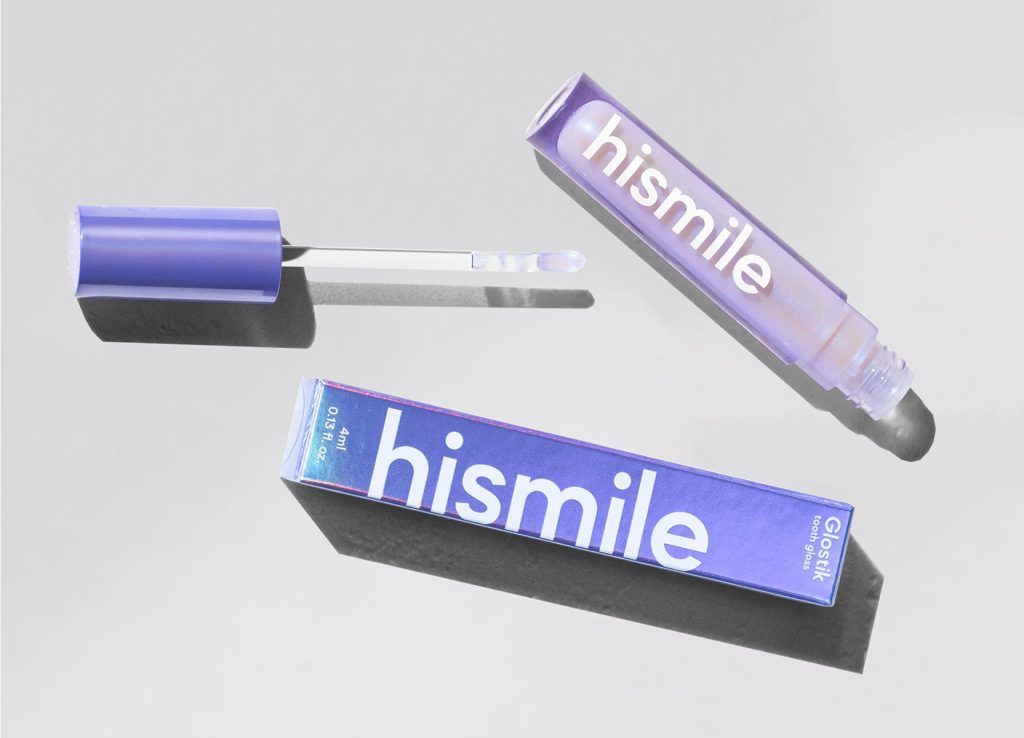 The Hismile Glostik Tooth Gloss is like lip gloss for your teeth. This pearlescent purple gloss instantly whitens your teeth, with a glowing and brightening effect.
It works by reflecting light to make your teeth appear whiter, and the pearlescent formula creates an instant whitening effect.
Hismile V34 Corrector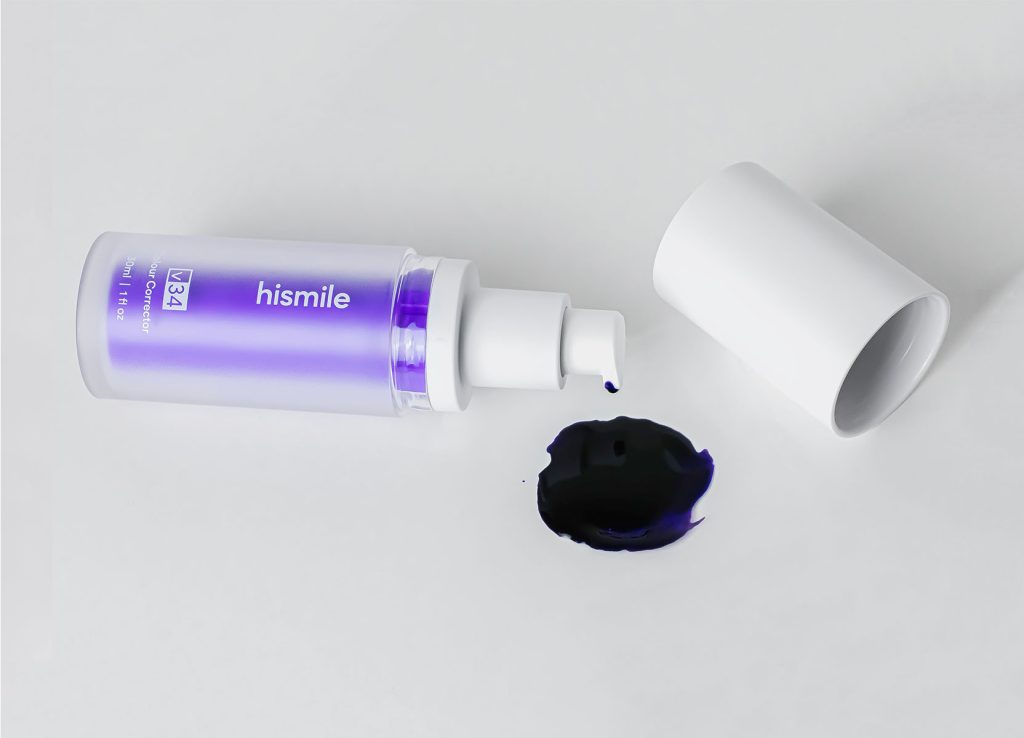 The V34 Color Corrector Serum is the perfect compliment to the Hismile teeth whitening kit. Where the whitening kit oxidizes stains with PAP+, the V34 balances the hues in your teeth, making them appear whiter.
The serum is notably purple, and just like purple shampoo, it balances the yellow tones in your teeth. To use it, you just apply the serum to your teeth and brush them like normal.
Read our full V34 Color Corrector Serum review to find out more.
Ultimate Whitening Bundle
The Ultimate Whitening Bundle by Hismile offers the fastest and easiest way to whiten your teeth. It includes two of Hismile's most in-demand products:
PAP+ Teeth Whitening Strips: Whiten your teeth with PAP+, remineralize your enamel, and eliminate sensitivity.
V34 Color Corrector Serum: In between your whitening sessions with the PAP+ strips, keep your teeth bright with the Color Corrector Serum. It will balance the yellow undertones in your teeth and add a brightening boost.
Hismile customer review
The following Hismile review is from British YouTube vlogger Aishscream. Most reviews on Youtube are from the UK and Australia since Hismile is based in Australia.
In her review, she shows what the kit contains and exactly how it works. She starts the review by saying that she already has sensitive teeth so doesn't really whiten her teeth with anything besides whitening toothpaste.
However, as she continues with the review, she has only good things to say about the Hismile teeth whitening kit and has experienced no sensitivity. In fact, she claims that her teeth feel stronger after using it.
Conclusion
So, does the Hismile Teeth Whitening Kit actually work? Yes, and the ingredients are backed by clinical trials. However, it's normal for individual results to vary.
Hismile's specially formulated PAP+ gel is very gentle on teeth and even works to remineralize enamel as you use it. With added tooth sensitivity protection, it's designed so that people prone to sensitive teeth after whitening will still be comfortable using this product.
The Hismile whitening system is ideal for people who suffer from sensitivity but still want noticeably whiter teeth.
If sensitivity isn't a problem for you, find out about other whitening kits in our reviews for Snow and Smile Brilliant.

FAQs
What is Hismile teeth whitening?
The Hismile kit uses an LED mouthpiece and whitening gel with a special PAP+ formula that not only whitens teeth but also includes ingredients that strengthen enamel and benefit oral health.
Does Hismile work?
Let's cut to the chase! Yes, Hismile whitens teeth after just one or two treatments. It also contains other beneficial ingredients that support and improve your oral health.
How does Hismile work?
One of the unique selling points of the Hismile kit is its unique PAP+ formula. It whitens teeth and doesn't cause any tooth sensitivity or pain. Meanwhile, hydroxyapatite helps remineralize teeth.
How much is Hismile in the US?
Hismile costs $129, which is much less than professional whitening at the dentist. Included in this price are 6 whitening gel pods, and one pod can be enough for a whole treatment. Therefore, the kit can last for up to a year.
Hismile offers a 30-day returns policy, but this is only available for Hismile whitening kits that are unopened, unused, and still in sealed packaging.
How do you use Hismile?
The Hismile teeth whitening kit is very simple to use. Just squeeze the gel from one pod into the mouthpiece – half on the top and half on the bottom. Then, press the button to power on the device. It will automatically turn off after 10 minutes.
Hismile recommends brushing your teeth for two minutes before whitening, and rinsing with water afterwards. You can find full Hismile instructions on the box that comes with your kit.
How often do you use Hismile?
You can use the Hismile gel to whiten your teeth once a day until you achieve the desired shade. After this, you can repeat the treatment every one to two months to maintain your whiter shade.
Many people find that just one treatment gives them good results, and therefore a pack of six pods lasts from six to twelve months.
Can you use Hismile with braces?
There is nothing to stop you from doing any kind of whitening with braces, provided the mouthpiece fits over your brace brackets. However, the areas of the teeth below the brackets won't change color. This may mean that you end up with darker patches on your teeth when your braces come off.
Sign up to receive the latest news and offers from Dentaly.org