If you have especially sensitive teeth and gums, you might find that you prefer to use a silicone toothbrush. In general, a silicone toothbrush is just like a regular brush, but it has silicone bristles instead of nylon bristles.
These brushes have been gaining in popularity for a while and are most commonly used as toothbrushes for babies and children. But recently companies such as FOREO have brought innovative silicone technology to the oral hygiene market in the form of silicone electric toothbrushes.
In this article, find out everything you need to know about silicone toothbrushes and see if they are worth all the hype, including:
Do silicone toothbrushes work?
How do silicone bristles compare to traditional ones?
What is the best silicone toothbrush for adults, children, and babies?
So, let's get started and see which are the best silicone toothbrushes for you and your family to try. The following table is a quick summary of some of our top picks that we will discuss in this article:
Self-dispensing toothpaste

Charcoal-infused bristles

Manual, electric and kids options

Brush head type: Slim fit ISSA & Hybrid Wave

2 x stronger medical-grade silicone and PBT polymer

Brush head flexibilty: 360-degree flex

Number of intensities: 16


360 uses on a single USB charge

For children 5 - 12 years old

Material: Medical-grade silicone and PBT polymer

Brush head flexibilty: Medium


265 uses on a single USB charge


For babies 0 - 4 years old

Material: Medical-grade silicone and PBT polymer

Brush head flexibilty: Medium

265 uses on a single USB charge


Safety shield helps to prevent over-insertion
What is a silicone toothbrush?
A silicone toothbrush is, put simply, a toothbrush made from silicone. Or to be more specific, a toothbrush with bristles made from silicone, rubber, or any other similar material instead of nylon.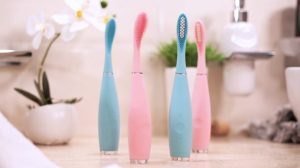 Many silicone toothbrushes are made completely from silicone or synthetic rubber, including not only the bristles but also the brush heads and the toothbrush body. And you can choose from both electric silicone toothbrushes and manual silicone toothbrushes.
Most silicone or rubber toothbrushes look more aesthetically pleasing than traditional toothbrushes. And they come in all sorts of different colors, shapes, and sizes.
Silicone toothbrushes vs regular
The most obvious differences between silicone toothbrushes and more traditional style toothbrushes are that they are made from different materials, and in some cases, can have different designs.
Silicone toothbrushes have either silicone or synthetic rubber bristles, and traditional toothbrushes, both electric and manual, have nylon bristles. Some silicone toothbrushes have a mouthpiece design, whereas others have a similar design to the conventional manual or electric toothbrush.
While both types of toothbrushes function very similarly to each other in terms of brushing your teeth, there are some key differences.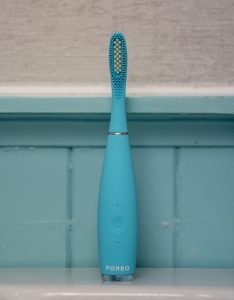 Silicone toothbrushes have larger and gentler bristles which are incredibly soft in your mouth and on your teeth. And although silicone bristles are much softer than nylon bristles, you don't have to replace them anywhere near as often.
The drawback of using a silicone toothbrush instead of a nylon toothbrush is that the bristles are wider and flatter so they may take some time to get used to. Some people never really do get used to the different shapes and sizes of bristles.
Are silicone toothbrushes more hygienic?
Silicone toothbrushes are considered to be more hygienic than traditional brushes because the material is non-porous and therefore harbors fewer bacteria, and is easier to clean after use.
As well as being more hygienic they are also more durable which means that you don't need to replace them as often. This makes them a much more environmentally-friendly option than those you have to replace regularly.
Are silicone toothbrushes any good?
The main benefit of silicone toothbrushes is that they are much more gentle on gums, enabling you to thoroughly clean your teeth and mouth. This may give you added protection against gingivitis.
There are studies showing that silicone bristles are more effective against plaque than regular nylon bristles. However, it is unclear if nylon bristles may be more effective at reaching some of the harder-to-reach areas in your mouth.
This study compared the effectiveness against plaque and found that patients with early gingivitis would benefit from using toothbrushes with silicone or rubber-tipped bristles.
Who should use a silicone toothbrush?
People with sensitive mouths and gums should use a gentle toothbrush, and may benefit from using a silicone or rubber one. The bristles on a silicone toothbrush are extremely soft. Thus they don't irritate the gums, enabling you to thoroughly clean your mouth and teeth.
Silicone toothbrush options
There are a few different types of silicone toothbrushes on the market that we will discuss, including: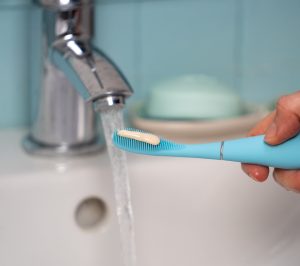 FOREO ISSA
Jack and Jill Silicone Toothbrush
Green Sprouts Silicone Baby Toothbrush
VTRETU Ultrasonic Kids Electric Toothbrush
Silicone toothbrushes were originally designed for use on babies and children, but in recent years they have grown in popularity with adults.
The most well-known silicone toothbrush on the market is the FOREO ISSA toothbrush. FOREO is a Swedish company that focuses on using silicone technology for wellness and beauty solutions for everybody. Read our complete FOREO toothbrush review.
They have a few different models in their range, including a couple of choices for adults, as well as toothbrushes suitable for both children and babies.
What is the best silicone toothbrush for adults?
As we already mentioned, silicone toothbrushes were originally more commonly used with babies and young children. Now a brand called FOREO is also marketing to adults.
Let's take a look at some of the best silicone toothbrushes out there for adults, children, and babies, including both manual and electric silicone toothbrushes.
Nest
The Nest Toothbrush has a couple of key features that puts it at the top of our list of best silicone toothbrushes.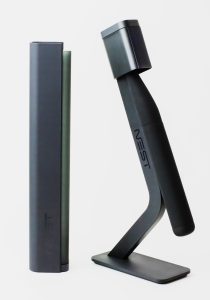 For starters, has a self-dispensing toothpaste mechanism. How? The toothbrush has an inner airtight, sterile compartment that holds the toothpaste of your choice. Then, when it's time to brush your teeth, you just push a button, and the perfect amount of toothpaste as recommended by the ADA is dispensed every time.
What's more, you can get this electric toothbrush with a UV sterilizer, which uses UV-C to eliminate microorganisms like bacteria and viruses — and yes, that includes Coronavirus.
Aside from these revolutionary features, the Nest is also super-sleek and elegant, made from black silicone, and has charcoal-infused, sapphire-topped, ultra-soft bristles.
You can get the Nest as a manual brush or an electric brush, and there's a kid's option as well. If you want our opinion — get your Nest now, because this is the way of the future.
Read more about this revolutionary toothbrush in our full Nest Toothbrush review, and use code DENTALY30 at checkout to get 30% off your order.
FOREO ISSA
The FOREO ISSA range has something for everybody, from adults that fancy a high-end silicone electric toothbrush, to budget options like the ISSA Mini, to babies needing a small and gentle silicone toothbrush. These silicone toothbrushes come fully made from silicone and in a range of beautiful bright colors.
The newest addition to the FOREO ISSA range is the ISSA 3 which comes in four colors: fuchsia, mint, pink and black. It also boasts an impressive battery life, lasting for 360 uses, or twice a day for 6 months. Let's take a closer look at some of the ISSA 3 features: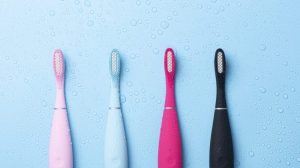 Bacteria-resistant, medical-grade silicone and PBT polymer bristles
Hybrid wave brush heads
Full mouth, cheek and tongue cleaning with ridges on the back of the brush
Travel
Lock
Timer
Battery-life indicator
Waterproof
The FOREO ISSA electric toothbrush range is our top pick for the best silicone toothbrushes for adults. But let's see which other silicone toothbrushes for adults are available.
If you purchase FOREO from the website, use code to get off.
Cool & Fresh manual silicone toothbrush
While we may be discussing innovative new technology in the oral hygiene market, the original manual toothbrush design is still a very effective way to clean teeth. So we have included a manual toothbrush with the addition of silicone bristles.
This brush, by manufacturer Cool & Fresh, has all the great functional traits of a conventional toothbrush but with the added benefits of silicone bristles. Manual silicone toothbrushes are great for sensitive teeth and gums and are the cheapest choice if you're on a budget.
If you're trying a silicone toothbrush for the first time, you don't have to go with the most expensive choice. Try a cheap silicone toothbrush first, and then if you like it and want to try an electric version, take a look at the FOREO ISSA range.
Snefe 360° Silicone Toothbrush
Although not technically a toothbrush in the traditional sense, these silicone mouthpieces are indeed for cleaning your teeth. However, studies show that they are not meant to replace your regular toothbrush.
We have included it in this article because there are a lot of these toothbrushes on the market and they may be a good choice for those with reduced mobility or people who want to give their teeth cleaning an extra boost.
The Snefe ultrasonic automatic toothbrush just slots into your mouth and the sonic vibrations help to remove plaque and clean your teeth. It utilizes the following features to thoroughly clean your mouth and achieve a deep, whitening clean:
Rapid vibration of the brush head
4 modes – strong, comfortable, massage and whitening
Waterproof
45-second timer
Silicone toothbrushes for kids and babies
Silicone toothbrushes are already extremely soft, so there is no need to find one with softer bristles for children.
Most silicone toothbrushes designed for adults are far too big for children to comfortably use and brush their teeth. So the ideal silicone toothbrush for children is similar to that of an adult but smaller in brush head size. It is an added bonus if the toothbrush has a fun design or is brightly colored to help convince children to clean their teeth.
The first toothbrush that we will talk about is another silicone brush from the FOREO ISSA range, the ISSA Kids, which is very similar to the ISSA 2 & 3 but smaller in size.
FOREO ISSA Kids
The FOREO ISSA kids toothbrush is very similar to the ISSA 2 Mini, which is a smaller version of the ISSA 2 & 3. The main difference is that comes in fun packaging with each color associated with a character.
This toothbrush is the perfect size for small children to brush their teeth. It is soft and gentle on children's teeth, and the silicone bristles can make brushing teeth a fun experience. The main features include:
Material: Medical-grade silicone and PBT polymer
Brush head flexibility: Medium
Number of intensities: 1
Battery life: 265 uses on a single USB charge
FOREO ISSA Baby
The FOREO ISSA Baby is similar to the ISSA Kids except it has a round brush head like that of the Oral-B range of electric toothbrushes.
The bristles on the ISSA Baby are extremely soft, yet durable enough to be able to resist chewing. This electric toothbrush comes in 5 colors, with different characters from the ISSA Kids toothbrush, including:
Kiwi green panda
Bubble blue dino
Sunflower yellow squirrel
Strawberry rose lion
Pearl pink bunny
Jack N' Jill Silicone Tooth and Gum Brush
The brand Jack N' Jill has silicone toothbrushes suitable for every stage of your child's life. This peculiar toothbrush is for children aged two to five years old and is a manual toothbrush with a silicone handle and mouthpiece.
It has very soft and gentle silicone bristles that are sensitive to small teeth and gums. Some of its other features include:
BPA and PVC-free
Percent medical- and food-grade silicone
It's supposed to be easier for kids to hold and maneuver as they develop proper brushing skills while being extra gentle on teeth and gums.
Green Sprouts silicone baby toothbrush
The Green Sprouts silicone baby toothbrush also looks a little different from the conventional silicone toothbrushes and mouthpieces.
Like any other silicone toothbrush, it has a handle and silicone brush head with soft silicone bristles. But it also has a protective guard below the brush head which keeps the baby from choking on the toothbrush.
It is a simple manual toothbrush that is safe for babies and gentle on their teeth and gums. Many of the reviews for this brush are positive and say that babies love to use it. The same brand also makes a silicone baby finger toothbrush.
Silicone toothbrush reviews
We found a few silicone toothbrush reviews so you can see what other people have to say about these toothbrushes. The following video is a review of the FOREO ISSA Play.
The next silicone toothbrush review is on the Jack N' Jill silicone finger toothbrush. Risma Christanty unboxes the finger brush and reviews it on her YouTube channel alongside the Jack N' Jill children's toothpaste.
Conclusion
Silicone toothbrushes are a new trend that is steadily becoming more popular. And some studies do show that silicone or rubber toothbrushes are better than traditional nylon toothbrushes at breaking down plaque.
This style of toothbrush is considered more hygienic because they are less porous and thus less likely to house bacteria. This also means that they are more eco-friendly than conventional nylon toothbrushes and brush heads because you don't have to replace them as often.
The popular silicon toothbrushes on the market are from the FOREO ISSA range, and the FOREO silicone toothbrush is our top pick for the best silicone toothbrush on the market. This is because of its sleek, ergonomic, and functional design.
If you want to look at other high-end electric toothbrushes regardless of whether or not they are silicone, check out our article on Sonicare's sonic toothbrushes or compare Sonicare to Oral-B. You can also check out our guide to whitening toothbrushes.
If you're ready to order your FOREO toothbrush, use code to get your order.
FAQs
How often do you have to replace a silicone toothbrush?
In theory, because silicone bristles don't harbor as much bacteria as nylon bristles, you might not have to replace them as often as you would a regular toothbrush. But you should still plan on replacing it every few months.
Are silicone toothbrushes good?
Since silicone toothbrushes are relatively new, there aren't a ton of studies on their effectiveness. But it seems that they are equal to standard toothbrushes in removing plaque. And they are a good option if you have especially sensitive teeth and gums.
Sign up to receive the latest news and offers from Dentaly.org