The iO brush is Oral-B's latest release and features AI technology to help you improve your brushing technique and in this Oral-B iO review we'll go over all the good stuff you need to know!
And sure it's got a higher pricetag, but it's worth it, especially if you have sensitive teeth and gums that the AI pressure-sensing technology can help, or if you need help to improve your oral hygiene overall. You may also want to invest in this toothbrush if you are a fan of the latest technology no matter what the gadget is.
In this article, we'll go over the features, pros, cons, and price of the Oral-B iO and we'll compare it to some alternatives.
Keep reading to find out if the Oral-B iO — and which model — is the best option for you. If you want to see other models from this brand, you can read our review of the best Oral-B electric toothbrushes.
What's new about the iO?
If you're familiar with Oral-B brushes, you'll notice these differences with the iO:
• A much quieter motor
• Longer battery life
• 3-hour charging time
• Magnetic charging base
• Interactive built-in display
• A new style of brush head
Oral-B iO review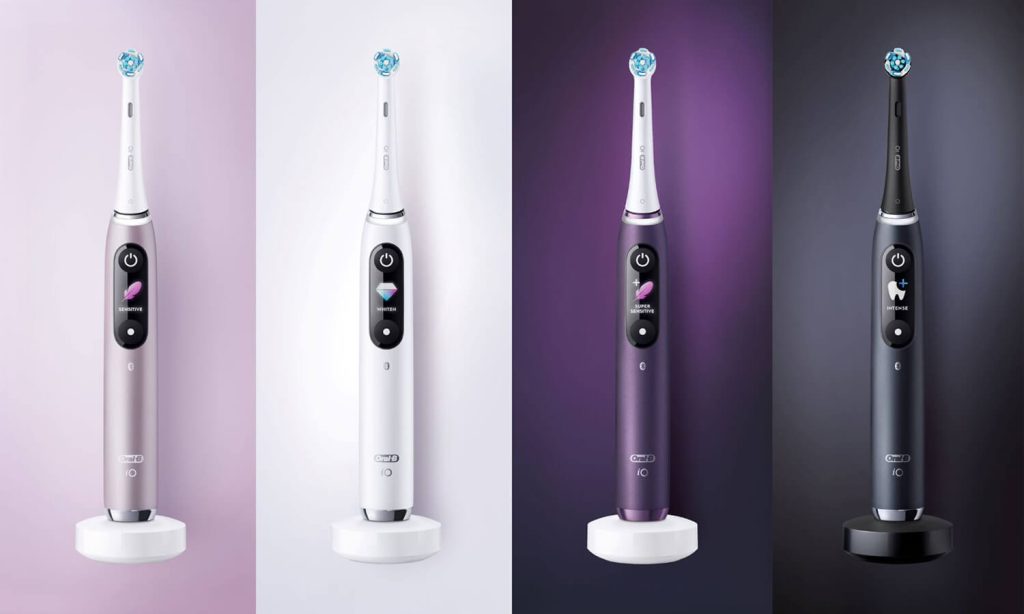 Pros and cons
Excellent cleaning performance


Encourages better brushing habits


AI tracking gives detailed feedback


Cost of the brush and replacement heads

Charging travel case not very convenient

Built-in display could show more details

App requires some commitment and can feel gimmicky
AI brushing technology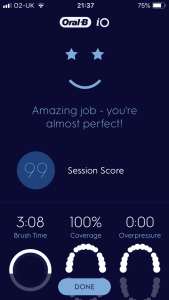 Aside from the better charging time and battery life, the star feature is the AI technology which tracks how you are brushing and helps you improve your technique. If you're consistently missing part of your mouth when you brush, or using too much pressure, this toothbrush will be able to tell you.
That's a pretty cool feature if you want to keep your teeth in tip-top condition.
How does it work? The brush connects via Bluetooth to an app on your smartphone. Sensors inside the brush track where you have brushed and for how long. At the end, you get a score and feedback to help you improve for next time. The pressure sensor also displays a red warning light if you brush too hard.
This is not a completely novel idea; the Oral-B Genius X and Sonicare DiamondClean Smart both offer similar technology.
What's different about the iO is that it incorporates 3D tracking technology to monitor 12 different zones in your mouth; the 3 surfaces of each of the 4 quadrants. So it can tell you specifically that you need to focus on the biting surface of your left upper molars, for example.
However, the 3D teeth tracking is only available on the iO9, the top-of-the-range model.
Cleaning performance
It should go without saying really, the iO toothbrush leaves your teeth feeling super clean. You'd expect that from a toothbrush that has six years of research and over 250 patents behind it.
These results have been proven in clinical trials, too. It's been shown to remove six times more plaque along the gumline than a manual brush, also contributing to a reduction in gingivitis (gum disease). After eight weeks of use, 82% of people using the iO had healthy gums, compared to just 24% who used a manual brush.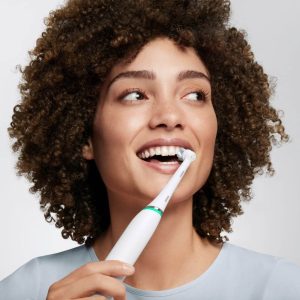 It has also outperformed its main competitor, the Sonicare DiamondClean. In a similar study comparing the two brushes, 84% of people using the iO had healthy gums after eight weeks versus 53% who used the Sonicare.
The way the motor delivers power makes it feel gentler than previous models, too. Not in a less effective way, but certainly less aggressive.
Timer and pressure sensor
As has become quite standard on electric toothbrushes now, a built-in timer signals when your brushing time is up and a quad-pacer tells you when it's time to move to a new section of your mouth. For the standard Daily Clean mode, this is set to two minutes broken into four 30-second intervals. You can adjust these settings via the app if you wish.
The pressure sensor is also not a particularly novel feature, although the iO brings a new twist to it. Using the light ring around the handle, it not only tells you if you're applying too much pressure (red) but also if you're not applying enough (white). You're aiming for green, which shows you're doing it just right.
The red light is accompanied by a slight reduction in the motor speed. You can customize the color displayed on the LED ring when the brush is on but not in use; a fun but completely unnecessary feature.
A timer, quad-pacer, and pressure sensor are all very helpful electric toothbrush features. But don't buy the iO simply for these. You can pick up the Oral-B Pro 1000 for around a tenth of the price.
App and built-in display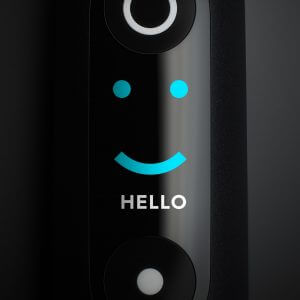 The display screen on the new Oral-B toothbrush is a big step up from having one or two tiny lights communicating information to you. It says 'Hello' when you pick it up and lets you select your cleaning mode and check the battery life.
A timer shows how long you've been brushing for, although it's hard to view this without stopping and taking the brush out of your mouth.
Once you have finished, you get either a happy face or a sad face depending on how effectively you brushed. That's fine, but it would be helpful to know specifically what you could improve. Did you brush too hard? Stop too soon? Or did you get distracted and only clean one side of your mouth? You'll have to check the app to find out.
Oral-B have developed a new app to go along with this brush with a revised design incorporating the Brushing Recognition AI. If you have it open as you brush, it displays your progress in real-time. Once you finish, it gives you an overall score based on your brushing time, coverage, and pressure.
The idea is that all of this technology in the iO trains you to brush your teeth more effectively. Over time, you should see your score improve.
You also get awarded medals for certain milestones, such as scoring 90% or more for three consecutive days. This gamification of tooth-brushing might appeal to some, while for others it comes across as a bit gimmicky and childish.
If you're guilty of scrolling on your phone when you brush and not really paying attention to what you're doing, the app will certainly help you focus. But you do have to be committed to using it to get the most out of it.
If you don't have the app open as you brush, some information will still be stored in the brush and transmitted to the app next time you open it.
Charging and battery life
Top grades to Oral-B for addressing two of the most annoying things about many of their other brushes.
Although the advertised battery life is two weeks — the same as their previous brushes — we found it lasted much longer. Many other Oral-B iO reviews seem to concur. If you're using it for the recommended four minutes a day, you might find it lasts for a month or more between charges.
If you use the more intense brushing modes, brush for longer, or share it with other members of your household, then of course this will reduce. In any case, it's bound to be an improvement on any other Oral-B toothbrush you own.
To add to this, charging takes just three hours with the magnetic charging stand. Again, this is a huge improvement on having to charge your toothbrush for the better part of a day. Plus, you can check via the display exactly how much battery life is left.
Oral-B iO toothbrush heads
The new brush heads are presumably necessary for the new style of motor, but unfortunately they are not compatible with Oral-B's older toothbrushes. Nor are the older style heads compatible with the iO.
One thing that set Oral-B apart from Sonicare up until this point was the cost of replacement brush heads. Oral-B CrossAction brush heads and other variants cost around $6 per replacement, whereas Sonicare heads cost around $8 each, depending on the type and quantity purchased.
The new iO replacement brush heads are available for around $10 to $15 each at some retailers. There are two types available: Ultimate Clean and Gentle Care — making this a great electric toothbrush for sensitive teeth — in black or white to match your brush handle.
Accessories
The Oral-B iO is quite thin on accessories. In the box you get:
iO toothbrush handle
1 x iO Ultimate Clean brush head
Magnetic charging stand
Refill holder
Power2Go charging travel case (white or black)
Travel case power adaptor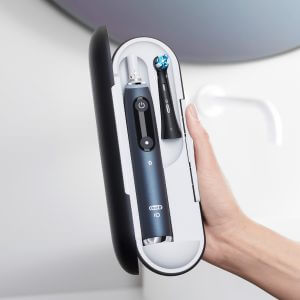 You'd think that for $250 they could give you at least one extra head to put inside the refill holder. Anyway, the charging stand is a nice update. The base is almost flat but magnets hold the handle in place until you need it again.
The iO travel case could be executed better. It's certainly handy to have a protective case when you go away, but this one only has space for one brush head. If you need to take another, you'll have to bring the refill holder along as well.
The actual charging cord for the case is quite bulky. Rather than a simple USB cable, which some other toothbrush charging cases have, this one uses an adaptor which is almost as bulky as the regular charging stand.
The good battery life means you might not need to charge it while you're away. But considering that the charging travel case is one of the premium features of the iO9, it doesn't really add much to the product.
This short video sums up the key features pretty well:
Different models: iO7, iO8, iO9
iO is actually not the name of a single brush, but of a new range of brushes from Oral-B. This follows their Pro, Smart, and Genius series.
You can choose from models 3 through 9 — in the table below you can see how models 6 through 9 compare:
| | | | | |
| --- | --- | --- | --- | --- |
| | | | | |
| | 7: Daily Clean, Sensitive, Super Sensitive, Intense Clean, Gum Care, Whitening, Tongue Cleaner | 6: All except Tongue Cleaner | 5: All except Tongue Cleaner and Super Sensitive | 5: All except Tongue Cleaner and Super Sensitive |
| | | | | |
| | | | | |
| | Onyx Black, White Alabaster, Rose Quartz | Onyx Black, White Alabaster, Violet Ametrine | Onyx Black, White Alabaster | |
| | Yes, with built-in charging | | | |
Anything not mentioned here is the same on all models. So, does the iO9 provide $100 of extra value vs the iO7? If you're wondering whether to pay the extra for the top model, here's our take.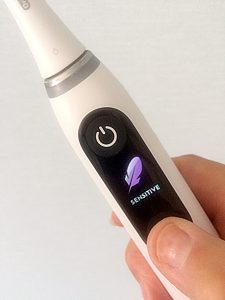 Two extra brushing modes are nice but you'll probably never really use them. The Tongue Cleaner mode is just programmed to turn off after 20 seconds, but you could do the same thing manually with any other mode. And actually, we recommend you try using a tongue scraper if you really want a clean tongue.
A choice of colors is also nice to have, and since the buttons are black on all models the black version looks a bit sleeker. Same goes for the color screen.
3D teeth tracking is probably the best extra feature, but only if you're committed to using the app every day.
A charging travel case is a great idea, but unlike many other brands which supply a USB cord, the Oral-B case has a special main charger. This makes it much less compact, taking up almost as much space as the regular charging base.
So, if you don't want the white version and you're serious about improving your brushing with the app, go for the premium model with all the features.
Oral-B iO vs Pro 1000
Alternatives
If you'd like to consider a luxury toothbrush that cleans with sonic technology instead of oscillating movements, you can have a look at the Sonicare Prestige 9900.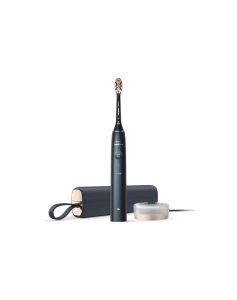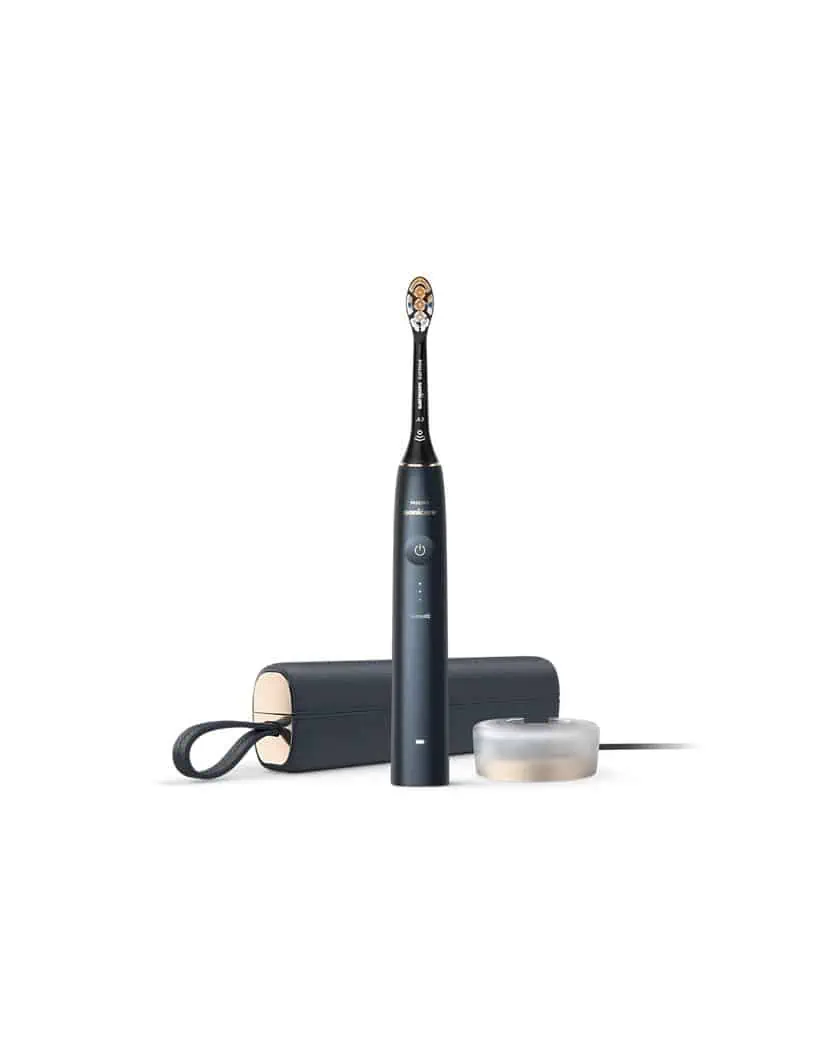 This is the latest release in the Sonicare range and features SenseIQ technology that senses every movement when you brush and adapts to your brushing in real-time, removing up to 20x more plaque than a manual brush.
The SensIQ senses the pressure, motion, and coverage of your brushing up to 100 times per second, and it adapts the intensity automatically if you are brushing, scrubbing, or pushing too hard.
The brush heads are A3 Premium All-in-One, with angled bristles with triangular tips to remove more stains and get into hard-to-reach places. Longer bristles clean deeper into gums for healthier gums in just two weeks — plus, the BrushSync feature lets you know when it's nearly time to replace the head.
Other features include personalized guidance from the app for improved brushing, a lithium ION battery that lasts for 2 weeks on a single charge, and a super sleek, elegant design with a frosted glass charging dock.
If your budget won't stretch far enough for the more luxurious brushes, but you still like the idea of a smart toothbrush, check out the Oral-B Genius X instead. The AI technology may not be as refined as in the iO, but it still lets you see where you have brushed and tracks your overall progress. You'll save quite a bit compared to the iO, but it's still a significant purchase.
The Oclean X Pro Digital is another good option if you want to improve your brushing technique, as it gives you feedback in real-time and lets you add on extra seconds of brushing until you hit any spots you missed.
If you've decided that you don't need a smart toothbrush after all then you'll get all the basics at a good price with the Oral-B Pro 1000, or you can check out a more minimalist brush like the Mode toothbrush.
Is the Oral-B iO worth it?
Yes, if: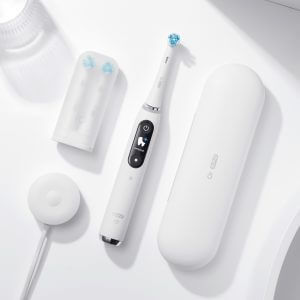 You know your brushing habits and technique need some improvement
You want better plaque removal and gingivitis reduction than the best Sonicare toothbrush provides
You're frustrated with the noisy motor and poor battery life of your current electric toothbrush
You're interested in trying out the latest new technology in toothbrushes
If you're down to invest in this high-tech brush, you can order your iO now.
You can also check to see the varying prices available on Amazon.
If this is out of your budget, the good news is that there are plenty of other affordable electric toothbrushes around. They may not have quite the same bells and whistles but they will still get your teeth very clean.
Check out our full guide to the best electric toothbrushes to browse some more products at different price points, including cheaper electric toothbrushes, and if you're looking for another oscillating brush, you can check out the Goby Toothbrush.
Conclusion
The Oral-B iO is an excellent toothbrush and if you use it as directed, along with the app to track your brushing habits, it's going to help improve your oral health. The same could be said of many cheaper brushes as well.
There is no one thing about the iO that really justifies the price tag, but when you add it all up: the micro-vibration technology, the smoother clean, the quiet motor, decent battery, LED display… you end up with a toothbrush that's fun to use and leaves your teeth feeling great.
When comparing the iO7, 8 and 9, it seems worth paying the extra for the top model, as long as you've found it with a decent discount.
We hope this Oral-B iO review has helped you decide whether this toothbrush is right for you. If you want to read about more options, check out our page about Oral-B vs. Sonicare which compares their brushes at different price points.
You might also be interested in our guide to the best water flossers to complete your oral hygiene routine.
FAQs
Is there an Oral-B iO series 10?
There is currently no Oral-B iO series 10, and a release date isn't set for a model with this name. At the moment, available series models are the iO series 6, 7, 8 and 9.
Is the Oral-B iO toothbrush worth it?
You can probably get the same clean with cheaper Oral-B iO toothbrushes, including the Pro 1000 which costs under $50. It just depends on if you want to splurge for high technology.
Sign up to receive the latest news and offers from Dentaly.org