When it comes to new technology toothbrush options, there's plenty to choose from.
In this article, we'll talk about the latest technology available in electric toothbrushes, and we'll give you our top picks for the best new high-tech toothbrushes on the market.
And if you're short on time, have a look at our roundup of the top picks in the table below:
New toothbrush technology
There's a lot of great new technology for electric toothbrushes out there, so let's have a look at some of the most exciting developments.
Smart toothbrush technology
Smart toothbrushes are electric toothbrushes that connect to an app on your smartphone via Bluetooth. Through the app, you can monitor your brushing, with feedback on everything from areas you are missing to how much pressure you apply when you brush.
Self-dispensing technology
There's a new toothbrush on the market that we'll review in this article — the Nest Toothbrush — that contains an integrated airtight chamber for toothpaste.
With the press of a button, you can dispense a pea-size amount of toothpaste onto the bristles of the brush. That means no more coagulated toothpaste tube openings, or putting way too much paste on your brush — with the Nest, you get the perfect amount every time.
Since this model has been a huge success in the short time since its release, we expect more brands will quickly release their own versions.
Self-sanitizing technology
You can now get brushes that feature a self-sanitizing or self-sterilizing component. This usually comprises a special stand or case with integrated UV-C lights that kill microorganisms including bacteria and viruses.
AI monitoring
AI monitoring is a part of smart toothbrush technology wherein the brushing app on your smartphone will track where the brush is in your mouth at any given time, how much time you spend there, and the pressure you apply. You'll then be given feedback based on your brushing habits to help you improve.
Wireless charging
Electronic devices have improved our lives but the wires attached to them can create a whole lot of chaos. That's why the makers of the Mode toothbrush have decided to ditch the wires, even when it comes to charging.
This toothbrush comes with a wireless charging dock that plugs right into the wall socket. The toothbrush simply sticks to the charger with a magnet— eliminating the need for any wires.
While the Mode is the first of its kind, we suspect more will be soon to follow.
Smart screens
Some toothbrushes feature colorful LED smart display screens. On these screens, you can see your brushing feedback in real-time, along with bright emojis and encouraging messages.
The screen also makes it easier to choose your preferred brushing mode. These brushes are great for people who like fun visual cues.
U-shaped brushes
Instead of a typical brush with bristles, these brushes feature a horse-shoe-shaped mouthpiece that you place between your upper and lower teeth and bite down on.
You then turn it on and it uses sonic vibrations to break up plaque and clean all of your teeth simultaneously — although you might want to wait until more studies are done on this type of brush as some are showing rather insignificant plaque removal.
Best toothbrushes with new technology
Nest Toothbrush: Self-dispensing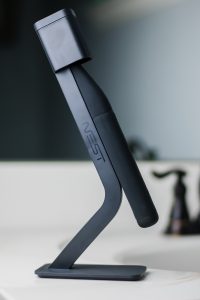 The Nest Toothbrush features a hypoallergenic silicone handle and soft nylon and silicone bristles. It has an integrated air-tight compartment for toothpaste, and lets you dispense the dentist recommended amount of toothpaste (pea-sized) onto the bristles every time.
You can also purchase this toothbrush with a UV sterilizer that uses two UV-C lights to eliminate bacteria and viruses by 99%.
Take a look at the main highlights of the Nest:
Sonic vibrations: tens of thousands of sonic vibrations per minute break up plaque
Self-dispensing toothpaste: Get the perfect amount of toothpaste every time you brush
Smart timer: A 2-minute timer tells you how long to brush and when to switch quadrants
Charcoal bristles: Charcoal-infused bristles are combined with soft nylon bristles for optimal cleaning
Silicone handle: Non-slip, soft grip for a comfortable, skin-safe grip
Read more in our Nest toothbrush review or head over to the Nest website now to get 30% off your brush when you use code DENTALY30 at checkout.
Mode Electric Toothbrush: Wireless charging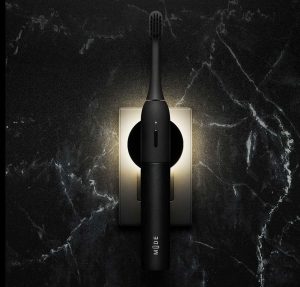 The Mode Electric Toothbrush is for those whose ideal electric toothbrush could be described elegant and minimalist. Its standout feature is the fact that it is the first completely wireless rechargeable electric toothbrush.
There are brushes that have magnetic charging docks, where the toothbrush sticks to or stands on the dock with magnetic force, but the dock always needs to be plugged in somewhere. This dock is wireless — it plugs right into your wall socket. The dock doubles as a nightlight too.
It uses 38,000 sonic vibrations per minute to break up plaque and clean teeth, with a whisper-quiet motor that won't disturb others.
Here's a summary of the Mode's highlights:
Wireless charging: Keep your countertop free from wires with a wireless charging dock
Whisper-quiet motor: Brush without disturbing others
Night light: The dock features an integrated, automatic night light
Sonic vibrations: 38,000 vibrations per minute gently break up plaque
Get the full scoop on the Mode in our review here.
Oclean X10: Smart screen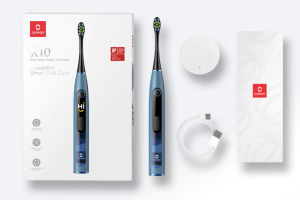 The Oclean X10 offers real-time feedback on a colorful, integrated smart display screen. It cleans with sonic vibrations and has a battery that lasts for a stunning 60 days.
This toothbrush also features noise reduction technology so that you don't wake others while you are brushing, and it features five brushing modes for a personalized experience.
Have a look at the summary of the highlights:
Smart display screen: Colorful emojis and pretty colors will help you improve your brushing with real-time feedback and encouragement
Noise-reduction motor: Brush without waking your loved ones or roommates
60-day battery: That's got to be some kind of record
Find out more about the Oclean toothbrush line in our full review, and don't miss the latest Oclean release, the X Pro Digital.
Oral-B iO: AI monitoring
The Oral-B iO has the same round head and oscillating-rotating brushing motion that Oral-B brushes are known for. But this brush also features 3D tracking with AI technology that monitors 23 different zones in your mouth, including the 3 surfaces of each of the 4 quadrants. It also has a more powerful, but extra quiet motor.
Here are the main features you can look forward to:
3D tracking: Uses the app to monitor how you brush in different areas of your mouth
Magnetic charging base: The toothbrush stands on a magnetic charging base for a sleek look in your bathroom
Interactive display: Shows how long you've been brushing, and lets you select the cleaning mode and check the battery life
Find out more in our full Oral-B iO review and our guide to the best Oral-B electric toothbrushes.
Myst Toothbrush: U-shaped
The Myst is quite different than any of the other toothbrushes in our new-tech roundup, and its alternative design certainly won't be for everyone, but it might just be for you.
This toothbrush is U-shaped, Y-shaped, or horseshoe-shaped — whichever you prefer. In actuality, it's shaped to fit along your teeth, so maybe it's jaw-shaped. But we digress —
The Myst features what it called Expansion Radius Technology, which cleans all of your teeth at the same time using sonic vibrations to break up plaque. It brushes your teeth in just 30 seconds, thanks to the simultaneous brushing.
Here are the main highlights
Simultaneous brushing: The U-shape reaches all of your teeth at the same time and brushes with sonic vibrations
Whitening action: LED blue light whitens while you brush
Shorter brushing time: With the Myst, you only have to brush for 30 seconds, instead of 2 minutes like with other brushes
You can see this toothbrush in action in the brand's promotional video below:
Conclusion
There's a lot of new toothbrush technology to be excited about. If you're looking for a high-tech toothbrush that gives your teeth a thorough cleaning, we recommend one of the brushes mentioned in this review.
All of these brushes have a high-tech feature that makes it stand out against the crowd, like self-dispensing toothpaste (Nest), wireless charging (Mode), AI brush monitoring (Oral-B iO), or a smart display (Oclean X10).
FAQs
What is the most advanced toothbrush?
No one toothbrush takes the gold medal for being the most advanced, but there are quite a few that have high-tech features. The Mode is completely wireless, and the Nest is self-dispensing.
You could also consider the Oral-B iO, which has AI brushing monitoring, or the Myst which is more of a mouthpiece that brushes all of your teeth simultaneously.
What's the difference between a smart toothbrush vs electric toothbrush?
A smart toothbrush is a type of electric toothbrush that works with an app on your phone or features an integrated smart display that lets you monitor your brushing.
Sign up to receive the latest news and offers from Dentaly.org