What are nighttime clear aligners? And do they really work?
Just as the name suggests, nighttime braces, or aligners, are clear aligners that require only 10 hours of wear per day. That means you can spend most of those hours sleeping. Talk about getting your beauty sleep! But is it really possible to straighten teeth at night in just 10 hours per day? Is it safe and does it cost more?
In this article, we'll answer all of your questions about orthodontics treatment with nighttime clear aligners, and we'll take a closer look at the adult braces brands that are currently offering them.
What are nighttime clear aligners?
Before we dive into the depths of nighttime aligners, let's have a quick refresher about clear aligners in general.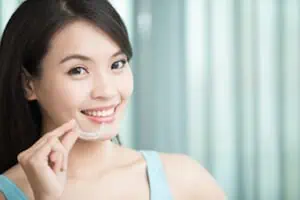 Clear aligners are an alternative to traditional braces when it comes to straightening teeth. They are increasingly popular among adults and older teens who don't want the 'brace face' aesthetic. They may involve remote treatment or in-office treatment, but either way, they are removable, and treatment time is usually shorter than it is with normal braces.
In the case of remote treatment, clear aligners are considerably more affordable than in-office options. However, just because clear aligners are removable doesn't mean you can take them out whenever you want. They still need to be worn for 20 to 22 hours every day. At least that's how it was until nighttime aligners came along.
Clear aligners are all about convenience and discretion, so it makes sense that the next step in their evolution would be aligners that you only have to wear at night. Hence the nighttime option.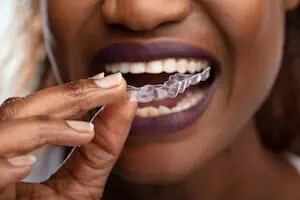 These aligners only need to be worn for 10 hours per day so you can wear them while you sleep, with potentially an hour or two of wear before or after sleeping.
Unlike aligners that you wear around the clock, nighttime aligners require continuous wear, meaning you can't take them out to eat or drink. Once they're in, they must stay in until the prescribed time is up. They also generally require longer treatment time than standard aligners, and in some cases, they are more expensive.
But how do they work with just 10 hours of wear per day?
In some cases, it's the longer treatment time that helps achieve results, and in other cases, night braces can be made with a thicker plastic that allows more force to be applied to the teeth. It's this gentle but continuous force that gradually guides teeth into proper alignment.
Nighttime vs. daytime aligners
There are three main differences between nighttime and daytime aligners:
Hours of wear: Normal aligners need to be worn between 20 and 22 hours per day, and night aligners usually require 10 hours of wear per day.
Material: With some brands, nighttime aligners are made of a thicker plastic than normal aligners, applying greater force to teeth.
Treatment time: Nighttime aligners usually take a couple or a few months longer than normal aligners to complete treatment.
There are many brands offering at-home aligners, both daytime and nighttime, but not all provide the same level of care and service to their customers. Take a look at some of the top brands available and see which would be the best match for your needs:
Find the right clear aligners for you
There are so many companies offering remote teeth straightening with aligners! Take a look at our top picks and discover why we recommend these over any others.
Nighttime braces brands
Not all clear aligner brands offer a nighttime only option, so let's have a look at a few that do.
Byte At-Night
Byte is known for some of the shortest treatment times of all clear aligner companies. The standard treatment plan takes only two to four months with 20 to 22 hours of wear per day. The nighttime plan has a longer treatment time, but it's still shorter than the standard treatment time of most other aligner brands at just five to six months. Read more about Byte vs Invisalign here.
Byte's standard treatment option also involves five minutes per day of HyperByte use. HyperByte is Byte's special mouthpiece that accelerates treatment time and relieves discomfort by delivering gentle micro-pulses to your teeth all the way down to their roots. With Byte's At-Night plan, you need to use HyperByte for 10 minutes per day.
Another difference between Byte daytime and nighttime aligners is that the nighttime aligners are made from a grind-resistant plastic that is designed specifically for nighttime wear. The plastic is also thicker, the stronger aligners allowing Byte to keep the treatment time down even for nighttime aligners.
If you are considering treatment with Byte At-Night, the first step is to purchase an impression kit and make your teeth molds at home. At-Night Byte aligners cost $2,399, a little more than the standard option at $1,999, but for many, night-only wear is worth the higher costs.
If you'd like to learn more about Byte, you can read our full Byte reviews article, our guide to Byte teeth straightening, or our article on Byte At Night specifically here. Also check out our Byte vs Candid review.
Smileie Night-Time aligners
Smileie offers some of the clearest aligners around, plus a variety of treatment options, one of which is for nighttime wear.
The standard Smileie treatment time is from 8 to 10 months, and with nighttime aligners you can expect an average of 10 months.
With the night aligners, you can choose whether you want to straighten both the top and bottom rows of your teeth, or if you only want to straighten a single arch.
This is a popular option among many people, especially those who don't want to pay for a full set of aligners, but have some imperfections in their top row of teeth that they want to adjust.
Your Night-Time Smileie aligners come with:
Impression kit
Teeth whitening kit
1st set of retainers
Free refinements
And for that inclusive package, you pay just $1,599.
Head to the Smileie site now to get started, and make sure not to miss their frequent discounts while you're there. You can also read our full Smileie review.
ALIGNERCO NightOnly
ALIGNERCO has made a name for themselves by offering some of the most affordable clear aligners on the market, and now they offer the NightOnly option as well. These aligners only need to be worn for a minimum of 8 to 10 hours per night, while their standard option needs to be worn for 20 to 22 hours per day. With both options, you get a free whitening kit.
Night braces for teeth with ALIGNERCO are more expensive than the standard treatment option as well. The standard option costs $949, and the NightOnly option costs $1,145.
Treatment time also takes longer with the nighttime option, 8 to 12 months, whereas the regular option has a treatment time that lasts from 6 to 11 months.
If you're interested in ALIGNERCO's nighttime option, you can read full details on their website or check out our ALIGNERCO review.
NewSmile night aligners
NewSmile now offers night aligners as well, and the good news is that they cost exactly the same as their standard aligners. At just $1,495, these are some of the most affordable night aligners on the market.
And with NewSmile, you have options. You can purchase the impression kit separately for just $49. This is ideal for those who still feel a bit tentative about treatment. If you take your impressions and it turns out that you aren't eligible, you'll get a full refund, but if you are eligible, you can go ahead and purchase your aligners. You can also opt for a payment plan of $55/month for 36 months.
Alternatively, you can streamline the process by purchasing everything at once. The lump sum of $1,495 includes everything you need to straighten your teeth while you sleep, including: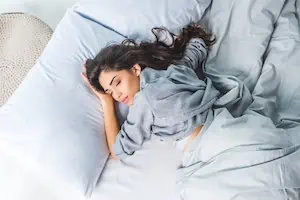 Impression kit
Treatment preview
Night aligners
Two sets of retainers
Whitening
If you want to try the NewSmile nighttime aligner option, you can find out more by visiting their website or reading our full NewSmile review.
Comparison of nighttime aligners
There are a couple of other brands, like Smile Direct Club nighttime aligners, that you may want to look at as well. But, in general, the concept of nighttime clear aligners is the same from company to company: You wear your aligners for around 10 hours per night, and the treatment time is generally longer than it is for standard options. There are some differences that you should consider if you do choose the nighttime route. Have a look at the table below for a summary of the similarities and differences:
Transparent, BPA-free plastic

Same plastic but thicker and grind-resistant

Super-clear, BPA-free plastic

Super-clear, BPA-free plastic

Transparent, BPA-free plastic

Transparent, BPA-free plastic
Pros and cons of nighttime aligners
The benefits of nighttime aligners include:
They only require nighttime wear
Most of that wear can be when you are sleeping
This is a huge perk to many patients who find the idea of daytime wear to be an inconvenience—the main reason being that your aligner trays need to be removed in order to eat and drink darker beverages like coffee or tea.
Clear aligners are already designed to be much more convenient and discreet than traditional metal braces, but some patients may find that they feel self-conscious even just wearing clear aligners around during the day, in which case you may be a good candidate for nighttime aligners.
So, the upsides of nighttime treatment are even greater invisibility (due to the fact that you aren't even wearing them during the day) and the convenience of not having to take them out every time you go back for another donut from the break room.
The downsides are that:
Treatment with nighttime aligners takes longer than treatment with standard all-day wear aligners
Nighttime aligners are only meant for patients with very mild misalignment, so for many who find this option appealing, treatment may be out of the question.
An even bigger problem is that with nighttime aligners, there could be more chance of your teeth moving back into their original position since teeth aren't under continual pressure.
Why doesn't Candid offer nighttime aligners?
Not all clear aligner companies offer a nighttime option. Candid aligners are one of the brands that doesn't, which raises the question, why not?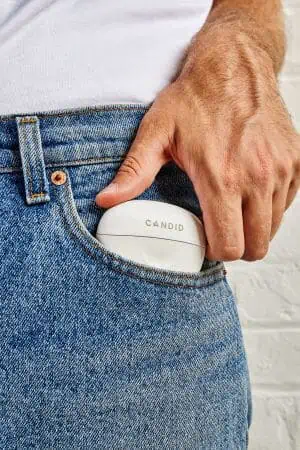 Candid's Chief Dental Officer, Dr. C. Lynn Hurst, released a statement as to why they don't offer nighttime treatment. You can read the entire statement here, but the gist of it is that they don't offer nighttime aligners because there is no peer-reviewed evidence that they work. Hurst also mentioned the concerns he has about potential problems that could result from aligners being worn for a shorter daily duration.
The reasoning for this is that due to such limited wear, Hurst is concerned that patients won't experience the continuous pressure that is necessary for effective and healthy tooth movement. He argues that teeth and gums could be left in a state of constant inflammation and that teeth could require a much longer healing phase. He likens it to only wearing a cast at night to heal a broken arm.
Hurst sites his commitment and responsibility to his patients to do no harm, and the lack of evidence that nighttime aligners are safe and effective, as the principal reason why Candid doesn't offer nighttime aligner treatment.
Nighttime aligner reviews
While it's not entirely clear just how effective this type of treatment is, there are patient reviews that can give us a bit more insight into the nighttime option. Let's have a look at what some patients are saying:
Destiny's nighttime aligner review
Destiny has an overbite and a crossbite and she's always wanted straight teeth, but she never had the chance because it was too expensive. She saved up for clear aligners and decided on Byte At-Night because she was impressed with their positive reviews. Also, when she went to visit an orthodontist in person, they told her they would have to break her jaws, realign them, and then give her braces. Destiny wanted a less invasive teeth straightening option.
She's happy with their customer service so far; they even send text messages and are willing to talk on the phone about any doubts she has. She found the texting feature really helpful because her work schedule makes it difficult for her to talk on the phone during normal hours.
She also was surprised by how fast and easy the approval process was. Destiny is just beginning her treatment with Byte nighttime aligners, but you can watch her full video below and keep your eyes peeled for her next reviews.
Ameryca's nighttime aligner review
Ameryca decided to get her clear nighttime aligners from Smile Direct Club. She wanted nighttime aligners because she was working as a supervisor and didn't want to have to talk with people all day with aligners in her mouth.
Ameryca went to a Smile Direct SmileShop to get 3D scans taken of her teeth. She reports that her experience was very positive and the staff was friendly and helpful. In her review she walks us through her nighttime routine before she puts her aligners in.
In this video, Ameryca is on her tenth aligner. She had only slightly crooked bottom teeth, making her a candidate for the nighttime treatment option, and her treatment is planned to last for eight months. The only negative that she notes is that her teeth usually hurt during the first three days that she wears a new set of aligners, but after that, the pain subsides. All in all, she's happy with her nighttime aligner treatment so far.
You can watch her full video below, where she talks about her payment plan and the time she waited for her aligners to come in the mail:
Should you get nighttime aligners?
Nighttime aligners seem like the perfect solution since you don't have to wear your aligners during the day, you don't have to deal with taking them out every time you want to eat or drink, and your coworkers will never know you are having orthodontic treatment. That is unless they notice that your teeth are slowly getting straighter every day!
However, clear aligners, in general, are only meant to treat cases of mild to moderate malocclusion, or teeth misalignment, and nighttime aligners are indicated for the easiest cases to treat. You won't know for sure if you are a candidate for nighttime aligners until the aligner company you choose reviews your case; it's up to them to decide if the nighttime treatment will be a safe and effective option for you.
Conclusion
At-home clear aligners make straightening teeth convenient, and nighttime options take that convenience even further. You may be interested in a nighttime aligner option if you don't want the hassle of taking your aligners out every time you eat or drink anything besides water.
Not everyone will be eligible for nighttime treatment, as it's usually only meant for very mild cases. You should also keep in mind that your nighttime treatment will probably last longer and cost more than a standard treatment option.
Some aligner brands like Candid specifically state that they don't offer a nighttime option because of the lack of peer-reviewed evidence available that shows that they are safe and effective. Other brands, like SureSmile aligners, require approximately 22 hours of wear for best results.
Ultimately, you'll need to decide what's best for you, and the company you get treatment with should let you know if you aren't a good candidate for a nighttime option.
FAQs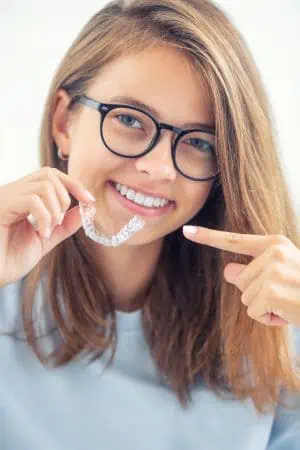 Can you wear Invisalign only at night?
Is wearing Invisalign only at night an option? Unfortunately for night braces seekers, Invisalign needs to be worn from 20 to 22 hours per day, and they don't offer a nighttime option. This is partly because Invisalign is designed to treat more complex orthodontic cases, which require full-time wear.
Why don't all brands offer nighttime aligners?
Some brands, like Candid, don't offer a nighttime option. Candid states that the primary reason they don't is that there isn't enough peer-reviewed evidence that shows they are safe and effective. There is also the concern that continuous wear is necessary to successfully and permanently move teeth. If during most of the day you aren't wearing aligners, there is a greater risk for relapse, or teeth moving back to their original position.
Are nighttime aligners safe?
The companies that offer nighttime aligners assert their safety and efficacy. Other brands, on the other hand, are wary of the lack of evidence currently available. Chances are that if you need anything more than a slight cosmetic fix, you aren't a good candidate for nighttime treatment. Whatever you decide, we recommend that you opt for a company that exclusively works with orthodontists to plan your treatment.
Sign up to receive the latest news and offers from Dentaly.org