If you want to straighten your teeth with clear aligners while you sleep, then you may be considering nighttime clear aligners. You only need to wear these types of aligners at night, but do they really work?
Just as the name suggests, nighttime braces, or aligners, are clear aligners that require only 10 hours of wear per day. That means you can spend most of those hours sleeping. Talk about getting your beauty sleep!
The question is, can you really get straight teeth by wearing your aligners for just 10 hours per day? Surely you need to wear them full time to get real results? This article will discuss everything you need to know about nighttime clear aligners and answer the following questions:
What are nighttime aligners?
How do they work?
Is this method safe and effective?
How much do nighttime clear aligners cost?
What kinds are available?
Let's start with finding out what these aligners are, and we'll take a closer look at the adult braces brands that are currently offering them.
Do Nighttime Aligners work, and what do they cost?
Nighttime Aligners can exclusively be used by people with very minor alignment problems, and they cost from £1,395 and up. There are a few potential downsides of using nighttime aligners, which we'll explain further in this article.
If you want fast results, have a look at the standard clear aligners from Smile White. They only cost a little more, but they have shorter treatment times, and you'll get free whitening and retainers worth £790. Read our Smile White review for more information, or book a FREE e-consult.
Use "DENTALY5OFF" to save an additional 5% on your treatment.
What are clear aligners?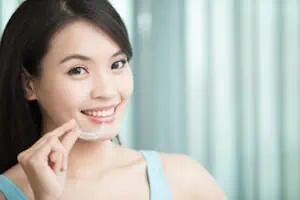 To better understand nighttime aligners, let's have a quick refresher about clear aligners in general.
Clear aligners are an alternative to traditional fixed braces when it comes to straightening teeth. They are custom-made, removable, clear plastic trays that are designed to fit snugly to your teeth and align them gradually over time.
These aligners are increasingly popular among adults and older teens who don't want the 'brace face' aesthetic. There are many aligner brands that offer night time treatment options, including SmileDirectClub and NewSmile.
Although Invisalign is a very popular brand of clear aligners, they unfortunately do not fall into the nighttime aligner category as they require 20-22 hours of wear per day. This doesn't mean you should dismiss them for your treatment though.
Clear aligners are very discreet and almost invisible, so you should feel confident wearing them any time of day.
If you want to know more about Invisalign treatment and how much it costs, you can read our full article on this topic.

What are nighttime clear aligners?
These aligners only need to be worn for 10 hours per day so you can wear them while you sleep, with potentially an hour or two of wear before or after sleeping.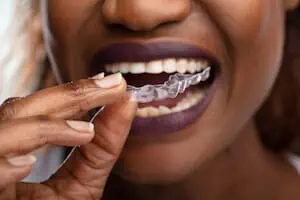 Unlike aligners that you wear around the clock, nighttime aligners require you to wear them continuously, meaning you can't take them out to eat or drink. Once they're in, they must stay in until the prescribed time is up.
Nighttime aligners generally require a longer treatment time than standard aligners, and with some companies, they are more expensive. But, how do they work with just 10 hours of wear per day?
In some cases, it's the longer treatment time that helps achieve results. In other cases, night teeth braces can be made with a thicker plastic that allows more force to be applied to the teeth. It's this gentle but continuous force that gradually guides teeth into proper alignment.
Nighttime vs standard clear aligners
There are three main differences between nighttime and standard aligners:
Hours of wear: Normal aligners need to be worn between 20 and 22 hours per day, and night aligners usually require 10 hours of wear per day.
Material: With some brands, nighttime aligners are made of a thicker plastic than normal aligners, applying greater force to teeth.
Treatment time: Nighttime aligners usually take longer than normal aligners to complete treatment.
There are a lot of brands offering clear aligners, both standard and nighttime, but not all provide the same level of care and service to their customers.
For instance, nighttime aligners typically come from at-home aligner companies which rely on remote monitoring technology rather than hands-on patient care. Although this technology is improving all the time, it is not the same as having a dentist check your treatment progress in person.
Before opting for night aligners, we'd recommend you consult your dentist first. Once you fully understand the different options, and how much they cost, you can make a more informed decision. This is especially important if you have a more complex alignment problem which can only be treated with in-office care.
Our #1 recommended teeth aligners
What are the different nighttime clear aligners available?
Not all clear aligner brands offer the nighttime only option and the ones that do often offer them at a slightly more expensive price than their standard options. Let's have a look at NewSmile and Smile Direct Club.
NewSmile Night Aligners
NewSmile is a type of clear braces for adults and teens that were formerly only available in Canada but is now being used by patients all over the world. Treatment with NewSmile is 100% remote. This means there are no clinic overheads and service costs, so they can offer much more affordable treatment than you would get with traditional braces.
NewSmile aligners are made from Raintree Essix plastic, which is the clearest plastic for aligners available on the market today.
And, to ensure you get the best possible results from your NewSmile aligners, an orthodontist oversees the treatment of each patient. NewSmile is dedicated to providing customer service that goes above and beyond.
Once your treatment is complete and you've got straight teeth, NewSmile gives you two free retainers to make sure they stay that way!
NewSmile's Night Aligners are ideal for those who don't want to wear their aligners during the day. They work exactly the same as daytime aligners, except that you only wear them at night. Keep in mind that your treatment time will likely be longer than the typical day-wear time, but many people find it worth it to not have to deal with aligners during the day.
Nighttime aligners cost £1,395, or you can pay monthly in instalments of £116.25.
You can read more information about NewSmile prices here, or if you're ready to get started order your impression kit now.
SmileDirectClub Nighttime Aligners
Smile Direct Club is an at-home aligner brand that is based in the US. They are completely remote, so there's no need to ever visit a dentist throughout your treatment. To find out if you are eligible for these aligners, you order a home impression kit, and send back impressions of your teeth and bite so a dentist can assess your eligibility.
They do have nine physical locations, called 'SmileShops' across the UK in London, Manchester and Birmingham. So, if you want to do a 3D scan of your teeth in person, it's possible if you are near one of these locations or are prepared to travel there. However, this will be with a representative and not a dentist, and you will never get to meet your dentist or orthodontist.
To be eligible for these aligners, your orthodontic case must be mild and sometimes moderate depending on how severe it is. If you are eligible for these aligners, they will send your aligner sets to you, and you will have online check-ups every 90 days.
The Nighttime Aligners work in a similar fashion, except you only need to wear these aligners for 10 hours a day. Your treatment should last 10 months or more, unlike their standard aligners which take between four and six months.
Nighttime aligners cost exactly the same amount as their standard daytime option at £1,539. Either route has the option of the SmilePay payment plan which is a monthly payment of £70.09 and a total price of £1,682.17. This price doesn't include the cost of your impression kit at £39, or your retainers at £80 per set every six months once you have finished treatment.
If you want to learn more about Smile Direct Club, you can check out our full review here.
Whatever aligner treatment that you choose, it's probably a good idea to get an appointment with your dentist first. Have a check-up and make sure your oral health is in good shape before ordering aligners.
Comparison of nighttime aligners
There are a couple of other brands, like Wondersmile nighttime aligners, that you may want to look at as well. But, in general, the concept of nighttime clear aligners is the same from company to company.
Only people with mild orthodontic issues are eligible and the aligners must be worn continuously for around 10 hours per night. The overall treatment time is also longer than it is for standard daytime options.
There are some differences that you should consider if you do choose the nighttime aligner route. Have a look at the table below for a summary of the similarities and differences:
| | | | |
| --- | --- | --- | --- |
| | | Wondersmile NightClear Aligners | SmileDirectClub Nighttime Aligners |
| | | | |
| | | | |
| | | | |
Pros and cons of nighttime aligners
Nighttime clear aligners may sound like a great idea; you get straighter teeth but only have to wear your aligners at night for half the amount of time as standard aligners! If that sounds almost too good to be true to you, then you're probably right. But, before we address the disadvantages, let's recap the advantages of these aligners.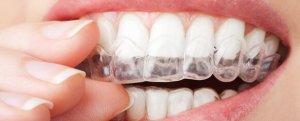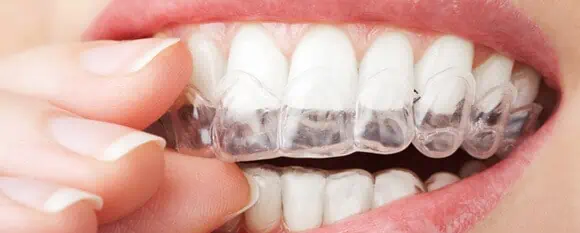 Pros
They only require nighttime wear
Most of that time can be when you are sleeping
Wearing aligners only at night is a huge perk to many patients who find the idea of daytime wear to be an inconvenience. The main reason is that your aligner trays need to be removed in order to eat and to drink darker beverages like coffee or tea.
Clear aligners are already designed to be much more convenient and discreet than traditional metal braces. Unfortunately, some patients may find that they feel self-conscious wearing clear aligners during the day. If you think this sounds like you then you may be a good candidate for nighttime aligners.
So, the upsides of nighttime treatment are even greater invisibility (due to the fact that you don't wear them during the day), and the convenience of not having to take them out every time you go back for another doughnut from the break room.
Cons
Treatment with nighttime aligners takes longer than treatment with standard aligners
Nighttime aligners are only meant for patients with very mild misalignment
Teeth may shift back without continuous pressure from aligners
Not everyone will be eligible because nighttime aligners can only resolve very mild orthodontic cases. But, an even bigger problem is that there could be more chance of your teeth moving back into their original position with nighttime aligners since teeth aren't under continual pressure.
Use "DENTALY5OFF" to get an additional 5% discount.
Why don't all clear aligner companies offer nighttime aligners?
Big-name companies like Invisalign, Clearcorrect and Inman all offer a comprehensive range of aligner treatment options, and yet none of them offer a nighttime-only option.
This raises the question: why not? If they believed this kind of treatment was effective and safe, surely they would be offering it to the growing number of people showing an interest in night-only orthodontia?
One company in the US, Candid, has actually gone as far as to release a statement explaining why they don't offer nighttime treatment. You can read Candid's Chief Dental Officer, Dr C. Lynn Hurst's full statement here.
Basically, Hurst said that they don't offer nighttime aligners because there is no peer-reviewed evidence that they work. He also mentioned the concerns he has about potential problems that could result from aligners being worn for a shorter daily duration.
The reasoning for this is that due to such limited wear, Hurst is concerned that patients won't experience the continuous pressure that is necessary for effective and healthy tooth movement.
He argues that teeth and gums could be left in a state of constant inflammation and that teeth could require a much longer healing phase. Kind of like only wearing a cast at night to heal a broken arm.
Hurst states his commitment and responsibility to his patients to do no harm and the lack of evidence that nighttime aligners are safe and effective as the principal reason why Candid doesn't offer nighttime aligner treatment.
Should you get nighttime aligners?
Nighttime aligners seem like the perfect solution since you don't have to wear your aligners during the day, you don't have to deal with taking them out every time you want to eat or drink, and your coworkers will never know you are having orthodontic treatment. That is unless they notice that your teeth are slowly getting straighter every day!
However, most nighttime aligner treatment is only monitored remotely and is not suitable for moderate or complex cases. It also takes longer than standard all-day-wear aligners.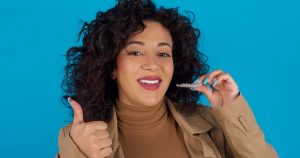 You may be interested in a nighttime aligner option if you:
Only need mild teeth straightening
Don't want the hassle of taking your aligners out every time you eat or drink anything besides water
Really don't want anyone to notice you're wearing them
Don't mind your treatment taking a bit longer
In this case, you can check your eligibility for NewSmile.
Some aligner brands don't offer a nighttime option; it is possible that this is because of the lack of peer-reviewed evidence available that shows that they are safe and effective. Conventional aligners require 20-22 hours of wear for best results.
Ultimately, you'll need to weigh up the pros and cons of nighttime aligners to decide what's best for you. The company you get treatment with should let you know which treatment options are suitable for you.
Our #1 recommended teeth aligners
FAQs
Can you wear Invisalign only at night?
Unfortunately, for those that are looking for night teeth braces in the UK, Invisalign aligners need to be worn for 20 to 22 hours per day, and they don't offer a nighttime option. This is partly because the Invisalign system is designed to treat more complex orthodontic cases, which require full-time wear.
Why don't all brands offer nighttime aligners?
Some brands don't offer a nighttime option. The US brand Candid states that the primary reason they don't is that there isn't enough peer-reviewed evidence that shows they are safe and effective.
There is also the concern that continuous wear is necessary to successfully and permanently move teeth. If during most of the day you aren't wearing aligners, there is a greater risk for relapse, or teeth moving back to their original position.
Are nighttime aligners safe?
The companies that offer nighttime aligners assert their safety and efficacy. Other brands, on the other hand, are wary of the lack of evidence currently available. Chances are that if you need anything more than a slight cosmetic fix, you aren't a good candidate for nighttime treatment.
Does a night guard help straighten teeth?
A night guard cannot help to straighten teeth as its function is to keep your teeth safe if you grind them. Likewise, a night retainer is only designed to keep your teeth in place after treatment.
Sign up to receive the latest news and offers from Dentaly.org