So, you're after some dental statistics from the UK? You're in the right place. Dental facts are often hidden away in scientific studies and complicated reports, making it hard to find the information you're after. We've scoured some of the most up-to-date dentistry research to bring you this lovely list of oral health facts for the UK.
You'll find information on NHS dental statistics, oral hygiene, dental fear, finance, and certain treatments like implants. We've also added some funny dental facts for kids, because it's never too early to take an interest in looking after your teeth.
UK dental statistics
Let's begin with some facts about the state of Britain's teeth – are they really as bad as people think?
Three quarters of Brits feel generally positive about their smile.
TV and social media cause 31% of us to feel anxious about our smiles on a regular basis.
74% of British adults have had at least one tooth removed.
84% of dentate adults (those with at least one tooth) have a filling. The average number of teeth with fillings is 7.2.
94% of people in England have at least one tooth, but only 10% are considered to have excellent oral health.
Over a quarter of British adults (27%) only visit the dentist when they have a problem.
30% of adults say they regularly experience dental pain.
21% of adults have had problems eating because of the state of their teeth.
Two thirds of us admit to using our teeth for things other than eating and drinking. Tearing Sellotape (41%) and biting nails (26%) are the top alternative uses – but by doing so we risk damaging our teeth.
71% of British adults don't feel confident showing their teeth when they smile for a photo. A third of these say it's because of their discoloured teeth.
There are over 12,000 dental practices in the UK.
35,000 people work as dental practitioners, and 53,000 as dental nurses.
Facts about children's teeth in the UK
Tooth decay in children has decreased in recent years, but there's still some way to go, as these dental statistics about children show: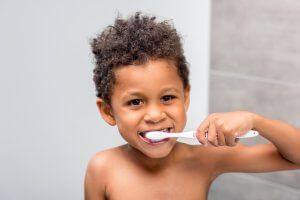 12% of 3-year-old children in England have dental caries, affecting an average of 3 teeth per child.
23.3% of 5-year-old children in England have dental caries, but this number dropped almost eight percentage points between 2008 and 2017. Of these children, the average number of teeth affected is 3.4.
2.4% of 5-year-old children in England have had one or more teeth extracted because of decay.
Almost half of British 8-year-olds have visible signs of tooth decay.
More than a third of 12-year-olds are embarrassed to smile because of how their teeth look.
One in ten UK primary school leavers are unable to brush their teeth without assistance. This problem is far worse for girls (15%) than boys (4%).
Children who watch more than 90 minutes of TV a day are 39% more likely to have tooth decay, largely because of the extra sugar they consume.
NHS dental statistics
The NHS provides a valuable service to people who are unable to afford private dental care and may otherwise avoid the dentist completely.
39.7 million treatment courses were performed in the 2018-19 year.
Over half (53%) of adult dental visits in 2018-19 only resulted in preventative (Band 1) treatments, like a scale and polish.
The NHS performed over 6 million fluoride varnish treatments on children in 2018-19.
895,000 tooth extractions were performed on children in 2018-19 on the NHS.
2,700 children were provided with NHS dentures in 2018-19.
Almost 3 million tooth extractions were performed on adults in 2018-19 on the NHS.
40% of children who visited an NHS dentist in 2018-19 had not had a visit in the previous 12 months.
Almost half (47.5%) of adults who visited an NHS dentist in 2018-19 had not had a visit in the previous 24 months.
2018-19 was the first year that the number of female NHS dentists exceeded male (50.4% vs. 49.6%). This trend looks set to continue, since almost 60% of NHS dentists under 35 are female.
Not that in these statistics, a 'child' is defined as anyone aged under 18, or aged 18 and in full-time education.
Dental hygiene facts
Are we doing a good job of keeping our teeth clean? Well, let's just say we could do better…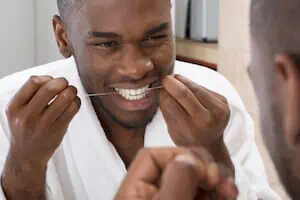 67% of adults clean their teeth at least twice a day and a further 29% brush once a day. But as for the 2% who brush less often… yuk! It's recommended you brush before bedtime and at least one other time during the day. More about how to brush your teeth correctly.
Similarly, only three in four children say they brush their teeth twice a day.
Between 15% and 50% of people suffer from bad breath worldwide.
People who visit the dentist once a year are 40% less likely to have tooth decay than those who visit less often.
Only 31% of Brits floss on a typical day, when in fact everyone should do it daily.
You shouldn't rinse with water or mouthwash straight after brushing, as this washes away some of the ingredients in your toothpaste.
Dental phobia statistics
Few people really look forward to dentist visits, but some people's fear of the dentist prevents them from getting the care they need.
One in seven British adults (14%) have severe dental anxiety.
22% admit to avoiding dental visits because of anxiety, and 18% because they are afraid of getting bad news.
The things most likely to incite anxiety are having a tooth drilled and getting an anaesthetic injection.
The earlier children start regular dental visits, they less likely they are to fear the dentist.
Interesting facts about dental implants and dentures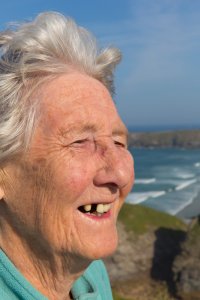 Missing teeth can make it harder to eat and speak properly. If not replaced, the surrounding teeth are at greater risk of damage and you may suffer bone loss in your jaw.
6% of adults in the UK have no natural teeth; most of them wear dentures.
A further 13% of adults wear partial dentures.
The number of people with no natural teeth increases to 15% for 65-74-year-olds and 23% for people aged 75 and above.
An estimated 130,000 dental implants were placed in the UK in 2012, and that number is thought to have now doubled.
95.4% of dental implants last 10 years or longer.
Implants are more likely to fail in patients who smoke or have poor oral hygiene.
The first dental implants could go back as far as 600 AD. The remains of a Mayan woman from that time was found with tooth-like pieces of shell hammered into her jaw! Ouch!
Titanium, which is used in dental implants, naturally fuses with bone, which is why these are a permanent solution.
Paying for dental work
The NHS may provide subsidised dental care, but many Brits still struggle with the cost.
£3.7 billion was spent on dental services in the UK in 2018. This figure has almost tripled since 2005.
Over a quarter (26%) of adults say the cost of dental treatment has affected the type of treatment they chose.
19% have delayed treatment because of the cost.
36% of Brits forego dental visits for financial reasons.
59% of 18-24-year-olds don't believe they have the funds for proper oral health care.
Fun dental facts for kids
Make tooth care more interesting for kids with these fun dental facts.
What colour are our teeth? They are actually not pure white, but slightly yellow. The outer layer of enamel is translucent, giving teeth a white appearance. But some of the yellow colour from the layer underneath, called dentin, shows through.
Some babies are born with teeth showing, but some children don't get their first tooth until after they turn 1. Our teeth are as unique as we are!
28% of people leave the tap running when they brush their teeth (but you should turn it off to save water).
Before modern toothbrushes were invented, people used to chew frayed twigs to clean their teeth.
There are over 500 species of bacteria living in your mouth.
Scientists estimate there are 20 billion microbes in our mouths at any given time. If you don't brush your teeth for 24 hours, they will multiply to 100 billion, although you'll end up swallowing a lot of them in your saliva.
You have 20 milk teeth and 32 adult teeth (or 28, if you don't count wisdom teeth). But some people are born with extra teeth – the Guiness World Record holder is a man in India who happily lives with 37!
So, there you go. Will these fascinating dental health facts compel you to take better care of your teeth? Browse our other articles for more information about oral health care, or check out some US dental facts to see how we compare.