If you need to replace a missing tooth, it's understandable you're searching for cheap dental implants in the UK. Teeth implants are the longest-lasting and most natural-looking solution for replacing missing teeth and restoring your smile. But with the average cost of a single implant being £2,300 in the UK, they are certainly not the most affordable option.
Although you shouldn't make a decision about dental work based purely on cost, we know it's an important consideration. And low-cost implants are few and far between, as you have probably discovered.
Fortunately, there are ways for Brits to get affordable dental implants both in the UK and overseas. In this guide, we have a variety of tips for making the cost of private dental care – not just implants – less restrictive. We also offer some advice on the other things to consider when deciding where to get your treatment.
So if you or a loved one need to replace missing teeth but are put off by the high cost, we hope you can find a solution here which makes cheaper teeth implants a reality.
Implants: the basics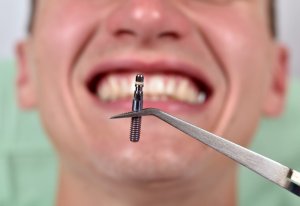 Before we get stuck into ways to find low-cost implants, we'll quickly go over what exactly a tooth implant is and how it is placed.
The term 'implant' refers to the titanium screw inserted into the jaw bone, where the tooth root would usually be. An abutment is placed on top of this, then a tooth crown (artificial tooth) is attached to the abutment.
However, when people refer to a tooth implant they often mean the entire structure, including the abutment and crown.
Implant procedure
The process for placing an implant is as follows:
Consultation with a dental surgeon to confirm you are a suitable candidate for implants – this includes x-rays and/or scans of your mouth
Cost estimate provided
Extraction of any teeth that are being replaced
Bone graft or sinus lift surgery (if required)
Placement of implant – site left to heal
Installation of abutment – plus a temporary crown, if provided
Dental impressions for creation of tooth crown
Fitting of crown
This entire process can take the best part of a year because of the healing time required at each stage. For patients who don't require teeth extractions or surgery, it will be a little quicker (and cheaper). Some dental surgeons may place the implant and abutment or the abutment and crown at the same time, which also shortens the overall procedure.
Your experience will vary depending on your overall oral health, the number and position of implants required, and the type of implant you choose.
You can read about this process and the types of implants available in much more detail in our full guide to dental implants. The following animation shows the full process of placing a traditional implant:
Implant costs in the UK
Now you know what is involved with fitting an implant, you can see why cheap dental implants are hard to come by. You're not only paying for high-quality materials that will last 10 or 20 years – or even a lifetime – but also for the expertise of a skilled dental surgeon who can plan and perform an effective treatment.
Teeth implants in the UK cost £2,300 on average (including the abutment and crown). That's a lot of money, especially if you need more than one. You can use our cost calculator below to get an idea of what the procedure will cost for you according to the treatment you need.
Dental Implants Cost Estimate
£
0,00
Total estimated cost
Additional Costs
Treatment cost breakdown
This tool is intended as a guide and all prices are approximate. Please visit a dentist for a personal quotation.
Cheap teeth implants on the NHS?
Free dental care on the NHS is only available to pregnant women, those who have recently had a baby, children up to the age of 18 and people living on low incomes receiving benefits. Patients who don't fall into one of these categories have to pay the full NHS dental charge, or opt for private treatment.
In England there are three charging bands, Wales has a similar system with slightly different rates, while Northern Ireland and Scotland have a different system, with the patient being charged 80% of the dentist's fee but with a maximum price.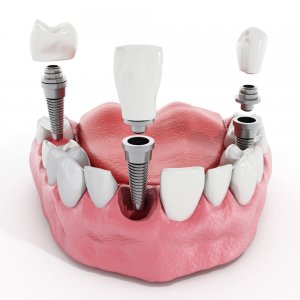 But this is all besides the point if you're after affordable dental implants because this treatment is very rarely covered by the NHS. Unless there is a clear medical need for an implant, you will be offered an alternative such as a crown, bridge or denture. Read all about the NHS dental implant criteria in our separate guide.
Can you get free implants in the UK?
It's possible to get implant treatment for free, but it's not easy. Even if a dentist offers their services without charge and doesn't apply a mark-up, the materials required still come at a cost.
First of all, watch out for misleading promotions for free dental implants. An implant consists of several parts, and a dentist may offer the implant screw for free while still charging for the abutment and crown. They will probably also apply a fee for the implant procedure, to help cover their costs. So, "free" treatment could still end up costing thousands of pounds once completed.
However, there are a few ways to get dental implants without having to pay a thing. You might be able to visit a dental school and be treated by students, or you may qualify for funding from a charitable organisation. You could take part in a clinical trial, or you might get lucky and win a competition. Our guide to free dental implants in the UK explains more about all of these possibilities.
Generally speaking, though, opportunities for free implants are few and far between. With fairly slim chances of securing the treatment completely for free, the next best option is to pay as little as possible for it.
This brings us back to the question of how to find the cheapest dental implants in the UK with private dental care.

Find more affordable implants by shopping around
Don't just accept the quote given by your regular dentist. As with any significant purchase, you should shop around to compare prices.
A dentist's prices will be affected by a number of factors, including business overheads. In big cities where building rents and staff wages are higher, this will be passed on in the cost of treatment, sometimes making it harder to find cheap teeth implants.
On the other hand, in areas where there is a lot of competition between dentists, they may be forced to keep their prices low. Newly-opened practices may also have great dental implant offers to attract new patients.
So wherever you live, it's worth checking prices at local dentists as well as some further afield. The inconvenience of travelling a little further may well be worth it if you save yourself hundreds or thousands of pounds. Even dental clinics located close together can charge quite different prices for dental implants.
A dentist can't give a detailed cost estimate without first examining your mouth. This consultation may or may not be free, and of course you don't want to outlay too much money at this stage. However, you can get an idea of implant prices by contacting the surgery or checking their website.
When you compare quotes, be sure to check exactly what is included. One dentist may appear to offer affordable dental implants – until you realise there are a ton of additional costs to pay. You should check for things like: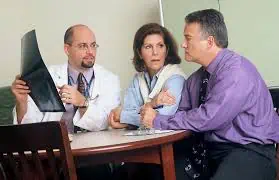 Consultations
Radiography (x-rays and scans)
Anaesthesia
Preparatory surgeries
Materials (implant, abutment and crown)
Medication (antibiotics, painkillers, etc.)
Aftercare
Follow-up visits
If you're unsure, ask your dentist to clarify what is included and what you will have to pay extra for. Only then will you be able to see whether you've found cheap teeth implants or a dentist with a sneaky quotation procedure.
Where are the cheapest dental implants in the UK?
We recently published an article with data from 258 dentists across the UK that shows a huge difference in prices across the country. Liverpool comes in cheapest for implants, with an average price of £1,850 reported. But less than 100 miles away, in London, you'll be paying more than double – £3,600.
You might not want to drive quite that far for your dental appointments, but these figures show it's worth checking prices from several nearby locations.
Below are some of the other cities reported on:
| | |
| --- | --- |
| | Average price of dental implant |
| | |
| | |
| | |
| | |
| | |
| | |
| | |
| | |
| | |
| | |
| | |
Do remember that you'll have to make several visits over the course of your treatment, as well as visiting for checkups afterwards. Consider factors like travel costs and time off work when deciding where to get your treatment.
To explore some of the best dentists in your area with affordable prices for implants and other treatments, choose your nearest city from the list below:
For full mouth implants consider All-on-4
If you have lost all or most of your teeth because of decay, trauma or a medical condition, you'll need full mouth implants.
These, of course, can be extremely costly. If you choose traditional implants and implant-supported bridges you can expect to pay £8,000 to £21,000 per jaw.
A more affordable option is an implant-supported denture such as All-on-4. These let you replace a full jaw of teeth using as few as four implants, making them significantly cheaper than traditional methods which require 8-10 implants per jaw.
Implant solutions like All-on-4 cost between £7,000 and £14,000 per jaw on average, making them some of the cheapest dental implants in the UK for a full arch. Another benefit of All-on-4 is they can be fitted in a single visit – giving them their nickname 'teeth in a day'.
Naturally, this method has drawbacks as well. Read all about the pros and cons of All-on-4 or similar systems before choosing it purely because of the cost benefits.
Go abroad for cheap dental implants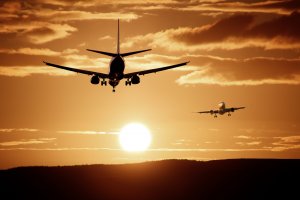 Dental tourism has become a popular option for those looking for cheap tooth implants. European countries such as Turkey and Hungary, plus several Asian and South American countries, offer treatments at a fraction of the price they could cost in the UK.
Don't assume that you have to compromise on quality in order to get these lower prices; you may actually find that standards are higher, equipment is more advanced, and service is better than you'd experience at home.
Travelling abroad for implants can bring substantial savings, even if you only need a single implant. If you need several implants or full mouth treatment and are looking for ways to save money, it's definitely worth considering dental implants abroad.
With low-cost dental implants at prices 50-75% lower than in the UK, you could save yourself thousands of pounds while being treated in a state-of-the-art clinic. Plus, you get to enjoy a well-earned break. The table below gives an idea of the savings to be made by travelling to another country for dental implants or other treatment:
Example flight cost (return)

Average cost for implant & crown

Average price for an implant in the UK is £2,300

Prices don't include medical insurance or accommodation costs
All-on-4 treatment will cost between £4,000 and £6,800 per jaw in these countries, thanks to the cheaper dental implant prices, again representing a significant saving compared to the UK.
If you would like to receive a personalised quotation for low-cost dental implants or other work abroad, we recommend using Dentaly Go. Their dental tourism service provides free quotations for dental work at clinics that meet world-class quality standards and are experienced at treating overseas patients.
It's free to request a quote by filling in your details below, and one of their helpful team will get in touch to provide more information. There's no obligation to go ahead with treatment once you have received your quotation, so why not find out how much you could save on UK prices?
Get a dental plan
If you have health insurance with dental cover or a separate dental plan, check to see whether you can claim for some or all of your dental implant work.
Cheaper dental plans usually only cover basic treatments, including emergency dental care. Some limit their cover to work carried out by an NHS dentist.
More expensive policies often make some allowance for implants, even if they don't cover the full cost. Still, a 50% rebate can make implants much cheaper. You'll usually have to pay for treatment in full yourself and then claim back the portion allowed by your policy.
However, dental plans will usually only pay out when an implant is replacing a tooth lost in an accident, because of a medical condition, or possibly to natural causes. If you are getting implants for purely cosmetic reasons, you're unlikely to get cover from even the most generous of insurers.
Keep in mind that dental insurance policies almost always come with a waiting period for non-emergency treatment. Fortunately, there is usually not an urgent need for implants so if you have to wait three or six months after taking out insurance, it's not the end of the world. You can have a bridge or denture fitted in the meantime if you're conscious of how your teeth look.
Also remember that dental plans may not cover pre-existing problems, so check the small print carefully before signing up.
Get dental financing
Payment plans, loans and credit cards are all ways to spread the cost of dental treatment to make it more affordable. Although they don't necessarily make it any cheaper, these options all might enable you to get the work you need, sooner.
It's possible to combine dental finance with one or more of the other ideas mentioned in this article to make your dental costs much more manageable. Our guide to dental financing explains all the options for lowering the cost of dental treatment.
Visit a dental school for free or cheap implants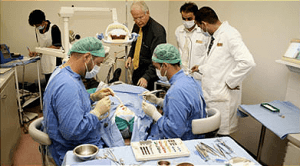 Another option is to go to a dental teaching hospital in the UK. These nationwide programmes allow undergraduates to gain clinical experience and education while under the close supervision of experienced dentists and dental surgeons. Refer to our free implants guide for a list of dental schools around the country offering free dental care, although not always implants.
Some schools offer these services free while others charge a reduced price for treatment. They are a good way to access affordable teeth implants and other dental care in the UK. Dental schools are understandably popular among people who can't afford private dental charges, though, so don't be surprised if you find yourself on a long waiting list!
It's also normal for treatment at dental schools to take longer than if you visited an experienced dentist. Longer and more frequent appointments may be a small price to pay to receive the work you need free of charge, though.
Appeal to a charity
Some dental clinics put a portion of their profits towards charitable work, and this may include providing free dental treatment for people who couldn't otherwise access it. Ask around some clinics in your area to see if they have any such schemes that you can register for.
If you have lost teeth as the result of an illness, consider appealing to a charity which supports people with that particular condition. Although they won't have the funds to hand out free dental implants to anyone who asks, they may be able to offer some financial help if your story strikes a chord.
Cheaper alternatives to dental implants
Bridges and removable dentures are the principal alternatives to implants to replace missing or removed teeth.
A dental bridge replaces one or two missing teeth with the support of healthy neighbouring teeth. You can also get an implant-supported bridge which uses two implants to replace three or four teeth in a row.
Tooth bridges aren't as durable as implants, lasting around 10-15 years if looked after well, and there is a risk of bone loss where the missing teeth are. The procedure also involves removing some enamel from the healthy supporting teeth. However, they are a good, natural-looking alternative if implants are too expensive.
Dentures, also known as 'false teeth', can replace any number of missing teeth. A metal and/or plastic frame holds the artificial teeth in place. Dentures are removable and may not be as comfortable or natural-looking as the alternatives. However, they are probably the best option if you want to replace a missing tooth cheap.
If it's going to take you a while to save up for implants, you might opt for a bridge or denture in the meantime, especially if your missing tooth is in a prominent position.
Finally, you could consider mini teeth implants. These can cost 50-60% less than regular ones, but they may not last as long. Usually, they are recommended when the patient has insufficient bone structure for traditional implants; not for the cost savings along.
Don't cut corners just to get low-cost implants
In your search for cheap teeth implants you may come across a dental implant offer that seems too good to be true. Well, guess what – it probably is.
Things you should avoid doing in a bid to cut costs include:
Choosing implants made from inferior quality materials (the cheapest dental implants aren't always the best option)
Using a dental professional who is not trained in implantology
Overloading implants by getting fewer than you actually need
There are many good brands of implant available – too many to list here – so you should ask your dentist which brand he or she uses and then research it carefully. Some dentists offer a choice of brands at different prices. They should be quite open about the differences in quality and cost so you can make an informed decision.
Dentists who are qualified to specialise in placing implants should be registered as a ​prosthodontics specialist with the UK's General Dental Council. You can check the register of members here. Prosthodontists are dental professionals who have undergone special training in the placement of prosthetic teeth including crowns, dentures, bridges and implants.
The British Society of Prosthodontists (BSSPD) is another body which dentists may be members of, although this is not compulsory.
Conclusion
So, can you get cheap dental implants in the UK? It depends what you mean by 'cheap'. There is certainly a lot of price variation across the UK and if you have been quoted £3,000+ for a single implant, chances are you'll be able to find a lower price by shopping around.
If you're open to the idea of travelling abroad for your treatment, teeth implants become much more affordable. Turkey has some of the cheapest implants in the world, while still offering high standards of care. It's free to request a quotation for treatment abroad using Dentaly Go, so why not check how much you could save?
Get a quote for implants abroad
Ultimately, we're talking about surgery to place a piece of metal into your jawbone. Finding an experienced professional who doesn't cut corners will help minimise your chances of complications. Therefore, it's important to research all aspects of your treatment and not just the cost.
Implants are expensive, so it's normal if you're not sure whether or not you should get the procedure. To help you with your thought process, you can read our guide to the pros and cons of dental implants.
FAQs
What's the cheapest place for dental implants?
You'll find implants costing well under £1,000 in Turkey and some other European countries.
But if you'd prefer not to travel abroad, what about the cheapest implants in the UK? The only way to know for sure is to check prices at different clinics near you. Try a variety from large cities and out of town so you stand a good chance of finding an affordable offer. But do be aware that you won't get a final price until you have had a consultation.
Where can I get cheap dental implants in London?
Contrary to what you might think, dental implant prices in London are actually below average for the UK. This may be because of the intense competition among dentists there. We have listed some of the best dentists for affordable implants in London for your convenience.
Is there an affordable alternative to dental implants?
Yes, if you are struggling to afford teeth implants then dentures are a cheaper alternative. You can get dentures on the NHS, or pick up a high-quality denture privately for around £500. This could be a good interim option while you save for implants.
How do I find cheap dental implants near me?
Really the best way to find the cheapest teeth implants near you is to spend some time researching prices at nearby dental clinics. Check their websites for special offers, or call them up to get a better idea of prices. They might offer several different implant brands at different price points, so you have the option to choose the most affordable one.
Sign up to receive the latest news and offers from Dentaly.org