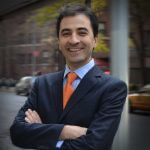 Dr. Michael Reshad
Practices at: Sutton Place Dental Associates, New York, NY
Periodontist and Contributing Expert
Dr. Michael Reshad completed his three-year specialist training in periodontics and implant surgery at New York University, where he also served as a Clinical Assistant Professor. While completing his Doctor of Dental Surgery degree, he received honors in implants and comprehensive care. He now works as a periodontist in one of Manhattan's top clinics. 
Dr. Reshad believes in compassionate, skilled care for all of his patients, and he also works with several non-profit outreach programs in New York and overseas. 
He is highly involved in professional organizations and is an active member of the American Academy of Periodontology, the Northeastern Society of Periodontists, and the Academy of Osseointegration. He attends seminars and gives lectures worldwide on periodontics and implant surgery to stay up-to-date on the latest technology.