Using a bamboo toothbrush is a simple way to make your oral hygiene routine more environmentally friendly. More and more people are becoming aware of the problem of single-use plastics and using an eco toothbrush is one way you can reduce your contribution to the problem.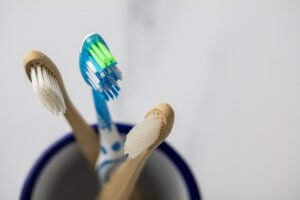 Bamboo toothbrushes in the UK have come a long way in the last few years and are now just as good as their plastic alternatives. We understand it's a big change to make to your lifestyle, so we've put together this guide where we'll address your concerns, such as:
What exactly is a bamboo toothbrush?
What are the benefits of using a bamboo toothbrush?
Can I use a different type of eco-friendly toothbrush?
Can I give my kids a bamboo toothbrush?
What are the options for recycling?
Some people might be unable to use a bamboo toothbrush, for instance because of sensory issues. If that's the case, we have articles about plastic manual toothbrushes as well as electric toothbrushes that you can also check out.
The table below has our top picks for environmental toothbrush options in the UK, but you can keep reading to find out more about all of these and more.
Best Eco Toothbrushes

Bamboogaloo Organic Bamboo Toothbrushes
Pack of 5
Plastic-free packaging
Different coloured heads

Bamboo Rainbow Toothbrushes
Pack of 4
Medium bristles
Different coloured heads

Charcoal Bamboo Toothbrush
Pack of 4
Different head shapes
Natural whitening

Gondola Kids' Bamboo Toothbrush
Pack of 4
Small brush heads
Soft bristles

TePe Good Eco Toothbrush
96% bio-based plastic
Soft bristles
Best Eco Toothbrushes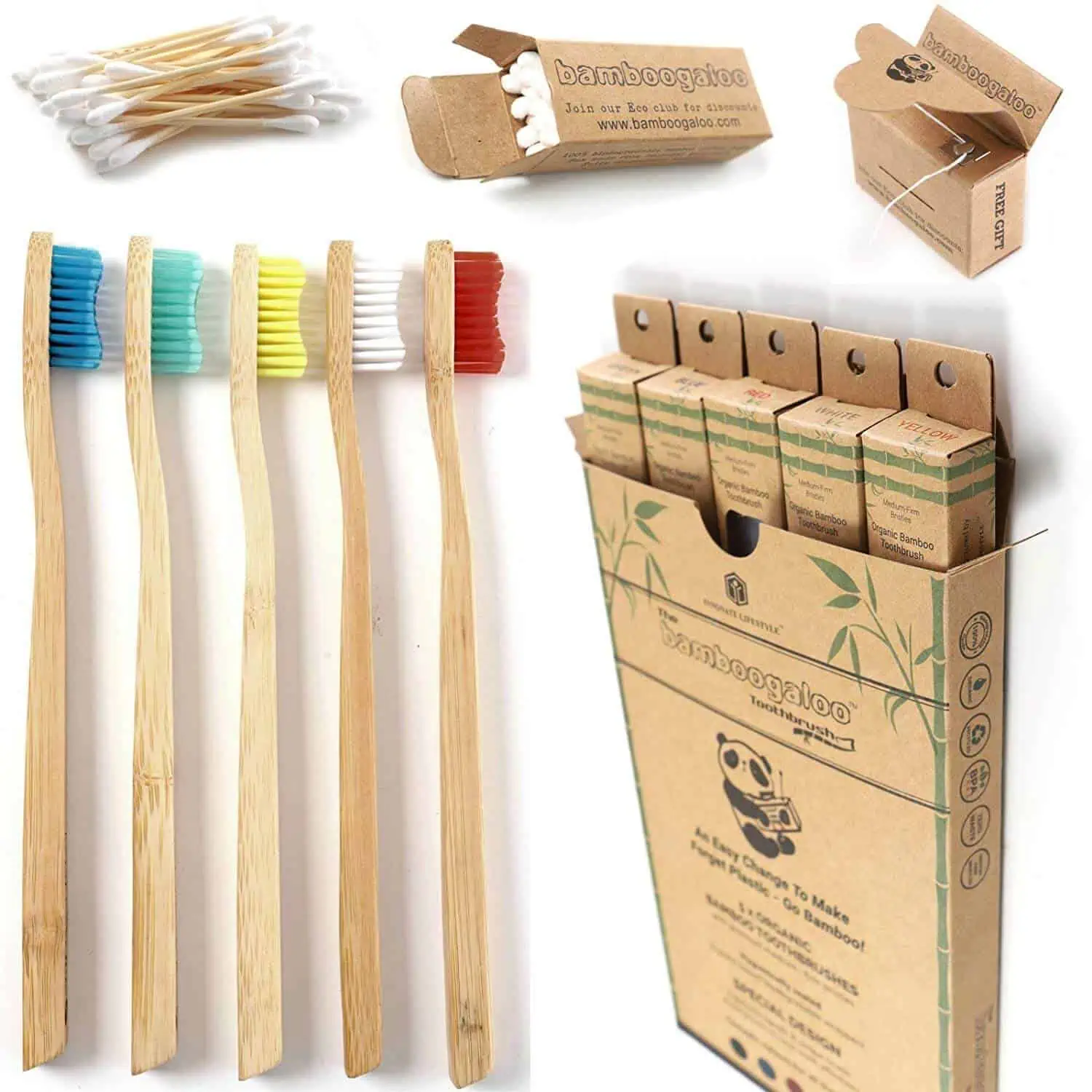 Bamboogaloo Organic Bamboo Toothbrushes
Pack of 5
Plastic-free packaging
Different coloured heads

Bamboo Rainbow Toothbrushes
Pack of 4
Medium bristles
Different coloured heads

Charcoal Bamboo Toothbrush
Pack of 4
Different head shapes
Natural whitening

Gondola Kids' Bamboo Toothbrush
Pack of 4
Small brush heads
Soft bristles

TePe Good Eco Toothbrush
96% bio-based plastic
Soft bristles
What is a bamboo toothbrush?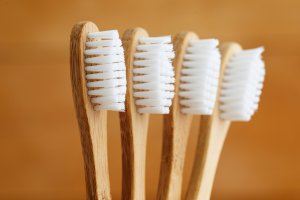 A bamboo toothbrush looks pretty much the same as any regular toothbrush you've used, but with one key difference. Instead of being made from plastic, it has a wooden toothbrush handle. Most manufacturers don't add much colour to them so you can see the natural grain of the wood.
The bristles are normally still made of plastic nylon, though. Although it's not the perfect eco solution, there are things that you can do to reduce the environmental impact of these plastic bristles. We'll cover this in more detail a little later.
The packaging of a non-plastic toothbrush might look a little different, too. The plastic that your normal toothbrush comes is isn't great for the environment, so you'll find bamboo toothbrushes usually come in cardboard boxes. If they're wrapped in plastic it's usually biodegradable, but check the wrapper just to be sure.
Why use a wooden bamboo toothbrush?
It may never have occurred to you how many toothbrushes you use in your lifetime. If you're changing your toothbrush every three months like dentists recommend, then you'll probably go through around 300 of them. That works out at about 3.6 billion toothbrushes worldwide, every year.
That's a lot of plastic going into landfill or ending up in oceans. But you can do you bit to reduce the problem by using a wooden toothbrush. Some of the great benefits of using bamboo include:
It's fast-growing, meaning it's a sustainable resource
It captures a lot of carbon as it grows; around 30% more than most other wood
There's no need to chop down swathes of rainforest to grow it
It has antimicrobial properties, meaning that bacteria are less likely to grow on it
Using a bamboo biodegradable toothbrush means that once you're finished with it, it will decompose quickly. A bamboo toothbrush can decompose in as little as four months. Compare that to the thousands of years your plastic toothbrush takes to break down and you can see the benefit to the environment.
This talk by David Trujillio explains some of the great benefits of using bamboo for lots of different applications:
The best bamboo toothbrush in the UK
There are lots of choices available for wooden toothbrushes in the UK. We'll show you our top three picks and explain why you might consider using them.
Bamboogaloo Organic Bamboo Toothbrush
As far as natural toothbrushes go, this one is extremely popular. People who buy it love that the makers have thought of everything, right down to the plant cellulose wrapping.
They come in different colours, making it easy to know whose brush is whose in the bathroom. The set also comes with some bamboo cotton buds and eco-friendly dental floss.
One reviewer says of the toothbrush:
I love the different colours so there's no argument in the bathroom. My teeth have never felt so clean and I've used an electric toothbrush for years! Can't recommend this product enough.
Premium Bamboo Rainbow Toothbrush
This biodegradable toothbrush comes in a range of funky colours, great for getting the whole family on board with helping reduce plastic waste. The bristles are also medium strength, so will give you a bit of a harder clean – great if you're a regular coffee or red wine drinker.
The bristles are made of BPA-free plastic (more on this later) and are dyed with food grade colours so you know they're perfectly safe for you and your family. The company also offers a money back guarantee if you're not satisfied, so even if you're sceptical you can give them a try.
Bamboo Charcoal Toothbrush
A charcoal bamboo toothbrush has charcoal infused in the bristles. This has two main benefits:
Charcoal has antibacterial properties, helping to keep your mouth clean
It soaks up stains on your teeth, giving a whitening effect
This bamboo toothbrush comes in four different shapes so you can still tell which brush belongs to whom in the bathroom, plus there are different shaped heads to suit your needs.
One review describes them as an "amazing product – provides a much nicer, softer, yet more effective clean than regular brushes as the bristles are finer and really do a great job of reaching spots my old plastic toothbrush just couldn't."
Read more about the benefits of activated charcoal for teeth.
Kids' Bamboo Toothbrush
Kids need a different sized toothbrush to make sure that their smaller teeth still all get well brushed. Eco bamboo toothbrush makers have thought of this and make their toothbrushes in kids sizes too.
For a good value kids' bamboo toothbrush, this Gondola Kids Bamboo Toothbrush is a great choice. It's small enough for a child's mouth and the bristles are super soft so it won't irritate their young gums.
Other types of eco-friendly toothbrush in the UK
After reading bamboo toothbrush reviews, if you decide they're not for you, there are some other options. One choice is to use an Foreo Issa electric toothbrush. Although not cheap, the silicone used for the head means it lasts a lot longer than a normal toothbrush and only needs to be changed once a year.
TePe also have a new toothbrush available called TePe Good. It's made out of 96% bio-based plastic, making it a much more environmentally friendly toothbrush.
Another option for an eco toothbrush is this one from Yaweco. Although it's still made of plastic, you can keep the handle forever and only change the bristles. This means that only a very small amount of plastic is getting thrown away every time you change the head.
Bamboo toothbrush FAQs
How do I recycle a bamboo toothbrush?
Most biodegradable toothbrushes will still use a little bit of plastic in the bristles. To make sure you are helping the environment, pull out the bristles with pliers and drop them into plastic recycling before disposing of the handle. The handle can then go into a compost heap or – to make it more fun for kids – be buried in your garden to break down over time!
How do I care for my biodegradable bamboo toothbrush?
A bamboo toothbrush is just like any other toothbrush when it comes to caring for it. These are the things to do to keep it clean and in good condition:
Rinse it thoroughly with water after you've finished using it
Store it in the open – putting it in a case or cupboard means bacteria is likely to grow
Stand it up with the head at the top so any excess water drains away
Don't let toothbrush heads touch so there's no exchange of bacteria
Are there any other eco-friendly dental products?
Yes, you can also get environmentally-friendly products like dental floss. Normal floss is made from nylon, but you can get plant-based floss, such as the Kliara Activated Charcoal Dental Floss. Read about more options including silk, bamboo and corn floss in our eco floss guide.
If you've already invested in an electric toothbrush, you can get eco-friendly toothbrush head replacements. These Live Coco heads work with most Oral-B electric brushes and when you've finished with them you can send them back to the company for recycling.
Can I get a bamboo electric toothbrush?
At the moment, there aren't any bamboo electric toothbrushes on the market, or any bamboo electric toothbrush heads.
How long does a bamboo toothbrush last?
Since bamboo toothbrushes work the same as normal toothbrushes, you can expect them to last just as long. You should be changing your toothbrush every three months, or sooner if the bristles start to fray.
Are there any other considerations when buying a bamboo toothbrush?
Although most still use nylon bristles, some brushes use pig or boar hair to make it a completely plastic-free toothbrush. This isn't a great solution since the hair is hollow and bacteria is likely to grow in there. You also can't be assured of the treatment of the animals when they were reared and this is a concern to many.
You might also want to check that your bristles are BPA-free. BPA is a chemical used in some plastics and can have adverse health effects. The manufacturer should be clear about whether their bristles are BPA-free.
Some biodegradable toothbrushes also claim to have environmentally friendly, decomposing bristles. This type of bristle will be made from Nylon-4, but this is still a petroleum-based plastic, which isn't great, and it has only been proven to decompose quickly under certain conditions.
Conclusion
As people are becoming more environmentally conscious, making small changes to everyday habits is becoming more common. From saying no to plastic straws, to switching to an eco toothbrush, there are lots of little things that you can do to help reduce plastics in landfill and the ocean. We have some other ideas for natural tooth care here.
Using a bamboo toothbrush no longer means compromising on how well your teeth get brushed. Wooden brushes are just as good quality as plastic brushes; you just need to take a little more care when disposing of them.