Using a bamboo toothbrush is a simple way to make your oral hygiene routine more environmentally friendly. More and more people are becoming aware of the problem of single-use plastics and using an eco toothbrush is one way you can reduce your contribution to the problem.
Bamboo toothbrushes in the UK have come a long way in the last few years and are now just as good as their plastic alternatives. We understand it's a big change to make to your lifestyle, so we've put together this guide where we'll talk about:
What exactly is a bamboo toothbrush?
What are the benefits of using a bamboo toothbrush?
Can I use a different type of eco-friendly toothbrush?
Can I give my kids a bamboo toothbrush?
What are the options for recycling?
Some people might be unable to use a bamboo toothbrush, for instance because of sensory issues. If that's the case, we have articles about plastic manual toothbrushes as well as electric toothbrushes that you can also check out.
The table below has our top picks for environmental toothbrush options in the UK, but you can keep reading to find out about all of these and more.
Sustainable Tomorrow Brush for Good

Choice of rainbow or neutral colours

SmileTime Bamboo Toothbrushes

Soft bristles for sensitive teeth

Truthbrush Bamboo Toothbrushes

Made from smooth bamboo and finished with a coat of natural plant oil

Bristles made from a plant-based material

Greenzla bamboo charcoal toothbrush

Includes bamboo floss and bamboo toothbrush case

Wake-UK kids' bamboo toothbrush

Available for ages 3-5 and 6+

Truthbrush Bamboo Sonic Electric Toothbrush Heads

Sustainably sourced bamboo

100% castor oil medium bristles

Fully recyclable packaging
What is a bamboo toothbrush?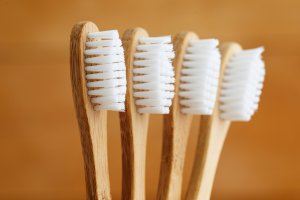 A bamboo toothbrush looks pretty much the same as any regular toothbrush you've used, but with one key difference. Instead of being made from plastic, it has a wooden toothbrush handle. Most manufacturers don't add much colour to them so you can see the natural grain of the wood.
The bristles are normally still made of plastic nylon, though. Although it's not the perfect eco solution, there are things that you can do to reduce the environmental impact of these plastic bristles. We'll cover this in more detail a little later.
The packaging of a non-plastic toothbrush might look a little different, too. The plastic that your normal toothbrush comes is isn't great for the environment, so you'll find bamboo toothbrushes usually come in cardboard boxes. If they're wrapped in plastic it's usually biodegradable, but check the wrapper just to be sure.
Why use a wooden bamboo toothbrush?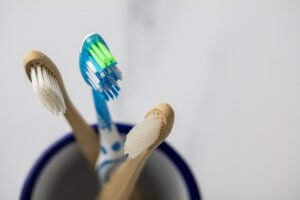 It may never have occurred to you how many toothbrushes you use in your lifetime. If you're changing your toothbrush every three months like dentists recommend, then you'll probably go through around 300 of them. That works out at about 3.6 billion toothbrushes worldwide, every year.
That's a lot of plastic going into landfill or ending up in oceans. But you can do you bit to reduce the problem by using a bamboo toothbrush. Some of the great benefits of using bamboo include:
It's fast-growing, meaning it's a sustainable resource
It captures a lot of carbon as it grows; around 30% more than most other wood
There's no need to chop down swathes of rainforest to grow it
It has antimicrobial properties, meaning that bacteria are less likely to grow on it
Using a bamboo biodegradable toothbrush means that once you're finished with it, it will decompose quickly. A bamboo toothbrush can decompose in as little as four months. Compare that to the thousands of years your plastic toothbrush takes to break down and you can see the benefit to the environment.
Ask a hygienist!
Going green has never been easier and bamboo toothbrushes have exploded in popularity in recent years.
The detrimental effects of plastic on our environment can be minimized or negated with the use of natural alternatives such as a bamboo brush. It is similar to a conventional toothbrush and gives you the same quality of cleaning when used with the correct brushing technique.
As bamboo brushes are biodegradable, changing a toothbrush doesn't leave a heavy carbon footprint. Innately, bamboo has antibacterial properties that will help your teeth.
Certain functionalities like a rubber grip or tongue scraper that is present in a conventional toothbrush are not available yet on a bamboo brush.
The effectiveness of a bamboo brush is equivalent to a regular brush with additional benefits like being eco-friendly and antibacterial. Dentists do not discriminate against brush choices as long as twice-daily brushing and flossing are done.
Dr Asha Ramesh
This talk by David Trujillio explains some of the great benefits of using bamboo for lots of different applications:
The best bamboo toothbrush in the UK
If you've started doing some research, you'll know there are lots of different bamboo toothbrushes in the UK to choose from. There isn't any special technology that sets particular ones apart, but there are some small differences to look out for. These include:
Bristles: Soft to medium bristles are gentler on gums, and the recommended choice from many dental organisations. You can also get a bamboo toothbrush with firm bristles if you prefer a more forceful brush.
Handle: Aside from being made from bamboo, it should be thoroughly polished to eliminate any chance of hurting your mouth or hands as you brush.
Head size: A small head is best for kids. For adults, it's a matter of personal preference.
Packaging: As mentioned above, this is generally recyclable. But it's worth double-checking before you buy.
Colours: When buying for your family, you may want to pick a multi-coloured rainbow set to easily keep track of whose is whose. Others have different icons printed on each handle or even different handle shapes to tell them apart.
So, with all this in mind, let's take a look at some of the best bamboo toothbrushes in the UK today.
Sustainable Tomorrow Bamboo Toothbrushes
Our top pick is the Sustainable Tomorrow Brush for Good brush. These colorful, rainbow bamboo toothbrushes feature super soft nylon bristles, and a handle sourced from sustainable bamboo. The bamboo is sourced locally to the factory where they are produced.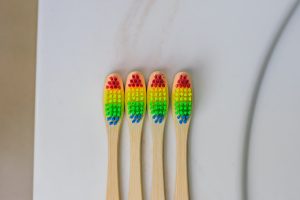 They also come in 100% recycled and biodegradable packaging. And if you don't like the colorful bristles, you can also opt for white, black, or brown bristles.
Have a look at their full list of features:
Carved from pure, locally sourced bamboo
100% natural food-safe finish
Gentle and dense nylon bristles
Eco-friendly and plastic-free
Biodegradable materials
Dentist-approved design
Truthbrush Bamboo Toothbrushes
You also might like these bamboo toothbrushes from Truthbrush, designed to give you a comfortable and effective brushing experience.
They are made with smooth bamboo handles and a natural plant oil finish. The bristles are made from plant-based materials instead of nylon, so they can be composted and recycled. The small head and slim neck make it easy to reach all corners of your mouth.
This pack of 4 Truthbrush Bamboo Toothbrushes comes in multicolour so you can easily keep track of whose is whose. Plus, they come in fully recyclable packaging. With these toothbrushes, you can be sure you are brushing with a sustainable and eco-friendly toothbrush that will last.
Storing your bamboo toothbrush in the bathroom or while you travel isn't a problem either, you can get Truthbrushes beautiful bamboo toothbrushes holders. Or, just get their Sustainable Journey starter set which includes a toothbrush, toothpaste tabs and a toothbrush holder!
SmileTimes Bamboo Toothbrushes
SmileTime's neutral-coloured bamboo toothbrushes look beautiful in any bathroom. The handles are made from sustainably sourced bamboo and the soft bristles come in yellow, black or white.
While the toothbrush handle is made from bamboo and is fully recyclable, the bristles are 100% nylon. The packaging is fully recyclable.
These bamboo toothbrushes are designed with sensitive teeth in mind so the bristles are soft and gentle on your teeth.
SmileTimes Bamboo Toothbrushes come in a pack of 3, but if you buy the Natural Teeth Whitening Kit, Charcoal Teeth Whitening Kit or the Day and Night Teeth Whitening Kit you get two bamboo toothbrushes included.
Greenzla bamboo charcoal toothbrush
A charcoal bamboo toothbrush has charcoal infused in the bristles. This has two main benefits:
Charcoal has antibacterial properties, helping to keep your mouth hygienic
It soaks up stains on your teeth, giving a whitening effect
This bamboo toothbrush from Greenzla has soft bristles for a gentle but effective clean. You also get a spool of bamboo charcoal dental floss and a bamboo travel toothbrush case when you buy this pack of 4.
"I love these brushes! They are so strong and the brush is so soft! The best toothbrush I've used!" says one happy customer. Another comments that the bristles are "a little too soft" for her. If you prefer medium-firm bristles then you might prefer this set from A One.
Read more about the benefits of activated charcoal for teeth.
Wake-UK kids' bamboo toothbrush
Kids need a different sized toothbrush to make sure that their smaller teeth still all get well brushed. Eco bamboo toothbrush makers have thought of this and make their toothbrushes in kids sizes too.
Wake-UK make theirs in two sizes: one for kids aged 3-5 and another for ages 6+. They all feature soft bristles and come individually wrapped in paper sleeves for better hygiene.
Best of all, the handles have fun animal deigns which kids can colour in or paint to add some extra personalisation to their brush!
"Love the little woodland animals on these, definitely a huge appeal to kids, especially as they can be personalised and coloured in. Really nice, soft bristles and all in a lovely eco-friendly package. I've used the baby version of these too and they're great! Highly recommended," says one reviewer.
Wild & Stone baby bamboo toothbrush
For the really little ones, these baby toothbrushes from Wild & Stone are a great choice. The very small brush heads and super soft bristles make them suitable for babies with their first tooth up to around age three.
They're organic, vegan-friendly and plastic-free apart from the nylon bristles. The brushes feel and look premium, so much so that you could even give them as a gift.
Once your child turns three they should be able to switch to the slightly larger children's bamboo toothbrushes from Wild & Stone.
Other types of eco-friendly toothbrush in the UK
After reading bamboo toothbrush reviews, if you decide they're not for you, there are some other options. One choice is to use a FOREO ISSA electric toothbrush. Although not cheap, the silicone used for the head means it lasts a lot longer than a normal toothbrush and only needs to be changed once a year.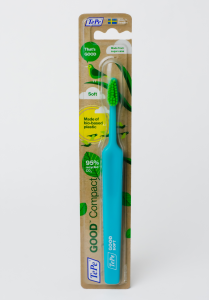 Read our full review on FOREO's full range of electric toothbrushes here.
TePe also have a new toothbrush available called TePe Good. It's made out of 96% bio-based plastic, making it a much more environmentally friendly toothbrush.
Another option for an eco toothbrush is this one from Yaweco. Although it's still made of plastic, you can keep the handle forever and only change the bristles. This means that only a very small amount of plastic is getting thrown away every time you change the head.
Bamboo toothbrush FAQs
How do I recycle a bamboo toothbrush?
Most biodegradable toothbrushes still use a little bit of plastic in the bristles. When you have finished using the toothbrush, pull out the bristles with pliers and drop them into plastic recycling. The handle can then go into a compost heap or – to make it more fun for kids – be buried in your garden to break down over time!
How do I care for my biodegradable bamboo toothbrush?
A bamboo toothbrush is just like any other toothbrush when it comes to caring for it. These are the things to do to keep it clean and in good condition in addition to rising after each use.
Store it in the open – putting it in a case or cupboard means bacteria is likely to grow
Stand it up with the head at the top so any excess water drains away
Don't let toothbrush heads touch so there's no exchange of bacteria
Are there any other eco-friendly dental products?
Yes, you can also get environmentally-friendly products like dental floss. Normal floss is made from nylon, but you can get plant-based floss, such as the Zero Waste World Charcoal Dental Floss. Read about more options including silk, bamboo and corn floss in our guide to plastic-free dental floss.
If you've already invested in an electric toothbrush, you can get eco-friendly toothbrush head replacements.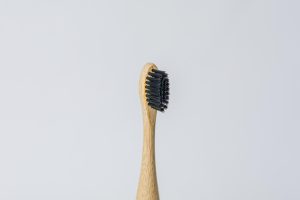 Sustainable Tomorrow Electric Toothbrush Heads are fully recyclable and made from bamboo. They are a perfect choice if you're looking for a sustainable alternative to your regular replacement electric toothbrush heads.
These bamboo electric toothbrush heads fit Philips Sonicare 9 series brush, so check if your model is compatible before you buy.
They're made of sustainably sourced bamboo with medium plant-based bristles and come in 100% recyclable packaging. And, the company donates 1% of its profits to environmental non-profits that are creating positive change around the world.
If you don't have a Philips Sonicare electric toothbrush Live Coco heads work with most Oral-B electric brushes. An added bonus is that when you've finished with them you can send them back to the company for recycling.
Can I get a bamboo electric toothbrush?
At the moment, there aren't any bamboo electric toothbrushes on the market. Some companies are working on bamboo electric toothbrush heads which will be compatible with popular electric toothbrushes. But right now, these are not sufficiently well developed.
How long does a bamboo toothbrush last?
Bamboo toothbrushes work the same as normal toothbrushes, so you can expect them to last just as long. You should change your toothbrush every three months, or sooner if the bristles start to fray. Some manufacturers say their brushes last much longer – up to 12 months – but we don't recommend using any toothbrush for that long.
Are toothbrush bristles recyclable?
Although most still use nylon bristles, some use pig or boar hair for a completely plastic-free toothbrush. This isn't a great solution since the hair is hollow and bacteria is likely to grow in there. You also can't be assured of the treatment of the animals when they were reared and this is a concern to many.
Are there any other considerations when buying a bamboo toothbrush?
You might also want to check that your bristles are BPA-free. BPA is a chemical used in some plastics and can have adverse health effects. The manufacturer should be clear about whether their bristles are BPA-free.
Some biodegradable toothbrushes also claim to have environmentally friendly, decomposing bristles. This type of bristle will be made from Nylon-4, but this is still a petroleum-based plastic, which isn't great, and it has only been proven to decompose quickly under certain conditions.
Conclusion
As people are becoming more environmentally conscious, making small changes to everyday habits is becoming more common. From saying no to plastic straws, to switching to an eco toothbrush, there are lots of little things that you can do to help reduce plastics in landfill and the ocean. Check out our natural tooth care guide for more ideas.
Using a bamboo toothbrush no longer means compromising on how well your teeth get brushed. Wooden brushes are just as good quality as plastic brushes; you just need to take a little more care when disposing of them.
Sign up to receive the latest news and offers from Dentaly.org