If your teeth are wonky, yellow, misshapen or missing altogether, various cosmetic dentistry treatments can help restore your confidence.
You might be worried about the cost of seeing a cosmetic dentist, but this needn't be an obstacle. Whether you want to whiten your teeth, repair a cracked tooth or replace a missing one, there are various options to suit different budgets.
In this guide, you can read all about the different types of dental surgery and cosmetic procedures available and how much they cost in the UK.
The quick answer
Common cosmetic dentistry procedures and their average costs in the UK range from £100-£6000 and may vary depending on several factors. Prices can vary widely depending on the specific treatment or procedure being sought, the location of the practice, and the experience and credentials of the dentist performing the work.
At Dentaly.org, we aim to help you make an informed decision about how you can get the smile you love.
Before we explore the different cosmetic dental treatments and what they are, let's start with the cost of cosmetic dentistry both with the NHS and privately.
How much does cosmetic dentistry cost in the UK?
As an NHS patient
Only treatments deemed clinically necessary are covered by the NHS. These include: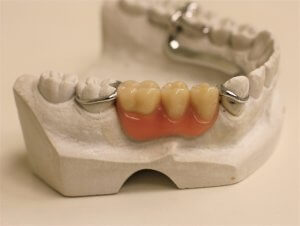 A bridge or partial denture to replace one or more missing teeth
A crown to repair a broken or decayed tooth
Braces (but only the metal variety)
Teeth whitening if a particular tooth has darkened because the nerve has died
Gum surgery where gums have receded too far
The NHS won't cover treatment that is being done for purely aesthetic reasons. Implants and veneers may be provided in rare circumstances if the patient can't receive a bridge, denture or crown for whatever reason.
Under-18s, pregnant mothers, those who have recently had a baby, and people receiving certain benefits can get free NHS dentistry.
Otherwise, you'll have to pay for your NHS treatment. Prices are banded according to the type of treatment you have, with the highest charge at £306.80 for 2023.
Braces are commonly offered to children and teenagers, but as an adult, you can only get NHS braces if your teeth are severely misaligned and likely to cause oral health problems.
If you find you are not eligible for NHS braces, private treatment is still an option although you may want to shop around for cheap braces.
As a private patient
For treatments that are not covered by the NHS you'll need to be treated as a private patient. Costs for private dental treatment vary greatly around the country and from one dentist to another. However, the table below should give you a good idea of cosmetic dentistry prices for certain procedures:
Cost with NHS (if eligible)

In-clinic laser whitening

At-home LED whitening kit

Teeth Straightening with Braces

Single dental implant with crown

Dental bridge (one tooth)

Dentures (any number of teeth)
When deciding whether your chosen procedure is worth the investment, you'll need to consider how long the results are likely to last. Also factor in any ongoing costs, such as night-time retainers for orthodontic work.
For more information on the cost of teeth whitening, see our full guide.
Ways to save on aesthetic dentistry
Do you have dental insurance? If yes, it's worth checking whether your policy covers any of the work you need.
You may even be able to take out a new policy which will reimburse some of your costs. However, insurance policies are designed to prevent you taking advantage of them, so check the small print carefully for:
The percentage that the policy will reimburse for any particular treatment
Maximum annual limits
Waiting periods
Pre-existing condition coverage
Mandatory checkups before cover commences
You can also save money on teeth implants and other cosmetic dentistry costs by visiting a dental school or even getting dental treatment abroad. As for free aesthetic dental work? Well, your best bet is to become an influential vlogger or win a competition.
Most dentists offer finance packages so you can spread the cost of more expensive treatments. If you go down this route, try to find a 0% deal so you don't pay the price in interest. Alternatively, a dental loan could help you fund your treatment.
Cosmetic dental treatment abroad
Since cosmetic dentistry costs in the UK can be quite high with a private dentist, more and more people are choosing to travel abroad to save money. In countries like Turkey and Hungary, dental work is 50-70% cheaper than the UK but the quality is just as good – as long as you pick a reputable dentist.
A company like Dentaly Go can help you find a top-quality dentist in your preferred location, and they will also arrange free quotes for the work you need. This way, you can check your potential savings without having to commit to any treatment.
If you'd like to know how much your cosmetic dental treatment will cost abroad, just fill in a few details below to get started.
What is cosmetic dentistry?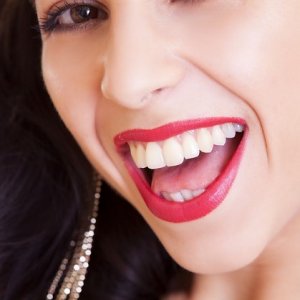 Cosmetic dentistry refers to any dental procedure that improves the appearance of the teeth or smile. This kind of work is sometimes called a 'smile makeover' or 'Hollywood smile'.
It may include changes to:
Tooth colour
Position of teeth
Shape and size of teeth
Jaw alignment
Gum line
The overall appearance of the smile
Although the main focus is on aesthetics, many cosmetic procedures also serve to improve the functionality of the teeth and overall oral health, and in this regard, there is some overlap with restorative dentistry.
However, some non-reversible procedures cause lasting damage to tooth enamel. It's therefore important to discuss your chosen procedure with your dentist and understand exactly what it involves.
Types of cosmetic dentistry procedures
Here are some of the most common aesthetic dental treatments carried out in the UK:
Teeth whitening
You might think that dazzling white smiles are just for celebrities, but teeth whitening, whether to whiten yellow teeth, get rid of stains, or even out white spots on teeth, is actually the most popular cosmetic dentistry procedure in the UK. 48% of Brits say they are unhappy with their teeth, and of those, almost two-thirds cite tooth colour as the main reason for their discontentment.
It's particularly popular among younger generations; almost half of 18-34s have had their teeth whitened at some point, and a third do it at least once a week.
When it comes to getting whiter teeth you have a number of options to choose from. You can spend hundreds of pounds getting high-tech laser whitening treatment at a dental clinic, like Zoom teeth whitening, or you can buy a home teeth whitening kit for a fraction of the price.
Smile Avenue is one of the whitening kits we recommend because it's made in the USA with high-quality ingredients and delivers professional-looking results in 10-14 days.
It's really convenient to use – just plug it into your phone to power the LED activating technology, and pop it into your mouth for 16 minutes per day. Read all about Smile Avenue here or check out their website and use promo code DENTA10 to save 10% on your order!
You could also consider a more premium option like Snow teeth whitening, which is slightly more expensive but contains a whole year's worth of whitening gel so works out great value overall. You can also try their other products, like the Snow Magic Strips.
Of course, different types of treatment deliver varying results, although they all involve applying some kind of bleach to your teeth. You can read up on all the options and how effective they are in our full guide to teeth whitening. We also have a page reviewing some teeth whitening strips in the UK.
Braces
If you want to get straighter teeth you'll most likely need braces of some sort. These devices exert pressure on certain teeth to move them into the desired position.
Children and teenagers are often treated on the NHS with metal braces, but there are many other types of brace available if you get private treatment.

Patients who don't want it to be so obvious that they are wearing braces could consider:
"Invisible" braces: These clear plastic aligners sit over teeth like a mouth guard and are only noticeable very close up.
Lingual braces: Similar in design to traditional metal braces, these are attached to the back of teeth, hidden inside the mouth.
Clear or tooth-coloured ceramic braces: These work in the same way as metal braces but are designed to blend in with natural tooth colour.
Treatment with braces can take anywhere from six months to two years or more, depending on the degree of movement required.
Check out our complete guide to braces for adults and teens to find out more information about these and other types of brace. This details typical costs for each type, as well as some practical advice for life with braces.
Many adults get braces later in life because they are unhappy with the appearance of their teeth. Straighter teeth are actually easier to clean properly so getting braces can improve your oral hygiene, too.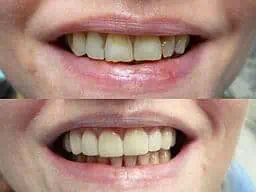 Veneers
Porcelain veneers are thin, tooth-coloured covers which a dentist applies directly over existing teeth. They can be used to change the size and shape of teeth, cover surface flaws, close gaps between teeth, and change tooth colour. These veneers are the closest looking to your natural teeth.
You can get a veneer for a single problem tooth or for your entire set of front teeth, and each one is individually made for you.
A full set of veneers is one of the quickest and cheapest ways to get a complete smile makeover. However, a small amount of enamel has to be removed from each tooth in order to apply most types of veneer, and this makes the process non-reversible.
When the original veneers fail (usually after 10-20 years), you'll need to replace them or get the teeth capped.
An alternative to porcelain veneers is composite veneers. The soft composite material is built up onto the tooth and then hardened in a process known as 'curing'. Composite is not as long-lasting and may not look as natural as porcelain, but it is more affordable.
In the time-lapse video below you can see what a dramatic change composite veneers can achieve:
Some companies also manufacture 'clip-in veneers' which clip over the existing teeth to improve the appearance of the smile, such as:
Snow White Clip in Veneers
Instasmile
Snap-On Smile
All but Snap-On Smile don't involve a visit to the dentist and are a cheap way to get an instant smile makeover, but they aren't always the best option. Read some instasmile reviews to see real users' opinions on one of the main brands out there.
Veneers are a purely cosmetic treatment. If a tooth has been badly damaged from trauma or decay, a dental crown can be fitted to protect what is left of the tooth structure.

Dental contouring
If you require just subtle adjustments to the size, shape and height of your teeth, cosmetic contouring can be a cost-effective way to improve your smile.
The procedure will vary depending on your requirements. Dentists can polish out small chips and rough edges and re-shape pointy teeth with minimal discomfort to you. They may also file down teeth that are taller than their neighbours.
Composite can be used to build up small or short teeth, repair chipped teeth, and even to fill gaps between teeth. When performed by a skilled dental technician, the results look completely natural.
Since the process is unique for each individual, you'll need to have a consultation to obtain a quote. The techniques used are relatively straightforward and there is no expensive lab work involved, so this can be an affordable way to rejuvenate your smile.
Gum re-shaping
Most people probably don't give much thought to the shape of their gums. However, if you are conscious of how yours look, there are ways to remedy the situation.
If your gums are uneven or cover too much of your teeth, giving you a 'gummy' smile, your dentist can cut back the gum tissue using a laser or scalpel. This simple procedure can make a big difference to the appearance of your smile.
On the other hand, you may be suffering from receding gums. This can happen because of a medical condition such as gum disease, or as a side-effect of some medications.
If your gums recede too far your teeth may become loose and even fall out, and you'll be at increased risk of periodontal infection. In this case, a dentist or periodontist can graft gum tissue to restore your gums to a healthy condition.
Gum contouring and grafting are usually done under local anaesthetic.
Teeth implants
If you have one or more teeth missing you are probably keen to replace them – especially if you have gaps in a very noticeable position.
Dental implants are strong, durable and designed to look like natural teeth. The implant is inserted into your jawbone then a tooth crown is attached with an abutment. They can last 10-15 years or more if you look after them well.
If you have several teeth in a row that need to be replaced then an implant-supported bridge may be an option. An implant at either end can support a bridge of three or four teeth, which works out cheaper than three or four individual implants.
To replace a full mouth of teeth, snap-on dentures or implant-supported dentures such as All-on-4 are the most affordable option.
Read our full guide on dental implant costs if you want to learn more about replacing your teeth this way. You'll find a lot more information on how implants work, how much they cost, and what you can expect from the procedure.
Other teeth replacements
Implants are the longest-lasting way to replace teeth and they also help maintain bone mass in the jaw. But they are also by far the most expensive.
If your budget won't stretch to implants, a dental bridge (for one or two adjacent teeth) or partial dentures (for one or more teeth) are more affordable alternatives.
Finding a good cosmetic dentist near you
If the work you want to be done is covered by the NHS, you'll need to visit your regular NHS dentist.
For private treatment, on the other hand, you can choose whichever dentist you like (provided they are qualified to carry out the procedure you want). Since there are thousands of UK dentists offering many of the services we described above, it can be hard to know which is the right one for you.
Below are some things you should consider when selecting a cosmetic dentist to perform your treatment: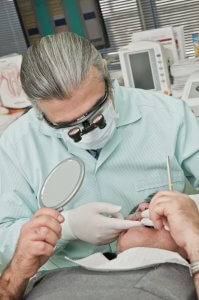 Price
The cost of your aesthetic dental treatment is, of course, a big factor to consider. Many things can determine the price you are quoted, including:
The standard of equipment and materials used for your treatment
How long it will take (especially the time spent in the dentist's chair)
Your dentist's experience, qualifications and reputation
The location of the practice
The level of competition in the area
Business overheads in cities are often higher than in rural areas, for example, and this pushes prices up. However, cities often have more competition between dental clinics, so you may find special offers on certain treatments if you shop around.
Keep in mind that a higher price doesn't necessarily mean better quality treatment. But at the same time, you don't want a dentist who cuts corners just to offer the lowest prices.
Obtain a few quotes from different dentists in your area so you can get an idea of prices before you commit to anything. When you are paying for cosmetic dental work, it helps to take the mindset of a consumer rather than a patient. Be clear on what is included in each quote so you can compare like-for-like; also check how long the work is guaranteed.
Experience and reputation
If you're trusting someone to change the way your face looks, you want to be sure they have some experience in the field. Online reviews and word-of-mouth are usually good indications of their competence.
At your initial consultation, ask the dentist for 'before and after' photos of past patients who have had the same work you're considering. Would you be happy to get similar results? Or do they look fake to you?
Everyone has different personal preferences so it's important to discuss your expectations. Fortunately, many clinics use advanced computer technology to plan cosmetic treatments so you'll have a good idea of the end results before you even begin.
Location
Some people are willing to travel to another city – or even another country – just to visit a dentist with a good reputation. Many of the UK's best cosmetic dentists are located in London and have world-famous clinics, but they also come with price tags to match their reputation.
If your treatment just requires one or two visits then a long journey may not be a big deal for you. But if you'll have to make regular visits, for example with orthodontic work, you may appreciate the convenience of a cosmetic dentist near you.
Accreditation
There is no mandatory accreditation for cosmetic dentists in the UK – anyone who has registered with the General Dental Council may offer most of the services named above. However, many dental professionals are members of the British Academy of Cosmetic Dentistry (BADC). This organisation helps ensure they are kept educated and up-to-date on current techniques and practices.

BADC accreditation may give you extra peace of mind as a patient, but this doesn't mean there is necessarily anything wrong with dentists who are not members.
Additionally, dentists offering certain specialist services may be members of other organisations. These include the Association of Dental Implantology and the British Orthodontic Society.
Again, membership is no guarantee of the standard of work but does show the dentist is committed to continuing their education.
If you are planning to get your teeth whitened, be aware of beauty therapists and other individuals practising illegally. Unless you whiten your teeth at home, the procedure must be carried out by a qualified dental professional.
Finally, you could look for a clinic that is TEMOS and ISO 9001 certified – particularly if you are seeking treatment abroad. These are both certifications that indicate an international standard of quality management.
Caring for your smile
Of course, the best way to save money on cosmetic dentistry procedures is by taking good care of your teeth. Indeed, we aren't all born with a Hollywood smile, so it's totally understandable if you want to get some cosmetic procedures done.
But help make sure that you always have a healthy mouth, gums and teeth by practising proper oral hygiene like brushing and flossing. It's also important to visit the dentist at least once a year for a checkup. All of this will make it so you're less likely to need cosmetic work in the future.
Ask a dentist: Stained Teeth? 7 Foods & Drinks to Avoid
Stained yellow teeth not only affect the way you look, they can also affect how you feel about yourself. Over 75% of people wish they had a brighter, whiter, or straighter smile. For the average person, the best way to keep your teeth white is to watch what you eat. In particular, avoid these foods and drinks:
Coffee
Blueberries
Beets
Tomato sauce
Soda
Red Wine
Acidic foods (like tomatoes) and sugary foods (like soda) weaken the hard outer enamel of your teeth. This not only leads to tooth decay but also makes it easier for stains to take root. Microscopic pits in your teeth caused by demineralization or decay are like magnets for stains. These tiny imperfections can't be cleaned by brushing and flossing alone.
If you do enjoy these foods, don't beat yourself up! Make them sometimes foods, not everyday indulgences. You can minimize the risk of stains by swishing with water afterwards.
But don't brush right away! Wait a little bit for the saliva in your mouth to do its work. Otherwise, you'll just be scrubbing acid and pigments into the surface of your teeth, making the stains even worse!
Dr Caitlin Batchelor, Batchelor Dentistry
Conclusion
There are many aesthetic dental procedures you can undergo to improve the appearance of your teeth – whether it's the colour, shape or position of them that's bothering you.
Although most purely cosmetic procedures are not covered by the NHS, there are still affordable options. For example, you can make a big difference to your smile with a simple teeth whitening treatment like this great value kit from Smile Avenue.
Dental insurance, dental schools and overseas dentistry can help lower the cost of cosmetic dentistry. Your first step is to book a consultation with one or more dentists to discuss your choices and get an idea of prices.
We hope you find a solution that gives you a smile you feel confident to show off!

FAQs
What is cosmetic dentistry?
Cosmetic dentistry refers to dental treatments that improve the appearance of a person's teeth, gums, or bite. This can include procedures such as teeth whitening, veneers, and dental implants.
How much does cosmetic dentistry cost in the UK?
The cost of cosmetic dentistry can vary depending on the type of treatment and dentist chosen. Some examples include teeth whitening, starting at £250, veneers from £400 and implants from £1,500.
Are there any risks associated with cosmetic dentistry?
Risks can include infection, sensitivity, and damage to surrounding teeth or gums. It's important to choose a qualified and experienced dentist to minimise these risks.
How can I find a good cosmetic dentist?
To find a good cosmetic dentist, ask for referrals, research qualifications and experience, check online reviews, and schedule a consultation to discuss options.
Sources
British Academy of Cosmetic Dentistry. For Patients. Consulted 3rd April 2023.
Sign up to receive the latest news and offers from Dentaly.org