Snow Teeth Whitening kits have become incredibly popular recently, especially in the US where they are produced. But what about Snow teeth whitening in the UK?
They ship internationally, so you can get your hands on a kit wherever you live. But perhaps you're wondering how Snow compares to other teeth whitening kits in the UK, and if it's really worth the hassle of ordering from the US.
Well, we are here to help answer all your burning questions, including:
What exactly is the Snow system?
How much does it cost?
Do you have to pay extra for shipping to the UK?
Will it make your teeth white?
Is it safe?
What do some UK Snow teeth whitening reviews say about it?
Keep reading to find out all you need to know to make an informed decision regarding the aesthetics of your smile!
In short: Why choose Snow?
If you want the quick version of how Snow is leading the way in teeth whitening kits, here's the answer:
Over half a million happy customers
Lasting results from just 9 minutes a day
Proprietary application system to protect your gums
Kits contain a year's worth of treatments
Made in the USA
Satisfaction guaranteed – or your money back!
Visit their website to check out their full product range and take advantage of the latest promotions.
What is Snow Teeth Whitening?
Are you sceptical of all of the teeth whitening kits and procedures out there? Do they seem too good to be true? The folks over at Snow Teeth Whitening understand—they're sceptics too! This is why they set out to develop a whitening kit that does everything it claims to; a system which is, as they put it, "For Skeptics, By Skeptics."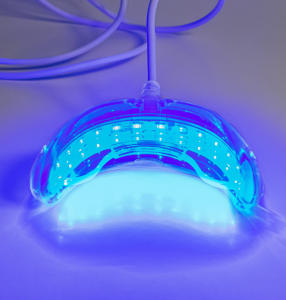 Activating LED technology is one of the newest ways to whiten teeth, and studies show that it can indeed be effective. Snow Teeth Whitening is an all-in-one, LED-activated teeth whitening kit that whitens teeth in as little as nine minutes per day. It targets all sorts of stains, including stains from coffee, wine, tea, tobacco and really anything else you can think of.
It's designed in made in the USA, which is a big thumbs-up for us as it means the Snow whitening system contains no harmful chemicals and is safe to use on all types of teeth, including sensitive teeth.
Snow reassures customers that no shortcuts have been or will be taken in the past, present or continued development of Snow. They've poured millions of dollars of research into developing this system, offering products created on an indisputable scientific foundation. And, they don't test on animals.
Another thing people love about Snow is that you don't need to go to the dentist to get professional-quality whitening. You can complete treatment entirely from the comfort of your home, beginning by ordering your kit online.
How does the Snow Teeth Whitening system work?
With Snow Teeth Whitening you have two kits to choose from: the original kit and the 2nd generation wireless kit. Both received stellar reviews, so you'll just have to decide which system is best for you personally. Let's have a look at the differences between these two kits to figure out which one you should get.
Original kit
This is the original Snow whitening system that rocketed the Snow name to the top of whitening kit brands around the world. It will whiten your teeth in just nine minutes a day, although you can use it for up to half an hour at a time for stronger results.
What's more, it will help prevent future stains. Use this kit to whiten teeth stained from smoking, coffee, tea and wine.
When you order the Original kit you will receive:
1 mouthpiece with patent-pending LED technology
3 whitening wands with advanced whitening serum to erase stains
1 extra-strength whitening serum wand
1 teeth whitening progress tracker
Wire for connecting to iPhones, USB and other smartphones
30-day money-back guarantee if you're not happy with the results
5-year warranty
Snow's smart teeth whitening system connects the mouthpiece to an app, allowing you to control just how much you want to whiten your teeth.
It's worth noting that with Snow, you apply the whitening serum directly to your teeth using a wand. Not only is this a lot less messy than cheaper systems which involve applying gel into a mouth tray; it also ensures even coverage so you don't end up whitening just part of each tooth. Plus, it helps protect your gums since there isn't any excess gel that might squirt out of the tray.
The original kit is Snow's best-seller, usually retailing for $179 (around £130). However, there is often a promotion happening that makes it significantly less. The kit contains enough treatments for a whole year, so it might cost more than some others you've looked at, but it works out to be great value in the long run.
If you're ready to whiten your teeth from the comfort of your home and for an affordable price, the Original kit is a great option. It comes with everything you need to get long-lasting professional results.
New Snow wireless kit
In 2021, Snow launched their new, 2nd generation wireless teeth whitening kit. As the name suggests, it operates wirelessly, meaning you're free to move around while using it. You can even use it in the shower, as the mouthpiece is waterproof – what could be more convenient than that?
This new version of the wireless kit has been redesigned to be more travel-friendly than the previous one, which had a much larger storage case.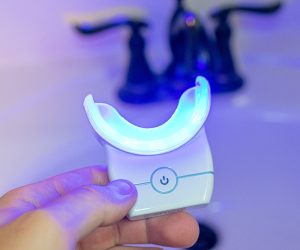 When you order the Wireless kit, you'll get:
Wireless charging LED activating mouthpiece
Dual-Light Therapy for healthier gums
Docking station including self-sanitizer
Smart app connectivity
2 whitening wands with professional whitening serum
1 extra-strength whitening wand
USB cable for docking station
30-day money-back guarantee if you're not happy with the results
5-year warranty
Just like the Original Kit, this kit connects to an app on your phone that lets you control your shade of white. It also has a self-sanitizing feature, with a UV light built into the charging case to kill bacteria between uses.
Another benefit of the Wireless kit is that it uses red LED technology to eliminate bad bacteria in your mouth and support healthy gums, while the blue LED works to whiten your teeth.
Snow's all-in-one wireless whitening system retails at $329 (around £245) but, again, it contains a year's worth of treatments and you can often grab a discount code to make it cheaper.
If you want white teeth on the go, and you don't mind paying a little bit more for a whole lot of convenience and advanced features which help you take care of your whole mouth, then give the Wireless kit a try!
Summary of kit options
You may be wondering what happens if you run out of whitening gel – do you have to purchase an entirely new kit? Thankfully, the answer is no, you can simply buy more serum wands separately, whenever you need more.
The original and wireless kits can be hard to choose between! So, check out this table to clearly see what all of your kit options are.
1 Extra-strength whitening wand

Teeth whitening progress tracker

1 Extra-strength whitening wand

Teeth whitening progress trackerNew List Item
Shipping to the UK
Since Snow whitening kits are manufactured in the USA, you will need to allow for extra shipping costs and time when ordering from the UK (or anywhere else in the world).
Ordering a Snow Teeth Whitening Kit in the UK adds about $20 (£16) to your order, and it will take 9-12 business days to arrive. The exact delivery cost may depend on the number of items you order.
Note that if you do want to return your kit for some reason, you will be responsible for return shipping costs. In addition, the 30-day money-back policy begins when you make your purchase, not when you receive your items.
Another option is to purchase the kit on Amazon and avoid international shipping costs. However, the price on Amazon is often higher than their own website and your warranty might be voided if you don't purchase directly.
How to use Snow Teeth Whitening kits
To use your Snow Teeth Whitening kit, follow the instructions included with your kit, or the ones provided on the Snow website (they have loads of handy video tutorials). The general instructions are as follows:
Apply the whitening serum to your teeth using the brush tip applicator
Insert the mouthpiece into your mouth and turn it on
Keep it in for 9 to 30 minutes
After your whitening time is up, rinse your mouth and the mouthpiece with warm water
Snow also recommends:
Brushing your teeth before you whiten
Whitening for as long as 30 minutes, twice a day for the fastest results
Storing the whitening wands in the fridge so they keep their potency
Using their special whitening toothpaste
Using the Snow LED toothbrush
You also may need to twist the whitening wand as many as 30 times during the first use, until the whitening gel comes out.
How long does it take for Snow teeth whitening to work?
Looking at Snow teeth whitening reviews, some people notice their teeth looking whiter after just one or two uses. For others, it might take a few days longer to start seeing results. A lot depends on how white (or not) your teeth are to begin with and what type of staining you have.
The recommended treatment course is 21 days, and by the end of this, you should definitely see a difference. If not, you're covered by Snow's 30-day satisfaction guarantee.
Snow teeth whitening ingredients
The ingredients used in Snow's safe whitening serum are:
Hydrogen peroxide
Carbamide peroxide
Glycerol
Deionized water
Sodium bicarbonate
Carbomer
Potassium nitrate
Peppermint oil
Hydrogen peroxide is the main ingredient used in many professional teeth whitening systems.
Snow refills
One of the things we really love about Snow is that, unlike some other whitening kits, with Snow, you can purchase whitening serum refills. That means you can use the same kit for years to come (it comes with a 5-year warranty, after all) and just purchase the refills you need whenever you want to do a whitening touchup. The wands come in two sizes:
Standard: 21 treatment sessions
Large: 42 treatment sessions
Snow teeth whitening reviews from the UK
Now you know all about the Snow Teeth Whitening kit contents and how to use it, but we haven't specifically addressed the question "Does Snow teeth whitening work?". Well, in short, we can say that yes it does work and the vast majority of users are very happy with their results. For those that aren't, there's the 30-day money-back guarantee to fall back on.
But let's look at some Snow Teeth Whitening reviews from users in the UK to see what they think of the system and how it compares to others.
Amelia's review
"I'm really really pleased with the results!"
In this video, you can Amelia unboxing her Snow Whitening Kit and doing a sensitivity test after her first treatment. Even after drinking ice-cold water, her teeth feel fine.
Amelia explains that she had professional whitening six years ago and has used whitening strips since, but she wanted to check out a professional whitening kit as a good in-between option.
Amelia has posted a follow-up video where she says that after the initial 21-day treatment, which she was really pleased with, she has been using it once every week or two for a top-up.
Don't forget, snow's kits come with a 30-day money-back guarantee if you're not happy with your results.
Ellie's review
"I'm so impressed, this is definitely my new teeth whitening routine."
Ellie tried using a different brand, Hismile, but it wasn't right for her. She's also used Crest Whitestrips and thinks they work ok, but she really wants something stronger.
Before spending a lot of money on professional whitening at the dentist, she's decided to give Snow a try. She does say that Snow sent her the kit to try for free, but this is still an honest review of her experience.
Her teeth are not exactly yellow to begin with – she starts out shade 3 or 4 but wants to get to 1. In the Snow teeth whitening review video below you can watch her unbox the kit and use it for the first time. We then rejoin her 21 days later to see how she got on as she shares her before and after photos.
Ellie found the kit really easy to use, often completing her treatment while doing her makeup in the morning. She didn't experience any sensitivity, and she found the lip balm a great addition to her routine.
As for the results, she says this is the best teeth whitening product she has tried and it made her teeth even whiter, which is quite an endorsement from such a seasoned teeth whitener.
Dentist's review of Snow whitening kit
"It's great for those patients that are worried about tooth sensitivity."
Dr Broumand says that he only recommends Snow for his patients. He personally appreciates that it's suitable for people with sensitive teeth and it's easy to use. But his absolute favourite part is that they donate profits from every sale to kids who don't have access to dental care. You can see his full review in the video below:
The Snow website also has a whole review section where you can see before and after pictures of actual patients who have completed their whitening treatment with Snow.
Alternatives to Snow
Snow's whitening system is a great product, but perhaps you don't have the budget to pay for a whole year of whitening up-front, or you'd rather order from the UK to make returns a bit more straightforward if you're not happy with your results.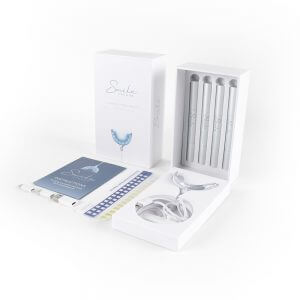 In that case, we recommend the Smile Avenue teeth whitening kit. This product is also made in the USA and uses a similar USB mouthpiece to Snow, but comes at a considerably lower price.
Purchase via their website and you'll get free UK shipping too. It will last for two rounds of treatment, and refills are available at a very affordable price. It's available on Amazon too, if you prefer.
Another benefit of Smile Avenue is that its gel formula includes remineralizing hydroxyapatite, which helps strengthen your tooth enamel as you whiten and prevent sensitivity or damage.
We have written a full Smile Avenue review which you can read if you're trying to work out which option is best suited to you. If you do decide to buy it, you can get 10% off your whole order using code DENTA10 at checkout.
Conclusion
Snow Teeth Whitening offers a fast and affordable way to whiten your teeth at home. Their special formula is made without any harsh chemicals and is perfect for people who have sensitive teeth. As you can see from the Snow Teeth Whitening reviews we've looked at, regular customers and dentists alike approve of this whitening system.
Snow is also a great option for those who prefer to spend their money on a socially responsible company because Snow never tests on animals and donates part of their proceeds to children who need access to dental care across the US.
The main downside of purchasing Snow Teeth Whitening from the UK is that you'll pay extra for shipping and will have to wait a few days longer for your kit to arrive. But since you can't buy a kit like this directly in the UK, you may decide it's still worth it.
If you like what you saw in these Snow whitening reviews, and are ready to start your whitening journey today, click through to Snow's website and check their best offers.
FAQs
Is the Snow whitening system safe?
The Snow whitening kit is absolutely safe. There are no harsh chemicals, and what's more, it's even made for people with sensitive teeth. In fact, anyone over the age of nine can use it!
It also has the benefit of using wands to apply the gel to your teeth. As opposed to kits where you just put the gel inside of a tray, which creates a lot more mess also, the use of wands ensures even coverage on all of your teeth and not on your gums.
Is there a Snow Teeth Whitening coupon or discount code?
Snow often run promotions on their website offering a discount of 20% or more. Click here to visit their site and check current promotions. Happy shopping!
Does Snow Teeth Whitening hurt?
The Snow white teeth kit doesn't hurt. In fact, it's so gentle that even people with teeth sensitivity can use it. You can also purchase their desensitizing serum for extra protection.
Does Snow Teeth Whitening work?
Every set of teeth is different, but the large majority of those who have used the Snow system for a whiter smile would recommend it to others. They have almost one million satisfied customers!
Can you buy Snow Teeth Whitening on Amazon UK?
Yes, you can buy it on Amazon here. However, we recommend buying through their website where you can access exclusive discounts and receive full customer support.
Sign up to receive the latest news and offers from Dentaly.org