If you're here it's because you're wondering, "Are there cheap braces, and where can I find them?" The good news is, yes, you can find affordable adult braces and there are various ways to go about doing so.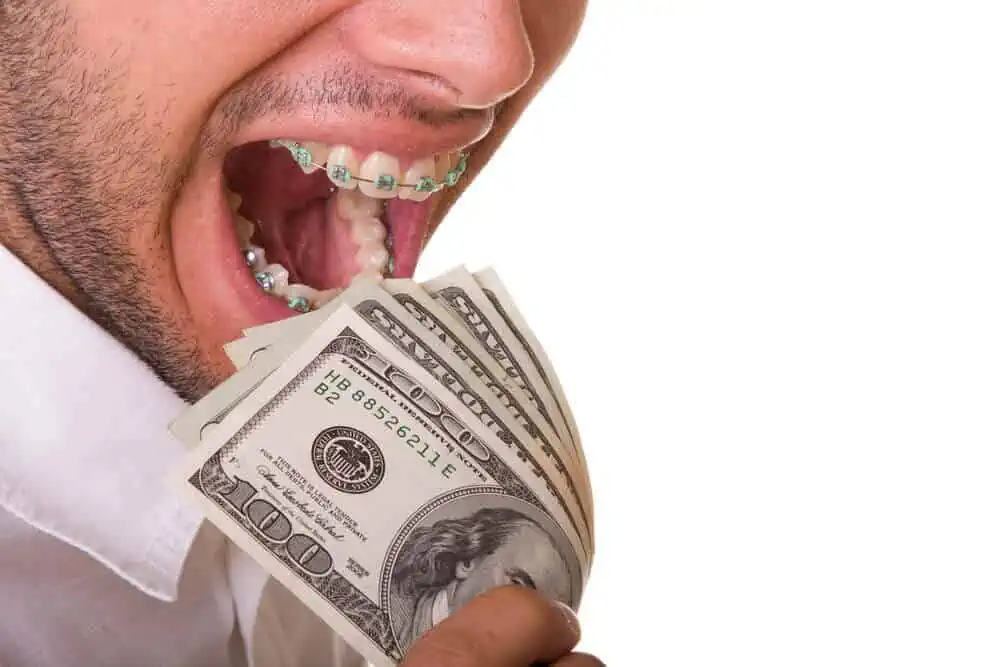 Some of the ways include dental payment plans, orthodontic insurance, or in some cases the NHS. Another option is to consider at-home clear aligners, which can be used for mild cosmetic straightening.
In this article, we'll go through all of your dental financing options when it comes to finding affordable orthodontic braces, including:
NHS orthodontics
Payment plans
Dental finance
Insurance
And then we'll briefly go over some options you can order directly to your home. Let's get started!
Do you need cheap braces?
Not everyone who has crooked teeth needs to have braces. However, misaligned teeth can actually negatively impact your health. That's because crooked teeth can:
Increase your likelihood of gum disease: It can be difficult to clean hard to reach areas between your teeth, allowing plaque to build up.
Cause faster wear: A crooked bottom tooth could rub against a top tooth, or vice versa, causing loss of enamel, increased sensitivity, and a higher risk of decay.
Make chewing difficult: If you have a misaligned jaw, you may not be able to chew your food thoroughly, which could result in problems with digestion.
Cause bad breath: Built-up plaque and bacteria between teeth can cause bad breath.
If you have crooked teeth but they aren't causing you any negative side effects, orthodontic care may not be necessary for your oral health. However, if you feel that straighter teeth could help to improve your self-esteem and confidence, that is a perfectly good reason to consider braces.
Some people are happy with their own unique smile, but many of us wouldn't mind having straighter teeth. The only problem is that braces can be really expensive, which is why we look for cheap braces.
Before we continue, did you know there's an easy way to see what you could look like after braces? Just use Invisalign's free SmileView tool. All you have to do is upload a picture of yourself and you'll be able to see yourself with straighter teeth!
Teeth straightening cost
There is no set price for teeth straightening in the UK; even NHS prices are different depending on which country you reside in. There is also a chance you are eligible for free dental care with the NHS.
When it comes to private treatment, prices range between dentists, and practices, and can even depend on which city, or country you decide to get your treatment.
Whether you're looking for cheap braces in London, Birmingham, Manchester, Liverpool, or any other place in the UK, the cost will be dependent on your particular orthodontic needs. You may have heard that some places are known to have cheaper dental care prices, so it's worth shopping around as well.
We can give you a broad range of prices, but it is best to book a consultation with a dental professional to get a better idea of how much work your teeth will need, and the costs involved.
NHS cost for braces
Standard metal braces are available on the NHS and are of no charge for those under the age of 18 who need treatment. As a Band 3 treatment, adult metal braces cost £282.80 in England (see other NHS costs here). However, not all adults are eligible for braces with the NHS, and most will find that private treatment is the only option.
It is possible to get free NHS treatment if you qualify for low-income benefits or other exemptions. Each country in the UK has its own criteria, so check first to see if you qualify for free treatment.
If you are looking to get braces on the NHS, this dentist shares advice on how to increase your chances of being eligible in the following video.
If you have crooked or misaligned teeth and need braces for medical reasons, you should be eligible for braces on the NHS. However, as this video explains, you also need good dental health to be eligible for braces. Otherwise, the NHS may turn you away, or advise that you first need to improve your dental health.
Private dental costs for braces
Standard metal braces can cost anywhere from £1,500 to £3,000 or more. If you opt for ceramic, like Radiance Clear Braces and Clarity braces (clear in colour and more discreet) or lingual (brackets that attach to the backs of your teeth for lower visibility), you can tack another £1,000 – £3,000 on to that price.
The first choice for many adults and older teens is Invisalign because it can treat up to 90% of orthodontic cases and because they aren't actually braces; rather, they are clear (or invisible) aligners.
Invisalign aligners are not the cheapest braces in the UK, but they are certainly a very popular option for adults who don't like the idea of metal braces. Before you dismiss them completely, it's best to book an appointment so you can get a personalised treatment plan. If the price seems reasonable, you can then discuss payment options with your dentist.
How to get braces for cheap
Getting braces isn't cheap, but are there ways to find more affordable orthodontic procedures? There certainly are! Read on as we take a look at some of the options for cheap braces.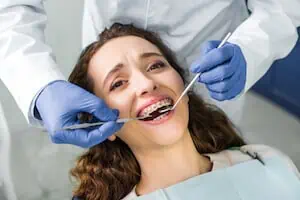 Can you get cheap braces with orthodontic insurance in the UK?
Dental insurance that includes orthodontic treatment in the UK is hard to find, some do offer to pay 50% of the cost though. So, if you think you may need braces, half-price off is a big saving. You can read more about finding dental insurance in our full guide here.
Cheap braces with dental plans
A better option in the UK, that is similar to insurance, is an orthodontic payment plan for private treatment with your dentist. These are not insurance plans; there's no excess or yearly maximum, but you pay a membership fee. In exchange, you may be able to get a braces discount.
Payment plans differ from dentist to dentist and between practices, but it may be possible to work out cheap monthly payments for braces.
Braces with affordable dental finance plans
Some dentists don't offer payment plans, but partner with finance companies. Others don't, but that doesn't stop you from finding your own personal loan for dental work. Either option allows you to pay for your braces in small manageable monthly payments.
Check out our article on dental loans in the UK to learn more about financing your treatment.
The cheapest braces: At-home clear aligners
There are a variety of clear aligner brands you can choose from depending on your budget, time restrictions, and treatment preferences. However, at-home clear aligners are the least expensive option for straightening your teeth. This is because you do not visit a dentist or orthodontist for regular check-ups in a dental clinic.
We recommend consulting your dentist before starting any treatment to make sure it is right for you, and that there are no other dental issues that need addressing first.
Regardless of the brand you choose for your treatment, the process for at-home aligners is generally the same all around:
Impressions: You can order your impression kit online. Once it arrives in the mail, take moulds of your teeth and send them to your clear aligner company. They can analyse them and decide if you are a candidate for treatment.
Receive your aligners: If you are a candidate for clear aligner treatment, your aligners will be made in a lab and sent to you all at once. As soon as they arrive, you can begin treatment.
Remote supervision: While you straighten your teeth, you'll check in periodically (virtually) with a dentist or orthodontist to ensure that everything is going according to plan.
Retainers: As with any kind of orthodontics, you'll need to wear retainers at night once your treatment is complete. This is so your teeth don't move back into their original positions.
Some brands, like Straight My Teeth and SmileDirectClub, have physical locations where you can go to meet with a representative in person at no extra cost. Others, like NewSmile, which you can read about here, offer nighttime options.
Be careful of brands that offer a one-size-fits-all solution, like Smilint Aligners. The price may seem attractive, but there is no safe one-size-fits-all solution. Find a brand that has regular check-ups with a dental professional to ensure your treatment is working correctly and safely.
See if you're eligible for Straight My Teeth's aligners
Straight My Teeth costs start at just £1199, making them one of the cheapest brands of at-home clear aligners in the UK. That doesn't mean that they are a lower quality aligner than some of the more expensive brands.
All Straight My Teeth treatments are monitored carefully by licensed dentists and orthodontists, and the aligner technology is patented. As an added bonus, their customer service department gets glowing reviews. Visit their website to check if you're eligible for Straight My Teeth.
What are cheaper alternatives to braces?
Clear aligners with remote treatment are the cheaper alternatives to braces and Invisalign and by far the most affordable way to straighten teeth safely and effectively. Because you aren't visiting a dentist in person, the cost of the entire treatment can be around £1,000.
Another cheap alternative to braces could be veneers or composite bonding. This essentially involves covering up the problem teeth rather than moving their position.
If only one or two teeth need treatment to fix your smile, bonding or veneers could work out cheaper than braces. They are also much faster!
Whatever method you use to straighten your teeth, don't be tempted by DIY braces. It's just not worth it and can cause irreversible changes to your teeth, as well as harm your dental health and overall wellbeing.
Are cheap braces better?
Before you jump to the conclusion that at-home clear aligners are the best option for you, keep in mind that this sort of treatment is only meant for people with mild to moderate cases of malocclusion (teeth and jaw misalignment).
But, if you are only in need of mild to moderate orthodontic correction and looking for an affordable option then check out SmileDirectClub. You can visit a SmileShop to get your 3D scans and learn more from a representative. Or, if you would rather not visit a physical location then you can order an impression kit and do your own moulds at home then send them in.
Once you have been found eligible for treatment and agreed to your treatment plan, you will receive your aligners in the mail 4-5 weeks later. Then, when you start treatment with SDC all of your treatment monitoring will be done remotely, and when it's time to change to a new aligner your dentist will let you know.
If you haven't already ordered an impression kit or made an appointment at a SmileShop, it could be worth finding out if you're a candidate for treatment right away. Take their simple online assessment now to find out if you're a suitable candidate now!
We recommend visiting your dentist for a consultation before deciding on any orthodontic treatment. That way you can make sure you have no underlying issues before starting your treatment of choice.
Summary of ways to get low-cost braces
To summarize the various ways of finding affordable braces in the UK, have a look at the table below:
Free for under 18's and those eligible for low-income benefits

Only available if deemed medically necessary

Full treatment cost covered

Not offered by every dental practice

Doesn't lower the overall treatment cost

Amount borrowed is agreed upon with finance company

Depends on eligibility and approval

Doesn't lower the overall treatment cost

Covers a percentage of treatment cost

Difficult to find in the UK

Doesn't usually pay full treatment amount

Convenient and fast treatment

Typically only meant for mild to moderate cases
Conclusion
If you're looking for affordable braces, you have a few options to consider. You can try looking at payment plans for cheap braces or dental financing. And, if that's not an option for you, consider at-home clear aligners.
Each option comes with its own pros and cons, so you'll have to make the decision based on your expectations for budget and treatment time.
You'll also need to decide whether it's important for you to have in-person supervision.
If you are interested in clear aligners as a cheaper alternative to traditional braces, take a look at SmileDirectClub or Straight My Teeth. Straight My Teeth's complete package costs start at just £1199 and is a good option for mild cosmetic teeth straightening, and for mild to moderate orthodontic treatment SDC costs £1,539.
If you aren't able to find cheaper braces that work for you, speak with your orthodontist about a payment plan. That way, you can divide your payments up into manageable chunks each month. Whatever you decide to do, make sure you choose a provider you trust and keep in mind that the cheapest orthodontist may not be the best option for everyone.
FAQs
What is the cheapest way to get braces for adults?
The cheapest way to get braces is with at-home clear aligners. These aligners don't require you to meet your dentist or orthodontist in an office so you don't have to pay dental fees. However, they aren't suitable for more complex cases.
Can you get braces for free?
Anyone under the age of 18 may get braces for free with the NHS, but only if clinically necessary. Adults that need braces still have to pay NHS fees unless eligible for free dental care.
Why are braces so expensive?
Aligning teeth is a complicated process that requires specialised tools and years of education. The materials used in braces and aligners may not be so expensive on their own.
Instead, it's the process of planning and executing your treatment that takes time and money. That's why it can be so difficult to find an affordable orthodontist.
Where can you get cheap braces in the UK?
In the UK, braces for adults are generally not cheap; even basic 'train track' braces cost £2,000 – £2,500 on average. There are cheaper options you can consider, though.
If the cost of braces with a dentist seems too high, you may want to try at-home aligners for mild cosmetic straightening.
What are the cheapest braces?
The cheapest braces that offer safe and effective treatment are Straight My Teeth. They work with orthodontists, and with prices starting at just £1199, they really are the cheapest braces around!
Sign up to receive the latest news and offers from Dentaly.org