Can you get NHS braces and what options are available? It's a big question for many people. Getting braces at a private practice can be expensive, and not within everyone's budget. But, is orthodontic treatment available on the NHS or are they just for children?
This article will explore whether braces are available to all and answer the following questions:
Can adults get braces on the NHS?
How much are braces on the NHS?
What are the criteria for NHS braces?
Can you get coloured braces on the NHS?
What happens if you are not eligible?
If you or your child needs braces and want to know what the eligibility requirements are, keep reading. This article will give you all the information you need to know about braces treatment with the NHS and whether you will need to get private care.
Can you get braces on the NHS?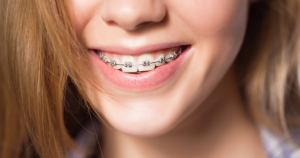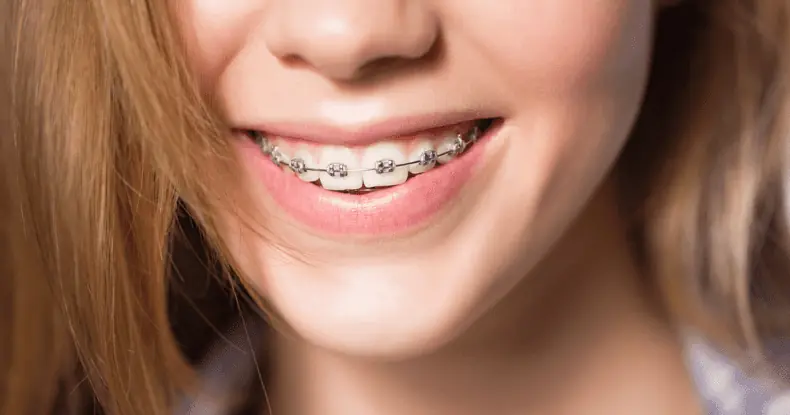 If cost is your main concern, the first question to answer is "Can I get braces on the NHS?"
Orthodontia is free on the NHS for people up to age 18 who have a clear need for treatment. If you or your children are approaching this age and are considering teeth straightening, it's well worth investigating NHS braces now to avoid paying private braces prices later on. You can read more about the eligibility criteria in our article on braces for kids.
Here is one teenager's account of getting metal braces on the NHS, along with some tips for living with them:
Can adults get braces on the NHS? Usually not unless you meet the criteria. Exceptions are only made in severe cases where orthodontic treatment is needed to avoid serious health problems later in life. You'll need to visit your dentist to find out whether you may be eligible for NHS braces for adults.
If you think you or your child needs braces, the first thing to do is consult your dentist. They will be able to assess whether you have a condition that qualifies for NHS orthodontic treatment. If they decide you need braces, your dentist will refer you to an orthodontist. Or, in some cases, you may be able to get orthodontic treatment with your regular dentist.
You will then be assessed to see if orthodontic treatment is necessary and if you meet the NHS criteria. Depending on your case and your location, there will most likely be a long waitlist for NHS treatment.
In the following video, orthodontist Dr Gareth Williams explains how you can increase your chances of getting braces on the NHS:
NHS braces eligibility and criteria
So how do you know if you're eligible for NHS braces? There are two main criteria: firstly, whether or not you meet the criteria for NHS treatment at all. Secondly, whether or not your case is considered severe enough to qualify for an exception to the usual rules.
The Index of Orthodontic Treatment Need (IOTN) is used to assess whether a case is considered to be eligible for NHS treatment. The IOTN grades are explained below: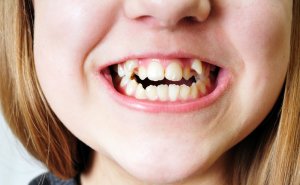 Very Severe Need (Grade 1) – A very severe need means your teeth don't meet normal standards when it comes to the bite and alignment of the jaws. Your teeth may also overlap or not have enough room inside your mouth, which can cause pain or make eating difficult.
Severe Need (Grade 2) – A severe need means your teeth aren't meeting normal standards when it comes to bite and alignment of the jaws but they do not appear abnormal on examination by an orthodontic specialist.
Moderate Need (Grade 3) – A moderate need means there are minor problems with alignment and position of your upper or lower jaw but there is no significant crowding in either arch.
Minor Need (Grade 4) – This rating applies if only one arch needs treatment because of crowding in one arch only.
No Need (Grade 5) – If none of these applies then you will be deemed ineligible for NHS treatment!
NHS treatment is not available for grade 4 and grade 5 cases. Grade 3 cases are usually judged on an individual basis.
What happens if I don't qualify for NHS treatment?
If you don't qualify for dental braces on the NHS, you will need to pay for private treatment. The cost of braces starts at around £1,500 and can rise as high as over £7,000.
However, there are many different packages with different dental insurance providers and treatments so it is important to shop around before deciding on any one provider.
Some health insurances cover the costs of braces fully or partially but this isn't common across all insurers and should be checked before making a decision about whether you want them or not.
Some people choose to fund their treatment themselves by saving up the money over time or taking out a loan or credit card.
Our #1 recommended teeth aligners
How much do braces cost on the NHS?
Children and young adults under the age of 18 with a clear health need for treatment may qualify for free braces on the NHS. If you are aged 18 or over, or if you have had NHS orthodontic treatment in the past and your braces need replacing, you will need to pay for your next set of braces yourself.
NHS braces for adults cost £282.80 in England (the Band 3 treatment fee for 2021/22 – see other NHS dental charges). This is significantly lower than the cost of private braces treatment in the UK, but very few adults are eligible for NHS braces treatment.
If you are deemed eligible, bear in mind that this NHS braces fee only covers the cost of metal braces for adults. Similarly, children being treated on the NHS will only be offered metal braces. Many people prefer to pay for private treatment in order to access a choice of less noticeable styles (clear or invisible) for themselves or their child.
If you have private dental insurance, it's worth checking whether orthodontic work is included. However, it's unusual for basic dental insurance plans to cover the cost of braces and other cosmetic dentistry.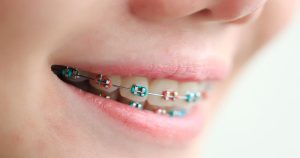 Can you get NHS coloured braces?
Coloured braces are a popular option for people who want to brighten up their smile. Coloured braces on the NHS are braces with metal brackets and coloured 'o' ties. 'O' ties are small elastic bands that are placed on your braces brackets to help hold the arch wires in place.
They come in a multitude of colours, and you can choose whichever colours you like. Your choices may be limited to what your dentist has available, so make sure you ask if they have your favourite colour!
You can ask for a different colour each time you need these elastic bands replaced, or you can stick to the same colour each visit. Some people ask for more than one colour to make a pattern.
Other options
If you're unable to get NHS braces, there are other options. The first is to purchase private dental insurance or sign up for a dental payment plan. Another option is to visit one of the many countries with low-cost braces available, such as Mexico or Thailand.
If your orthodontic case is only mild you can also get at-home aligners which may be slightly less expensive than braces treatment.
Find the right clear aligners for you
Complex cases
Treats up to 90% of Cases
Up to 40% cheaper than Invisalign
Buy now, pay later in interest-free instalments.
Rated 4.9/5 on Trustpilot
As seen on 5, BBC, 4, DailyExpress, TheMail
Get 5% OFF with our discount code DENTALY5OFF and FREE Whitening and Retainers worth £790
Smile White offers a hybrid model for clear aligner treatment. You have 3 in-office appointments, so your dentist can ensure in person that your treatment is going as planned.
That means that, unlike other clear aligners, Smile White can treat even the more complex cases of bite misalignment.
To get started:
Every treatment comes with free teeth whitening, so you can whiten your teeth while you straighten them!

Best value
Free retainers and whitening
Nighttime aligners available
0% interest finance options
£1,395 £1,295 or £83.33/month
NewSmile is a Canadian company that brought its clear aligners to the UK market in 2022. NewSmile aligners are made from the clearest material and the company offers excellent service at the best price.
They don't have any physical locations, so you'll need to purchase an aligner kit to get started. One of their Impression Specialists will guide you through the process on a video call when you're ready.
NewSmile aligners are very affordable, costing just £1,395 (currently discounted to £1,295). But even better, this price includes whitening foam to use in your aligners, plus your first set of retainers!
Choose their daytime package for treatment in 4-6 months, or nighttime aligners for a more discreet treatment that takes 8-10 months. Both options come with 0% interest payment plans available.
Discounted treatment abroad can be a great way to get the smile you've always wanted while saving money on procedures like orthodontics and cosmetic dentistry as well.
Conclusion
If you're looking to get braces but don't want to pay the cost, it might be worth applying to get braces on the NHS. But make sure your teeth meet the criteria first!
If you don't meet the criteria for braces on the NHS and would like to get orthodontic treatment purely for cosmetic reasons, there are plenty of options to choose from for different budgets.

FAQs
Can you get braces for adults in the UK on the NHS?
Yes, but only in very specific circumstances if medically necessary. Most adults in the UK will not be deemed eligible for NHS braces and should instead look at private treatment.
Sign up to receive the latest news and offers from Dentaly.org