When your baby starts teething, chances are you'll know about it. A teething rash, red cheeks, excess dribbling, and general irritability are all signs of teething in babies and toddlers.
But not all babies experience the same symptoms, so you might have questions about what's normal and what's not. And if your baby is in a lot of discomfort, you'll want to know the best ways to relieve their teething pain.
Fortunately, there are plenty of things you can try which might make it a bit easier to get through – for baby and for you! These include:
Gels
Powders
Toys
Rings
Mittens
Keep reading for recommendations for products that other parents swear by, plus answers to all your teething questions.
When do babies start teething?
Most babies start teething at about six months of age and have their first tooth by their first birthday. This baby teething chart shows roughly what to expect. You can read our baby teeth guide if you want to know more about when baby's teeth will appear, and in what order.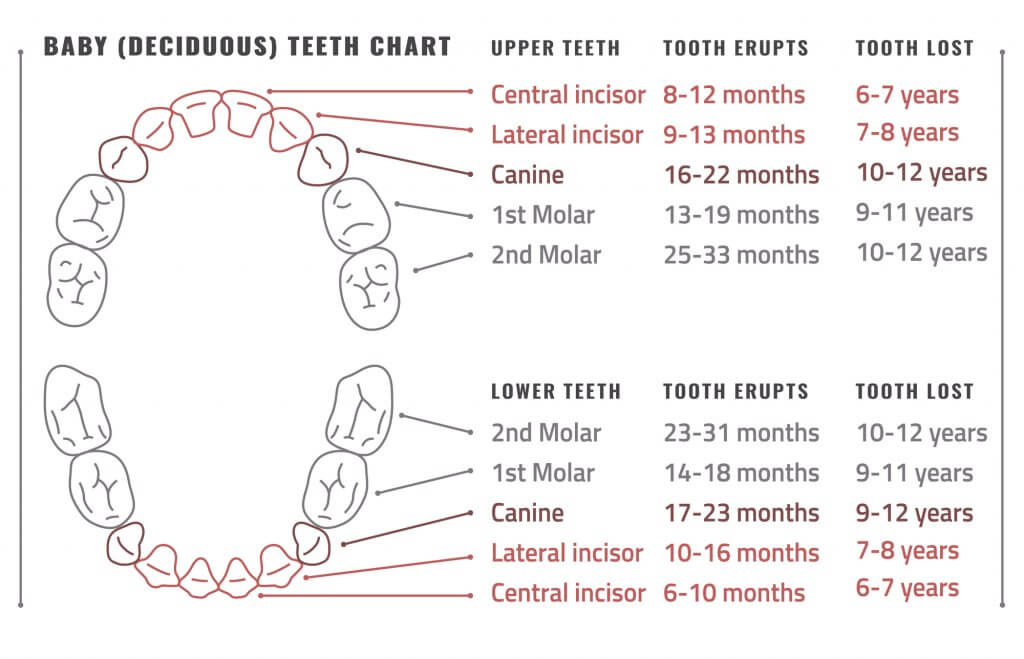 However, there is no fixed timeline for when teeth start to appear (babies can even be born with teeth), and teething can be equally unpredictable.
Some babies don't seem at all bothered by their new teeth erupting, whereas for others it causes significant discomfort. Certain teeth will probably come through more easily than others. And the symptoms of teething might appear days or weeks before the tooth itself pops through.
All of this uncertainty can leave you analysing every sign and wondering when those little chompers will finally emerge! Rest assured, your baby's teeth will get there when they are ready.
How long does teething last for?
Most children have their full set of baby teeth by age three, but this doesn't mean they'll be teething all the way through until then. In fact, teething pain usually comes in bursts. It lasts for a few days at a time before easing again. It can feel like a lot longer than this at the time though, especially if your infant is having trouble sleeping.
Often the first few teeth – the incisors and lateral incisors – are the worst. That said, the larger biting surface of the molars means they may also be quite painful and cause the gums to look bruised.
Generally, baby will feel a lot better soon after the tooth has broken through the gum.
This study into the side-effects of teething found that the most significant symptoms were present up to four days before and three days after a tooth emerged.
What are the first signs of teething?
If you're keenly awaiting the arrival of baby's first tooth, there are plenty of things to look out for. Signs baby is teething include swollen, red gums, increased dribbling, and more:
Flushed cheeks, sometimes just on one side
Rubbing their ear
Chewing or sucking on whatever is available
Feeding/eating less than normal
Waking more often than usual
General irritability or restlessness
Don't expect to see all of these things at once, and don't be surprised if your baby shows no teething signs at all. As we've said, everyone's experience is different.
Teething rash
Although not a direct result of teeth coming through, all that excess dribble can cause a rash around the mouth, chin, and even baby's neck. The best solution is to wipe their face whenever you notice it is wet from drool, but be very gentle so as not to irritate the skin further.
A good stock of bandana teething bibs can come in handy here – not only do they stop baby's neck getting too soggy but you'll always have something on hand to wipe their mouth with. Look for ones like these with a double layer of cotton for extra absorbency and less skin irritation.
You can also use a barrier cream like Vaseline to protect the skin at nighttime or if you're going out in the cold.
Can teething cause a fever?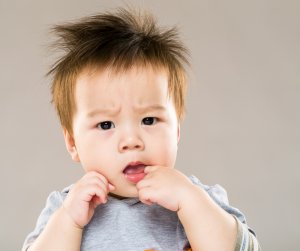 An analysis of 10 studies found that although teething can cause a slight rise in body temperature for a couple of days, it's usually not high enough to be considered a fever (38° C or 100.4° F).
In fact, the misconception that teething causes a fever could lead parents to overlook a more serious medical problem that might require other treatment. If your child does have a fever, follow this advice from the NHS about whether to seek medical care.
Similarly, there is no evidence that teething causes diarrhoea or vomiting. Some people think it's a result of baby swallowing so much extra drool, but it could be a sign of illness.
How to help a teething baby
There are various ways to soothe pain from milk teeth coming through. You can buy a selection of baby teething rings and other toys, but you might find that your baby is just as happy chewing on your finger or a cold piece of food. You might also want to have some teething powder, gel, or other pain medicine on hand for when nothing else seems to be helping.
Have a look through these suggestions so you're prepared with a few different things to try when the moment strikes.
Something to chew on
First of all, you can try just rubbing a clean finger over your baby's gums, or letting her chew on it for a while. The counter-pressure can provide some relief from the tooth pushing inside the gum.
Giving your infant some chilled food to chew is also very effective, but make sure it's safe for their age. Chilled pieces of cucumber or banana are great, and toddlers can have carrot or apple to gnaw on. Even if your baby has only just started solids, some cold fruit puree or yoghurt might help.
Some parents like to freeze pieces of fruit or give their teething baby pieces of ice or frozen yoghurt. Food straight from the freezer can be so cold that it damages baby's mouth, so approach this method with caution. If you do want to try it, these ice lolly moulds are the perfect size for little hands and mouths. Puree some fruits of your choice to make a tasty and soothing treat. They are cleverly designed to catch any drips, too!
Teething rings and toys
If baby is bored of chewing on your fingers (or you need them for something else), a teething toy can provide a welcome distraction. You'll find these in all shapes, sizes, colours and materials, but the main thing is that it's easy for little hands to hold and has surfaces suitable for chewing. Here are a few of the best which are just a click away on Amazon.
Nuby Icy Bite Keys Teether toy features three brightly coloured gel-filled 'keys' with multiple textured surfaces. The toy can be cooled in the fridge for some extra teething relief. It's quite light compared to some other teethers, so is easy for babies to hold from around 3-4 months.
On the downside, some reviewers say it's fiddly to clean. Others think it would be better if the keys could be removed from the ring and used individually.
If you'd prefer a more eco-friendly teether, try one of these Natural Beech and Silicone Bunny Teething Rings, available in a range of colours. Not only do they look super cute, they are made from non-toxic food grade silicone which can be chilled in the fridge to soothe sore gums.
Our little girl loves this teething ring, at only 5 months old lots of teething toys are simply too big to fit in her mouth, this is a great size.
Sometimes a simple design like this is all that's needed.
Another popular wooden teether range is this one from Mamimami Home. Available in various designs and colours, each toy features a wooden animal and a string of wooden and crochet beads. They are CE certified and are a great option if you're trying to keep your home plastic-free.
Other products are available which combine wooden and silicone beads in more complex designs. You can even make your own with a DIY teether kit containing a variety of beads, rings and clasps.
Finally, the popular Sophie the Giraffe range of teething toys are all-natural, made from rubber and decorated with food-grade paint. This teething ring features the original giraffe with the addition of two textured handles, making it easier to grab and chew.
Reviewers suggest this toy is best in the early stages of teething, before the teeth actually break through the gums. Some report that after a few months of use, the material starts to deteriorate. Still, it is a highly rated product and seems to be the go-to for many parents.
Teething mittens
Younger babies may struggle to hold toys, in which case a teething mitten is a great alternative. These fasten around the wrist so there's no holding required and – bonus – they can't be dropped on the floor. A mitten could also be a good solution if your infant has taken to chewing or sucking their fingers.
The MonkeyTots® Teething Mitten is a high-quality product that's been thoughtfully designed with different textures and a crinkle patch to keep baby interested. It comes with a handy carry pouch and a milestone card, as well as a teething eBook you can download. This makes it a great baby shower gift, too!
Reviewers say they are impressed with the quality of the product and it's easy to machine wash. Of course it gets soggy after being chewed on for a while, so some parents have bought two or three so there's always a clean one available.
A popular alternative is the Gummee Glove. Made from cotton and food grade silicone, it features a detachable teething ring which can be cooled in the fridge separately. It comes with a pouch which can be used for storage and also for protection while machine washing.
One benefit of this mitt is that the side teethers are very thin. Even young babies should find them easy to chew on.
Amazing!!! We've tried a number of teethers but this is by far the best of them all. My son loves his glove, I love that it is machine washable! He changes between using just the heart, just the glove and then both together. I was worried that he would struggle with the size of it but I was amazed at how quickly he worked out the angle he needs to hold it at to get it into his mouth.
View this product in action in the video below:
Teething powder
Teething powders are homeopathic remedies which use traditional herbal ingredients to soothe baby teething symptoms. You tip the powder into baby's mouth onto the tongue, where it dissolves and gets to work.
Teething granules are usually suitable for children aged 3-4 months and over.
Ashton & Parsons Teething Powder
Sold in the UK for over 150 years, Ashton & Parsons Teething Powder contains tincture of matricaria, an ingredient extracted from German Chamomile flower heads. This has antibacterial and anti-inflammatory properties, and many parents are amazed at the instant soothing effects it has on their infants.
This is amazing. Calms my daughter almost instantly when she is teething.
This powder can be given once an hour if needed, but a maximum of six times in 24 hours.
Nelsons Teetha Teething Granules
Teetha Granules also contain a chamomile extract: 6c Chamomilla. Although some people find the packets a bit fiddly to open, the effects seem to be worth it.
The first time I gave my baby these it was like a miracle – she had been crying and stuffing her fists in her mouth, then she instantly settled and went to sleep!
Teething gels
Teething gels are applied directly onto sore gums to relieve the pain of teething. Some have a mild numbing effect, whereas others rely on soothing ingredients. Bonjela is perhaps the best-known brand in the UK, but here are some others that come highly rated. Note that these gels are generally suitable for infants aged 3-4 months and up. Speak to a pharmacist or doctor before using them any earlier.
Ashton & Parsons Teething Gel
This banana-flavoured gel is free from sugar, lactose, alcohol and anaesthetics. It comes with a soft brush applicator which makes it easy to apply to baby's gums – especially if they like to bite your fingers or you have long nails which could catch in their mouth. It also means you can apply it any time, without having to worry about washing your hands first.
The soothing aloe vera gets to work quickly, and the gel is designed to adhere to the gums for lasting relief.
In the video below, a father of two explains why this product has been a "game-changer" for his teething 10-month-old.
Nelsons Teetha Gel
This all-natural teething gel contains homeopathic ingredients which work to reduce inflammation and pain from new teeth coming through. Massage it onto baby's gums with a clean finger.
Some reviewers say they don't think it lasts as long as the powders from the same brand, but at the same time, it's easier to use. If you prefer to use natural products, you may want to try both and see which works best for your baby.
Nuby Gum-eez Teether and Gel
This 2-in-1 set contains a natural teething gel and a Gum-eez, which is a bit like a teething dummy. You apply the gel to the mouthpiece and it gets to work as baby chews on it. The gel contains Eugenol (clove extract) and has a tutti frutti flavour which gets mixed reviews from its tiny testers. However, it offers quick relief and is also safe if swallowed.
One frustration that parents have with this product is that the gel is not available to buy separately from the Gum-eez teether, and it seems wasteful to keep purchasing new teethers just to get a fresh supply of gel. Of course, the teether can be used with any brand of teething gel, or without any gel at all.
Other medicines for teething
You can, of course, turn to regular pain relief in the form of paracetamol or ibuprofen. This might provide some welcome relief at night in particular, if your baby's teething is disrupting their sleep (and yours).
Always choose a sugar-free product that's suitable for your baby's age, and follow the dosage instructions on the label.
One thing we've deliberately left off this list is amber teething necklaces, bracelets and anklets. Although some parents swear by their pain-relieving properties, there is no scientific evidence that they have any such effect. More importantly, they pose a suffocation and choking hazard. In 2018 the American FDA issued a warning about teething jewellery after one infant was sadly strangled by a necklace while napping and another almost chocked on some beads that had come loose.
Caring for baby's milk teeth
As soon as that first tooth makes an appearance, you're responsible for taking care of it. Get your child used to brushing their teeth in the early months, and you may avoid some struggles later on.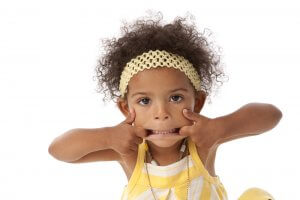 Check out our children's oral health guide to read how to care for your child's teeth and prevent common problems like tooth decay. Not sure how to choose their first toothbrush? No problem – our guide to toothbrushes for babies and children has some great advice.
You should take your baby to their first dental checkup soon, too. The dentist will check that their teeth are healthy and might offer fluoride varnish to give an extra layer of protection. Keep taking them along to regular checkups so that any potential problems can be spotted early on an treated before they develop into anything more serious.
Conclusion
Teething symptoms vary, but there are plenty of things to look out for if you think your baby has a new tooth on the way. Teething shouldn't make your baby unwell though, so stay alert for signs they may have an illness that requires medical attention.
There are lots of ways to relieve the pain of teething for babies, and we hope this guide has given you some useful ideas to make these months pass more easily. Try a range of different teething remedies until you find something that gives your little one that much-needed relief.
Sign up to receive the latest news and offers from Dentaly.org