The Brüush toothbrush cleans teeth with sonic vibrations and has six brushing modes for personalization.
You can choose to purchase the toothbrush on its own and buy refill heads when you need them, or you can sign up for the subscription service, and automatically receive 3 brush heads every 6 months.
In this Brüush review we'll talk about:
Cost of Brüush
Brüush's features
How it compares to other leading brands
Brüush customer reviews
And at the end, we'll summarize our findings and help you figure out if you should brush with Brüush.
Keep reading to find out if this is the best electric toothbrush for you.
What is Brüush?
Brüush is not just the name of a toothbrush, but it's also an oral care brand on a mission to brighten, whiten and clean your smile and improve your oral health.
The company wanted to make an electric toothbrush that was highly functional and easy to use. They also wanted to make brushing your teeth something that you don't just do out of obligation, but rather a part of your self-care routine that you look forward to and enjoy.
They have a subscription brush head refill program so you can change your brush heads every two months — just what the dentist ordered.
They're collaborating with Kevin Hart — whose bright white smile, quick sense of humor, and warm personality have made him a household staple across the US and Canada.
Brüush toothbrush features
We'll make this short and sweet. The Brüush electric toothbrush features: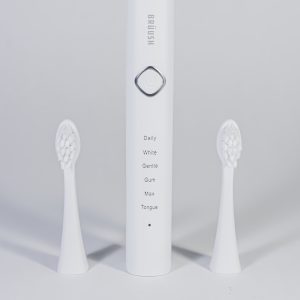 Sonic technology: Brüush eliminates plaque with 42,000 strokes per minute
Travel-friendly: The lithium-ion battery lasts a whole 4 weeks, plus it comes in a sleek case for on-the-go
6 brushing modes: Choose from daily, white, gentle, gum, max, and tongue to personalize your routine
Built-in timers: A 2-minute timer tells you how long to brush, and a 30-second timer lets you know when to move on to the next quadrant
Specialty bristles: Brüush heads have a unique shape that gets into every crack and crevice, plus extra-soft Dupont Tynext nylon bristles which are gentle on enamel, but ruthless on plaque
Refill plan: Their refill plan sends you a set of 3 brush heads every 6 months for just $6/head
Thanks to all of those features, Brüush cleans 20% better than a manual brush, in fact, there are now multiple studies that demonstrate that electric and sonic toothbrushes simply do a better job than manual brushes. (If you prefer to use a manual brush that's fine too, you can still take great care of your teeth!)
Brüush subscription service
You can definitely just purchase the toothbrush on its own, and buy refill brush heads separately when you need them, but if you'd like the process to be automatic, you can opt for the subscription.
With the Brüush subscription, you get 3 replacement heads sent to you every 6 months — meaning you should change the heads every 2 months. You can also customize your plan, and change the frequency at which you receive your new brush heads.
The subscription plan costs just $18 every 6 months, so that's just $6 per brush head. Shipping is free and you can cancel anytime.
Brüush costs $79 when you purchase a subscription plan, making it a great option if you want a high-tech toothbrush under $100.
If you prefer to purchase the brush without the refill subscription, that's also available.
90-day guarantee
Brüush offers a 90-day guarantee which means that you can use your Brüush for 3 whole months before you decide if it's the right toothbrush for you.
If for some reason you aren't happy, you can return your brush for a full refund minus a $10 shipping label fee.
Brüush vs competitors
Some of our top electric toothbrush picks are:
Snow LED Whitening: This brush features an LED light, sonic vibrations, four brushing modes, and a 2-minute timer. Read more.
cariPRO Ultrasonic: It has 40,000 vibrations per minute, a soft, ergonomic grip, and a 30-day battery charge. Read more.
Nest: The Nest self-dispenses toothpaste onto the bristles and offers a UV cleaner to eliminate bacteria. Read more.
Brüush vs Sonicare
Have a look at the table below to see how the Brüush compares to a Sonicare toothbrush in the same price range.
| | | |
| --- | --- | --- |
| | | Sonicare ProtectiveClean 5100 |
| | | |
| | | 3 modes with pressure sensor |
| | Lithium-ion battery lasts 4 weeks; travel case | Lithium-ion battery lasts 2 weeks; sleek travel case |
| | 2-minute timer; 30-second quad timer | 2-minute timer; 30-second quad timer |
| | Soft Dupont Tynext nylon bristles | Soft nylon bristles, appropriate for sensitive mouths of all sizes |
| | Subscription refill plan for $6/head | Brush head replacement reminder |
| | Elegant design and 5 pretty colors | Super elegant design and slim ergonomic handle; low battery indicator |
| | | |
We prefer the Sonicare over the Brüush for the pressure sensor, the greater number of vibrations/minute, and the sensitivity-friendly design.
If you'd like to learn more about the Sonicare range, you can check out our full Sonicare toothbrush review.
Brüush vs Quip
Check out the table below to see how the Brüush compares to Quip:
| | | |
| --- | --- | --- |
| | | |
| | Sonic tech with 42,000 strokes/minute | |
| | Lithium-ion battery lasts 4 weeks; sleek travel case | AAA battery lasts 3 months |
| | 2-minute timer; 30-second quad timer | 2-minute timer; 30-second quad timer |
| | | |
| | Soft Dupont Tynext nylon bristles | |
| | Subscription refill plan for $6/head | Subscription refill plan for $5/head |
| | Elegant design and 5 pretty colors | Sleek and aesthetically pleasing; metallic colors |
| | | |
Although Quip is quite a lot cheaper, it delivers much weaker brushing power and still requires you to brush manually rather than just hold it against your teeth. The Quip brush is also not rechargeable but takes AAA batteries, which may or may not appeal to you.
Brüush reviews
What are customers saying about Brüush? You'll find a mix of positive and negative reviews for Brüush.
★★☆☆☆
"This is not the product I would recommend for anyone with any type of sensory sensitivities…Maybe mine was defective somehow, but I couldn't handle it even on the gentle setting."

Amazon customer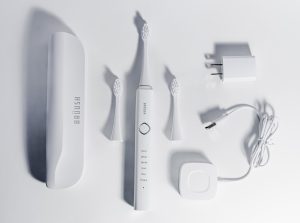 ★★☆☆☆
"Beautiful, sleek design; love that it is rechargeable and generously comes with two extra heads; vibrates at the same vibration as a dentist's drill; bristles are so soft, they can hardly be felt against the teeth, but touching the vibrating hard part of the brush to one's teeth produces a sensation like hitting one's funny bone."

Sybil on Amazon
One customer does mention that the settings seem like overkill and that the magnetic stand doesn't hold the brush securely:
★★★★☆
"Great cleaning. Some drawbacks — GOOD: Cleans very well. Amazing brush speed. Holds its charge a long time. Looks sharp. Comes with a USB charger. The brush head design is an improvement over the typical round & oval shapes of other brands. NOT SO GOOD: Replacement brush heads are only available through the maker's website. The brush comes with a small magnetic stand that's not sturdy enough to hold the brush securely. 😒 (I have mine standing in a tall glass on my counter.) BRUSHH features a number of settings for various oral care processes. These seem like overkill to me. Maybe an advertising ploy?"

Marsha
In the video below, Dr. Mitchell gives his take on the Brüush, walks us through the unboxing, and shares what he knows about the product and the company.
During the unboxing, we see that Brüush comes in elegant and simple packaging. With the Brüush you get a travel case that holds the brush head separately for cleanliness. Brüush charges wirelessly, by standing on top of the magnetic base.
It comes with three brush heads which will last you six months, at which point Brüush will send you new replacement heads if you choose the subscription service.
He also mentions that the battery life is four weeks long, the bristles are ultra soft, and that with the subscription plan it ends up costing about the same as a regular toothbrush over time.
Conclusion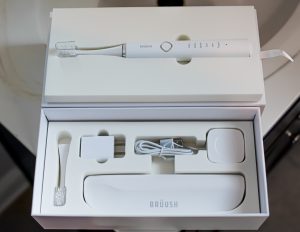 The Brüush toothbrush features sonic vibrations that break up and clean away plaque for a fresh-from-the-dentist clean feel. It has a long battery life — 4 weeks — thanks to the lithium-ion battery, and it features 6 brushing modes.
Ultra-soft bristles are gentle on teeth, and 6 fun colors let you personalize your look.
All-in-all, it's a pretty standard electric toothbrush, at a reasonable price if you're looking to change from manual to electric.
FAQs
Is Brüush sonic?
Yes, Brüush features 42,000 sonic vibrations per minute to break up plaque and clean your teeth. With sonic toothbrushes, you still need to make brushing motions as you clean.
Is the Brüush toothbrush worth it?
The Brüush toothbrush is worth it if you are looking for a basic electric toothbrush at a mid-range price. It costs $79, which makes it an upper-mid-range option, and its features are basic.
Sign up to receive the latest news and offers from Dentaly.org